Ralph Haver: Everyman's Modernist
By Alison King
Founding Editor of ModernPhoenix.net

First published as a limited edition monograph Ralph Haver: Everyman's Modernist in 2011, and continually updated as facts emerge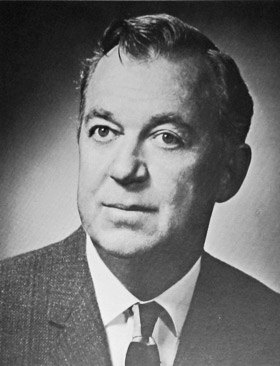 Ralph Burgess Haver AIA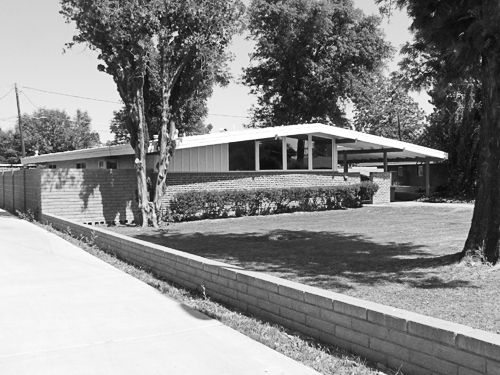 Town & Country Home in Janet Manor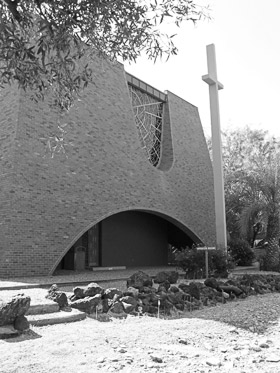 Paradise Valley United Methodist Church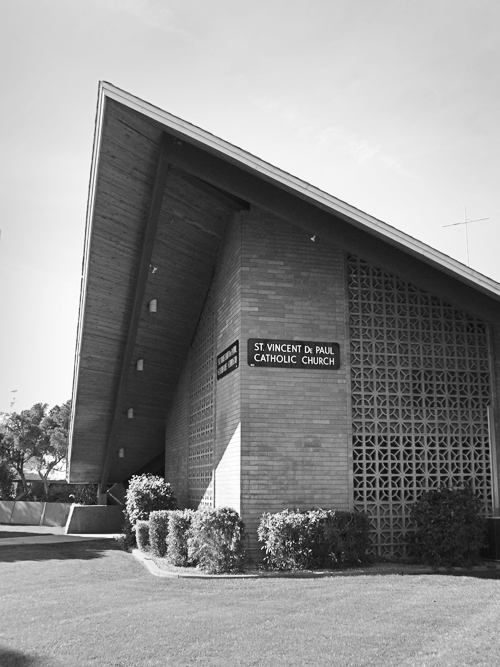 St. Vincent de Paul Catholic Church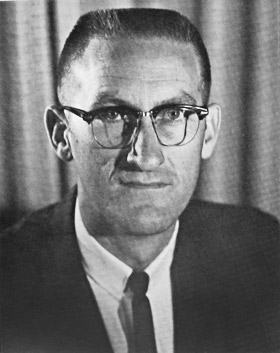 Jimmie Nunn FAIA
Though the firm was known
in various iterations as:

Haver, Nunn & Associates
Haver, Nunn & Jensen
Haver, Nunn & Nelson
Haver, Nunn & Collamer

... according to his staff
no matter who was in charge
it was always:

Haver, Nunn-the-less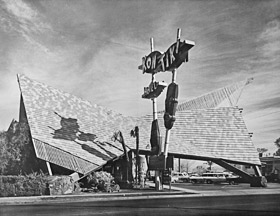 The Kon Tiki Motor Hotel (demolished)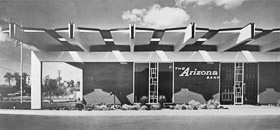 The Arizona Bank Branch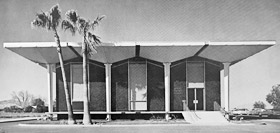 First Federal Savings and Loan
(demolished)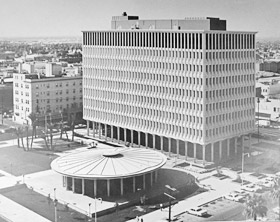 Phoenix Municipal Complex with Ed Varney AIA

Town & Country model home rendering
The Hopkins House, one of the first Haver Homes ever built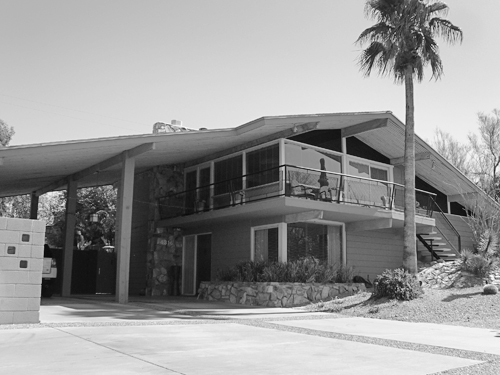 The Evertson Residence, a rare split-level three story custom Haver Home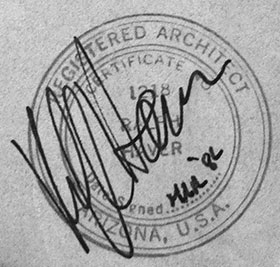 The seal from the last home Haver ever built, 1986
Ralph Burgess Haver AIA practiced architecture in metropolitan Phoenix, Arizona, from 1942 until the mid 1980s. He's best known today for his modest
Haver Homes
, which are affordable tract housing developments designed in a
casual contemporary modern style
.
These modest Haver homes are prized by designers and do-it-yourselfers alike as modern spaces to adapt for contemporary living. Haver Homes were often designed to be expansible for a growing family and changing needs, and so expand they have for the last 65 years. Haver Homes are also regarded for their understated promotion of cheerful good living. Making families feel comfortable through good design was one of his life pursuits.
But the story of Ralph Haver's work goes much deeper than his quest for perfection in affordable single-family housing in the postwar era. A man dedicated to faith, civics, professionalism, mentorship, femininity, frugality and good humor characterizes his influence on the period of explosive growth in the Phoenix Metro area at midcentury. Haver was a model citizen who helped to build a community as much as enjoy it by serving in the Rotary Club, Boy Scouts and the American Institute of Architects. He wasn't a talented bystander or fringe figure. He thrived in the thick of the movement that would turn Phoenix into the nation's sixth largest city fifty years later.
The popular resurgence of Ralph Haver's designs in the 21st Century has often been compared to revival of California's Joseph Eichler, simply by similarity in design style. However, instead of being a real estate developer like Eichler, Haver was an architect who knew how to communicate with developers to populate his designs on a large scale. His role in bringing modern design sensibility to the masses is more comparable to the role of A. Quincy Jones who designed for developer Eichler in California. Haver's own family played the supporting role as real estate developer.
His relationship with developers valleywide grew out of ties forged during World War II by his father, a mason, and his brother, a building contractor.
All saw opportunity in Phoenix
and gradually relocated their wives and children from California to Phoenix specifically to help build the city we know today. The women would play a crucial role in the financing of Haver Homes just as much as the men; their names appear on documents as early as 1945. Together they developed
Southdale
, the first known
Haverhood
.
It's difficult for any Valley resident to not have been touched by Haver's architecture in some capacity—whether through experiencing banks, schools, churches, civic buildings, convenience stores, industrial complexes or residential neighborhoods. His firm's work is simply that pervasive. Haver's interest was so deeply rooted in both large scale and small scale projects that he is partly responsible for the overall unifying look of the Valley of the Sun. While other firms gamely competed for civic and commercial commissions and collaborated with him on many projects, the volume and spread of Haver & Nunn's residential design impact can't be matched by any other architectural firm of its time. It's possible that the
Schreiber Brothers
came close.
---
Ralph Haver AIA was born in California as the son of a 3rd generation mason. Exposed to his father's work and the creative possibilities of building, he expressed at an early age that he wanted to be an architect. He trained at the University of Southern California, Pasadena for a degree in architecture, the same creative community and possibly same faculty that fostered a young
Calvin C. Straub FAIA
, the future "Father of Post and Beam Architecture" who would later join the growth boom in Phoenix as a Professor of Architecture at Arizona State University in 1961.

Haver relocated to Phoenix
immediately after his separation of service to the U.S. Army Corps of Engineers in 1946 and began shaping the city's look with the assistance of his brother Robert and father Harry who had already thrown down roots by providing building services to Phoenix in wartime. Haver and his father both settled in the farmland that would soon become Uptown Phoenix—two miles north of city boundaries at the time.
His first set of experimental modern contemporary ranch homes was created in the Hixson Homes subdivision near 12th Street and Highland—a former citrus grove now called
Canal North
after its position immediately north of the city's Grand Canal.
Three red brick homes
were built in efficient shorthand between the brothers, possibly fueled by the popular Arts and Architecture Case Study call to action to provide affordable housing in an attractive and modern package.
It wasn't long before Haver's custom homes began to make appearances in local and national print media. Two of his earliest experiments, the
Country Club Apartments
and the Peggy Reed Home in central Phoenix were
photographed by Julius Shulman
for this purpose. Haver often wrote his own articles and maintained a steady presence in the public eye by writing for popular magazines and trade journals.
During these early years Haver mentored under established architect Ed Varney and remained lifelong friends and collaborators with him long after breaking off and creating his own firm.
When Haver met fresh new graduate Jimmie Nunn through a mutual friend over a casual lunch in 1952, a 30-year business partnership and lifelong friendship was forged.
Jimmie Nunn FAIA
was Arizona-born and Colorado-trained, helping to expand Haver & Nunn's reach north and managing the crucial business end of public relations, zoning, board approvals and site supervision while Haver focused on the creative end. Without this clear division of labor, the firm probably would not have been able to accomplish so much design work in so many different venues. Nunn was likened by the Haver family to Mayberry's Sheriff Andy Griffith, a firm but likable fellow whom everyone wanted to please. According to Haver himself, Nunn had the patience of Job. Colleagues characterized them as "salt and pepper", with Nunn as the salt of the earth and Haver, well... Haver as lively as pepper.
Haver also collaborated with prominent Valley developers and contractors, including
Del Webb
,
Fred Woodward
, Sam Kitchell,
David Friedman
,
Samuel Hoffman
, Dan Mardian, A.L. Farmer, and
Dell Trailor
. As his firm grew, he also mentored young Valley architects such as
Bennie Gonzales
, Burke Wyatt, Bob Mrozinski and Bob Frankeberger. His commitment to training students enrolled in the newly accredited Arizona State University School of Architecture students was deep and spanned decades; a scholarship was named after him. Many architects can attribute their first practical experience to internships at Haver & Nunn. Many recorded accounts are recalled with fondest appreciation for the hands-on experience at one of the most prolific firms of the region.
Ralph Haver is responsible for so much of the design of postwar Phoenix that Haver & Nunn is considered to be among one of the
largest producing firms of the time
. They designed churches, schools,
municipal buildings
, stores, malls,
factories
,
multifamily housing
,
tract housing
and
custom homes
.
Contemporary architectural design firm peers included Varney Sydnor Sexton Architects,
Alfred Newman Beadle
,
Weaver & Drover
,
Fred Guirey
, John Sing Tang,
Bennie Gonzales
, Joe B. Wong,
Blaine Drake
, and
Lescher & Mahoney
. Many alumni report that when business was slow at one firm, they'd gamely shuffle staff to another office to help out with the workload. In general the
Architect's Row
of offices along Camelback and Central Avenue was a congenial and unified group focused on civic development and pride through design.
---
Blueprints as verification for authenticity of Haver Home designs are rare, as many residences were created outside of Phoenix city boundaries at the time and so plans are not on file. Many of Haver's drawings, renderings and records were destroyed when the firm finally went out of business. They ended up in a dumpster when their
Missouri office building
was abated in the 1980s.
The firm's portfolios
compiled for the purpose of securing major commissions provide official documentation that is referenced heavily on this website. Documentation of custom home sites and
tract neighborhoods
was largely absent from these portfolios, and so it has been Modern Phoenix's pursuit to pinpoint and verify the once and remaining inventory for the record.
Haver-designed buildings
, while rather ubiquitous but still valued as icons in metropolitan Phoenix, are not immune from destruction. His elegant and acclaimed
Ciné Capri
theater styled by Director
James Salter AIA
and in collaboration with architect Henry George Greene was demolished in 1998, and the 1960
Coronado High School
was largely demolished by 2006 as part of a citywide improvement of school facilities. The Polynesian-themed
Kon Tiki
motel, also styled by Salter with classically showy roadside signage by Glen Gulette on Van Buren has been demolished as well.
Some cases of preservation arise as beacons of hope. The award-winning Arizona Bank at 16th Street and Bethany Home was adapted into a restaurant with significant changes but attracting more people each day to enjoy the architecture than the bank probably ever drew. The
Phoenix Municipal Complex
co-designed with Ed Varney & Associates (now the Calvin C. Goode building) maintains the external appearance largely as it did in 1962. Custom homes such as the
Hopkins House
, both Haver Family Homes, the
Evertson Residence
, the Poladian Residence and dozens of
tract homes
valleywide have been kept remarkably intact despite the challenges of modern living.
Of concern to the preservation community is the tendency toward erecting second story additions on Haver Homes, rendering the original low-lying profile of the homes historically incongruous and altering the overall fabric and modest scale of the tract neighborhoods.
Others claim these
small and sometimes cramped home plans
are largely outdated for present-day living and were designed to be modified from the start. Yet other camps cite that the housing is cheap, common and unattractive by today's standards and has little value at all for preservation or rehabilitation.
Architects and landscape designers have used Haver Homes for decades as their own Case Studies to test out personal theories of adaptation. Since Haver Homes were often designed from the drawing board to accommodate easy expansion, it is interesting to entertain the debate of whether or not these homes' historical integrity has been brutally violated or a perfectly appropriate fulfillment of the American Dream.
Only Ralph Haver will know; we can only speculate.