Town and Country Homes
Janet Manor aka Town & Country 2 | 1957
15th Street and Rose Lane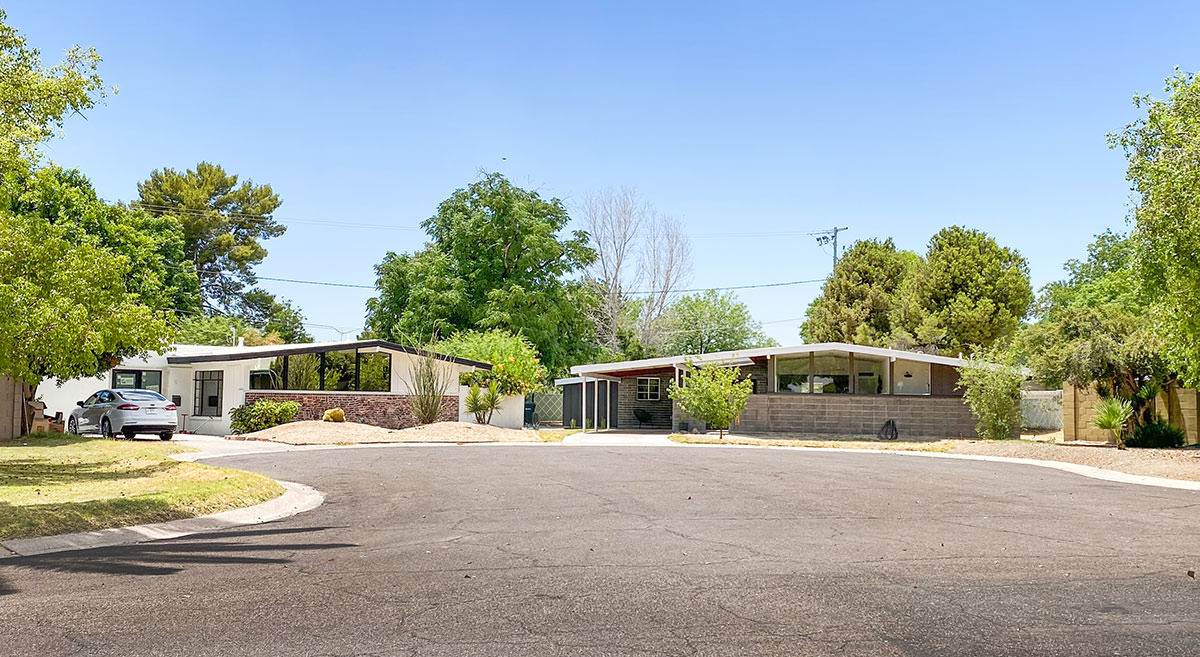 One Ralph Haver neighborhood with high historical integrity (but no corresponding historic property benefits) is Janet Manor in Uptown Phoenix, which was built in 1957 on the site of a mature citrus grove. It's an excellent example of informal preservation for the sake of maintaining neighborhood cohesiveness and individual design integrity.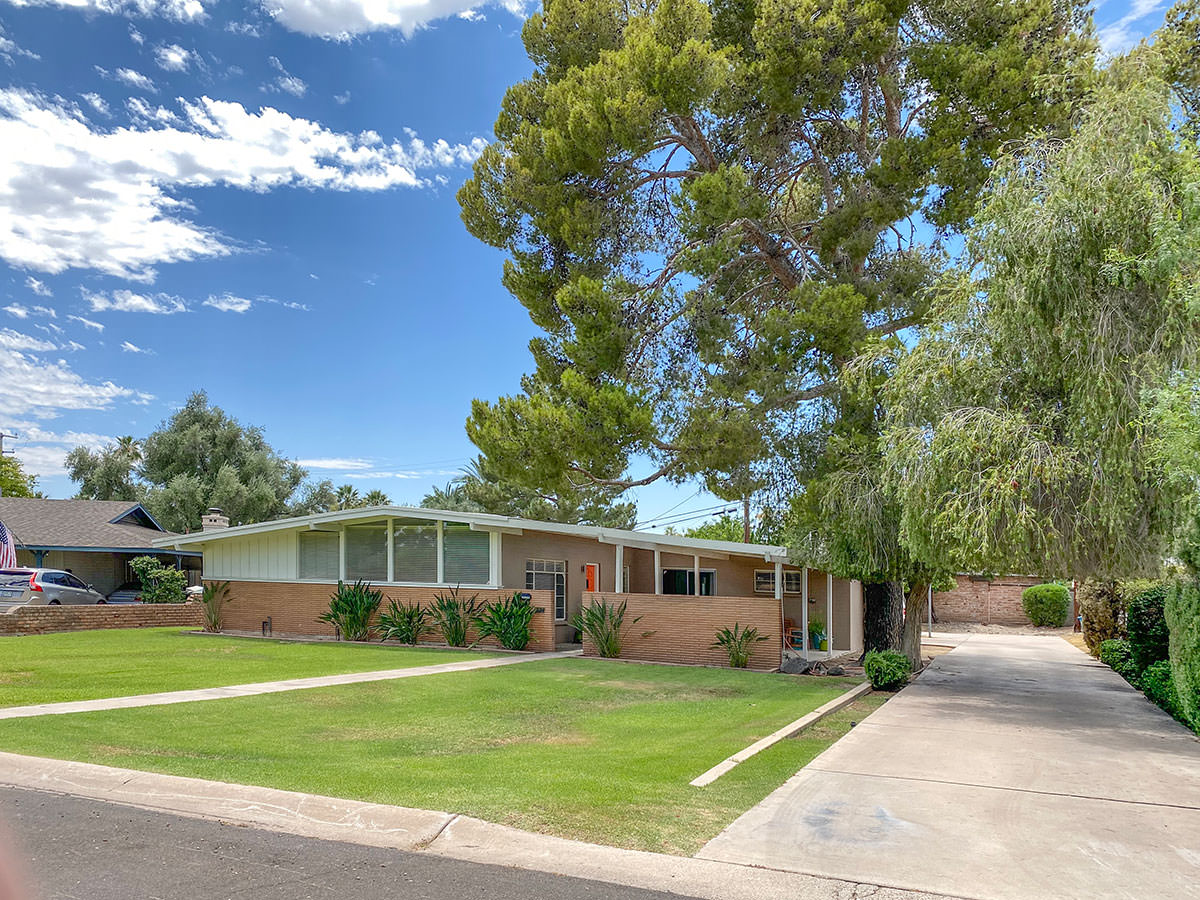 The style is Rustic Modern, with board and batten siding, clinker-brick details, and many redwood patio-ports still intact. Yellow brick and weeping mortar also make appearances. Characteristics include the classic eave-hugging strip windows which offer privacy and light, the legendary patio-port, birch cabinets and terrazzo shower basins. You know you've arrived in Janet Manor when you see the Wishing Well on Rose Lane!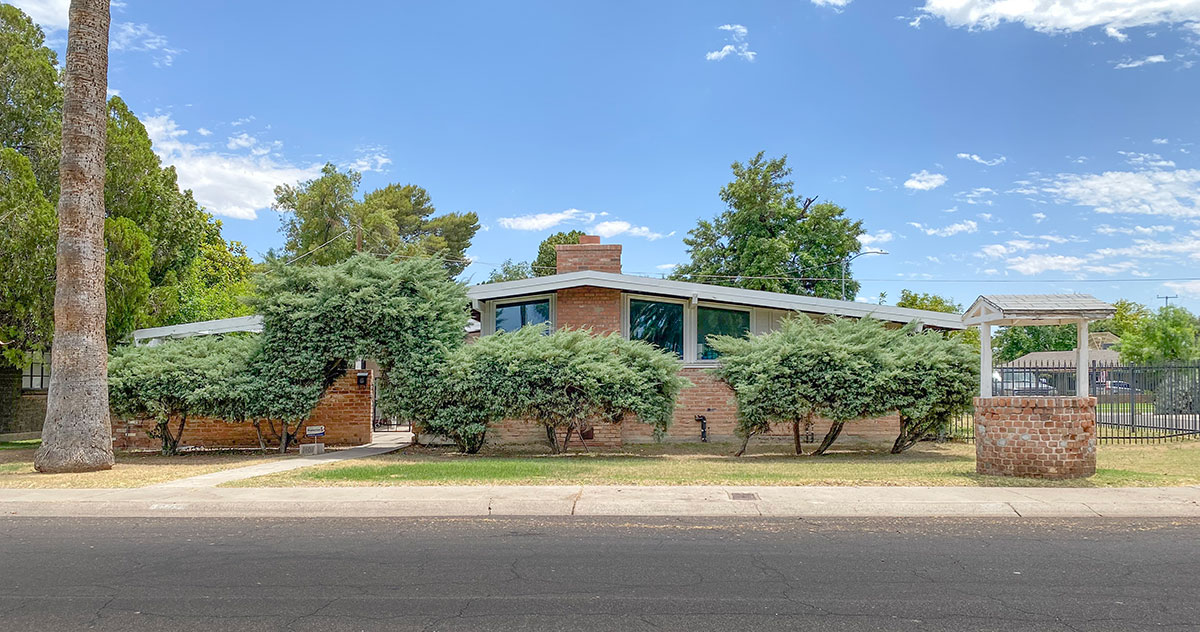 Some of the patio-ports are side entry. The vintage article below indicates that the area is really intended for use as a patio, and only occasionally as a carport.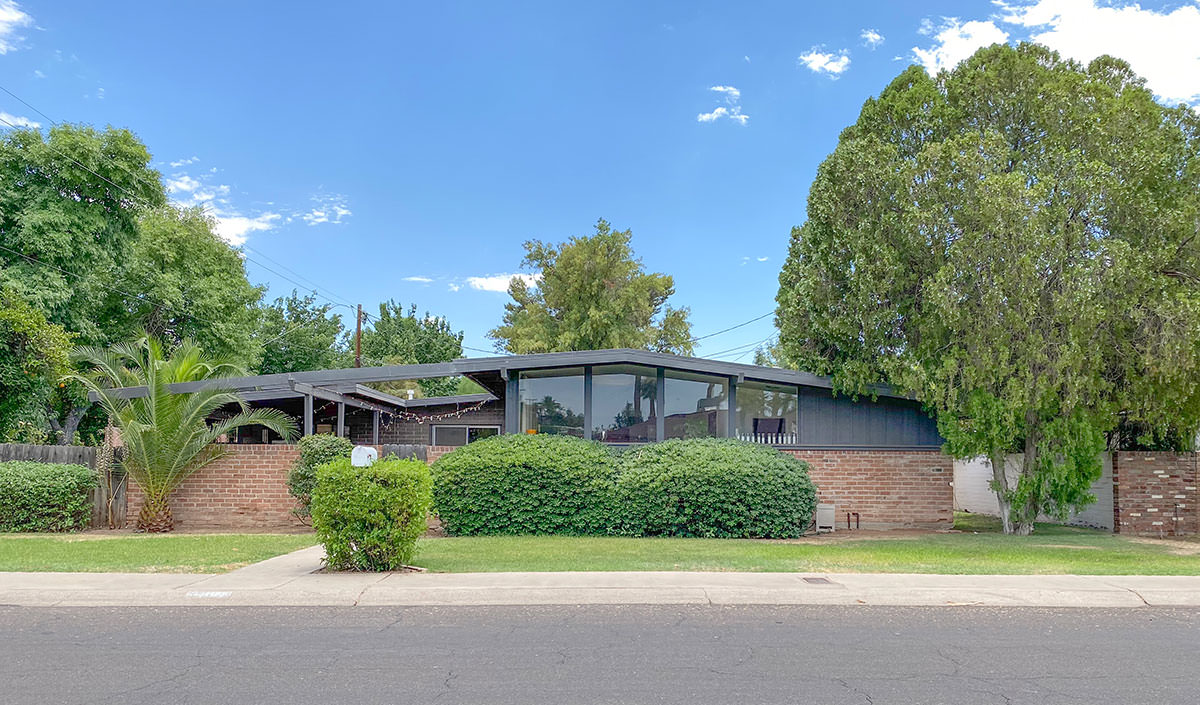 In 1957 homes ranged in price from $14,950 – $18,600 for 1570 square feet, 3 bedrooms and 2 bathrooms, which was a bit pricier than the
first Town and Country Subdivision
, possibly due to quality of materials or uptown location. According to a vintage ad, half the homes sold in their first week, attesting to their attraction.
The Madison School district, proximity to restaurants and culture, mature specimen trees fed by flood irrigation, stable and tasteful exteriors, and charming modern design all have helped these homes fetch over half a million dollars in 2020.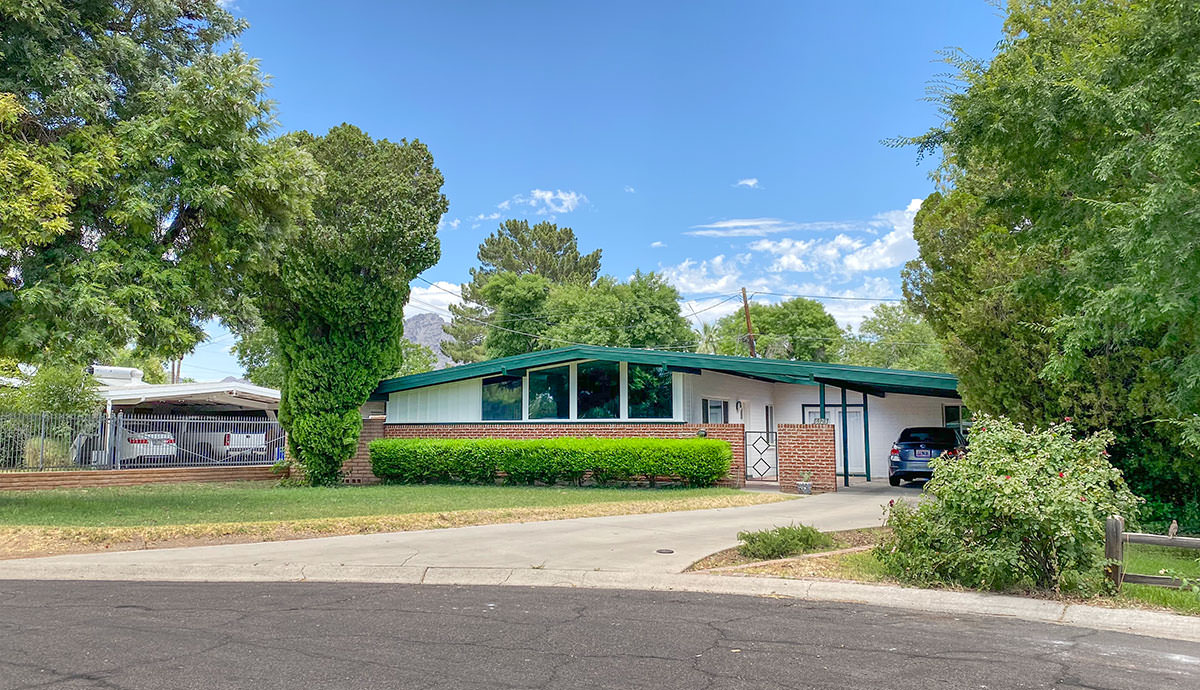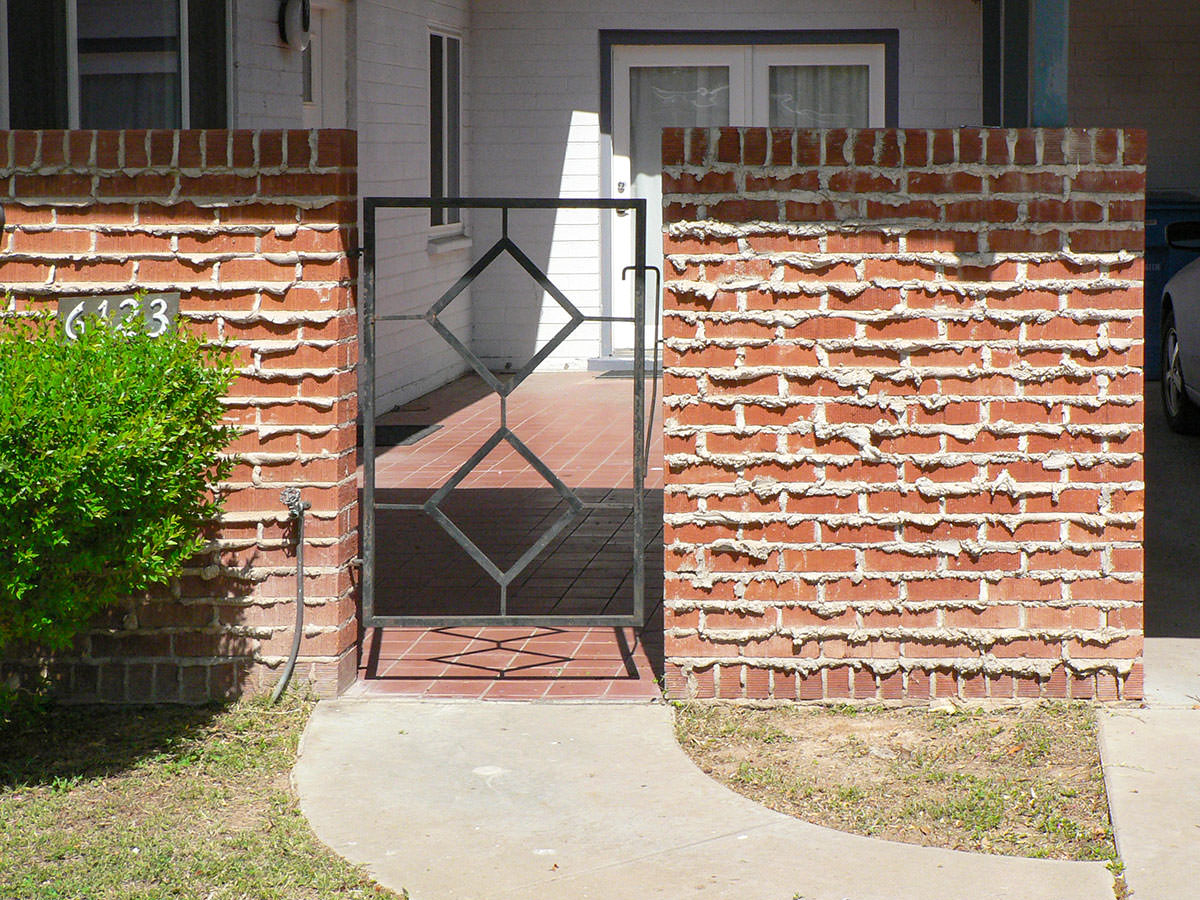 Though the front door can easily be accessed through the patio-port, the graphic guest gate helps define the Town and Country look.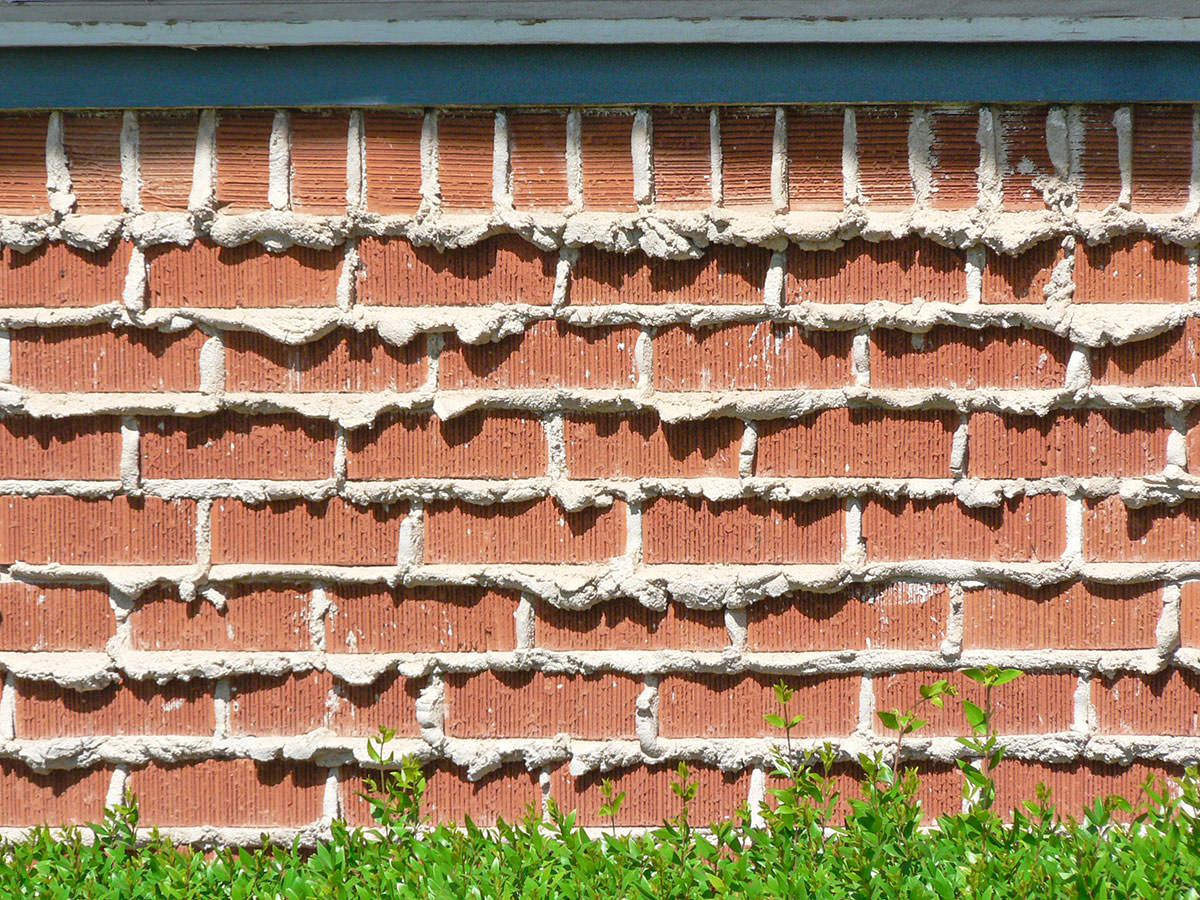 If your Town and Country home features weeping mortar or clinker brick, we advise not painting it over, as it erodes the neighborhood's aesthetic integrity. The paint can be very difficult to remove should a future homeowner decide to restore it.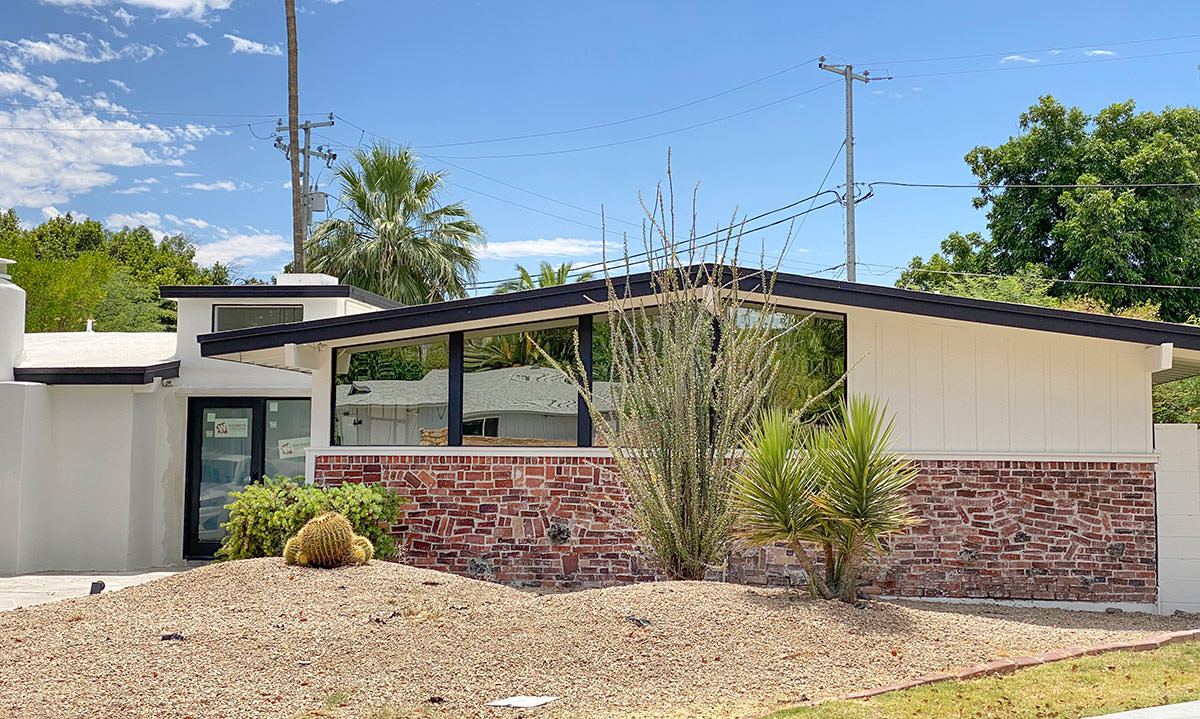 This homeowner has made a valiant effort to remove paint from the highly textured red brick.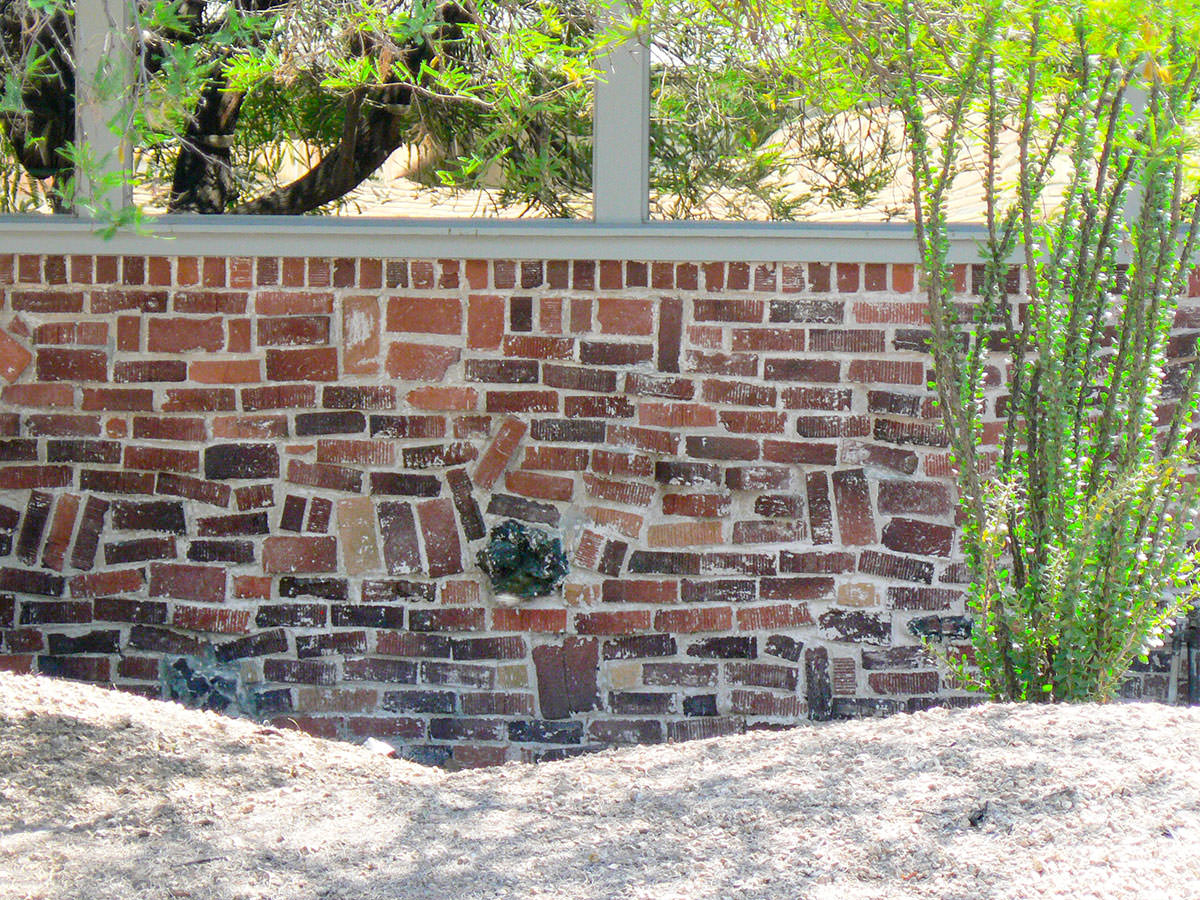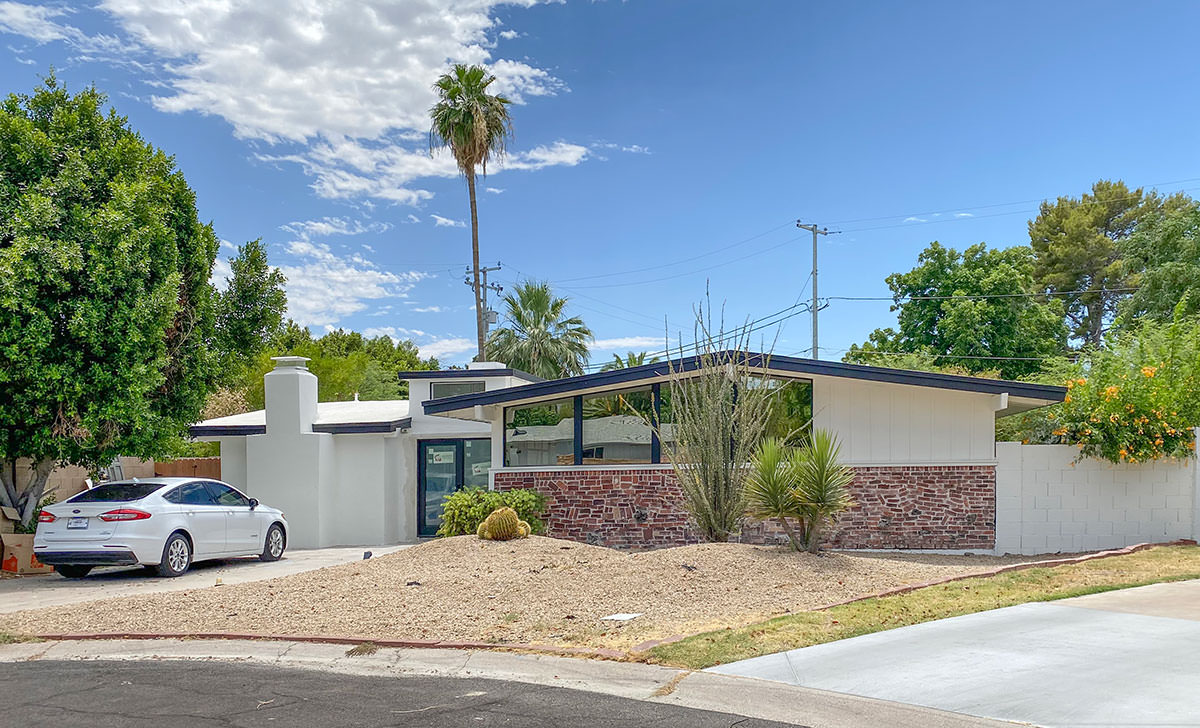 Note that the patio-port has been removed.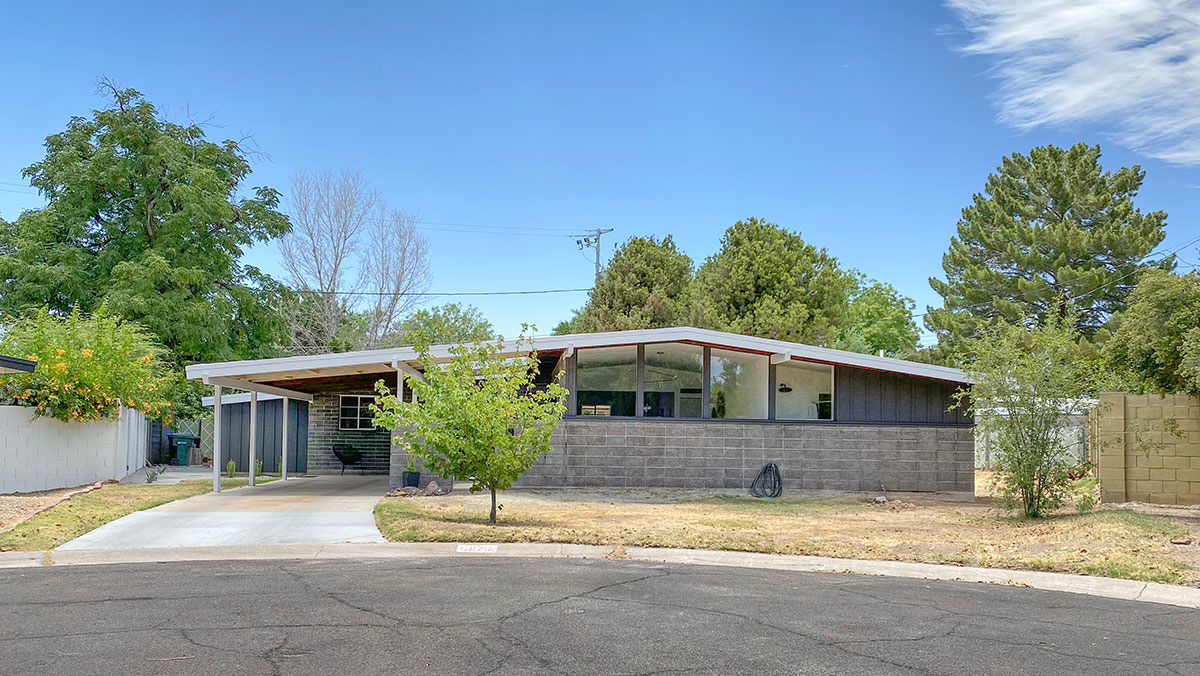 If
sandblasting
, be sure to seal the exposed block properly.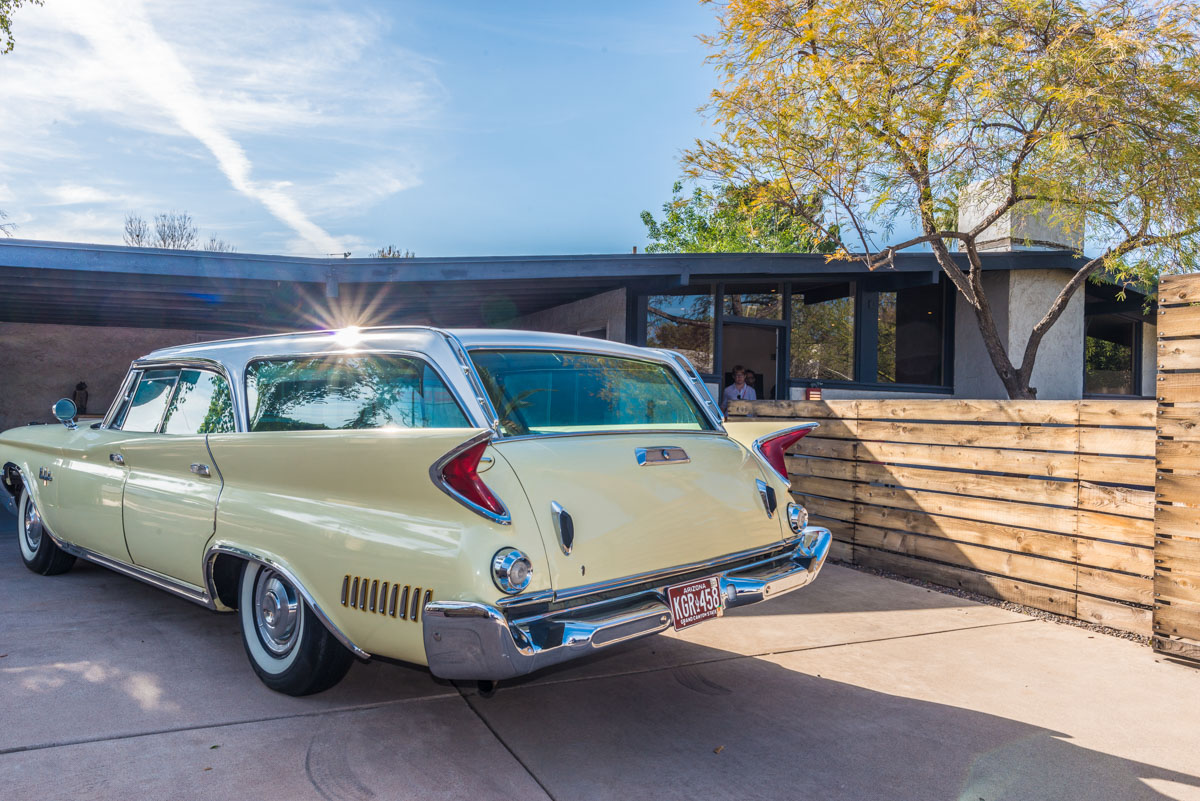 View more of this home on our
2019 Home tour here
.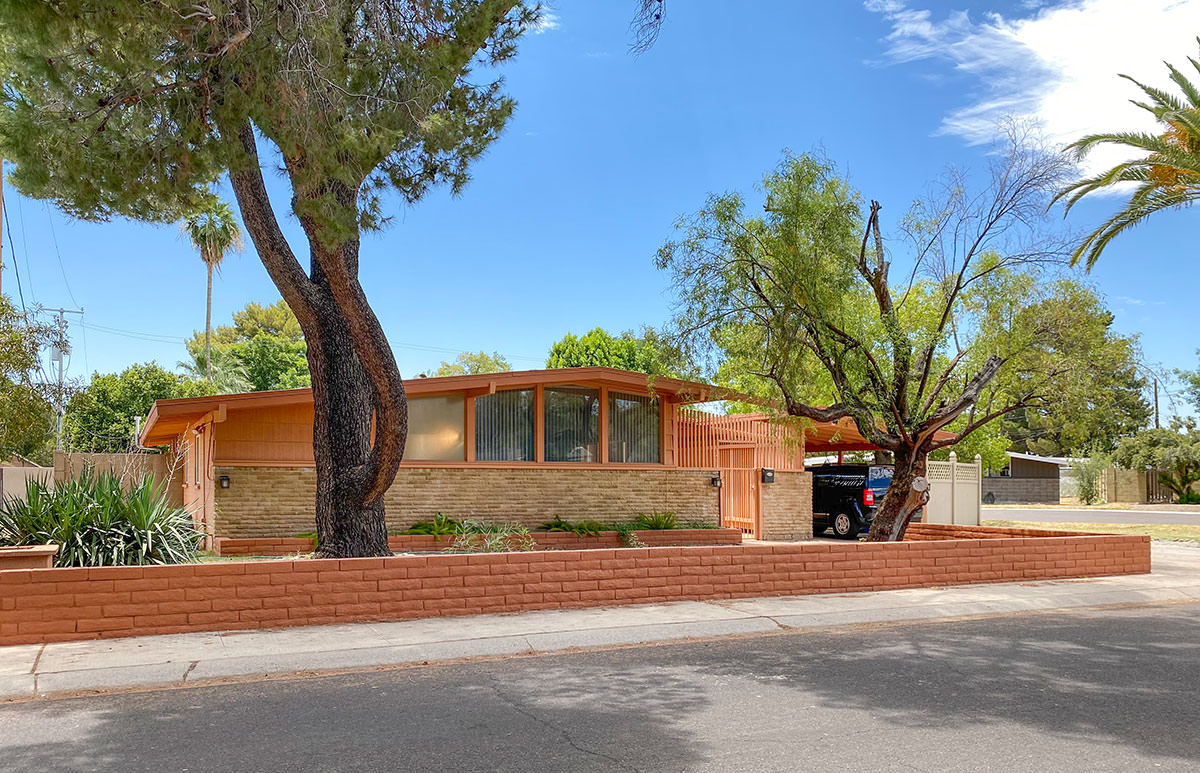 Developer Fred Woodward was proud that the master bathroom window was not detectable from the exterior and presented an unbroken facade, as typically bathroom windows in tract homes were small and high. In the photo above, the illumination inside the bathroom helps you see where the three-paned living room window-wall meets the adjoining bathroom on the left.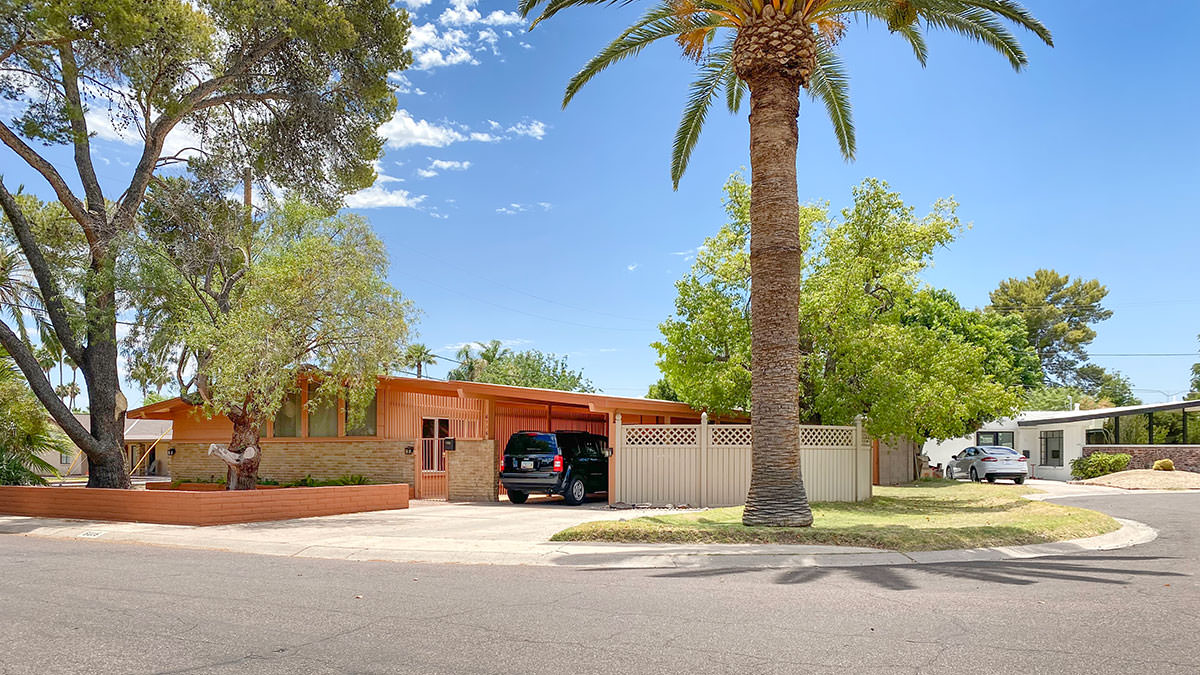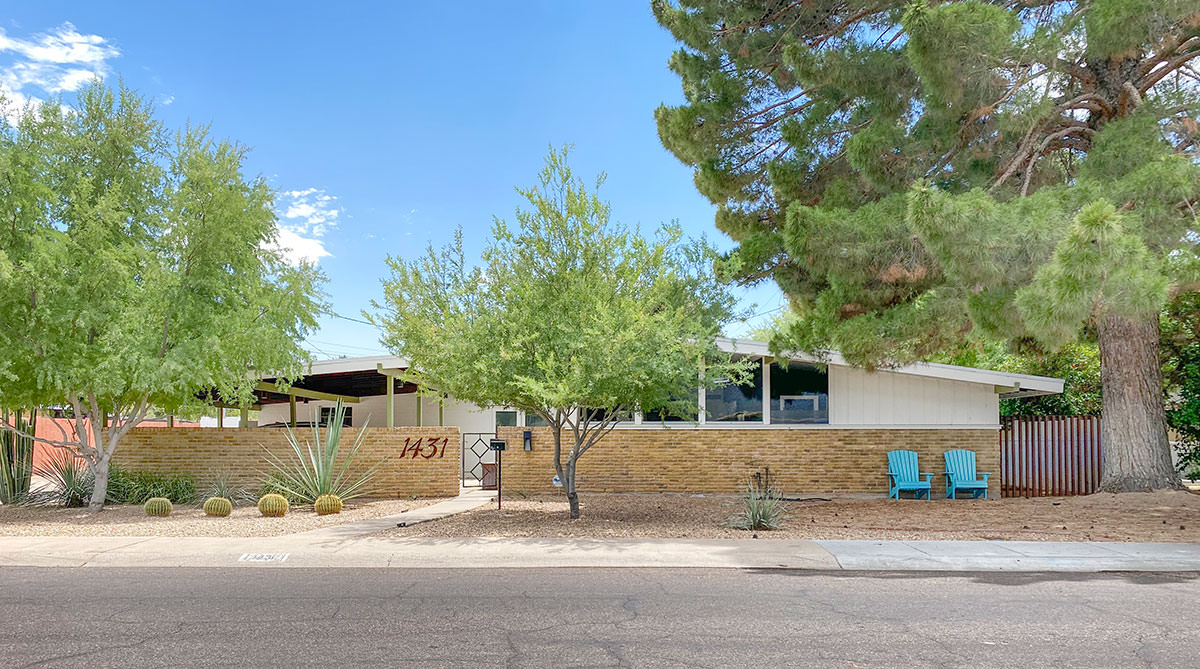 View vintage photos
of this home.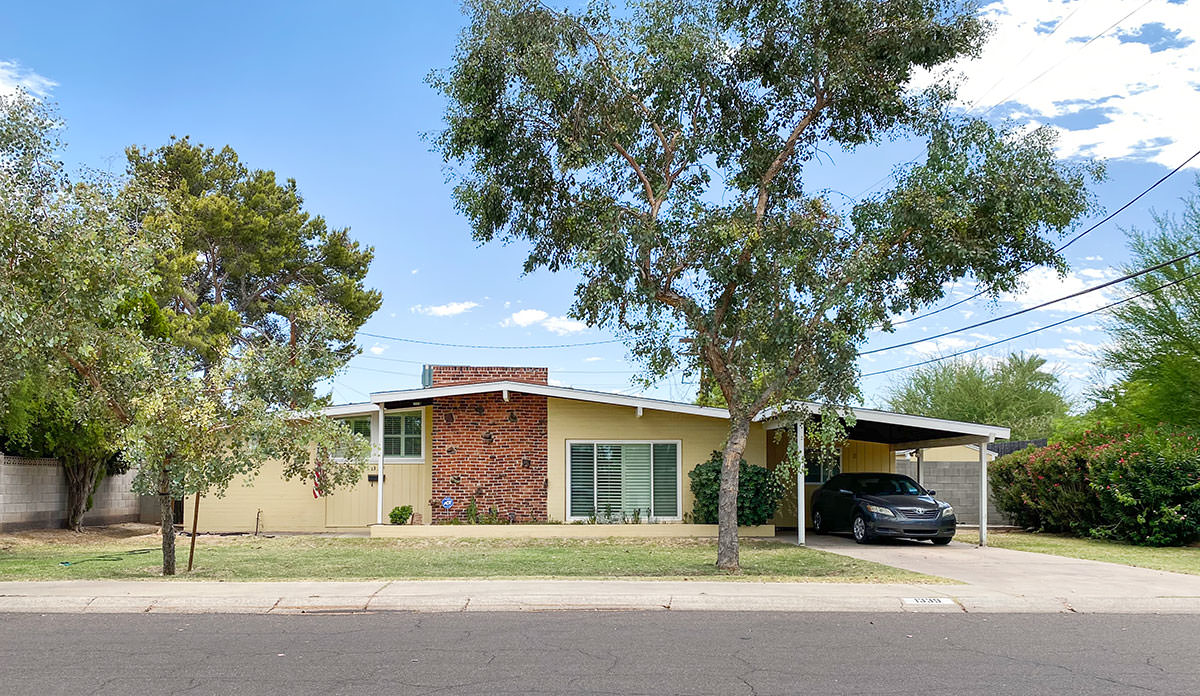 A few homes in the subdivision deviate from the classic Town and Country model. Clinker brick, board and batten, and low gables tie them together. While it's not yet confirmed, it's very likely they're also Ralph Haver designs.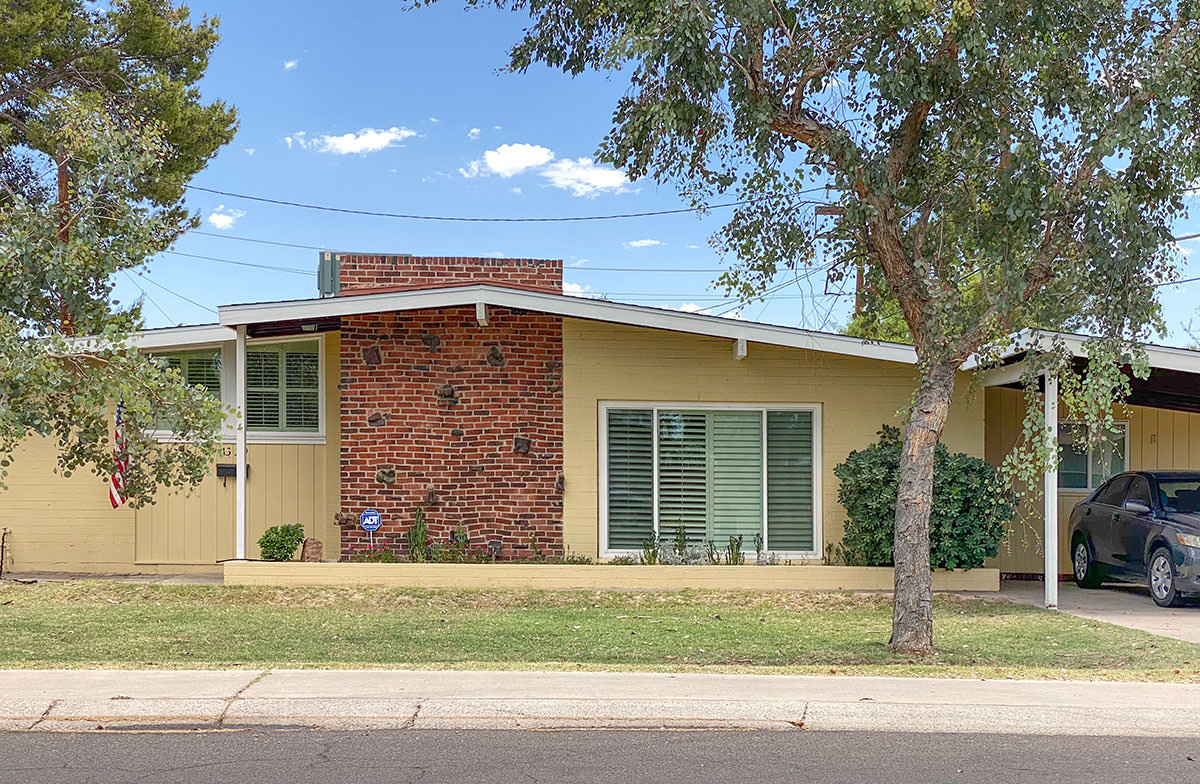 Because Janet Manor is part of a series of successful tracts designed by a Master of Architecture in Arizona, has such remarkably high architectural integrity, and
Scottsdale has already succeeded in their nomination
, Modern Phoenix recommends that the neighborhood organize, survey, and seek the
tax benefits of becoming a Historic District in the City of Phoenix
.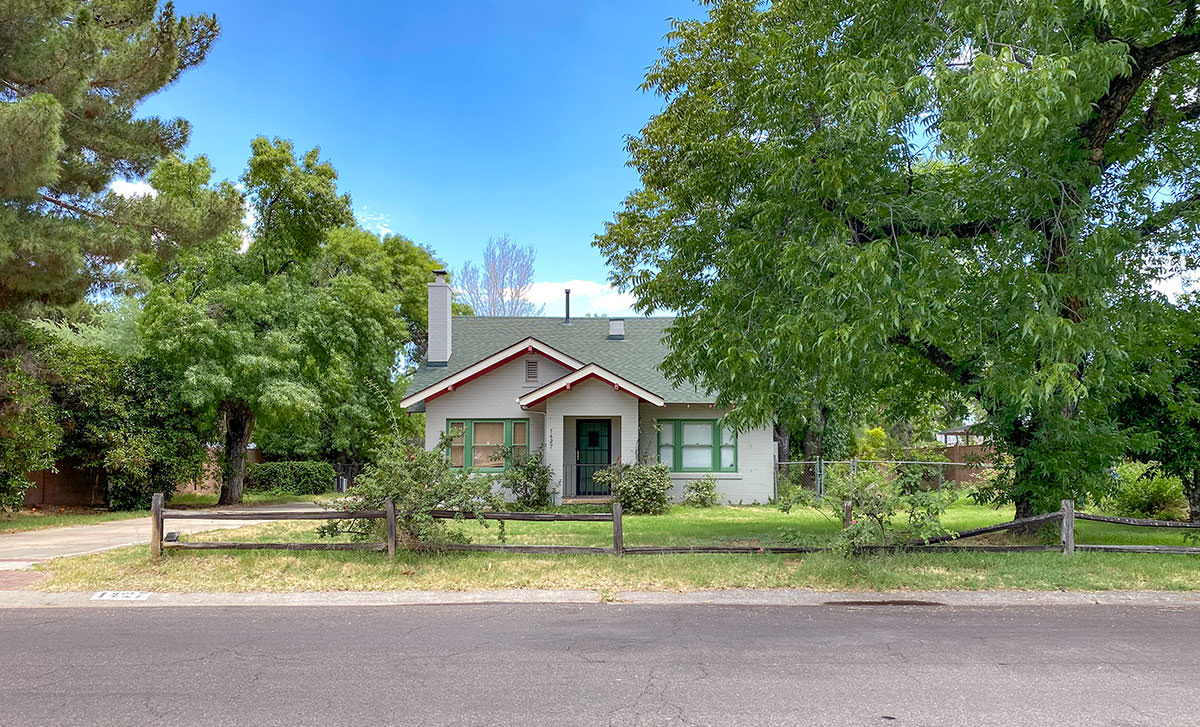 The original ranch house from the grove still stands.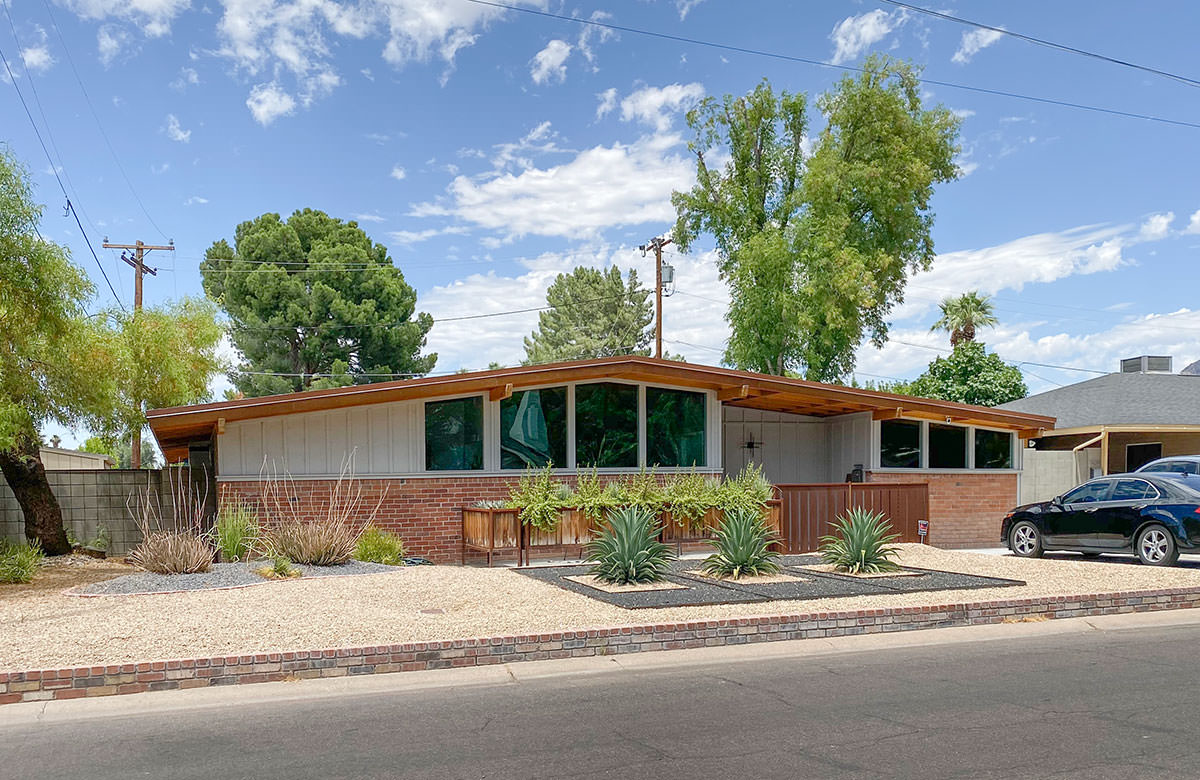 This home across the street is outside of the subdivision boundaries but due to similarities in form and materials, may be a customized variant of the Town and Country model.