5th Annual Modern Phoenix Week 2009
Founding Fathers of Modern Phoenix Home Tour in Arcadia and Uptown Phoenix
Receive advance notice of next year's events!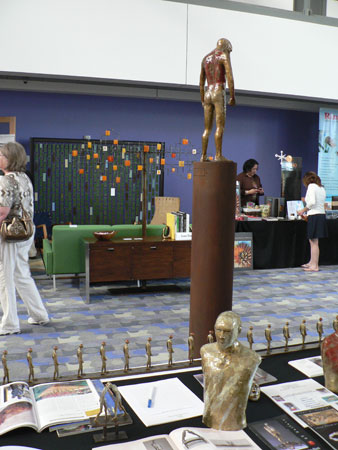 The Modern Phoenix Expo event runs concurrently with a half-day of seminars at the Scottsdale Center for the Arts each April. Twenty-five locally owned exhibitors packed the floor on April 5 with everything beautiful from solar panels to sculpture to silver earrings. To participate in the 2010 Expo, contact
alison@modernphoenix.net
.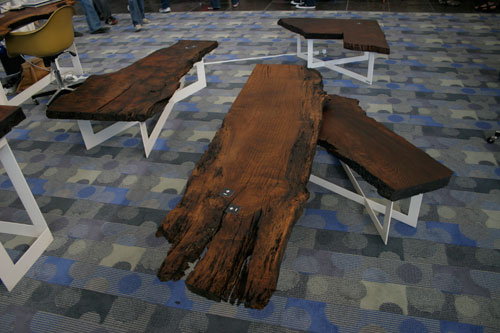 The new line of furniture from plusminus, called Series 1, pairs one-of-a-kind reclaimed redwood planks and glass with powdercoated steel.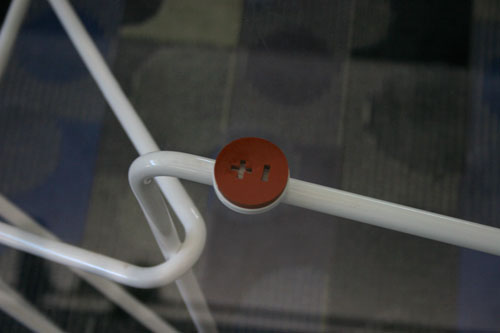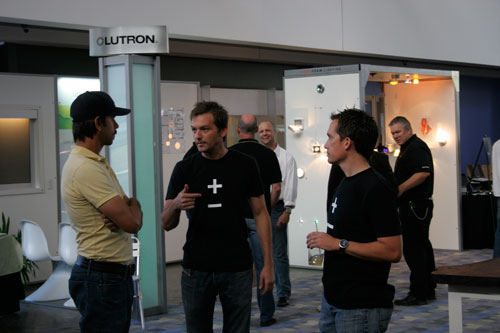 DJ Fernandez from The Construction Zone chatted with Christoph Kaiser and Hayes McNeil from plusminus studio.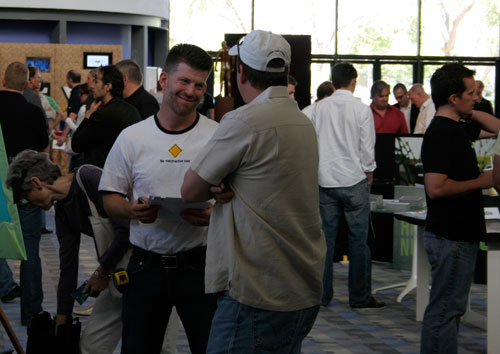 By 12 noon the expo floor was packed with designers interfacing directly with the public. Andy Byrnes from The Construction Zone caught up with James Trahan from 180 Degrees.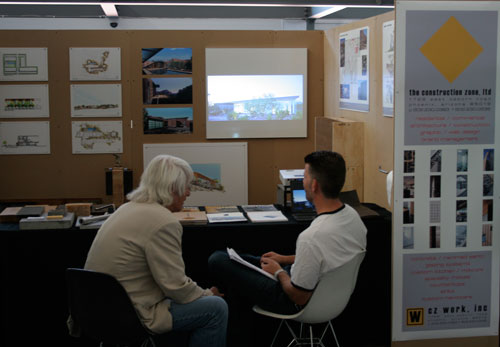 Architectural Designer Michael P. Johnson hung out with Andy Byrnes at the Construction Zone booth. Watchng the CZ fellahs assemble their custom-designed booth was a sight to behold!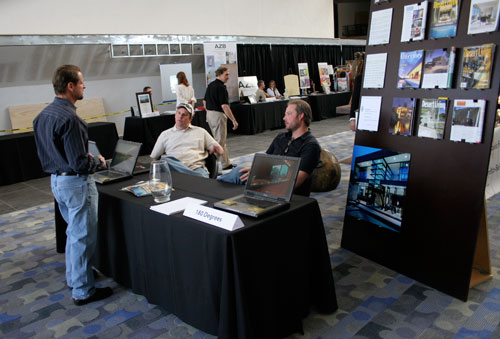 James Trahan and Burt Little of 180 Degrees design/build, AIA Contractor of the Year 2008, greeted visitors at the north entrance of the expo floor. The Atrium space was clearly still under renovation at the time; Modern Phoenix was the first expo to test-drie the new facilities.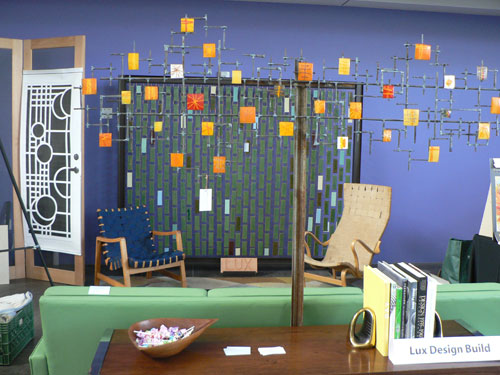 Screen sculptures by Tim Mitchell lent depth to the display by Lux Design Build. Mitchell's door prize contribution received the most entries and made one modern art collector extremely happy!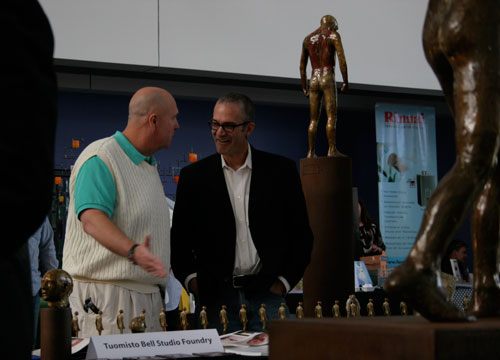 John Tuomisto Bell shared his archetypal bronze sculpture with a kindred spirit.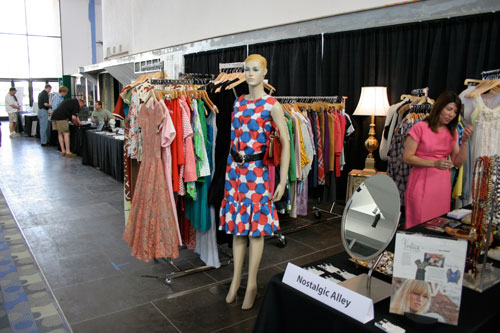 A vintage Fashion Corner was anchored by Nostalgic Alley, Balck Cat Vintage and Heidi Abrahamson.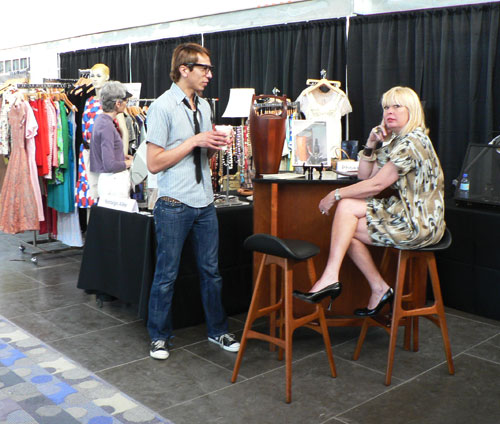 Marc Patlan from Nostalgic Alley and Heidi Abrahamson took us back in time while seated at the Phoenix Metro Retro bar.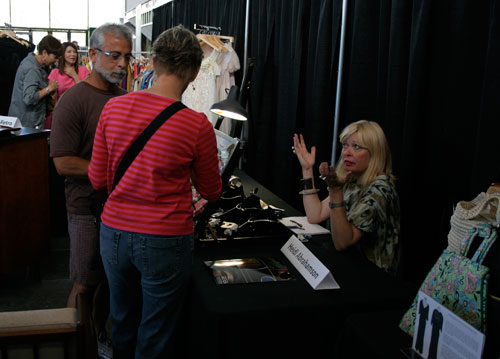 Ponciano Montoya and Delene Patterson chatted with jeweler Heidi Abrahamson.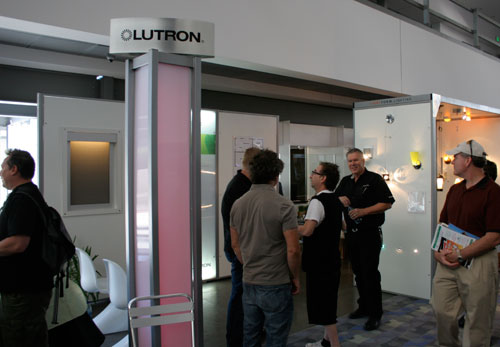 Vine Saccento paused to discuss lighting with Upgrade Design.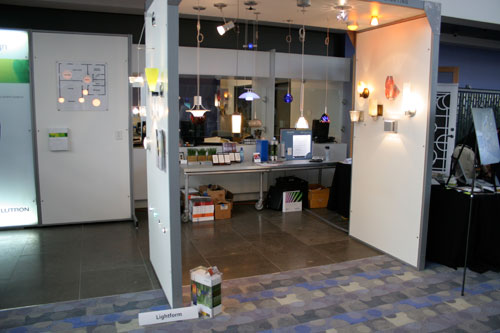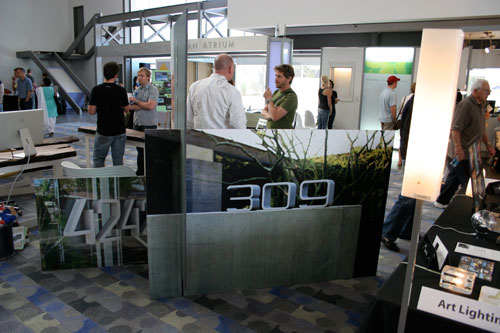 Zero to Nine house numbers had a style for every retro home.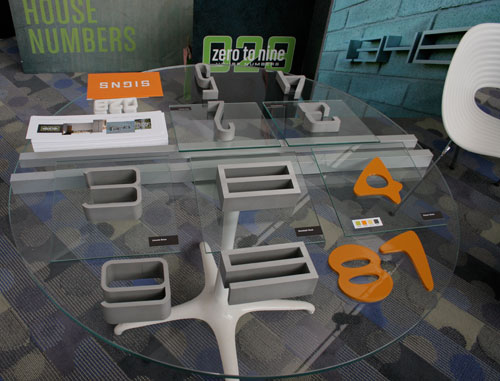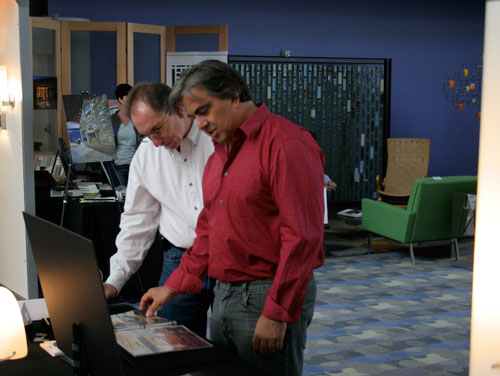 Bob Ferraro of Art Lighting Inc. shared his portfolio with Steve Shinn of Homework Remodels.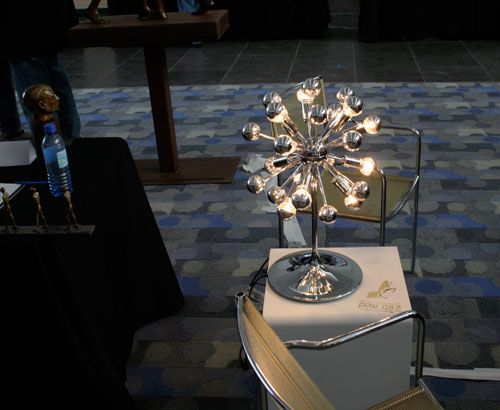 Ferrarro also teaches lighting in the Interior Design department at The Art Institute of Phoenix, a sponsor for the event. Both students and faculty were involved in running the week's activities.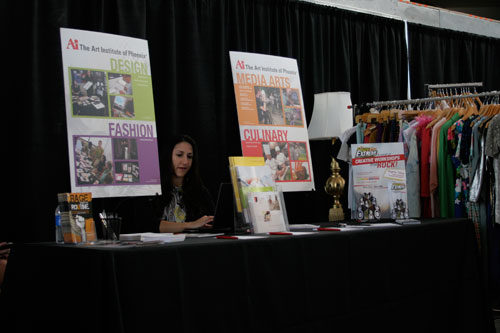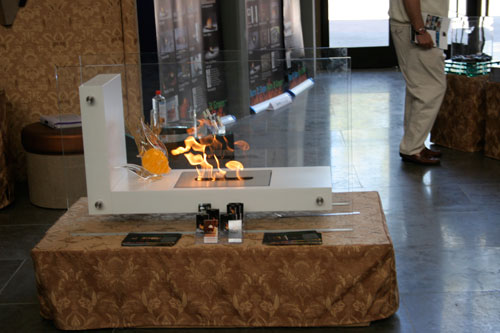 Look At My Fire provided a dramatic flaming welcome to the Expo floor.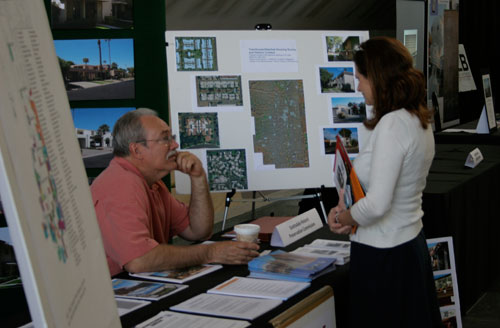 Don Meserve from the Scottsdale Historic Preservation Commission returned to interface with the public on Scottsdale's latest efforts in historic preservation.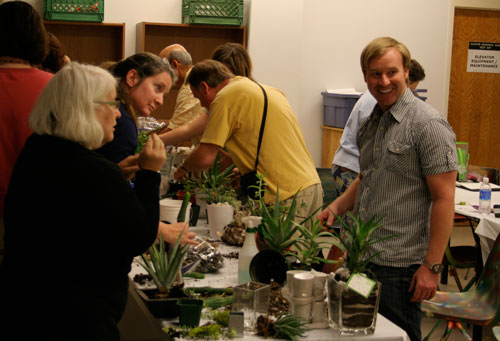 Charlie Ray of The Green Room worked in the center's new art studio facility to help worhksoppers create living sculputre out of cacti and succulents.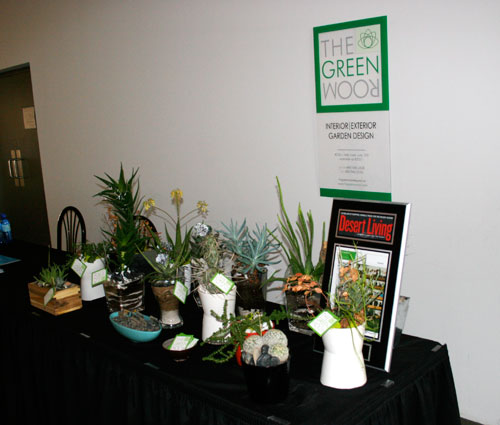 The Green Room provided exquisite living gifts for all home tour homeowners and lecturers.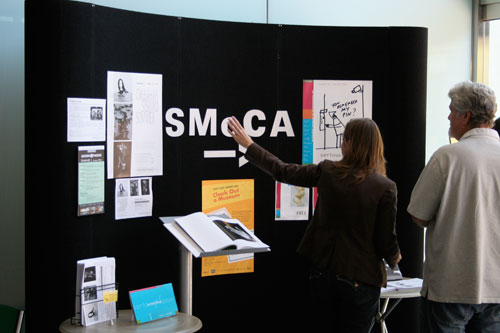 Scottsdale Museum of Contemporary Art curator Claire Schenieder described the midcentury photography exhibition currently on display and the upcoming show
Seriously Funny
.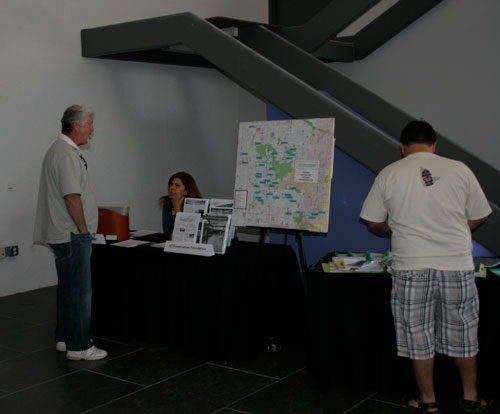 Longtime ModPhx member Regina Alexandra answered people's questions about Phoenix's vintage neighborhood revitalization at the Modern Phoenix booth.
---
Modern Phoenix Week was kicked off by a First Friday event held at ASU's Phoenix Urban Research Laboratory. Director Eric Bricker brought his film
Visual Acoustics, The Modernism of Julius Shulman
for a screening to 200 guests.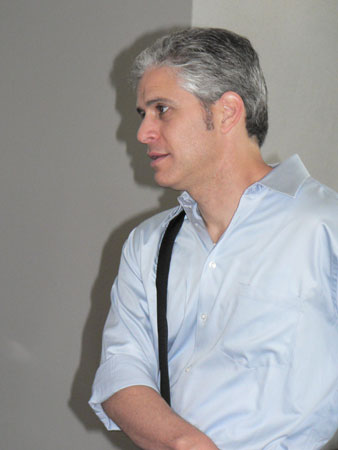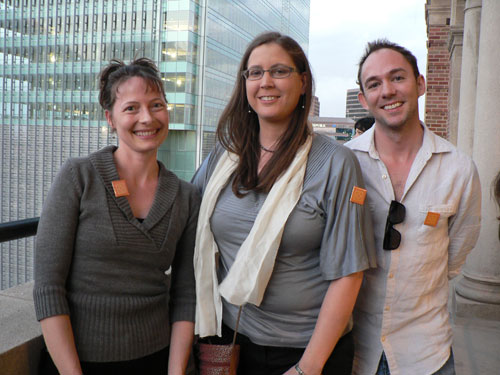 ModPhx member Stacy Wolski, ModPhx Founder Alison King and editor David Tyda of Desert Living enjoyed the dying breezes of a perfect spring day on the PURL balcony.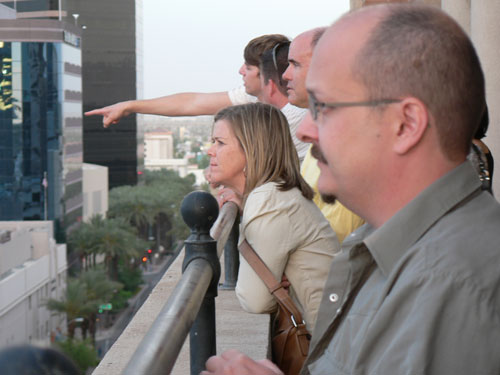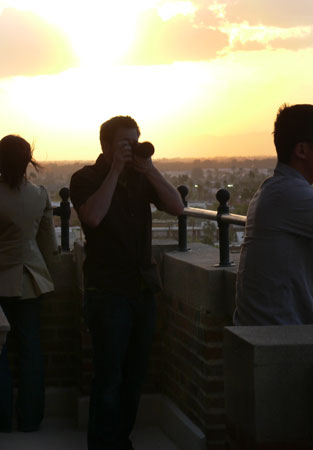 The entire weekend was a photographer's delight. Join us next year!
---