The Hopkins House, a 1946 Custom by Ralph Haver AIA
Restoration of the Hopkins House porch in 2010
By Alison King, Founding Editor, Modern Phoenix
The back patio of the Hopkins House was originally wide open in circa 1946. In classic modern style, the home turns its back to the street and opens up to the rear lawn. Since the 40s, its been enclosed at least twice to make an Arizona Room. That's understandable because the sunlight can be brutal in the summer for a few hours an evening toward sunset. In the winter, it captures passive solar heating. I imagine the summers were much worse back in '46, because there weren't any surrounding homes or fences to block off the blazing parallel rays of the sun as it set.
The most Haverly feature of this patio is the huge horizontal beam and cute angled porch post. This is the first known use of angled posts in any Haver Home. In fact, I think that's next door neighbor Mr. Haver standing there on the right, because the profile doesn't look like Mr. Hopkins. The home is unfurnished, so its possible he's showing the home off to Dr. Doris Hopkins!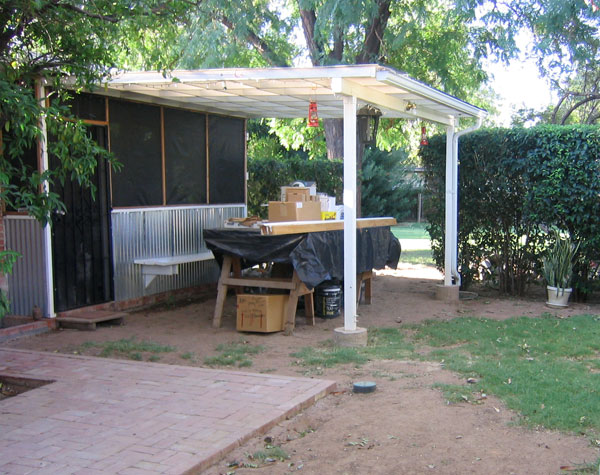 Here's what we got into the day we moved in. Practical and sturdy with more shade than ever, but dark inside. We knew that we would need to tear down the Arizona Room but desperately needed it for storage and security until we had the yard fenced in. In 2010 we were finally able to demolish it and start restoring it back to original condition.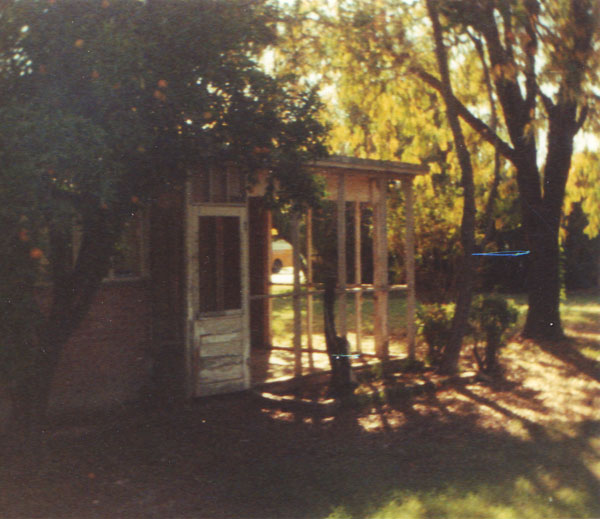 What we got was nothing compared to what the interim owners the Johnsons had to deal with. The vintage porch had definitely seen better days, and really started to fall apart.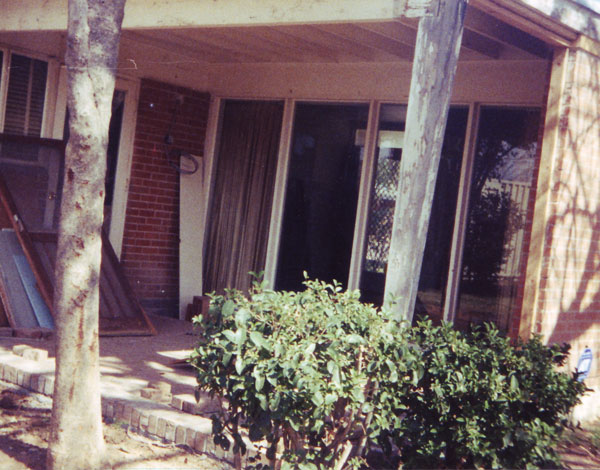 They completely refurbished it in the 2000s inspired by the previous design.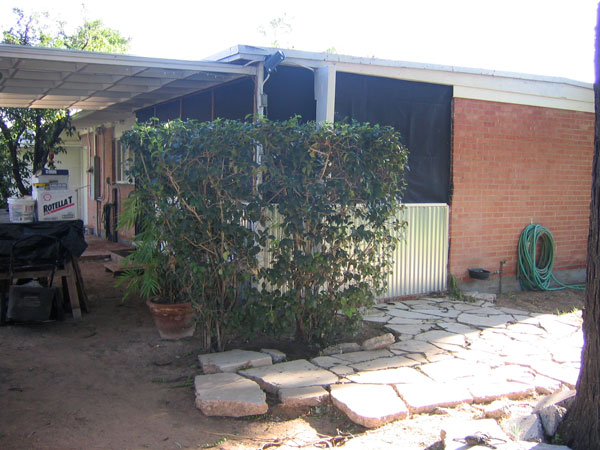 The original angled beam is in there somewhere behind the privet!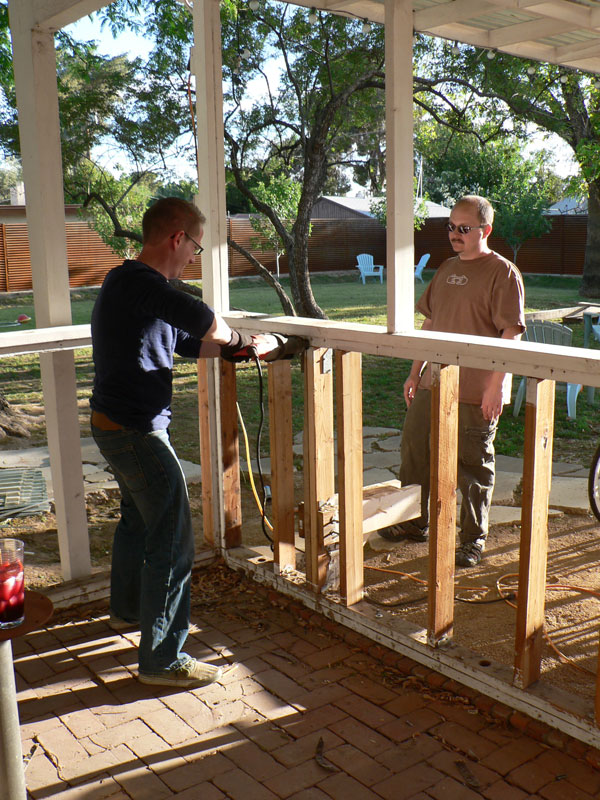 After a slow process of dismantlement. Chris and Matthew finally tackled the porch with a sawzall in 2010. This was a dream come true for all of us!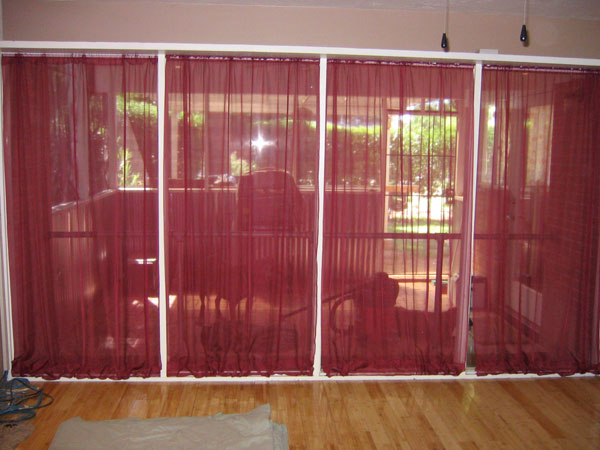 Floor to ceiling window treatments the day we closed on the home circa 2005.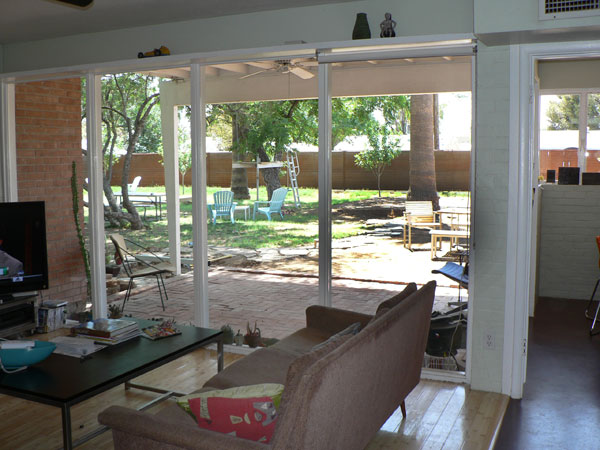 We love sunshine, so the drapes were one of the first things to go. And now for the first time instead of looking into an enclosed porch, the view extends the full depth of the yard, creating that blur of outdoor and indoor living so characteristic of the era.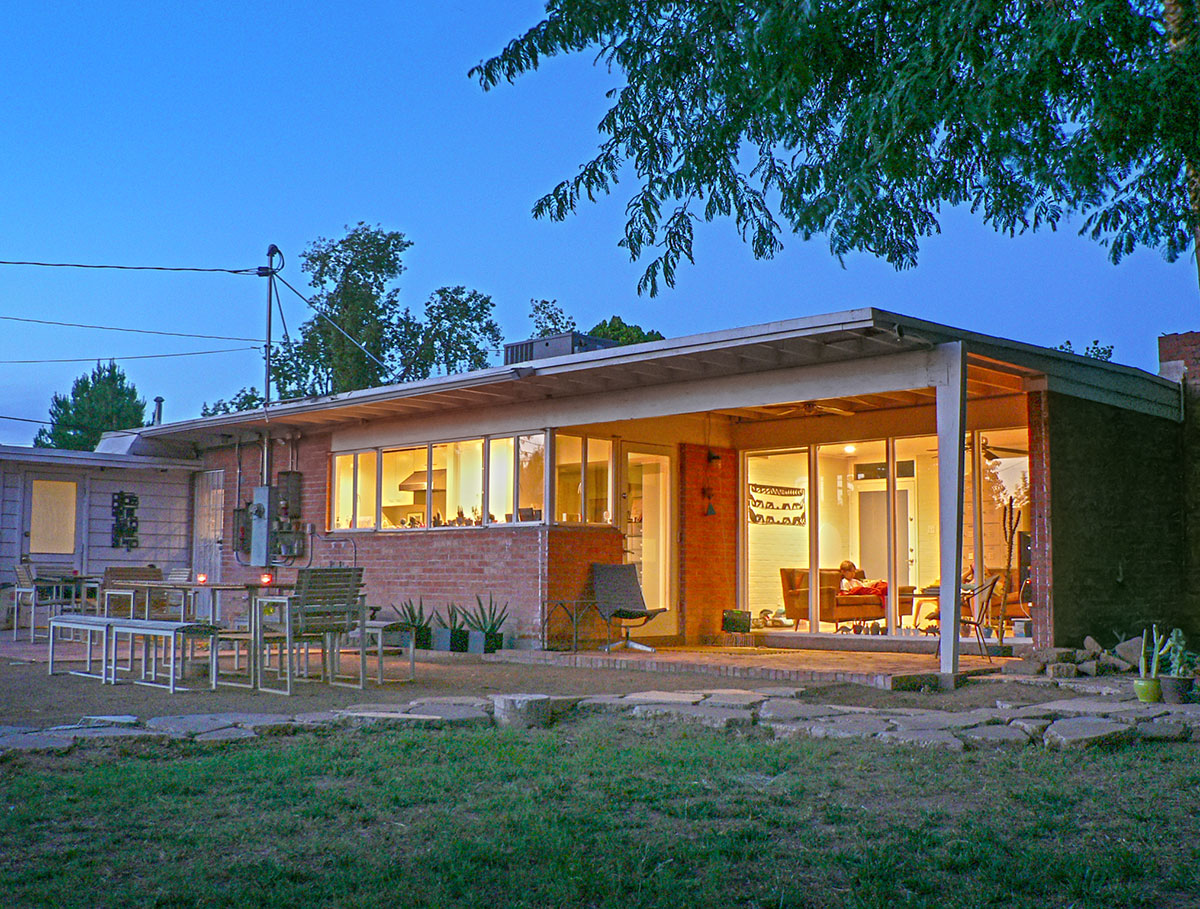 The exterior wood still needs fresh paint and gutters, but the bulk of the hard work is done. We felt this restoration was important to reveal the beam, which is one of the historically distinctive features of the home.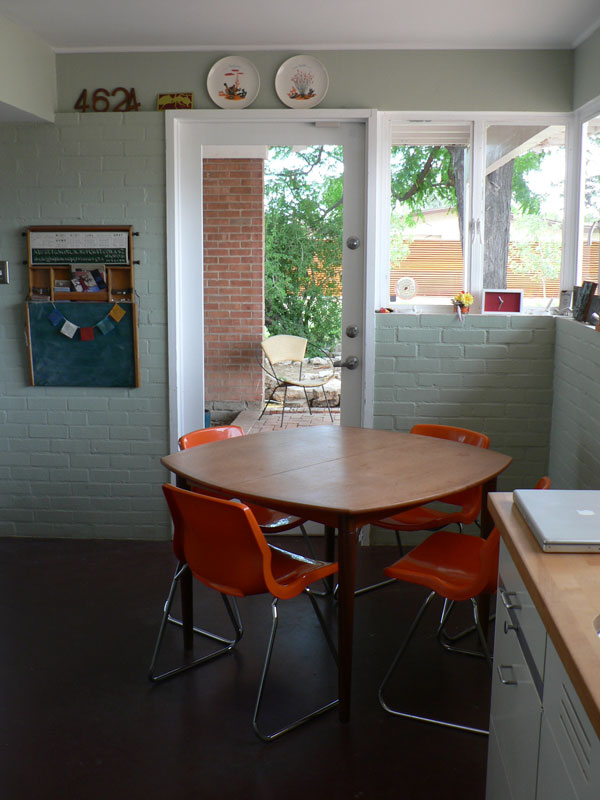 The new view from the kitchen also extends the full length of the property as well.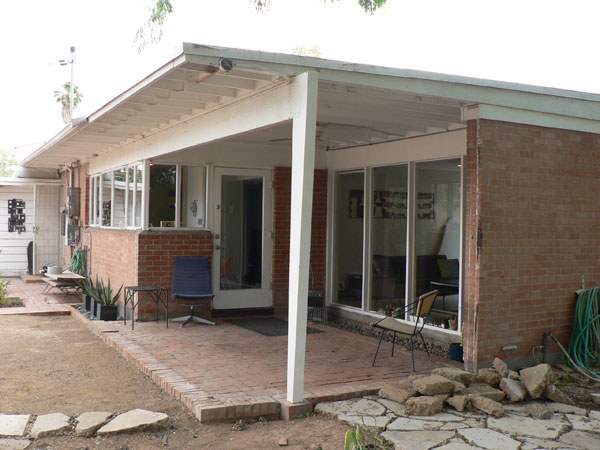 2010