The Hopkins House, a 1946 Custom by Ralph Haver AIA
Landscape at The Hopkins House, Summer 2009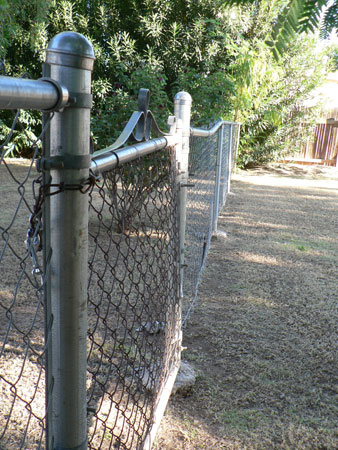 Chain link may have been fashionable at one point, but I am so over it!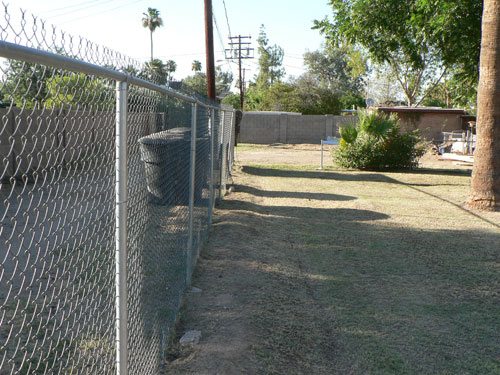 We have yards and yards and yards of it! Bleh!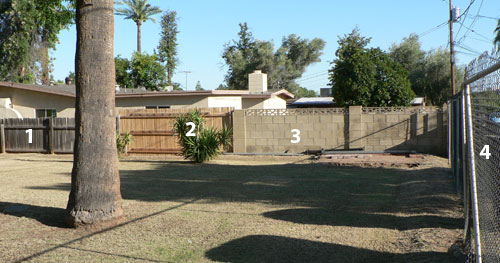 Not only that, we have yards and yards of our neighbors' fences, too. Four out of 8 fence styles shown here. We received permission to demo the fence seen here.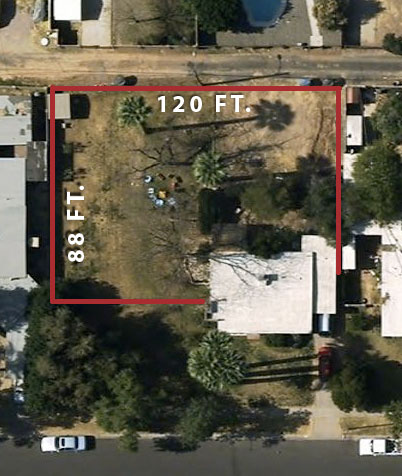 There is over 300 linear feet of fencing needed. No matter how we figured out the materials, it was going to cost thousands and thousands of dollars, so we held out for what we really wanted.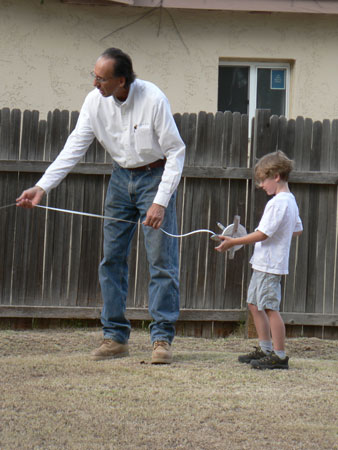 Enter Bill Tonnesen. He needed a website, I needed a fence. He worked with us to survey the lot, create an accurate site plan, and a Master Plan for the yard.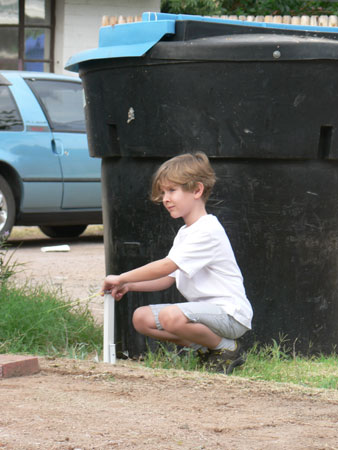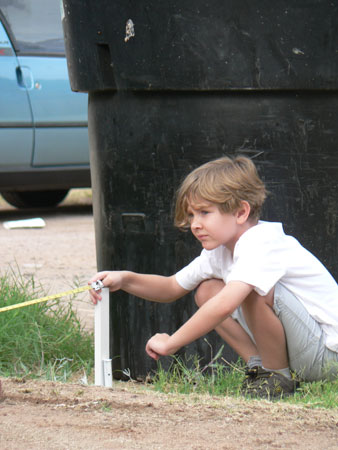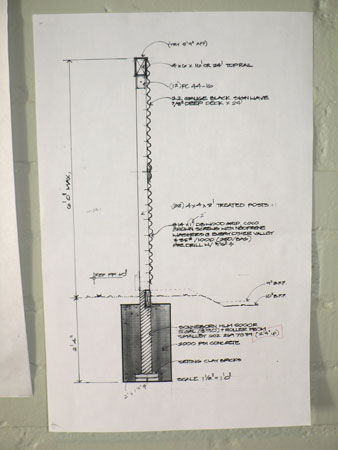 The fence materials are heavy-duty corrugated steel on wood posts, with concrete footing. An all-steel fence would have been nice but it simply cost-prohibitive.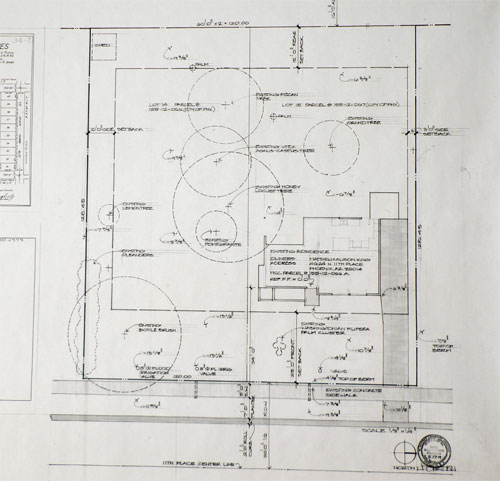 Here's the site plan with all the shrubbery removed and only the major trees left standing. The long dashed lines show how far we could build out on our lot, when we expand.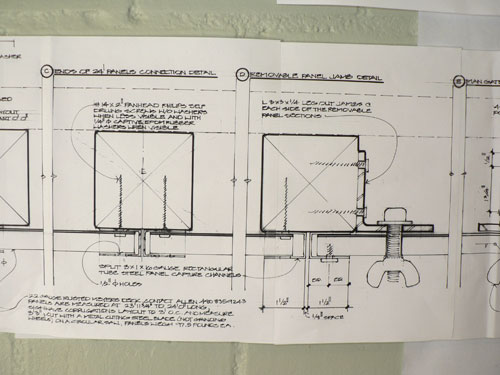 Here's partly why we needed a professional: engineering. We need both a man-gate and an RV gate that was compatible with the materials we have chosen. Here are some details for how part of the fence panels will be removable via a huge wing-nut that is removable only from the inside. For the man-gate, we are going to do something creative, but we're not sure yet. Tonnesen is just giving us an empty frame to work with and fill in with whatever material we wish.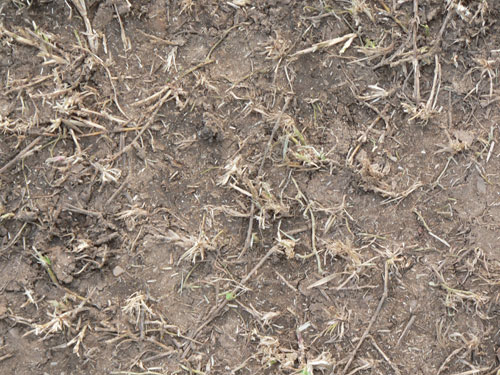 We had to scalp the lawn in order to grade it. Looks great, right?!?! It will bounce back, though, and we were planning on de-thatching it anyway.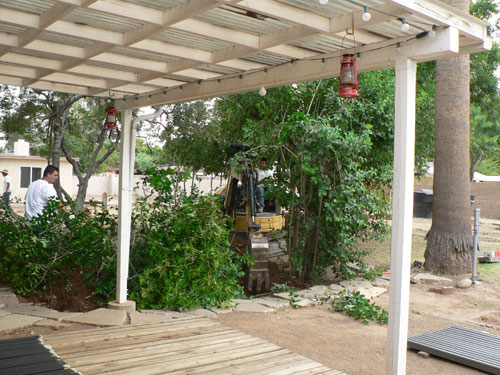 One of the most cathartic moments was watching the wall of privet go down. We can see the pecan tree from the kitchen window now! In fact, we can now wee the whole back yard!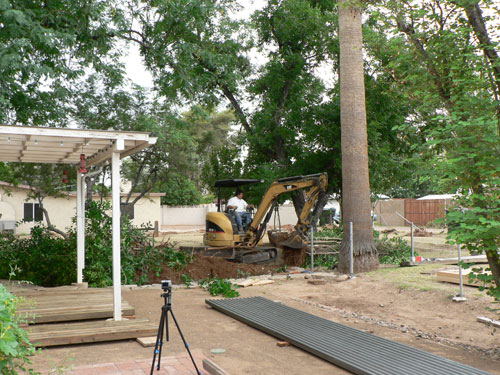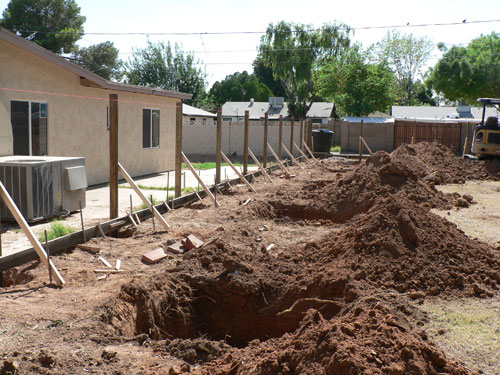 Eleven big holes for 11 ash trees to get planted in. In about three years, they will provide total screening of our neighbor's rooflines and all we will see is is our green in the foreground and their greenery in the background. Those diagonal posts are temporary braces to hold everything perfectly plumb as they pour the concrete footings on Saturday.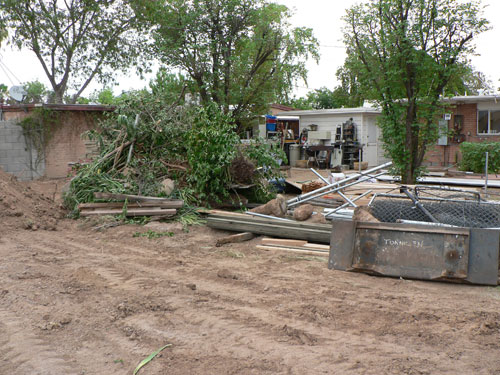 We ripped out a lot, living and dead.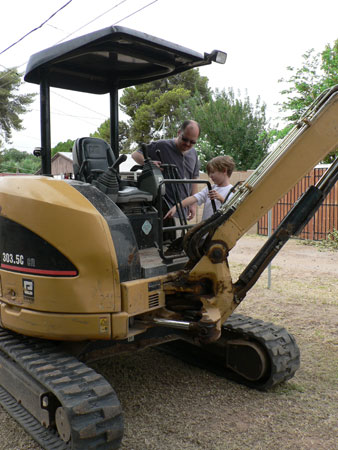 We have put a lot of sweat equity into this project, including ordering and offloading all of the wood and steel materials in advance, and treating it with asphaltic emulsion to prevent rot. Tonnesen has helped us to cut major costs wherever possible by letting us DIY.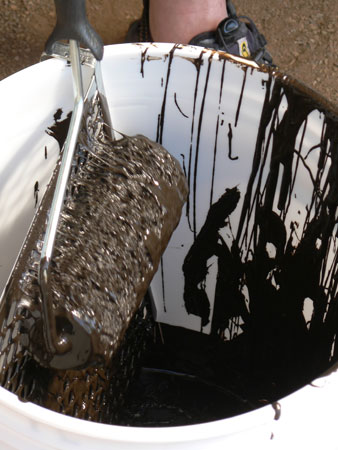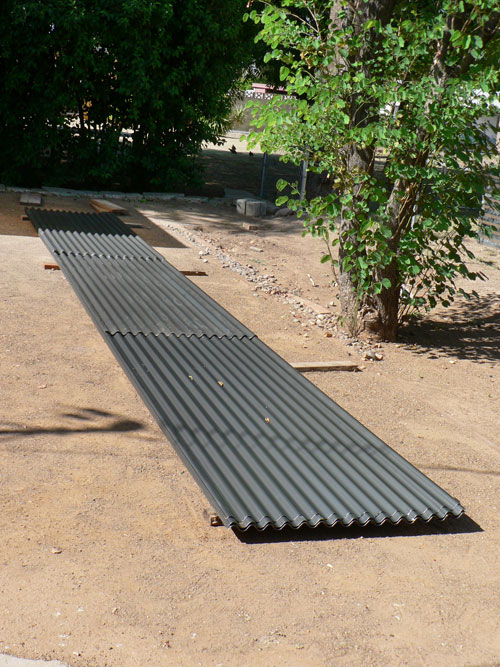 Here's the steel, 100 lbs a sheet! It is already starting to rust nicely in the pre-monsoon sprinkles we have been getting. They are pouring the concrete footings on Saturday and it should be cured enough by Monday to install the sheets!
~~~~~~~~~~~~~~~~~~~~~~~~
I am just putting these photos here so I can access them easily for my blogs. Its Matthew and Chris Marks taking measurements for our site plan.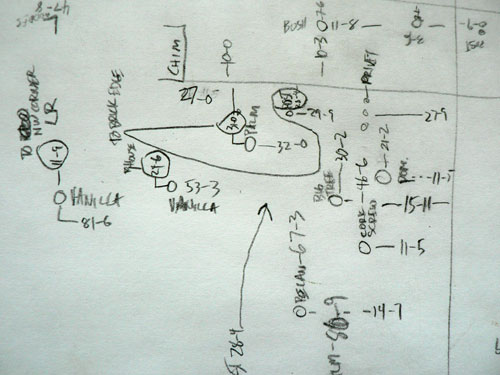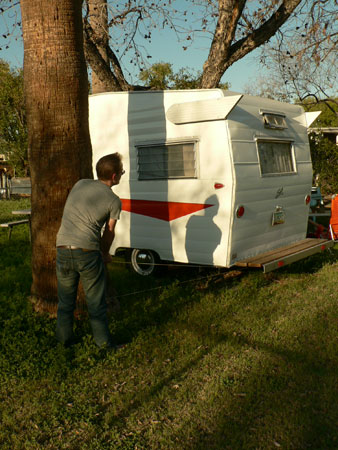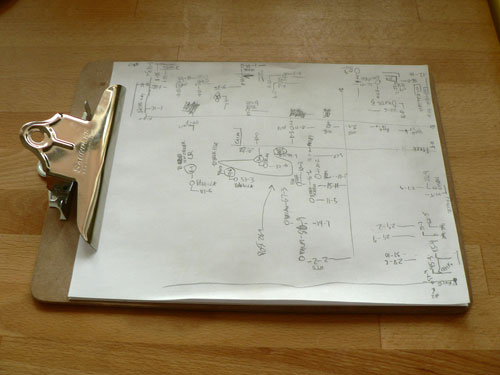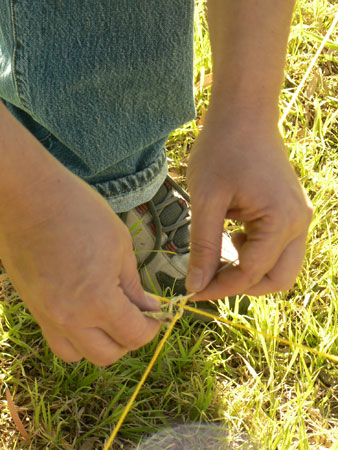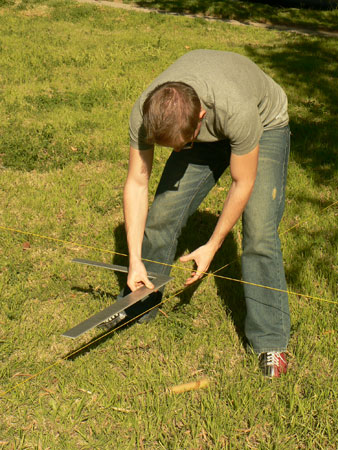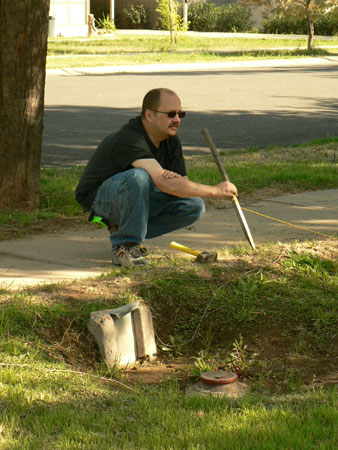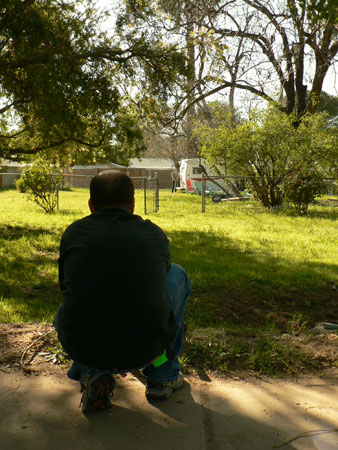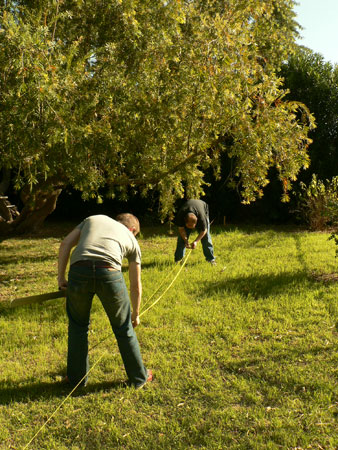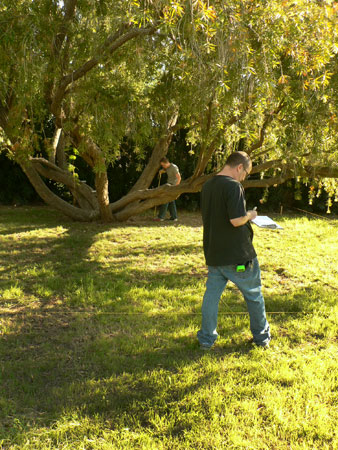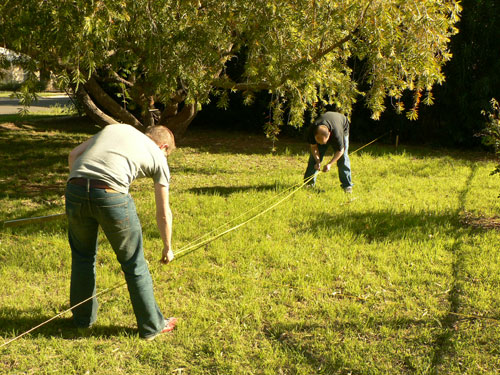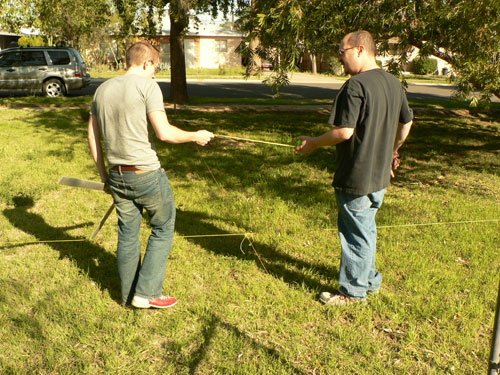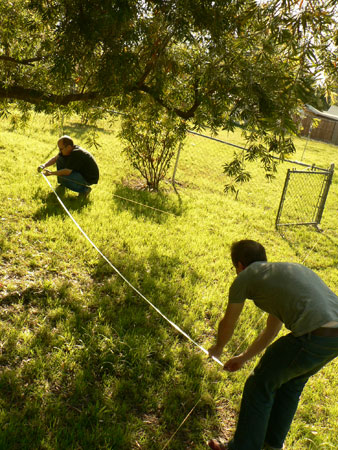 Photos copyright 2009