Holiday Park Apartments | 1958
By Ralph Haver AIA, Donald Van Ess and Copper State Engineering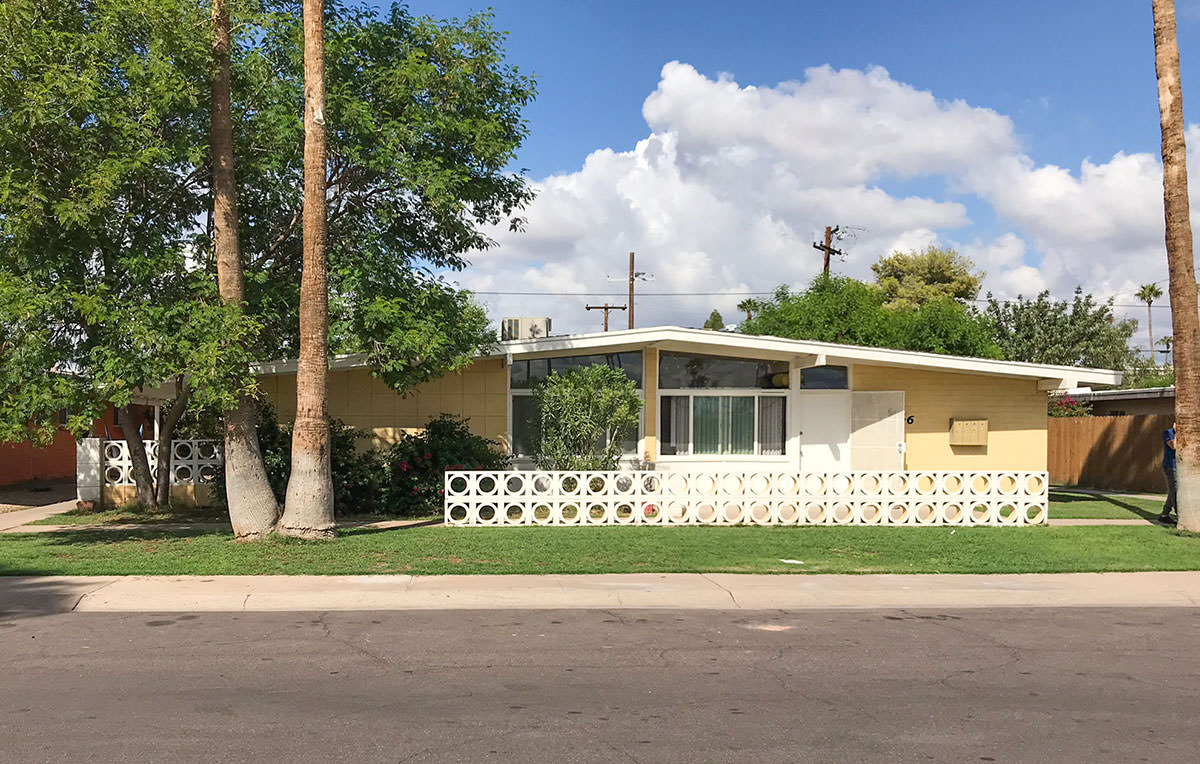 John DeGreer Development Co. and Omega Construction planned their Holiday Park subdivision in Scottsdale to house about 60 single-story units, the vast majority of which were fourplexes.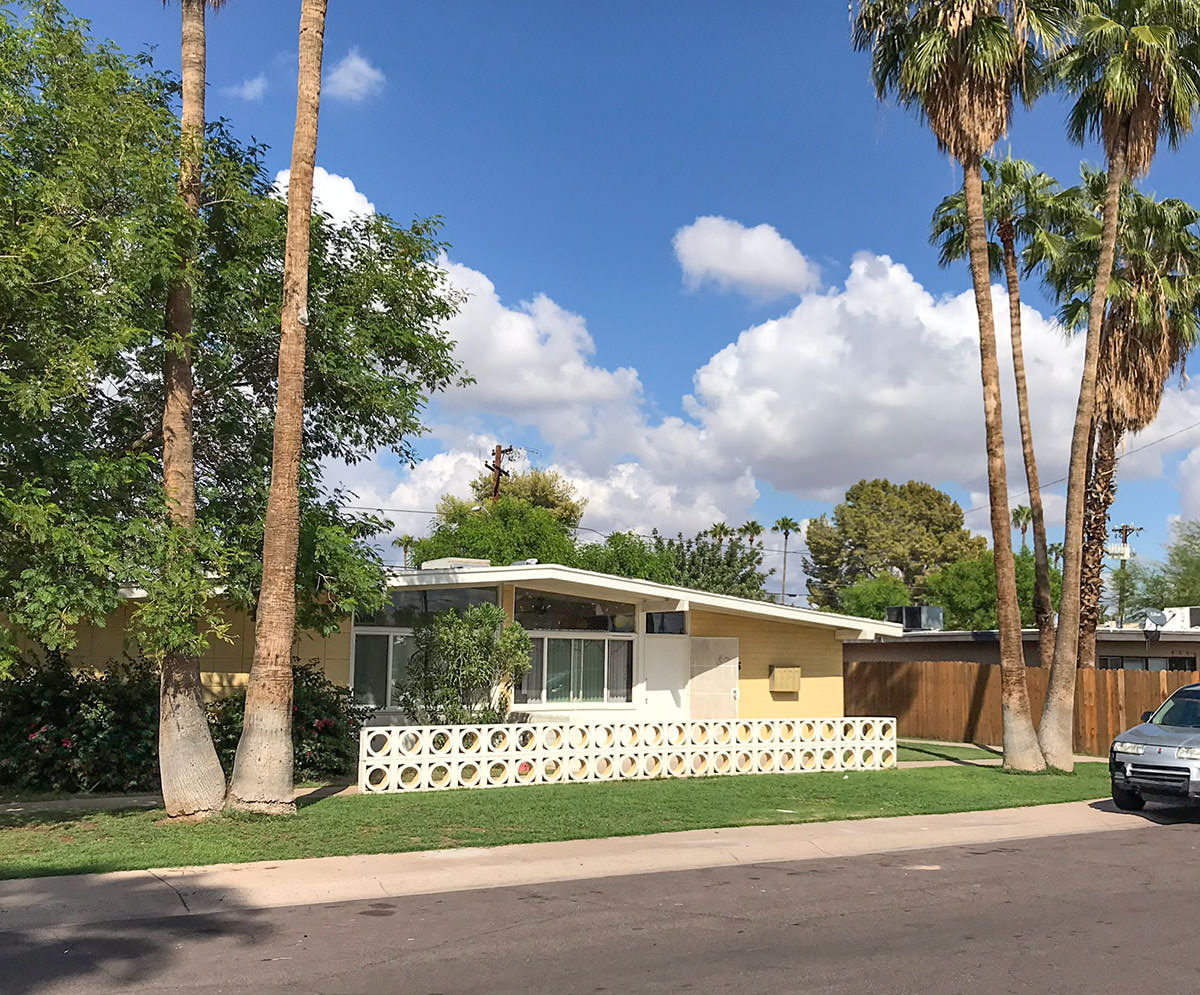 Buyers were encouraged to purchase anywhere from four to sixteen units in order to enjoy rent-free living in this medium-density neighborhood. They sold for $7,000 to $8,350 per unit, bumping up several hundred dollars as the subdivision closed out. A fourplex recently sold for over half a million dollars in 2020, and more improved properties have been sold for over one million.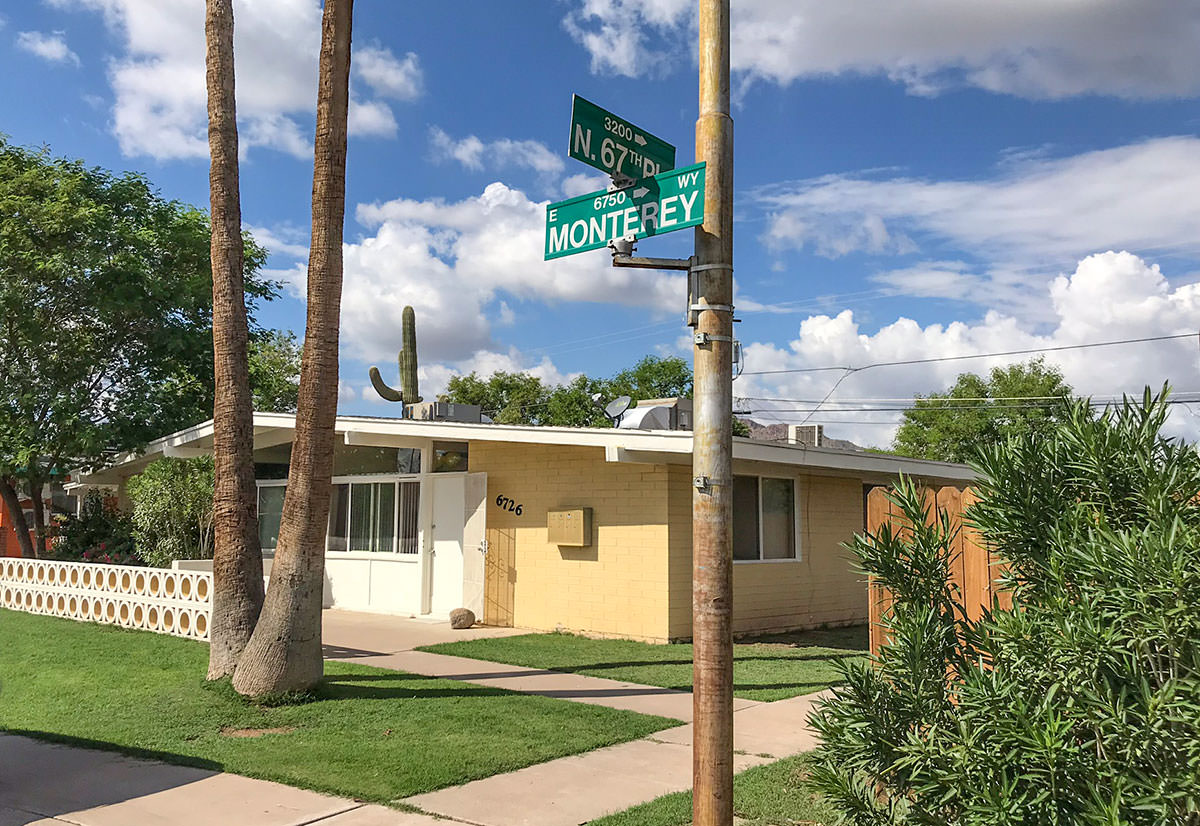 Ralph Haver AIA, Donald Van Ess, and Copper State Engineering all designed apartment models for sale. Plans were for one or two bedrooms and efficiency apartments, filling a much needed niche in affordable housing.

Based on a windshield survey of the homes, it is surmised that the Haver design is most likely the same design used in marketing materials, and well, looks the most like a
Haver Home
, featuring a high window-wall and low breezeblock accent. Haver continued to experiment with
triplexes in Pueblo Bonita
over a decade later. What we presume are the Van Ess and Copper State models are presented toward the bottom of this page.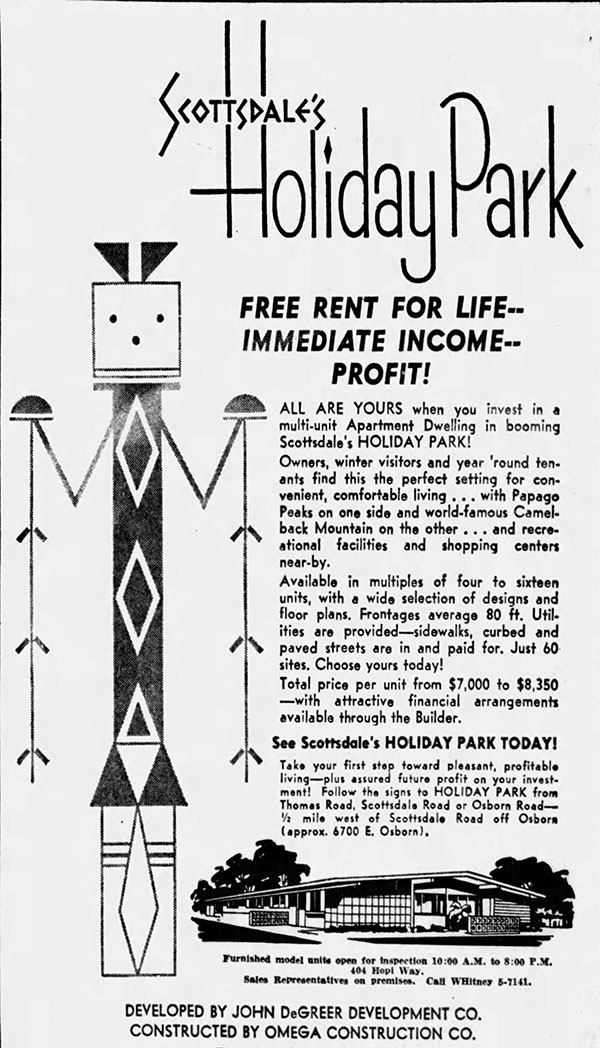 Ten years into development, eleven lots were still yet unsold, showing the struggle to fully market the proposed "free rent for life" concept. Vintage advertising for Holiday Park features troublesomely out-of-context Native American imagery, possibly intended to lend an air of southwestern exoticism to the development. While marketed as non-seasonal housing with an aim toward attracting year-round residents, the name Holiday Park itself suggested romantic transience.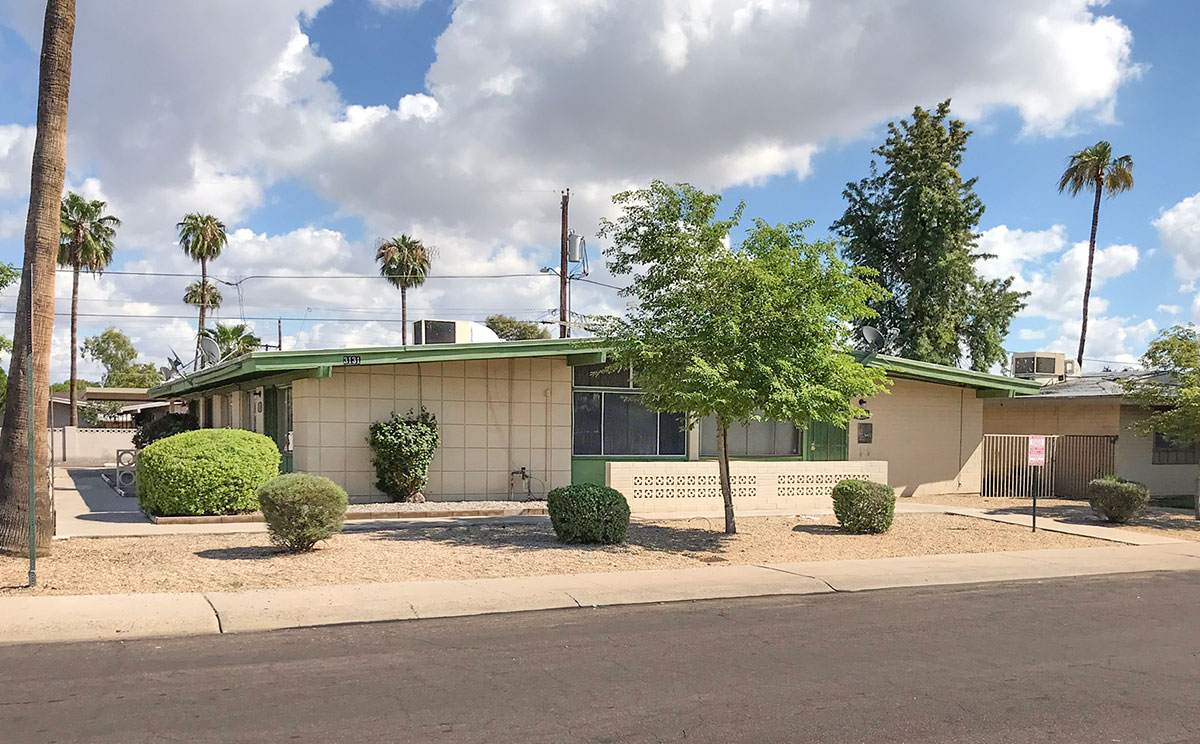 In 1961, the Holiday Park Apartment Owners Association along with neighbors in
Hy-View
and Melrose Meadows protested to City Council the rezoning of the old Arizona Downs Race Track north of Thomas Road into higher-density apartments. They must have won — or eventually compromised — since the track is now the much loved and lower density site of
Haver and Trailor's Golden Keys
, which was built in 1964. Meanwhile, in 1957 the upscale Oasis Park trailer park community was gaining a foothold to the south as the spot for "luxurious adult living". It too still stands today.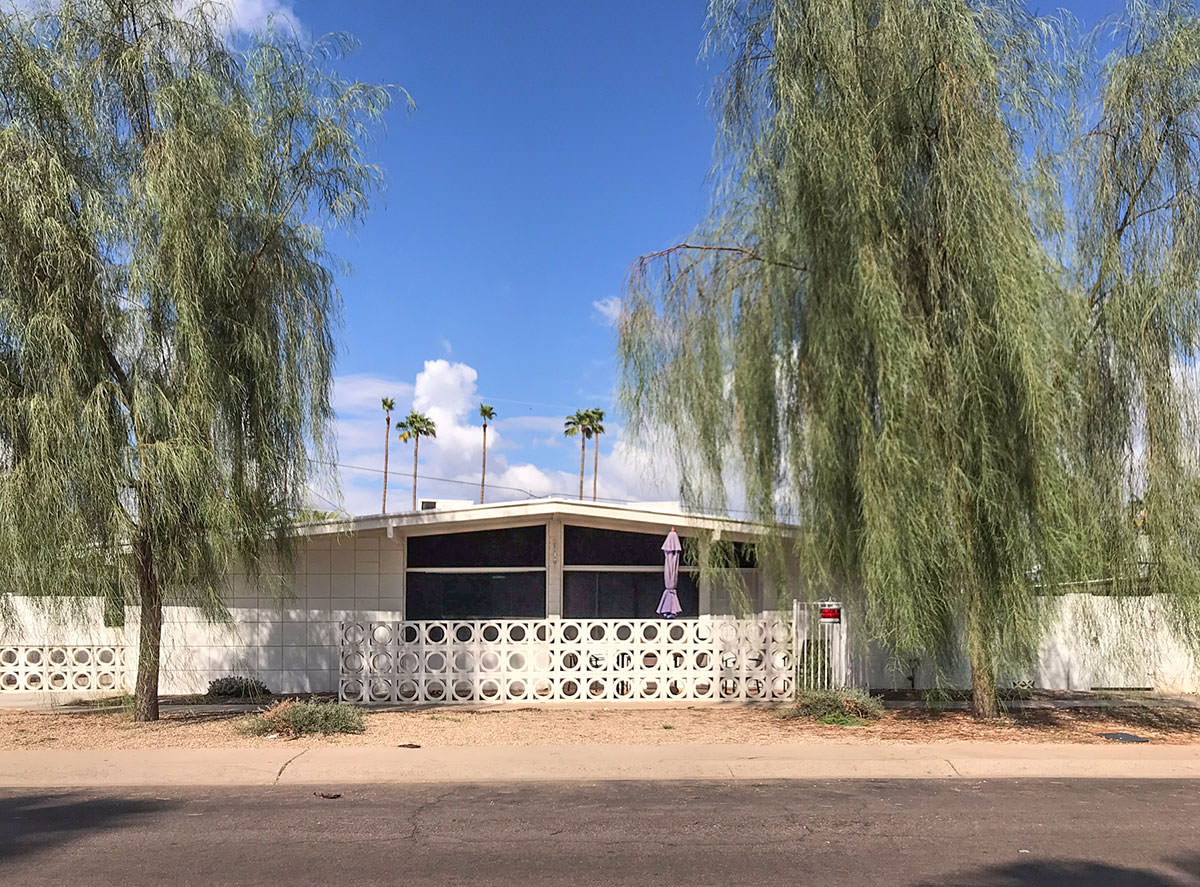 As of 2020 Holiday Park has settled in as low-income housing. A few units are being recognized and spruced up to celebrate their modern spirit and property values appear to be rising. Haver believed in humane housing for all, and he might be proud to see these apartments are still in good use by the community.