Marlen Grove | 1952 | 10th Place and Bethany Home
The Hobza + Bageant Remodel in Marlen Grove Before & After 2008
Brett Hobza, Architect and Homework Remodels, General Contractor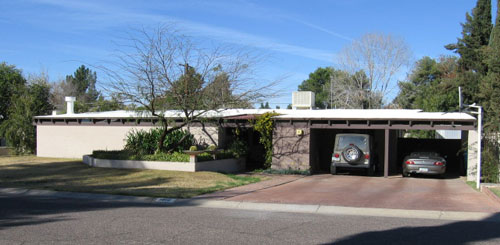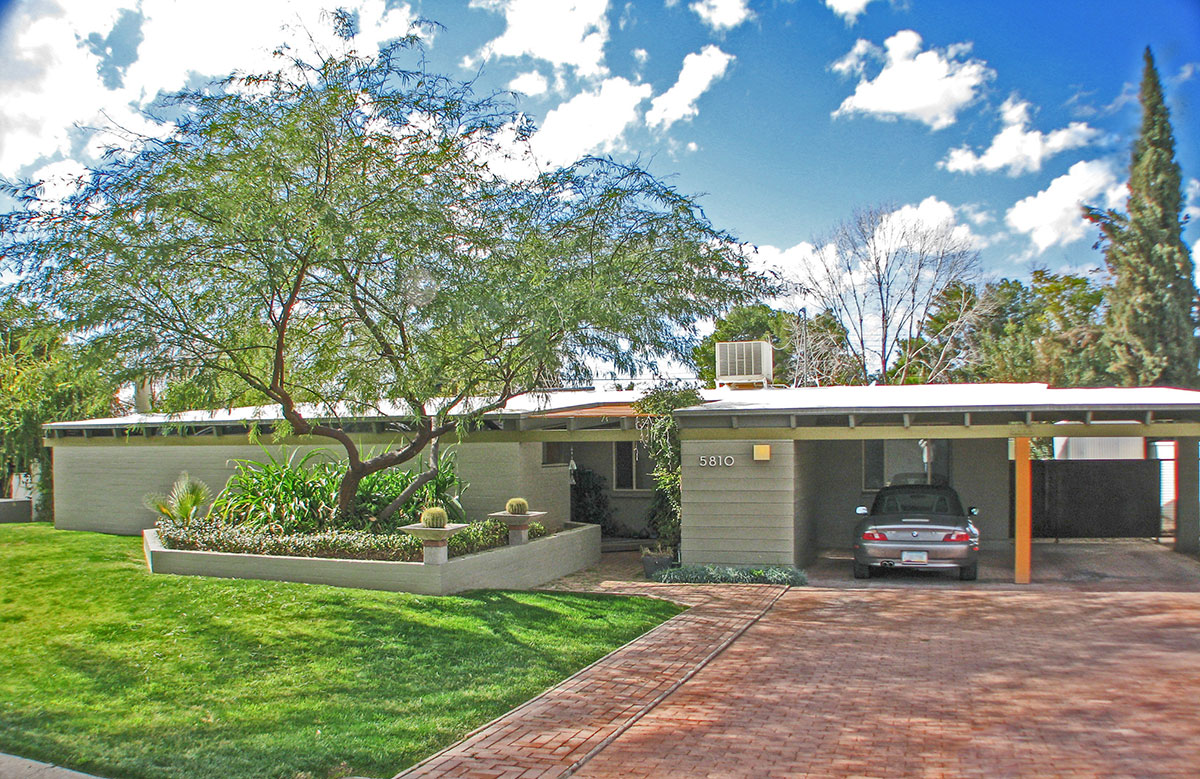 When I purchased this home in 2006, it was a dream come true. I first saw this home in 1995 and fell in love with it, and for 11 years I frequented Haver neighborhoods trying to find one of my own, but always came back to "the house in Marlen Grove". It just spoke to me. So in late 2005 when I learned that the owner was preparing to put it on the market, I called him and we made the deal before the sign went up. I couldn't believe it!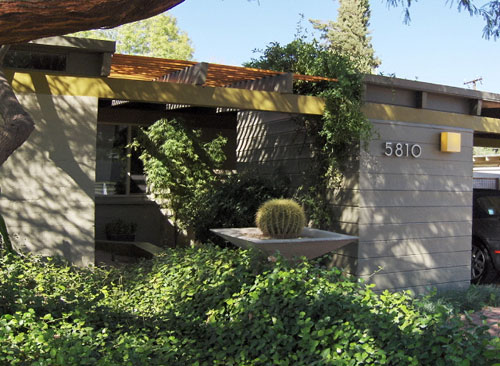 After the Renovation in 2008
For the first year we just "experienced" the house as-is and determined that the basic plan worked well. No major plan changes would be required, but the separation of the kitchen and living area lacked the openness required for our lifestyle. In addition, some poor modifications had been done to the kitchen that hindered adequate storage. This prompted the full demolition and replacement of the kitchen to completely open it to the living area and the patio. Now, when you enter the house, you look through layers of space to the outside. And the kitchen is integrated seamlessly into the living area and connects to the wonderful side patio. The openness works beautifully for entertaining.

Our renovation was also conscious of sustainability. Haver houses are not known for energy efficiency, so we installed dual-pane insulated windows, and a high efficiency foam roof. To complement the vaulted ceilings, we installed new low voltage cable lighting parallel to the rafters. For further illumination in the kitchen, we used LED over-counter accent lighting that brings out the color and depth of the glass tile walls. And as much as we loved the old 1961 Flair pull-out range, it could dim the lights of Phoenix – and we wanted to go with new energy efficient appliances. To improve indoor air quality, we used interior paint with low volatile organic compounds. Other sustainable materials include glass wall tiles, porcelain floor tile, and Caesarstone quartz countertops – materials that require virtually no maintenance and avoid the use of chemical-based cleaning products.

Here's an interesting comparison to help people appreciate how forward thinking Ralph Haver's house designs were: Our previous house was one of the many traditional red brick houses seen all over the valley - built in 1951, the same year as our Haver. It's fascinating to consider this dramatic architectural contrast in Phoenix residential design.

Ann, our next door neighbor, is an original owner and remembers that the Marlen Grove houses were so unusual, so different than anything being built at the time, that people really didn't know what to think of them. She recalls that many houses sat unsold for so long that the developer started to offer substantial incentives to unload them. Now, after all these years, they are highly desirable. As an architect myself, I have a profound respect for Haver's vision and willingness to take a risk to promote good design to the masses.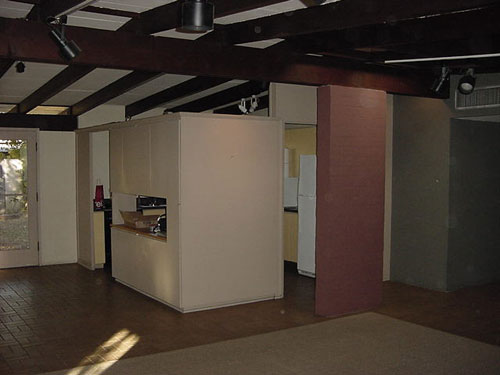 If this home looks familiar, its because you may have seen on our 2007 home tour of Ralph Haver's Marlen Grove. At the time, the home was poised for transition from old, original fixtures and floorplan to a brighter, more efficient layout and new look better suited for a contemporary lifestyle.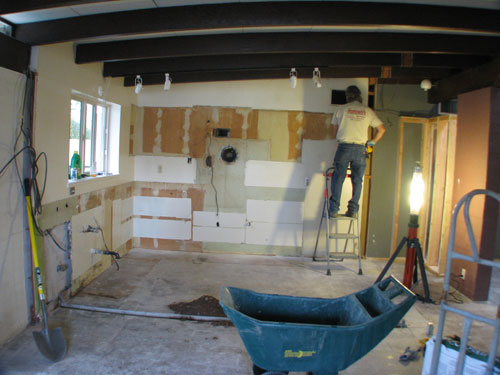 In order to accommodate a more entertainment-friendly layout, the entire kitchen was dismantled down to studs.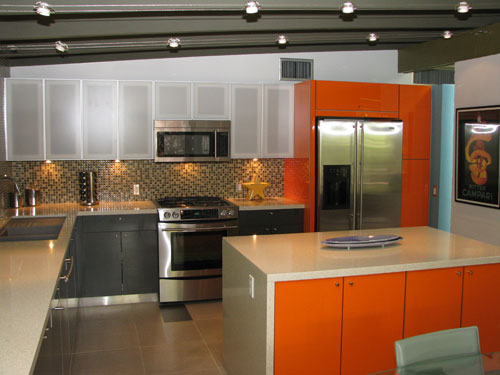 Muddy brown rafters were updated to an umber gray, and low-voltage cable lighting.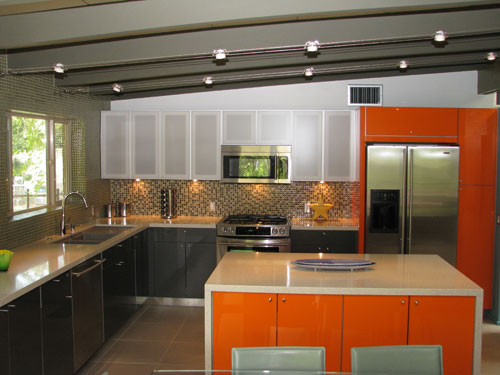 Ultracraft Kitchen cabinets are by TDC Cabinetry.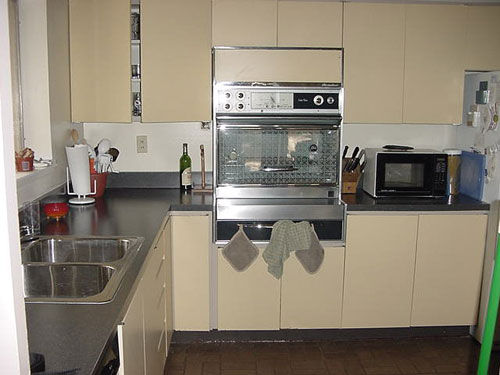 The amazing vintage stove was adopted by a fellow Modern Phoenician, but all of the fixtures were recycled through Stardust Building Materials, a non-profit organization that assists low income homeowners. Homework Remodels does this with all their remodels to minimize landfill deposits.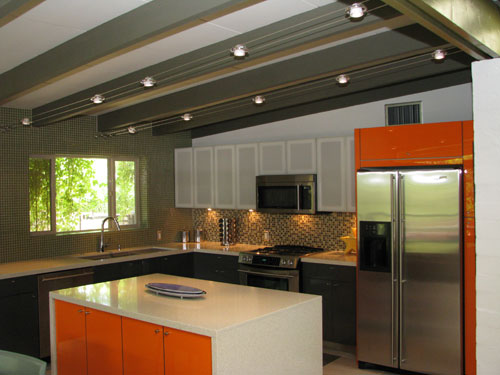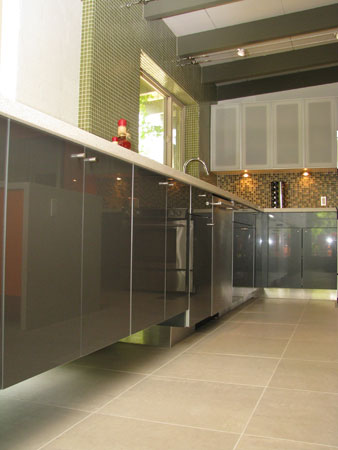 A floor-to-ceiling window, once a door, lets light peek beneath the floating cabinetry. Stainless steel kickplates were installed.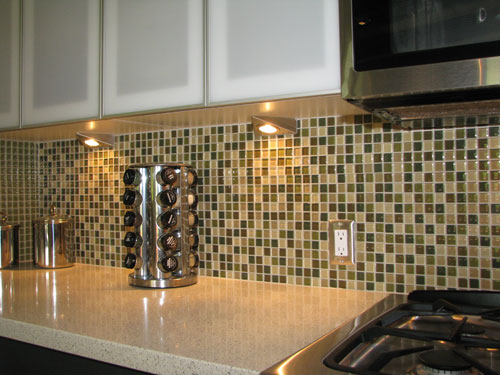 Glass wall tile & Hera Tri-tech lighting enhance the backsplash. The lights are low voltage and turn on, off and dim to several levels by touching the light fixture. Countertops are Caesarstone.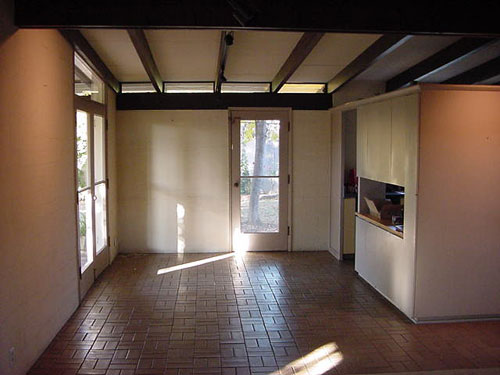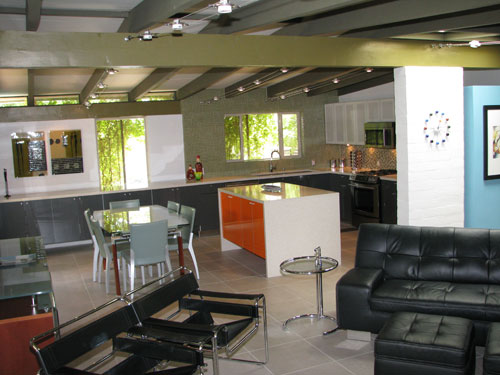 The common areas, once divided by a wall of pass-through cabinets that blocked all sightlines and got in the way of entertaining, are now better joined with the kitchen.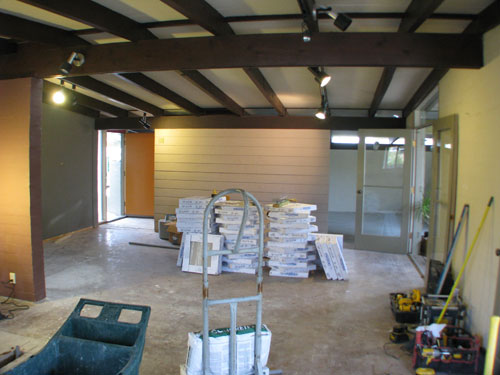 Looks like the pizza has arrived!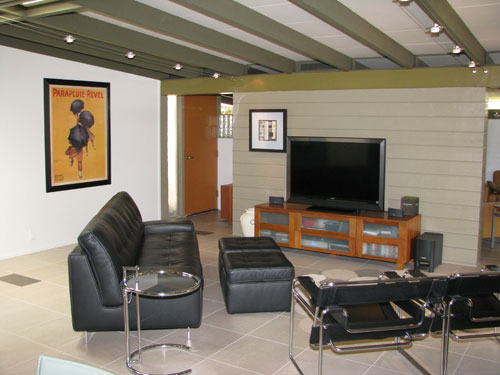 Its actually the new porcelain tile. IKEA cable lighting parallel to the rafters maintain focus on the Haver details.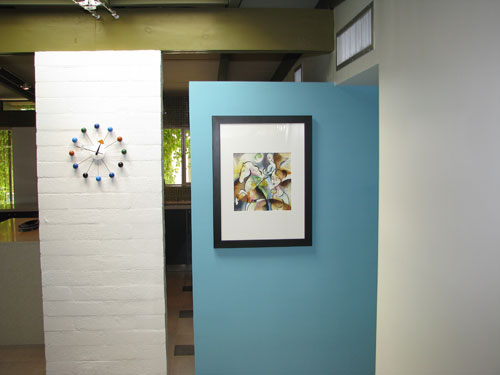 The integrity of the supporting column is enhanced by an extension of the hallway that shields the kitchen from view upon first entering the home, creating a little more organization and certainly more mystique about the area beyond.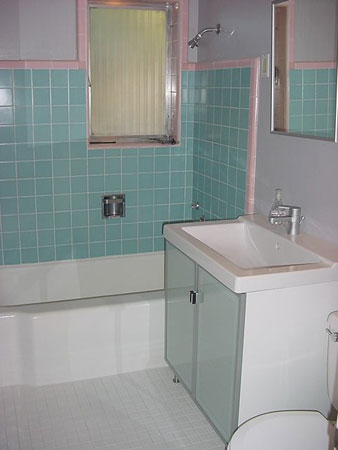 The bathroom, which was a classic pink-and-blue tiled number with porcelain tub, has been streamlined with all new fixtures and glass tile. While charming and original to many Haver Homes, Hobza found the pink and blue tile to be inconsistent with the contemporary Haver style. "We had the very same tile in our previous home–a traditional 1951 red brick Hallcraft, so we wanted a clean, contemporary look to complement Haver's vision.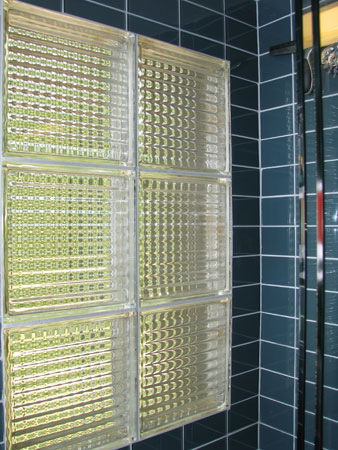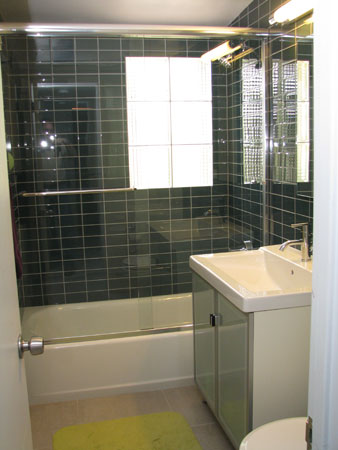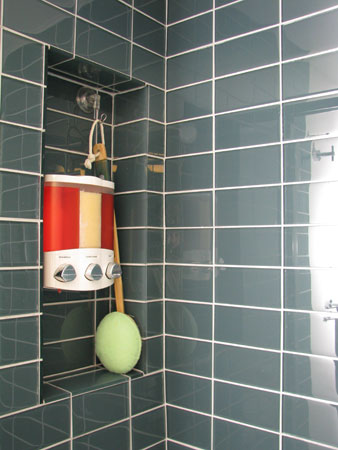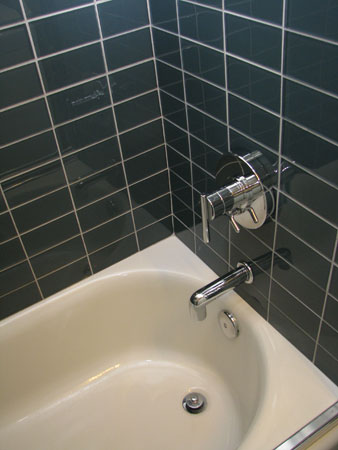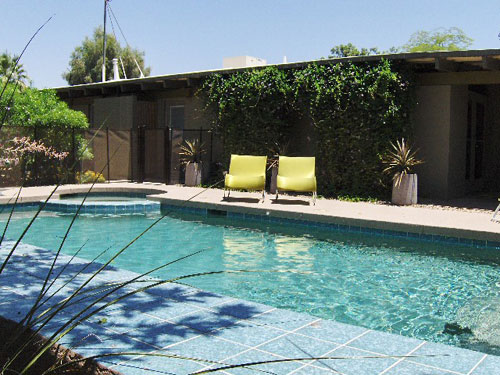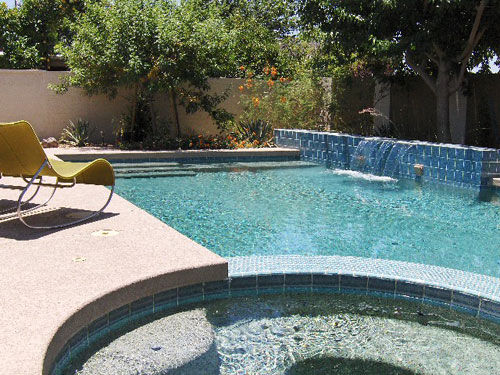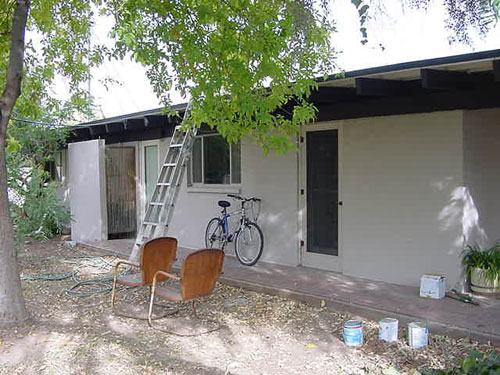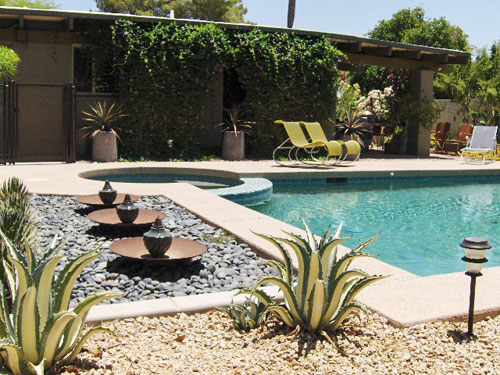 ---
It is with great pleasure that I write this letter of recommendation for Steve Shinn and his team at Homework Remodels. Steve recently completed a major remodel of my Ralph Haver-designed home in the Marlen Grove neighborhood and his performance was outstanding. His positive attitude, integrity and work ethic are second to none. I am an architect with personal home remodel experience with contractors who lived up to some common stereotypes: hidden costs, shoddy work, unwillingness to listen, and ignoring the schedule after being hired.

Anyone who has renovated a home knows that contractors are notorious for disappearing for days on end and getting calls returned can be a challenge. As a result, I dreaded the process of interviewing contractors for this latest renovation, but when I first met Steve it was apparent that I had found an exceptional contractor. I quickly learned that we spoke the same language and he has a passion for mid-century modern architecture. We began working together immediately.

Steve worked closely with me to evaluate my design drawings and develop a comprehensive estimate. Steve patiently presented cost control options to retain – and even enhance – my design intent. As a design-builder, Steve has vast construction knowledge with a great eye for design. He was sensitive to maintaining the classic Haver details and was always committed to honoring the architecture.

Once construction began, Steve's crew never missed a day of work and I had regular progress updates from Steve. The Homework Remodels crew consistently went "above and beyond" without hesitation. They understood that midcentury architecture can provide unique challenges that require special attention to construction means and methods. Steve's crew welcomed the challenges and took great pride in thinking outside the box and doing things right.

The experience with Steve and Homework Remodels was exceptional. They listened, valued the design intent, and provided high quality workmanship and excellent communication. The project was completed on schedule and exceeded my expectations. I am proud to name Homework Remodels as my contractor, and strongly recommend Steve Shinn's team – especially to mid-century modern homeowners.

Sincerely,
Brett A. Hobza, AIA Principal in the Firm DLR Group
Marlen Grove | 1952 | 10th Place and Bethany Home