Marion Estates Neighborhood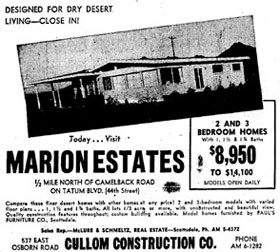 Vintage ad in The Arizona Republic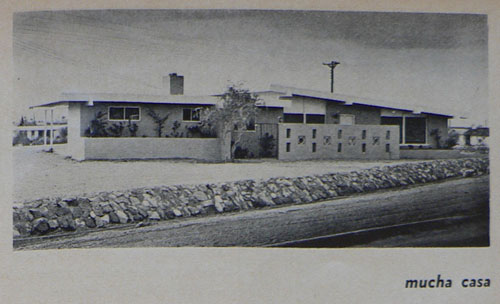 Mucha Casa by Ard Hoyt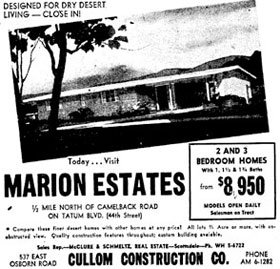 Vintage ad in The Arizona Republic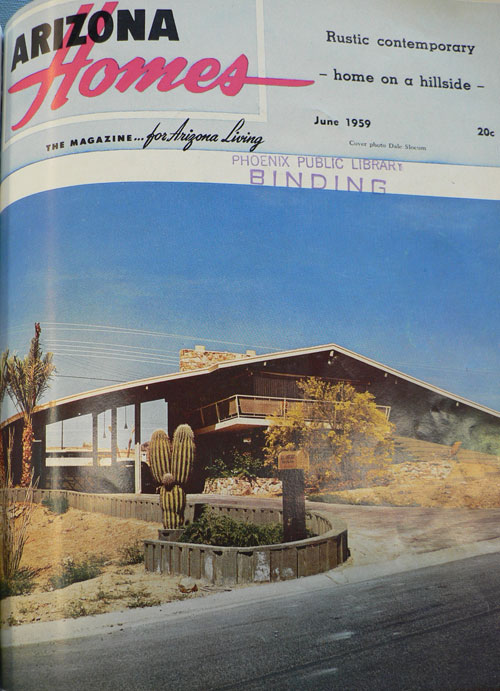 The Evertson Residence by Ralph Haver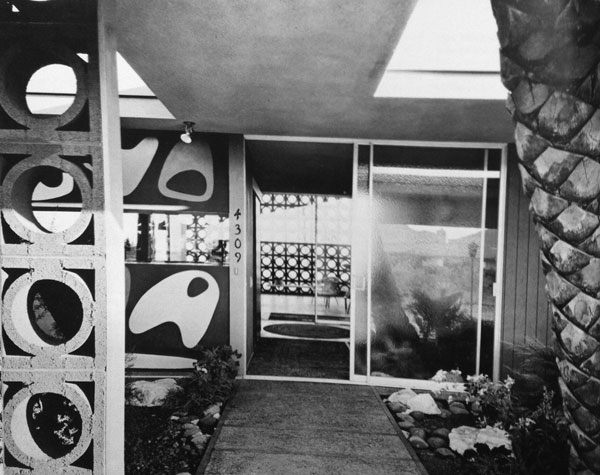 Entryway to home by Robert J. Peterson
Patio of home by Robert J. Peterson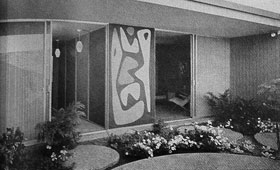 Back Patio of home by Robert J. Peterson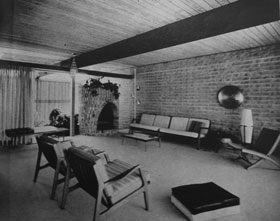 Interior of home by Robert J. Peterson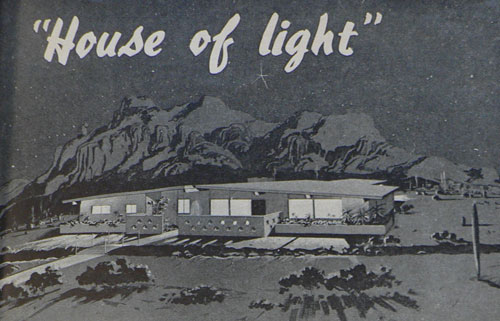 House of Light by Ard Hoyt
Home by Young Construction Company featured on tour in the late 50s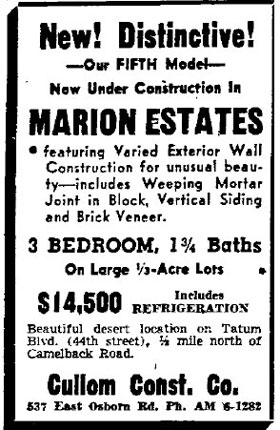 Vintage ad in The Arizona Republic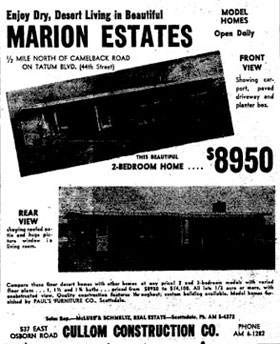 Vintage ad in The Arizona Republic
Marion Estates: A Quiet Midcentury Neighborhood in the Middle of It All
By Alison King
Characterized by its meandering and sometimes hilly streets, ample 1/3 acre lots and stunning views, each new turn in the Marion Estates neighborhood affords a gorgeous vista of the head of Camelback Mountain — and from many homesites a profile of the Praying Monk formation. The streets affording entry to the area are mostly positioned along the bend where McDonald Drive meets 44th Street, so drivers-by may have been paying too much attention trying to safely navigate the curve as the neighborhood whizzed by. But Marion Estates has been tucked back in there for decades and remains a popular destination for couples seeking a patch of desert in the middle of the city. Marion Estates celebrated its 60th anniversary in 2012 and was honored to be the subject of the Modern Phoenix Home Tour in the same year. The homes are just as head-turning today as they were in their time.

Susan Slicer and her husband Hank were one of the first couples to move into a Marion Estates Home. They'd been looking at older neighborhoods that were more established in the Phoenix Suburbs, like Windsor Square on Central. Growth had slowed down during the depression but things were picking up after the war and new subdivisions being built on the fringe. John Hall of Hallcraft Homes was building what the Slicers thought were some of the best homes in the city south of Indian School Road between 40th and 32nd Street, but the lots were small and they really wanted a bit of land.

While exploring 40th Street they meandered further north and came upon the newly platted Marion Estates tract. The land was wide open at the time and they were drawn to the desert. It was truly the edge of town, as civilization seemed to stop at Camelback Road. 44th Street was still called Tatum Boulevard north of the canal, where it ended with no access to Camelback. The land just south of the Estates was flush with jackrabbits, which moved out when the subdivisions filled up. More docile cottontail rabbits moved in the new suburban retreat.

Paul Cullom of Cullom Construction and developer Ard Hoyt of Hoyt Construction Company were the subdividers of the plat, purchasing the land under Hoyt Cullom Land Company in 1952. They had the streets of Buena Terra and St. Joseph plotted out in 1952. Only one developed property in Marion Estates had been sold by the time the Slicers found it. Settling so far out was a risky move that their friends warned them about, fearing that they'd be stuck "in the middle of nowhere on our lonesome for 10 or 15 years!" They selected a plot anyway, and enlisted Cullom to build them a home for $15,000 on half an acre of land.

Phoenix Architect Charles Polacek drew up the plans for a red brick home, which included a classic fenestrated grille wall out front. They moved in September of 1953 as Cullom continued to build model homes at the top of the block. According to a vintage ad in the Arizona Republic the homes featured "Varied Exterior Wall Construction for unusual beauty – includes Weeping Mortar, Joint in Block, Vertical Siding and Brick Veneer" along with the coveted feature of air conditioning for about $14,500. Lots were typically 1/3 acre and advertised as being built to Cullom's plans or the customer's own. She recalls that three 3-bedroom homes and three 2-bedroom home models were offered at the time, all of them architect-designed; whether or not they were all Polacek is still unclear.

Another early settler in Marion Estates was architect Robert J. Peterson who built two modern homes back to back on Buena Terra and Stanford Drive. His homes used pumice block, a new material at the time, and were featured both in Sunset Magazine and Architectural Record. Joanne Hurley and her husband purchased one of Peterson's homes on Stanford, thinking it would be just the two of them, but the family grew and Peterson helped them add onto the house. She knew exactly what she wanted, including the easy-care concrete floors, and thought Peterson had a real talent for subdividing space. Peterson's stint in Arizona was short, however, and not much evidence can be found about his body of work after this time, though Hurley believes he did accomplish several homes and especially apartment complexes before he left the city.

When sales slumped in the 1950s, Cullom and Hoyt needed to pump some life into their slowly developing neighborhood. One strategy they used was to sell off undeveloped lots to families wishing to build to suit; this may explain why the area ended up with such a good measure of custom homes and possibly why the land was replatted in 1956. Many of the homes were architect-designed. Contractor Sven Evertson chose Ralph Haver and Associates to design a split-level "Swedish Modern" style home with an unusually sloped roofline that spanned a massive carport to shelter a complete guesthouse down the hill. The Donaldson family also used a Ralph Haver-designed Town and Country tract home plan and modified it to their taste. The home was featured on the back cover of Alan Hess' seminal book "The Ranch House" and has since been remodeled by Woolsey studio. Both homes were on the 2012 Home Tour and the Evertson home survives in remarkably intact condition.
Alfred Newman Beadle purchased a lot on Bethany Home Road (Now McDonald Drive) just outside the northern border of the subdivision, which he developed in his trademark floating grid style to span a functional desert wash. Blaine Drake, another popular contemporary of Wright and Beadle, also designed at least two homes in the area – including the Beck Residence on St. Joseph Way and several others just outside the neighborhood's boundaries.

John Beck recalls growing up what must have certainly felt like the Wild West to a young boy so far out of town. "I spent many hours exploring the desert. Marion Estates was actually outside of (the Phoenix city limits) which is why my Dad bought the lot. He wanted to be free and in the county. He hated city regulations. There was a thriving western movie studio called Cudia City and we use to sneak in and play on the back lot after hours and on weekends. It basically ran from the canal bank on the south side, 40th Street on the east, almost to Stanford Dr. to the north where Phoenix Country Day School is now. I remember hearing the gunfire from the gunfights (blanks of course). I shot a .22 rifle at a rattlesnake that was right in front of my brother in the wash behind my family's house. I loved to play with blasting caps from when they dynamited in the wash to put in the city sewer in the early 60's behind our house."

Seventy-eight episodes of the television series "26 Men" were filmed in the area and all over scenic Arizona. Imagery of the unmistakable Praying Monk formation can be found in episodes of the series. When urban growth caught up with the fringes of town, the proliferation of utility poles, airplanes and other signs of civilization made filming there impractical. The city had enveloped the little enclave.
The list of architectural experiments goes on. Twin brothers Charles and Arthur Schreiber designed the home that is called "Casa de Luz" today. Builder Bernie Young of Young Construction Co. created an All Electric demonstration home on Palo Verde Drive called the Desert Star Orion that earned him recognition from Hotpoint appliances. With two Frank Lloyd Wright homes just a short jog down Stanford Drive, and another Beadle home on Palo Cristi, the area grew into a virtual Who's Who of contemporary architectural design in the 1950s. Twelve of these homes were featured on the 2012 Modern Phoenix Home Tour.

A second strategy that Cullom and Hoyt used to complete the neighborhood was more aggressive marketing to sell "All Electric Homes" in Marion Estates and the neighboring Camelback Foothills area under the name Ard Hoyt Construction Company. Meeting the criteria for the Gold Medallion Homes being promoted by local power company Salt River Power District, the pair devised an all-electrically powered home they called the "House of Light". Their model home open houses were held after 8 pm to best illustrate the drama of living in a thoroughly illuminated home.

The tandem strategy worked as Marion Estates did eventually build out a fully-developed subdivision with not a lot to spare. Several variations on the "House of Light" model home can be seen throughout Marion Estates today.

In 1956, the streets planned north of Saint Joseph Way were replatted to create what is now the Palo Verde Drive loop. It is unknown if this was a result of Cullom and Hoyt's rethinking of their strategy or merely a change of mind.

La Rae Whitehead, another longtime resident of Marion Estates, recalls that couples moved out to the desert to get away from the cramped conditions of the Depression and War. People who chose Marion Estates tended to keep to themselves and appreciate the wide buffers between their homes and their neighbors'.

Though originally planned as a tract with models to choose from, the privacy and diversity of homes was a huge attraction. According to residents Bill and June Altenbrrnd, the desert-style ranches were quite the spectacle to snowbirds, and driving out to look at the strange, flat-roofed homes of Arizona was an entertaining pastime. Even though there are several tract home models still present in the neighborhood, their use of varied elevations, materials, siting along the curved streets, and dispersal among custom homes all give the streetscape a completely unique feel that contrasted starkly with the cookie-cutter homes being cranked out by other developers in the suburbs.

Though a few original homeowners remain, a new generation of homeowners is moving in to spruce the 60-year old homes up and upgrade them for contemporary living. Empty lots are rare so teardowns and rebuilds are definitely part of the architectural mix. An active Homeowners Association keeps out-of-character changes in relative check.

Megan Duffy recently moved into a remodeled ranch and participated in the 8th Annual Home Tour. "Marion Estates doesn't fit into any neat boxes, or meet any stereotypes as other areas do," Duffy notes. "It has a bit of a Libertarian, Don't-Tread-On-Me vibe. People do their own thing here and co-exist peacefully. The residents seem to share the same overall goals of keeping the neighborhood clean, up to date, and attractive, all while respecting each others' privacy."

A quick drive through the winding streets of the subdivision confirms the hunch that originality will ever reign in the foothills of Marion Estates.