Marion Estates Neighborhood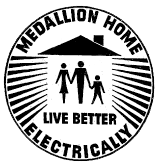 House of Light: A Glowing Promise Fades to Dying Ember
Ard Hoyt's Gold Medallion All-Electric Homes in Marion Estates By Tazmine Loomans
When the housing boom was gaining traction in the 1950s, generating electricity wasn't as efficient as it is today. To streamline production and meet increasing demand, the utility providers rushed to build more power plants, the vast majority of which were coal-fired. As electrical plants were able to produce more power, homeowners were encouraged to consume more of it; the more they used, the less they paid.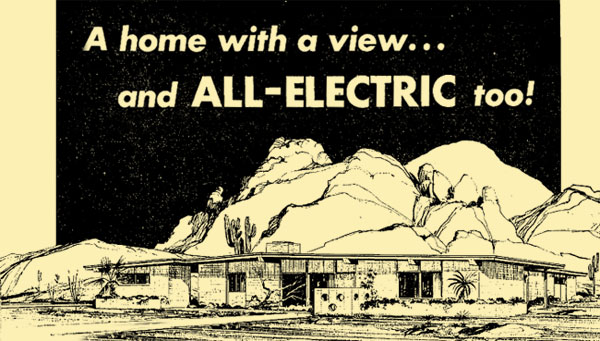 Electricity can't be stored for future use. It has to be delivered right when it is generated. It was in the best interest of the electric industry (led by the Edison Electric Institute and General Electric) that people consume as much electricity as possible to make the best use of the expensive equipment that was required to generate power for peak demand. It's similar to the idea that the airline companies would prefer to have their planes full to help cover operational expenses. Today, electric utilities are mandated by government and other entities to reduce the amount of electricity they generate through traditional coal-fired power plants, but in the 1950's these mandates were nonexistent.
In March of 1956, the electrical industry launched the Live Better Electrically (LBE) campaign to persuade homeowners to consume more electricity. This campaign was waged through television ads, print ads and an attractive incentive aimed at homebuilders to build all-electric homes. Ronald Reagan, who was host of the "General Electric Theater", became the perfect spokesman for the Live Better Electrically Campaign (LBE), bringing the electric industry's message to families around the country through their television sets.

In October of 1957, the electrical industry used the LBE campaign to launch the Medallion Homes program, which sought to sell 20,000 all-electric homes nationwide by 1958, 100,000 by 1960, and 970,000 by 1970.To get a Gold Medallion emblem, which was sometimes embedded on the entry patio, a house had to have an electric washer and dryer, a waste disposal, refrigeration, and all-electric heating (including water). The LBE campaign positioned natural gas, the power source of the time, as an outmoded method to operate things like furnaces, cooking ranges, water heaters and clothes dryers.
Living in a Gold Medallion home was marketed as the apex of modern living where appliances were all-electric. To heighten their modern, futuristic feel, many all-electric homes had unusual amenities such as electric curtain rods and baseboard heating, as well as very specific task lighting such as a pedicure light under a woman's dressing table.
In and around Phoenix, Salt River Project (SRP) jumped on the Living Better Electrically bandwagon and made some exaggerated claims about "total electric living," proclaiming that it was cleaner, healthier, and safer than living in a gas home. The most outlandish claim, which has now proven to be patently untrue, was that all-electric homes are more energy-efficient and therefore less costly to operate than their gas-powered counterparts.
Something that the electrical industry didn't want homeowners to know is that gas ranges, furnaces, clothes dryers, and water heaters are much more energy-efficient, and less costly to operate than electric-powered appliances. According to an August 13, 2001
Los Angeles Times article by Andre Weltman
, that year an all-electric homeowner in California paid an average of $2572 annually for power compared to $1108 paid by a homeowner who lived in a mostly gas-powered home. In fact, all-electric homes turned out to be such energy hogs that utilities in California have a special discounted rate for customers who live in them to help ease the burden on homeowners.
---
With 20/20 hindsight it is easy to see the drawbacks of the all-electric home, but in the 1950s it was hard to imagine why we
shouldn't
maximize the use of something that made life so much easier. Paired with the optimism shared by most people at the time, Ard Hoyt, a Valley home builder, eagerly embraced the all-electric home and incorporated the campaign into his projects.
Israel Ard Hoyt was a prolific custom home builder who built three homes a year between 1952 and 1958 under the Ard Hoyt Construction Company. One of his most famous custom homes is the House of Light, located near 40th Street and McDonald Drive (then called Bethany Home Road), on which he partnered with Salt River Project in 1958. The house was a showpiece for SRP, pushing the envelope of what it meant to live the all-electric lifestyle.
One August 1958
Arizona Homes
article remarked on the home's extraordinary lighting package: "in the living room, a dimmer light adjusts the mood from soft to bright. Dominating this room is a three unit lighting fixture of cut glass, with massive table lamps completing the décor. Elsewhere there is pinhole lighting, a wall of light, picture lighting, and in the bath, a safety pilot light for sleepy heads."
Together with interior designer Donald J. Bondy, Hoyt made the electric lighting more than just a functional amenity in the house; he positioned it as an important aesthetic consideration for modern living. Under the guise of the heightened functionality of electricity and its ability to make life not only easier, but more beautiful, the electric industry was able to maximize its profits in partnership with homebuilders.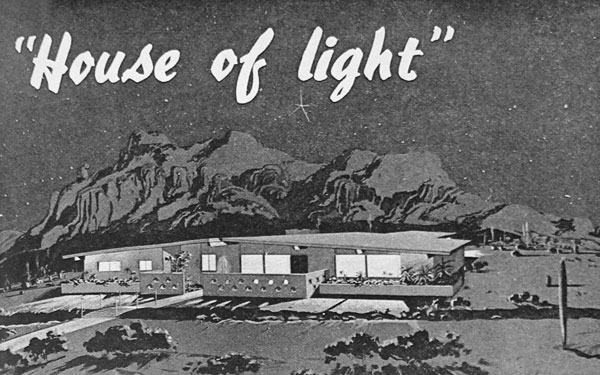 The House of Light model home was available for inspection after sunset, at 8pm to be precise, when all of its interior and exterior lights could be set blazing like a beacon. The home style was described as "Egyptian" with a Moorish patterned brise-soleil wall out front, an Egyptian statue greeting visitors on the porch and a hieroglyphic motif hung above the fire mantle. The nearby landmark Mummy Mountain is said to have been an inspiration.
Built-in planters, a pond at the entrance and the low-sloped roofline — typical for the period but so unusual to Midwestern and East Coast transplants —added to the exotic experience. The name of the architect for the House of Light has been lost over time, and though Hoyt did occasionally work with registered architects it is possible the home was builder-designed as Hoyt is the only one who gets any credit for the effort.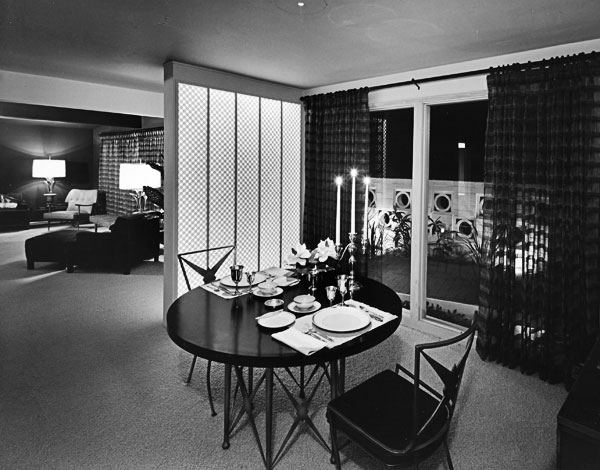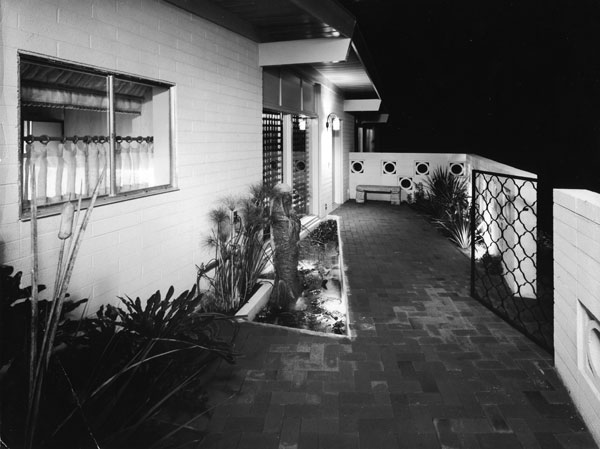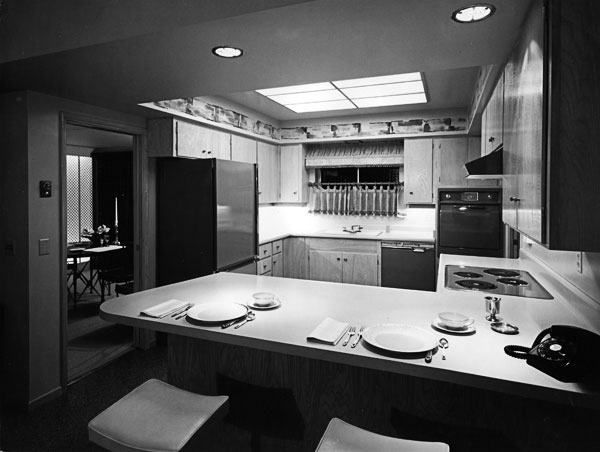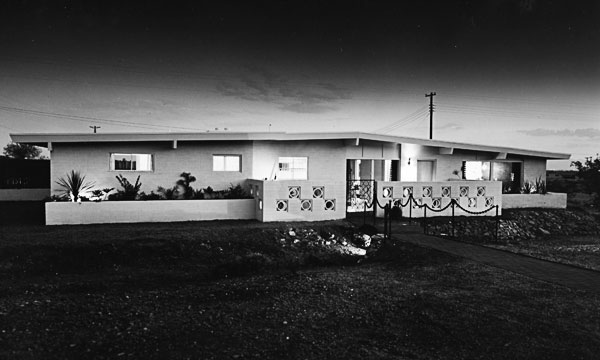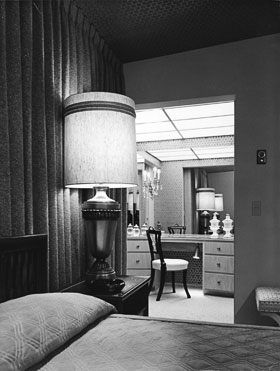 In addition to building individual custom homes, Ard Hoyt developed large tracts of land into planned custom home communities with Paul Cullom under the Cullom Hoyt Land Company. His two most notable developments are Lincoln Heights on the southern face of Piestewa Peak between 40th and 42nd Streets, and Marion Estates in the Camelback Foothills. When the buzz over the House of Light faded, he continued to build variations of their floorplans and marketed his homes in Marion Estates as
mucha casa
, meaning "a lot of house". Hoyt's model wasn't the only All-Electric home in Phoenix; other architects such as
Ralph Haver
and Allen & Olson generated quite a bit of publicity over their own All-Electric homes in the same year.
A much less popular albeit a truly sustainable idea for powering a home that emerged in 1958, was the Solar Home. A Solar home design competition sponsored by the Association for Applied Solar Energy and the Phoenix Association of Homebuilders was an early attempt at using renewable energy to power a house. The Solar Home, though it incorporated many sustainable practices even by today's standards, never caught on in the mainstream homebuilding world, possibly because it didn't have as powerful marketing engine as the Live Better Electrically campaign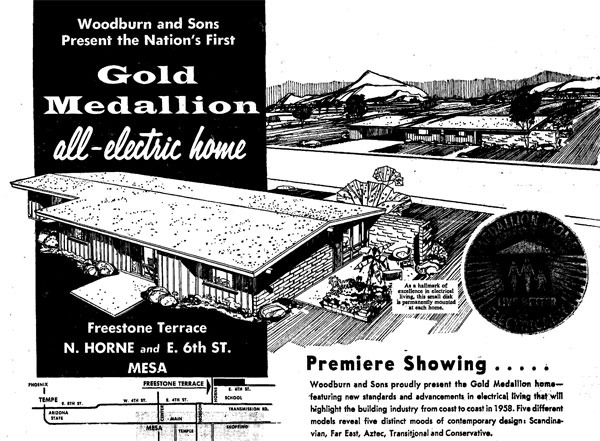 Hoyt's developments were distinctive for several reasons. First, they leveraged the open desert terrain to provide a stunning setting for his homes. At Marion Estates, he incorporated the various active washes in the area into each home's unique living experience. He was not afraid of building his homes right up against these mostly dry, but sometimes turbulent, natural waterways.
"Ard Hoyt Construction Co. leaves these washes untouched, builds close to them to give the occasional exciting experience of watching nature's forces on display from the security of homes that are as durable as they are modern," noted a 1958
Arizona Homes
advertorial. Instead of disturbing the existing washes, rerouting them, or filling them in, Hoyt integrated them into his development as a point of interest. At Lincoln Heights, he maximized the terrain in a different way using the steep slope of the mountain to create split-level homes, which were considered very desirable at the time.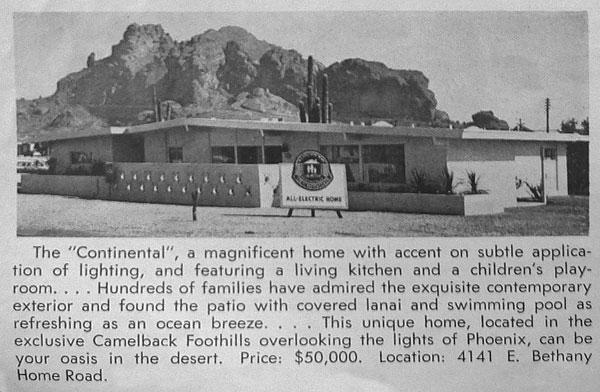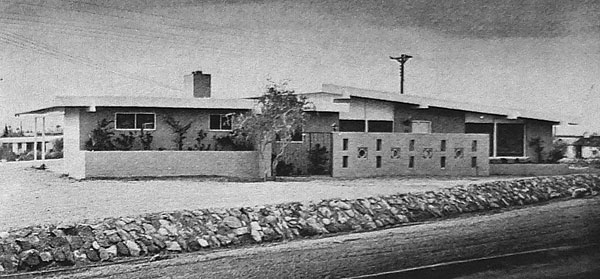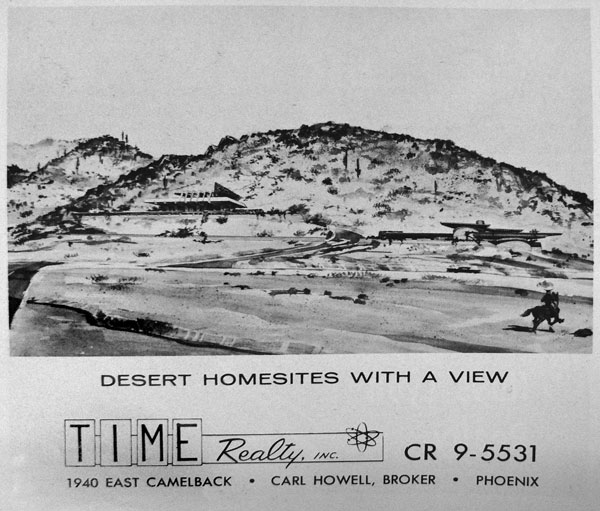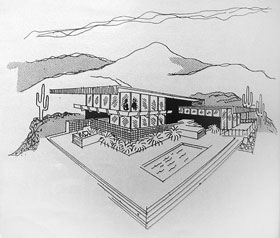 Another way Hoyt distinguished his homes from others is that he recognized the importance of cultivating extraordinary views for his luxury homes and selected his sites accordingly. At Marion Estates, homeowners enjoy gorgeous views of nearby Camelback Mountain, and North Mountain. At Lincoln Heights, Hoyt once again took advantage of the mountain slope and staggered his homes vertically so that each one would have an "uninterrupted, panoramic view to the east, south and west toward Camelback Mountain, Phoenix, and the Valley of the Sun" according to
Arizona Homes
.
Hoyt attempted to provide a quality living experience to homebuyers through the all-electric power system. His first two instincts—the appreciation of the desert and framing of desirable views—were spot-on, and have proven to be great assets to this day, more than fifty years later. His enthusiastic adoption of the all-electric campaign, evident in his House of Light and in various Gold Medallion homes, turned out to be misguided as contemporary priorities tend towards power conservation not power consumption.
Besides their high energy bills, all-electric homes ended up having such complicated and specific electrical systems that they proved to be difficult to maintain and fix. Many Hoyt Construction Company home owners, including William and June Altenbernd who have lived in the House of Light since the 1970's,­­ have had to abandon the enormous and complicated electrical panel that came with their Gold Medallion home and add one that is easier to operate and maintain. This couple never took full advantage of a great deal of the intricate electrical features they found when they bought their home, such as in-house intercoms, piped-in music, and touch-button switches simply because they didn't need them or they were hard to operate and expensive to upgrade into contemporary systems.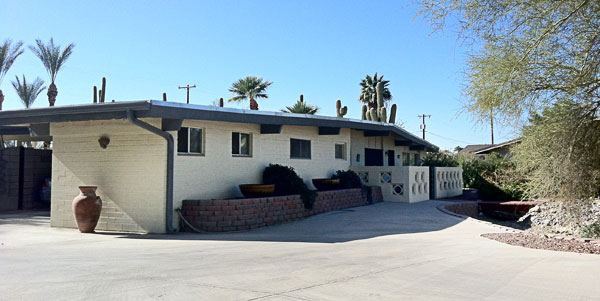 If you live in a Gold Medallion Home, there are a few measures you can take to lower your electrical consumption. John Russell of RC Green Builders lives in an all-electric home that he recently remodeled to be more energy efficient. Instead of piping in a gas line to his house, which is cost prohibitive or impossible in some cases, he made his home as energy-efficient as possible. In Phoenix, the biggest source of electrical consumption is the cooling of buildings during our scorching summers. To mitigate the cooling load, Russell added more insulation, a new reflective roof coating along with a radiant barrier and upgraded his air conditioning units to 14 Seer. He also replaced the windows with more efficient ones, though Steve Shinn of Homework Remodels says you don't need to take this very costly step, which proves to be especially costly if you replace them with historically-appropriate windows. Instead, he says, simple things like sealing air-leaks around windows and doors, adding exterior window shades, and planting trees strategically to shade the home can have a tremendous impact on your energy consumption at a minimal cost.
If you simply can't afford to make any energy efficiency improvements to your home just yet, there are some behavioral changes you can make such as using the barbecue, if you have one, as often as possible to cook in the summer so as not to heat up the house, shutting off the lights after you leave a room, hanging your clothes on a clothesline instead of using the dryer, and using appliances like the washing machine during off-peak hours.
Making your home more efficient becomes very important when you own a Gold Medallion or all-electric house. As a first step, it might be worthwhile to get an energy audit which diagnoses the ways in which you can reduce electricity consumption. Energy audits are now being offered by the Arizona Public Service (APS) and SRP for only $99 and could be well worth the price if they pave the way to reducing your monthly electric bill. Though the Live Better Electrically campaign turned out to be just a passing, but somewhat long lasting, fad starting in 1956 into and surviving into the early 70s, Hoyt's homes have stood the test of time with their solid construction, great custom design, and masterful siting.
Hoyt died at the early age of 53 of a heart attack while vacationing in Mexico, but in his 24-year career in construction and development, he left a lasting legacy of custom homes and communities that are considered luxurious even by today's standards.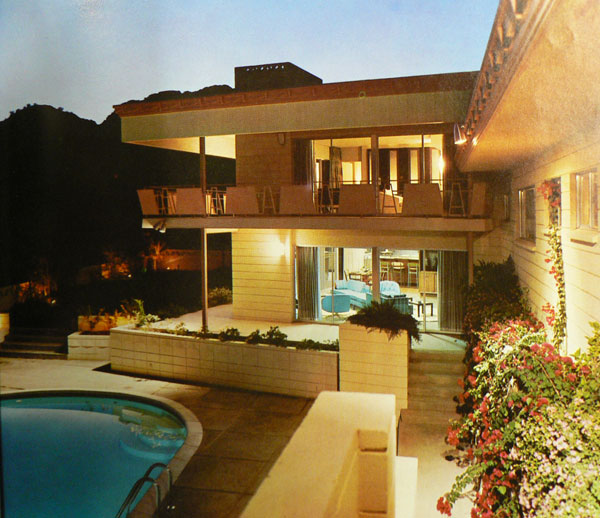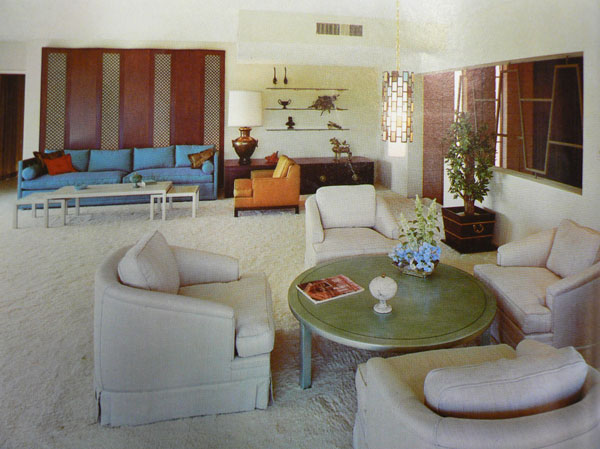 Sources
Ads placed in the The Arizona Republic 1952 - 1963
Ads placed in
Arizona Homes
, January 1959, August 1958
Maricopa County Recorder's Office public records

Point West
, 1961
"
The All-Consuming Bills of an All-Electric Home
" by Andre Weltman,
Los Angeles Time
s, 13 August 2001
About the Author
Taz Loomans is an architect, a free lance writer and community developer. She owns and operates the
Blooming Rock blog
which is an online publication that educates and raises public awareness about urbanism, sustainability and architecture. She also owns Blooming Rock Development, a development company that focuses on sustainable fine grain residential projects in the urban core. Along with being involved in a variety of community-building projects, she partners with Women Design Arizona to curate and organize the Sustainable Communities Lecture Series, an on-the-ground, community-oriented event that brings together experts to talk with the general public about how to make Phoenix a more sustainable city.
Receive advance notice of next year's events!