Villa Monterey in Scottsdale | 1961
Miller Road between Camelback and Chaparral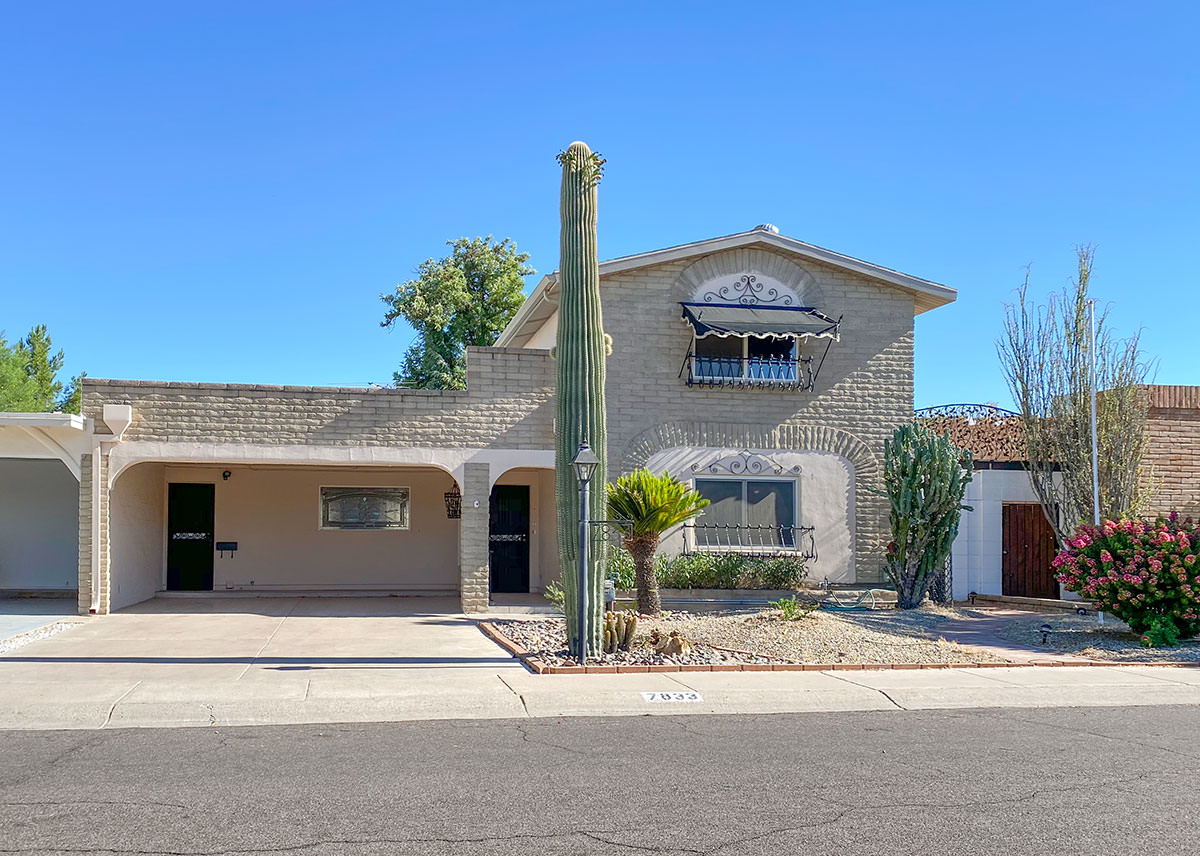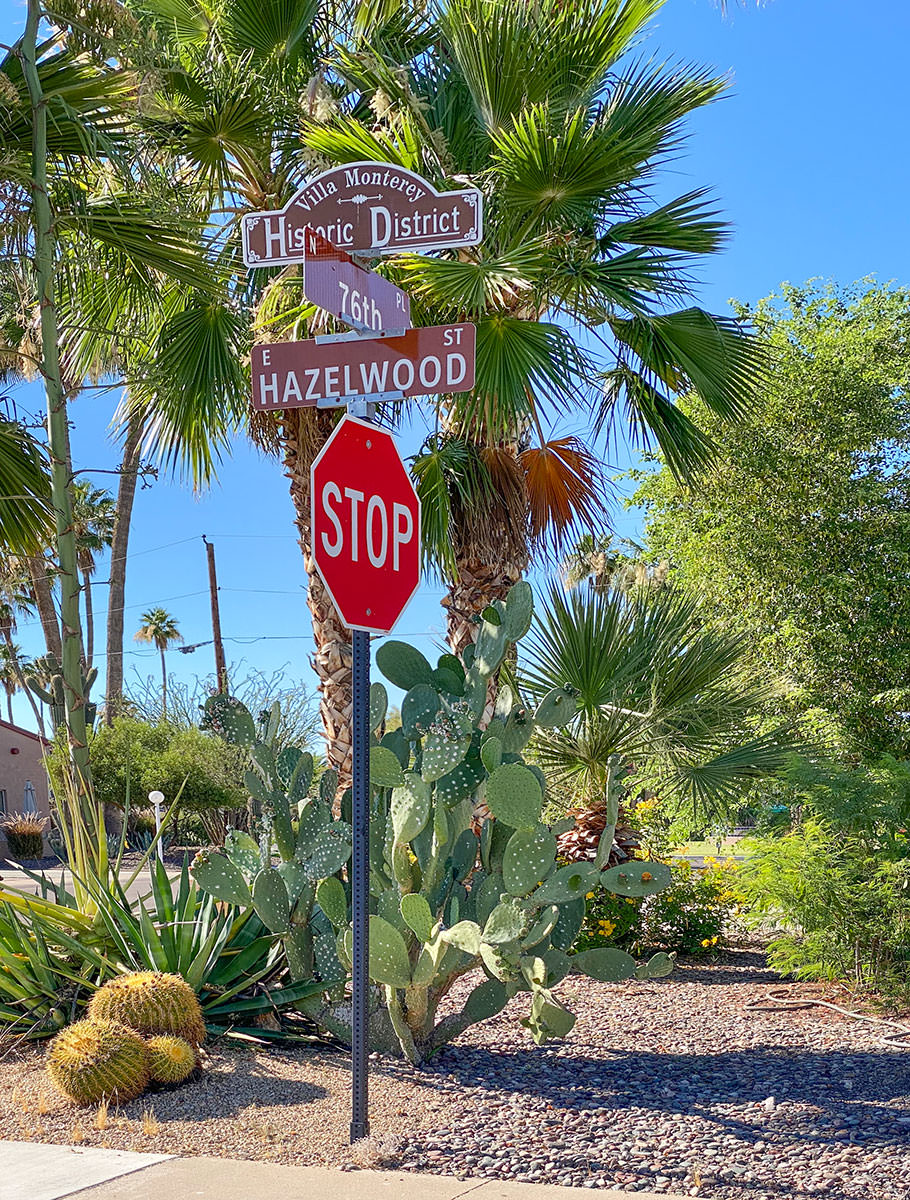 Scottsdale's Historic District of Villa Monterey was one of many townhome concepts that Haver's firm
developed during the 1960s
. It was one of Scottsdale's first successful townhome subdivisions and set the high standard for many others to follow.


Dave Friedman of Butler Homes
wanted to offer a different kind of retirement living, and after extensive research in styles he fell in love with the Spanish concept of connected casita homes.
He hired Ralph Haver to realize his vision. Though Haver typically worked in a more contemporary style, he adopted a regional flair for this project.
It's very well possible this community is the design work of
James Salter
, a young gun who specialized in exuberant resort/leisure architecture such as the
Kon Tiki.
The success of this neighborhood set the stage for Phoenix Metro's transition from clean, modern regional architecture to Spanish styling that later crept to
Italianate
and
Mediterranean
.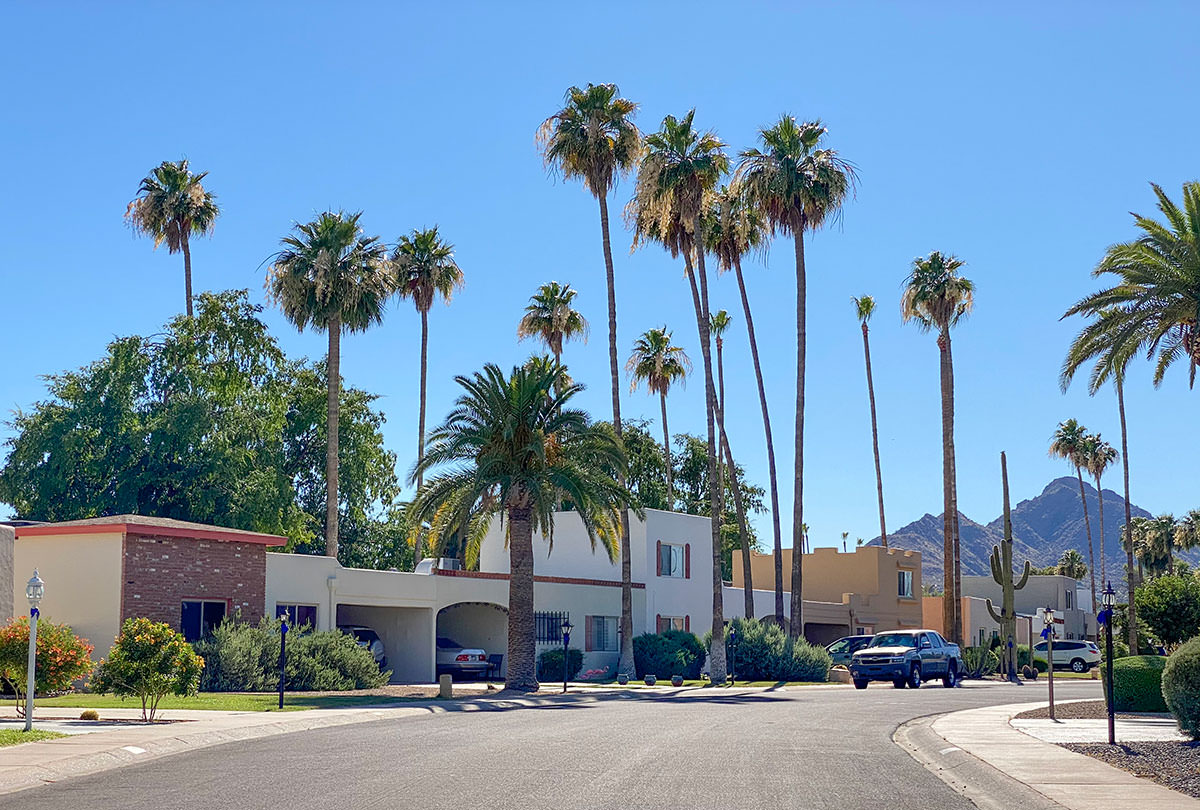 In Villa Monterey, connected townhomes are organized around modest community amenities like pools and open spaces and feature an astonishing variety of character-inspired facades ranging from Castillo and Moorish motifs to Farmhouse, New Mexican and even Texan flavor. Each homeowner's personal fantasy could be expressed in the selection of a lock-and-leave home on lantern-lit curving streets. Amazing views of iconic Camelback Mountain and proximity to shopping, golf and a burgeoning arts and culture scene helped attract older clientele with a youthful spirit. It was retirement without resignation.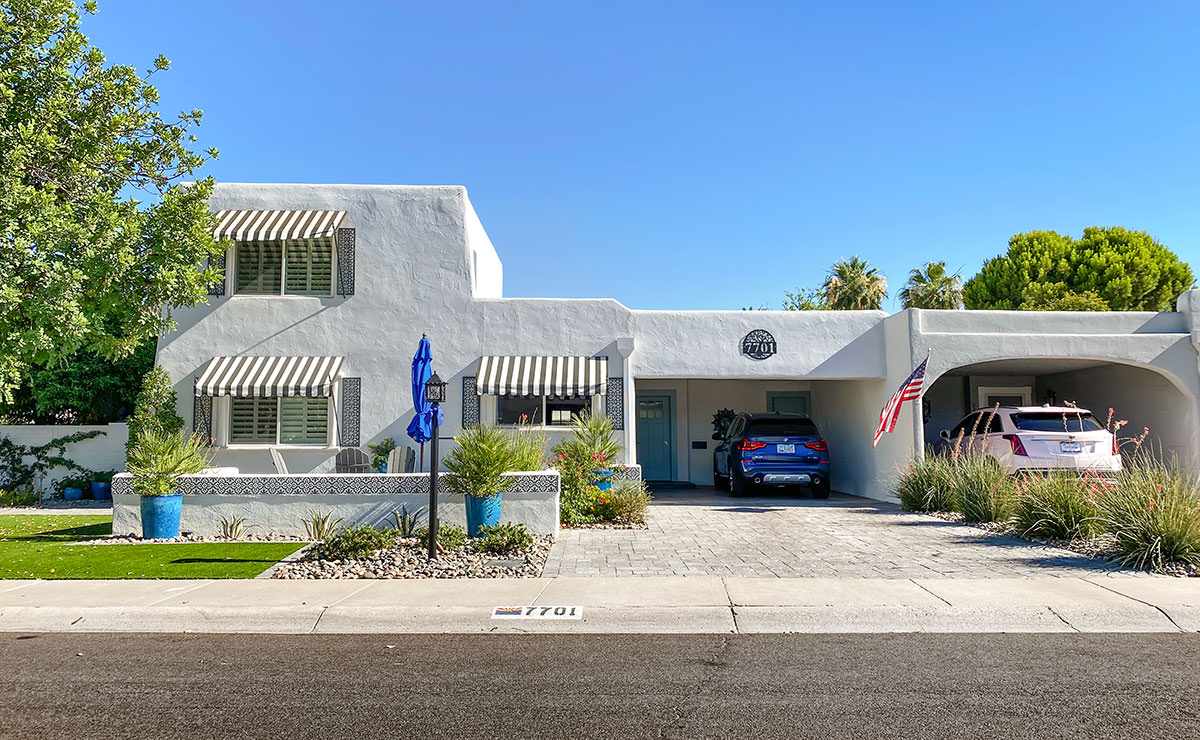 But is it Midcentury Modern? Not exactly. There is no more apt descriptor than
Postmodern Pastiche.
The
history of this community has been thoroughly documented by the City of Scottsdale
, so we will not repeat it. But we will add that the neighborhood was declared a Historic District even before our confirmation of its provenance as a Ralph Haver design, which is testament to the charm of this architecture that Scottsdale natives hold so dear.
When we first think of Villa Monterrey, this is the type of home that immediately comes to mind: red tiled roof, stucco facade, some nonfunctional ironwork, awnings, domino block pattern in the carport, and a carport entry to the home. Note how garages for the connected homes abut each other, and there is a quick change of style with a shallow faux parapet on the right. Generally speaking, the units avoid using the same style or color scheme in a row in order to create a lively and dense street appearance.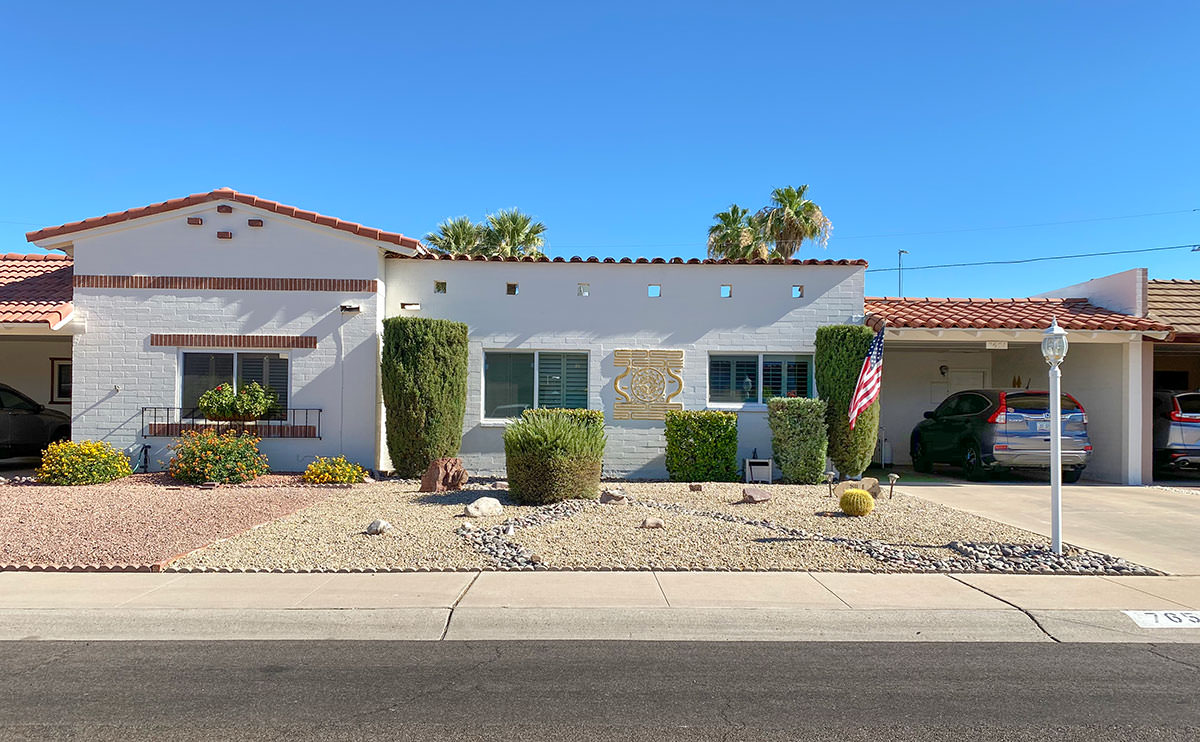 Look closer next time you are driving through the area. You'll be rewarded with a parade of detail that hearkens to Disney's "It's a Small World" attraction. Tiny, largely nonfunctional window railings and pseudo-Aztec medallions will reveal themselves.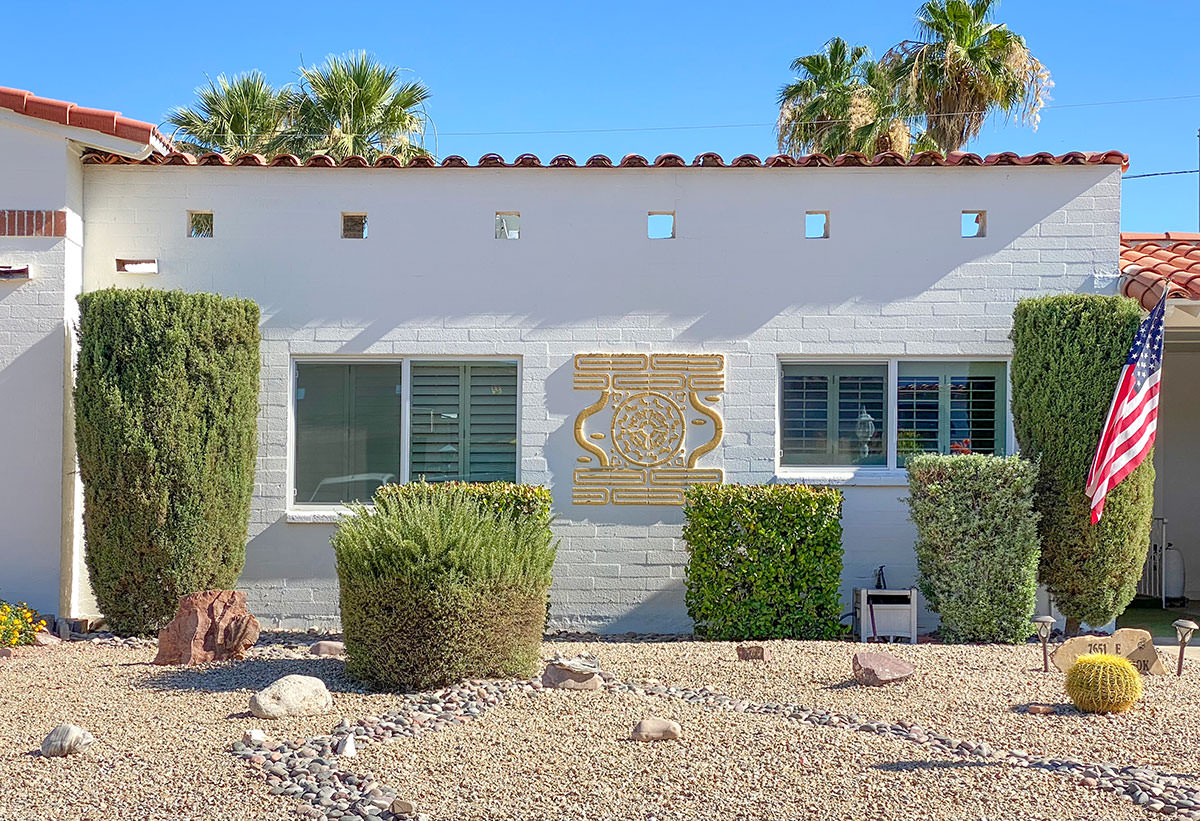 The medallion motifs are made of modular blocks that you'll see remixed in different configurations not only as wall art but also friezes.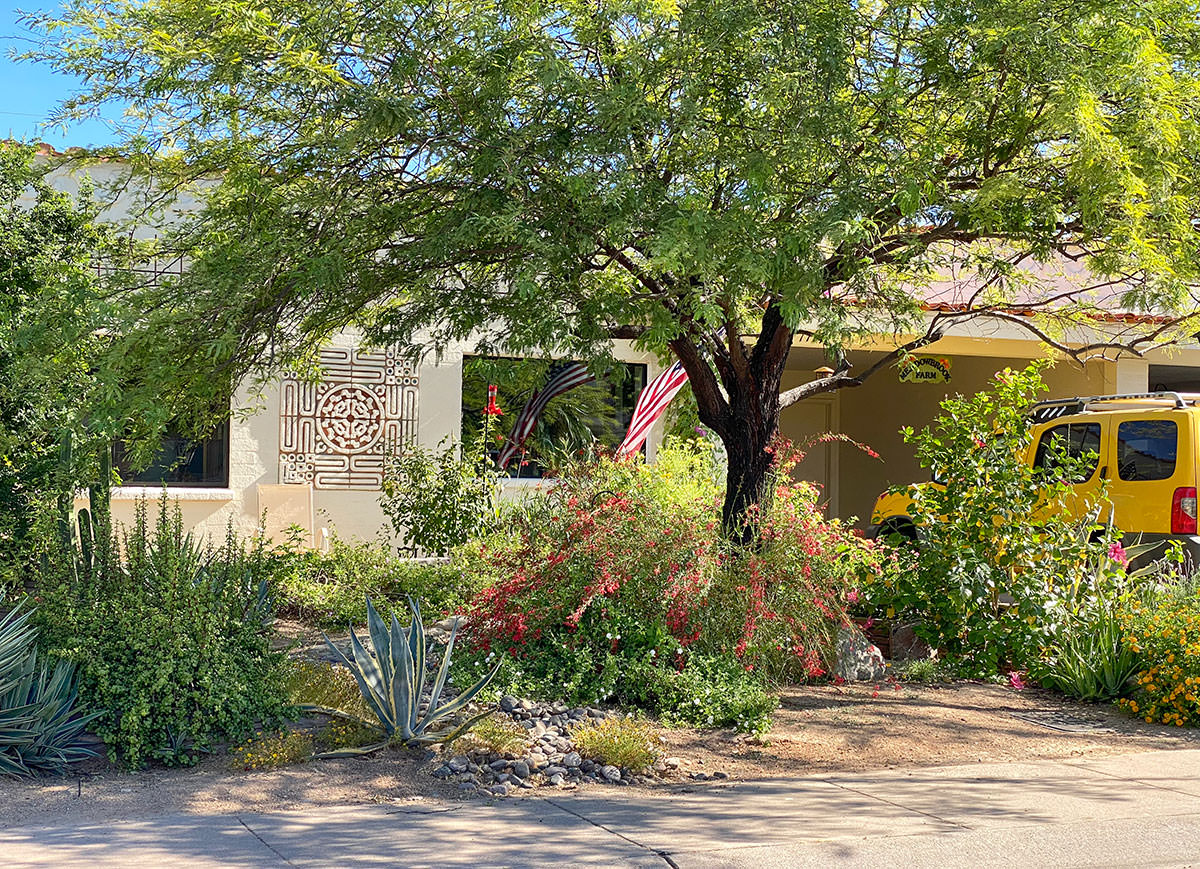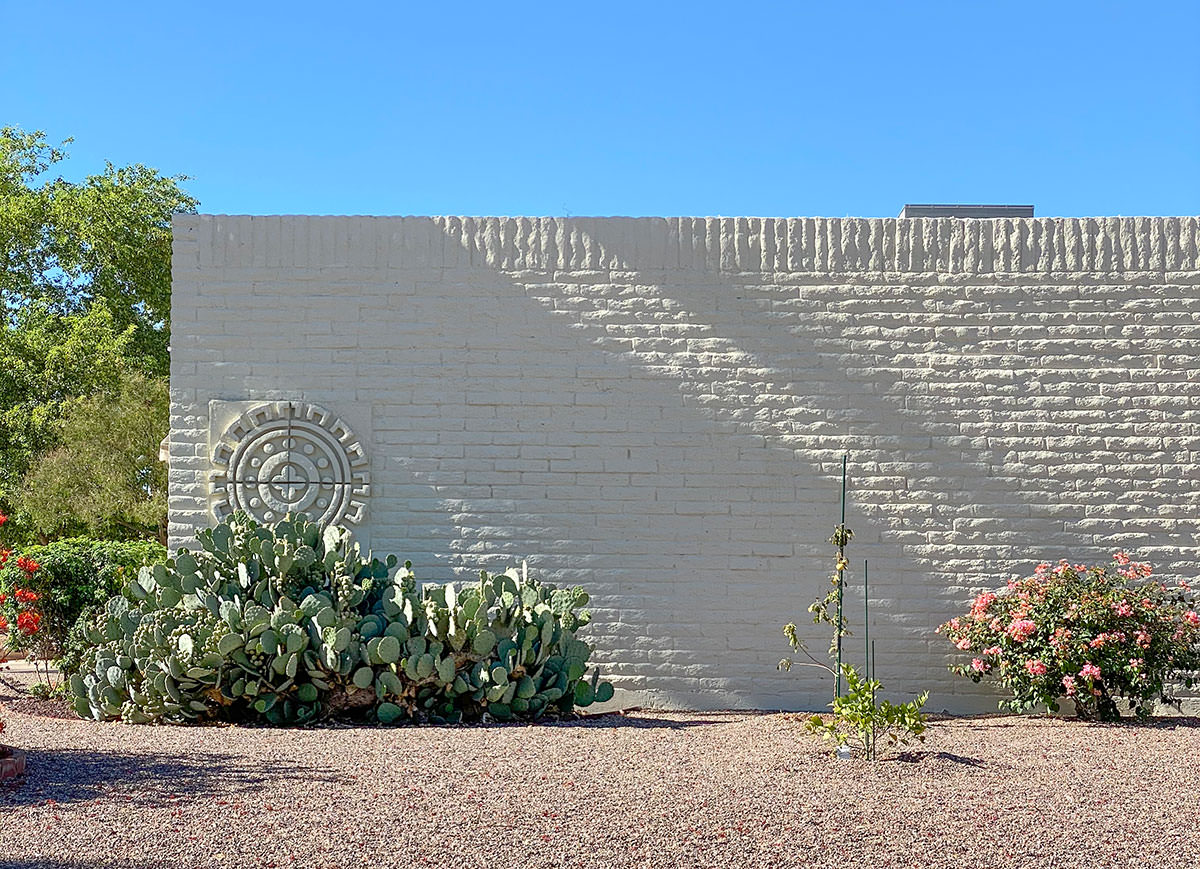 These bas-relief medallions are similar to those used on other Haver designs of the 60s, notably the
Arizona Bank on Thomas Road
and also at
Coronado High School
. At least one other apartment complex is known to use a similar motif as well.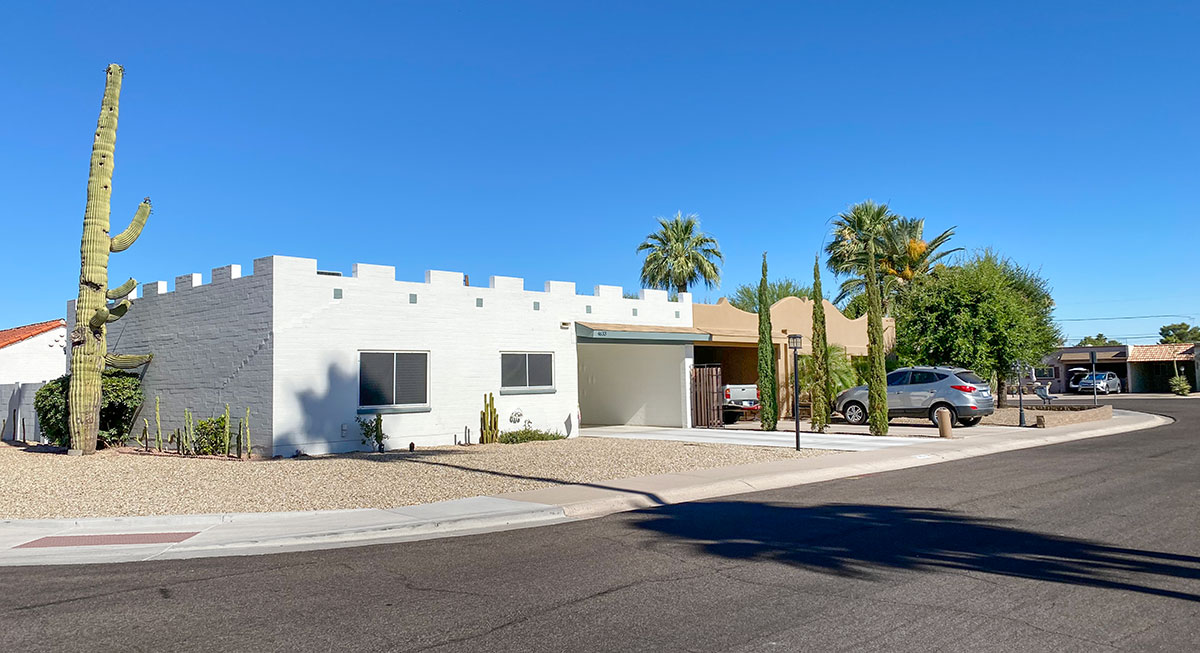 We're not sure if that diagonal stress fracture on this castillo is real, or is a deliberate artistic detail. Positioned prominently on the roundabout inside the subdivision's entrance on Miller Road, this model and the faintly Texan fort beyond were likely meant to catch buyers' imagination and prime them for the choices to come. It worked. The homes sold quicker than Friedman could make them.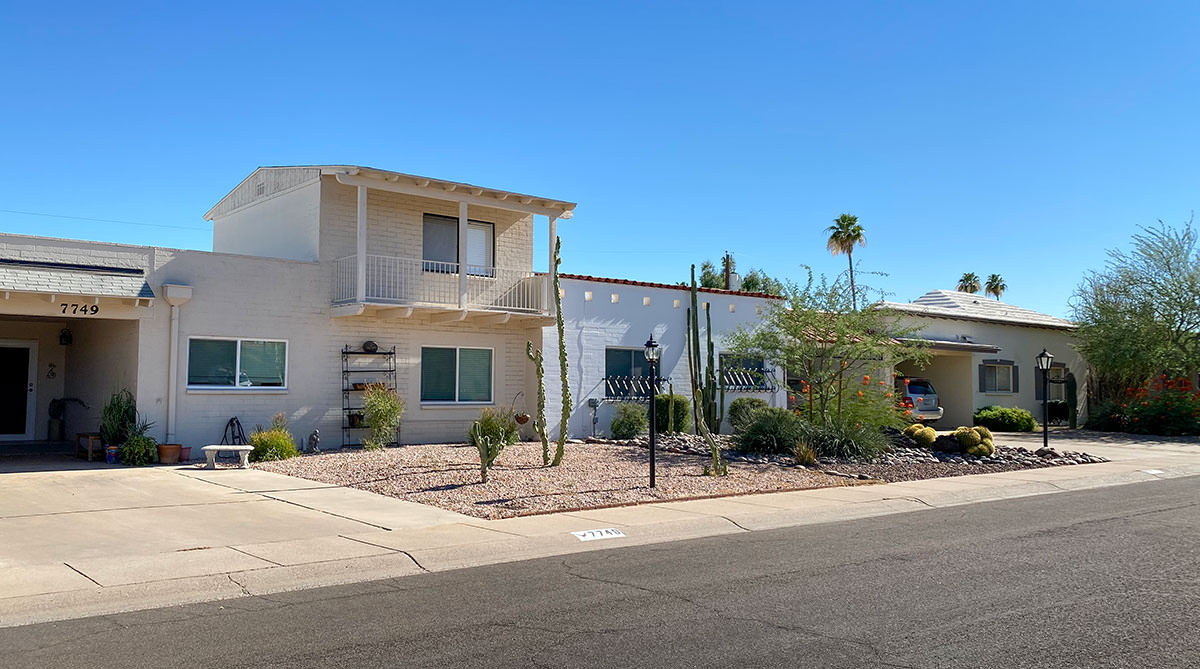 Most curious about this nonfunctional balcony detail is that there's virtually no means to access it.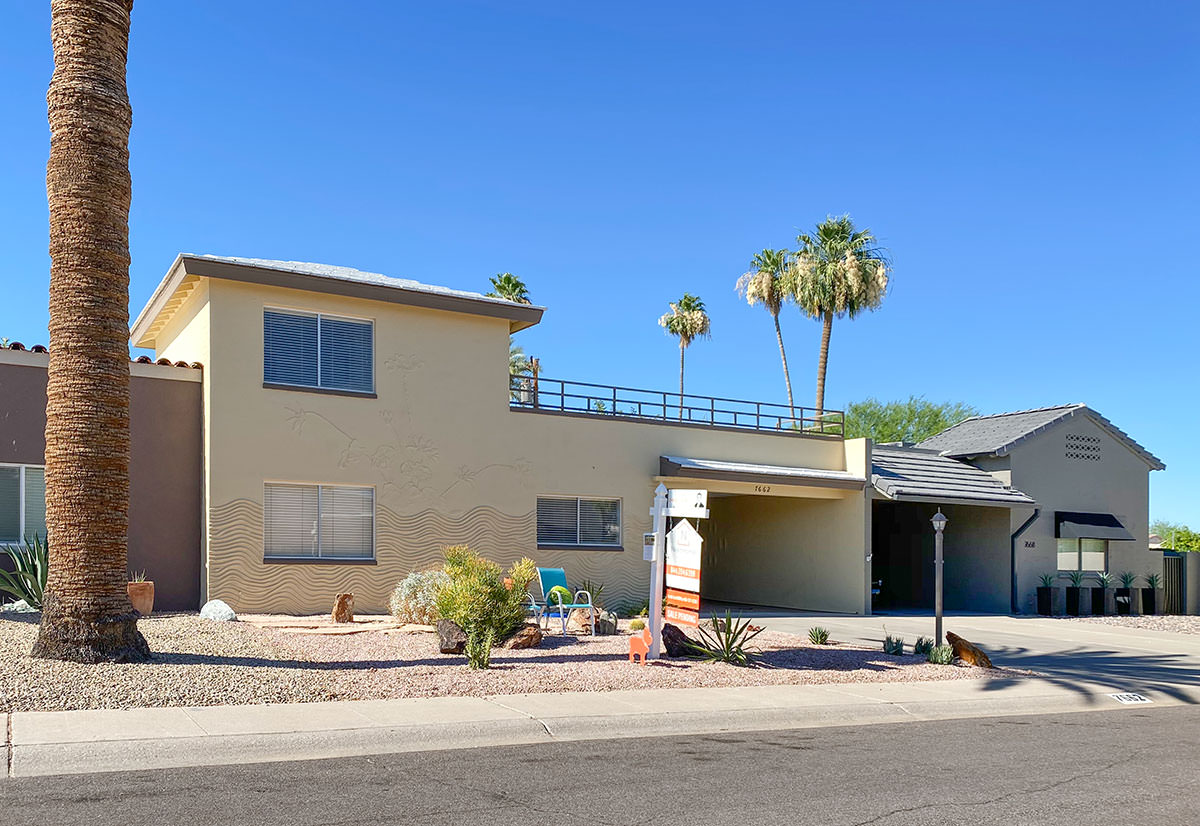 Look close enough and you'll find an aquatic theme with what might be water lilies, executed in a fashion similar to the
large bas-relief sgraffito seen at Scottsdale Palms
.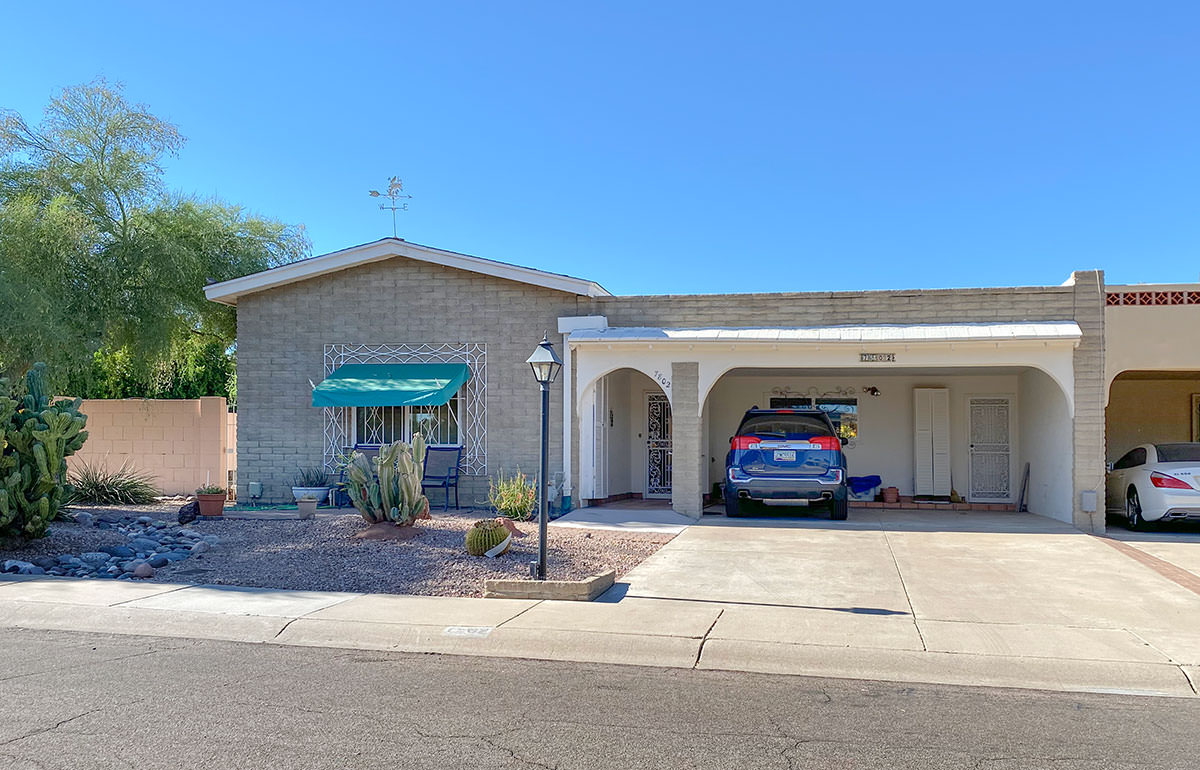 Just in case you missed the farm, there's that flavor too.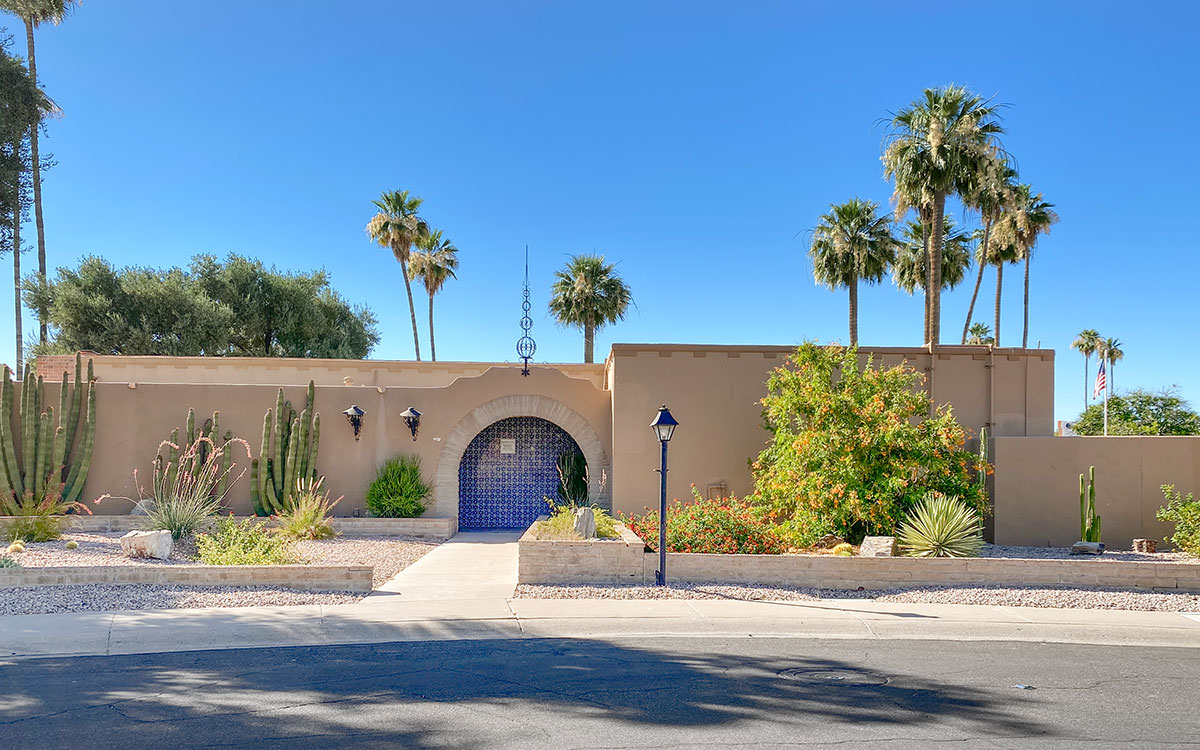 A modern yet Moorish-inspired spire perches atop the entrance to one of the common recreation areas, whose shady entrance is graced with blue Moroccan tile.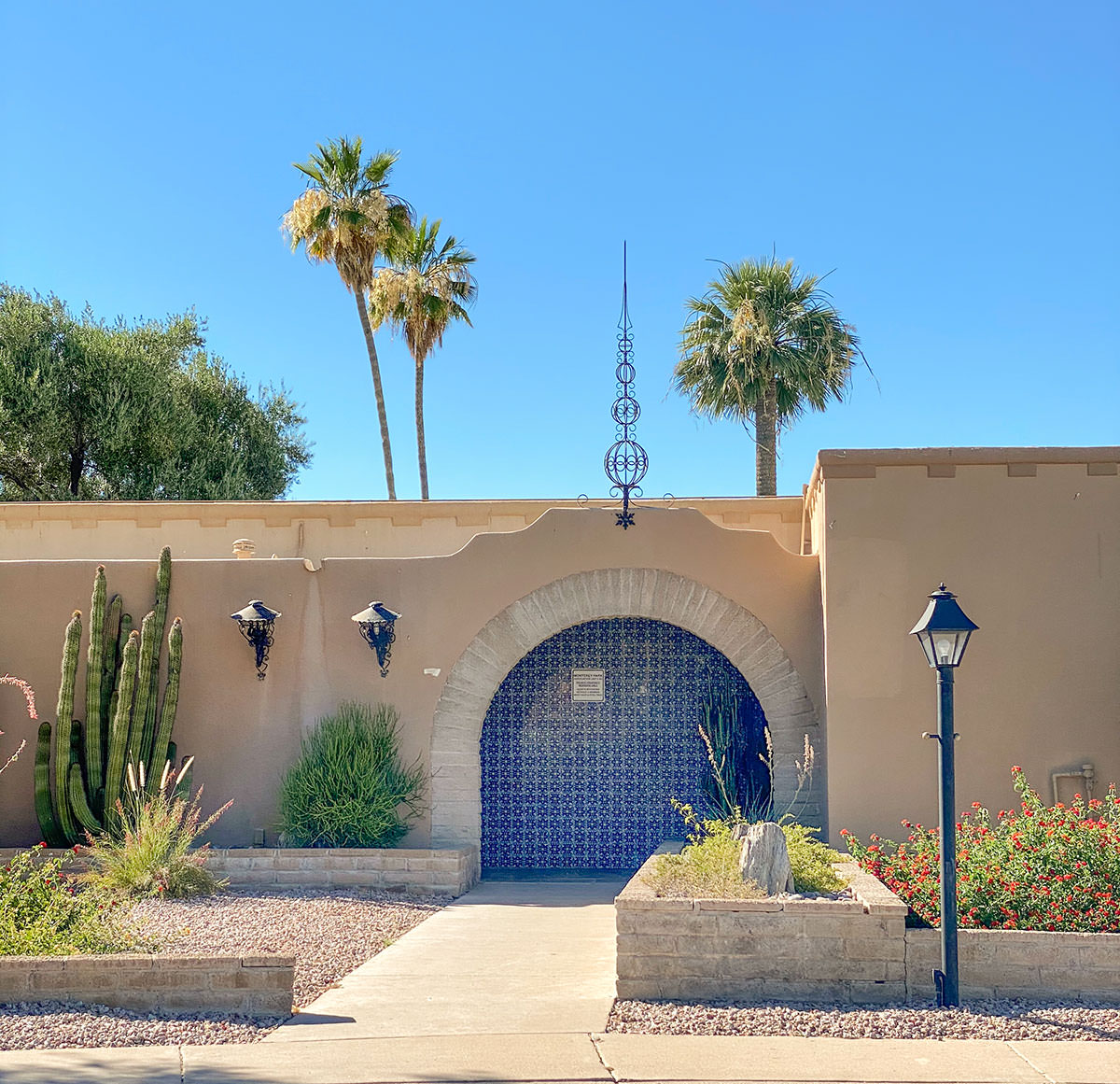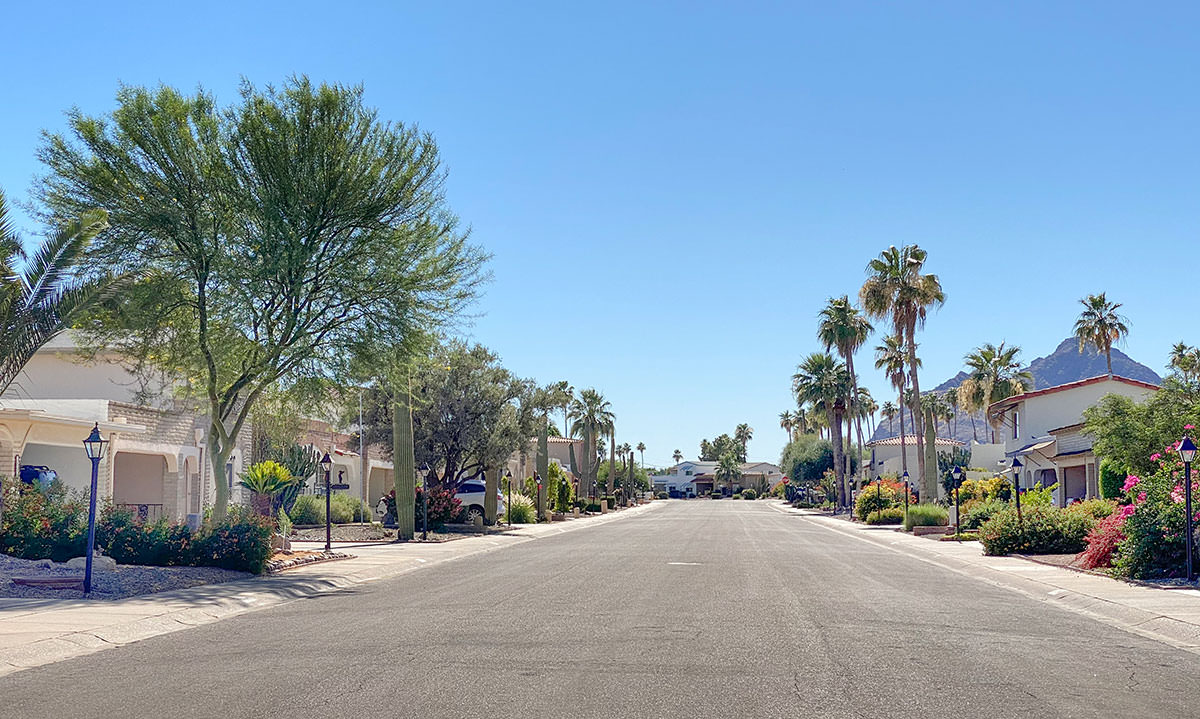 The streets are lined in a regular pattern with lanterns of the same design, lending stylistic unity to the eclectic mix.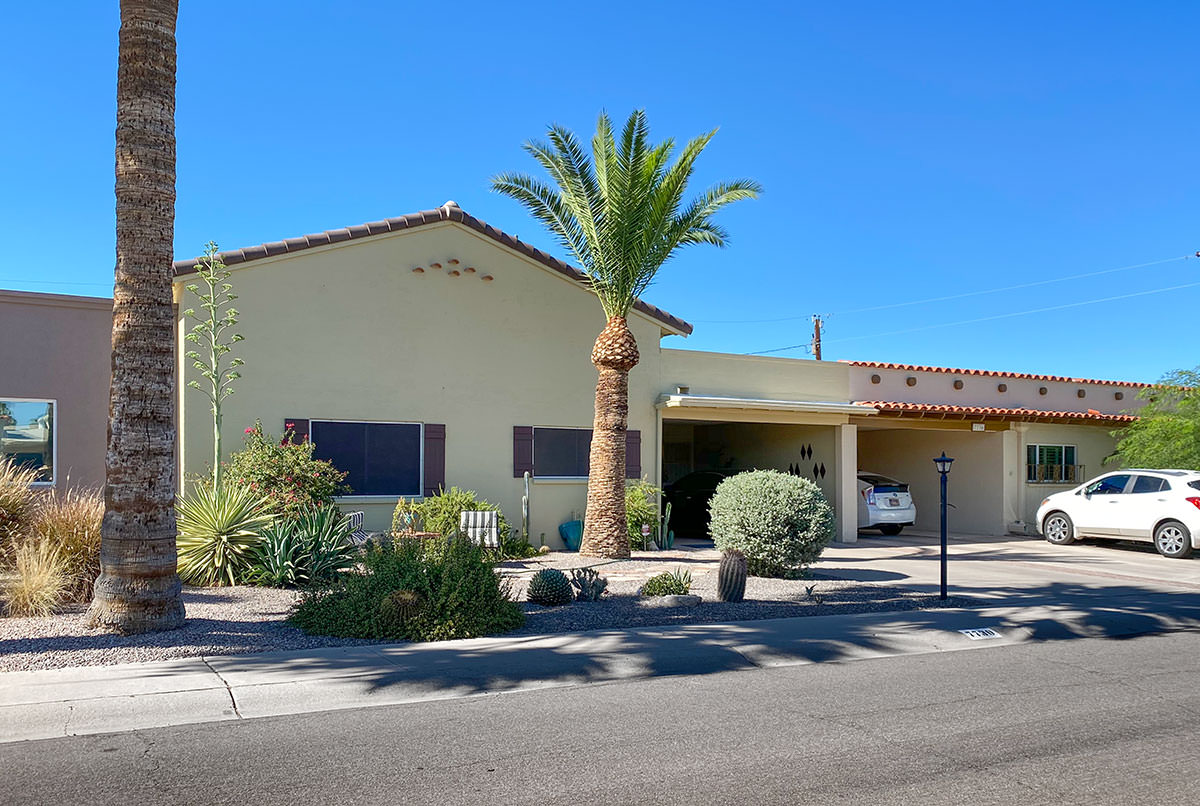 A
field survey of the Historic District
by the City of Scottsdale revealed that fewer than 1% of the houses had been substantially altered, which is extremely rare for homes of this period. A strong HOA and obvious pride of ownership make this neighborhood a valuable time capsule of a bygone era.