The 3rd Annual Modern Phoenix Home Tour in Ralph Haver's Marlen Grove Neighborhood, 2007
Sign up to receive advance notice of next year's events!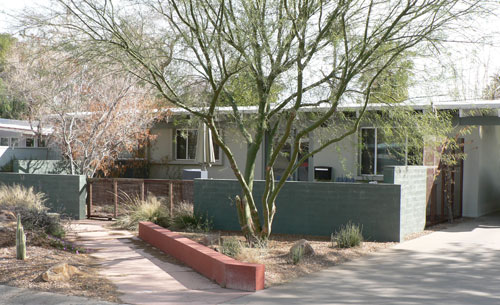 Marlen Grove is well known for its striking front patio spaces, and this home is no exception with low walls and rusted steel screens that are permeable layers open to street life. Inside, industrial ductwork, hardwood floors and an open kitchen create a lofty feel that draws guests straight out to a sail shade covered back patio and courtyard. Well executed additions have carried through Haver's characteristic clerestory windows and expanded the home significantly. Check out the funky upholstered walls in the master/study just completed by local Artist and Master Upholsterer Charlie Sytek.