The 3rd Annual Modern Phoenix Expo on March 24, 2007
Sign up to receive advance notice of next year's events!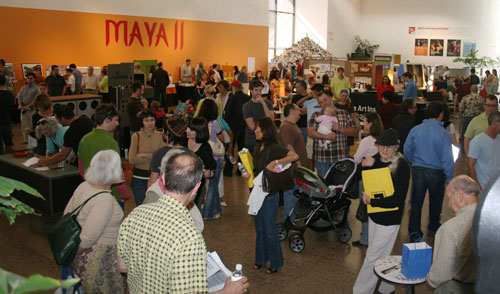 We turned the Scottsdale Center for the Arts into a bustling Mall of Modernism for the day by hosting 21 vendors and organizations ranging from home furnishings to real estate to fine art and preservation.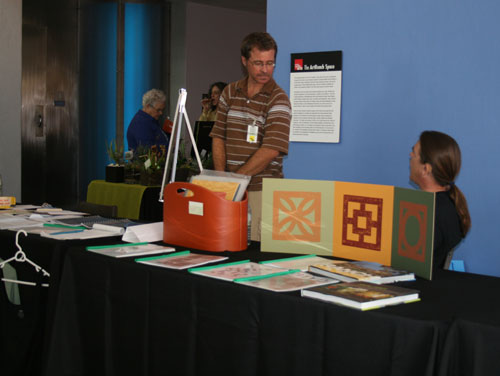 Shawn Schuette hosted the Modern Phoenix table, directing newcomers to where the needed to be. Justin Anthony helped set up and break down the expo displays.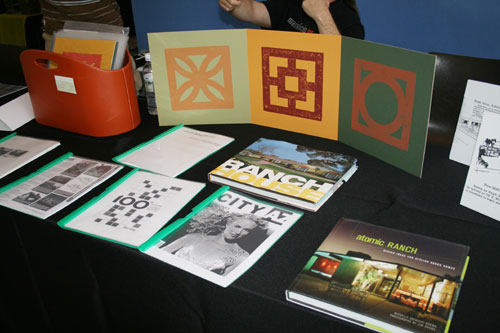 The Modern Phoenix display included dozens of resources for the modern-minded, especially hard-to-find publications.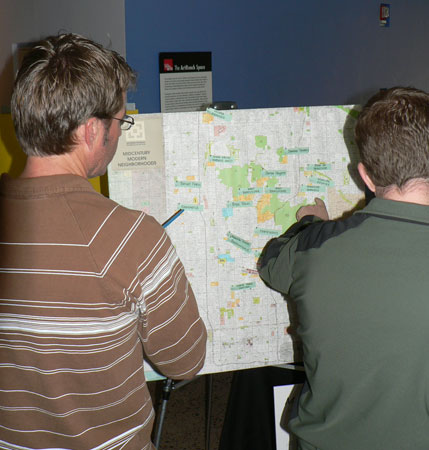 Shawn helps a newcomer to Modern Phoenix find his place in the city on the ModPhx Collaborative Map.
The Art Institute of Phoenix displayed interior design work by students based on Midcentury Modern concepts.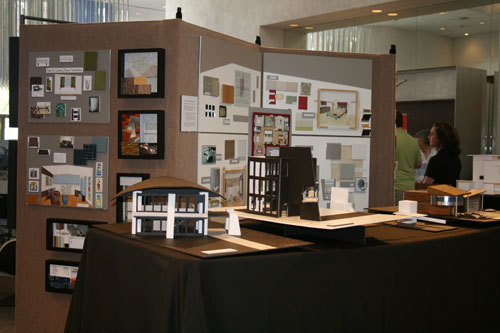 3D models using classic Modern design principles were created by first-year students. Re-designs of three Midcentury Modern homes were completed by second year students.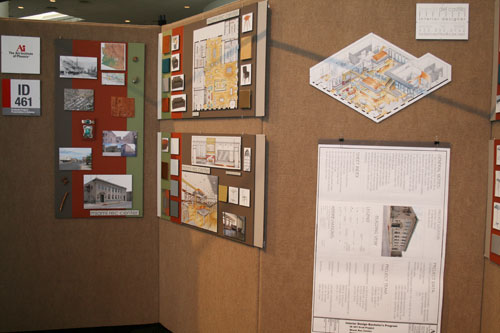 A MoCo design for a rec center inside a historic building by an Art Institue graduate.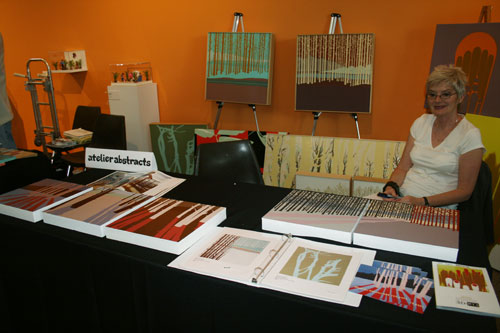 Atelier Abstracts brought graphically original fine art.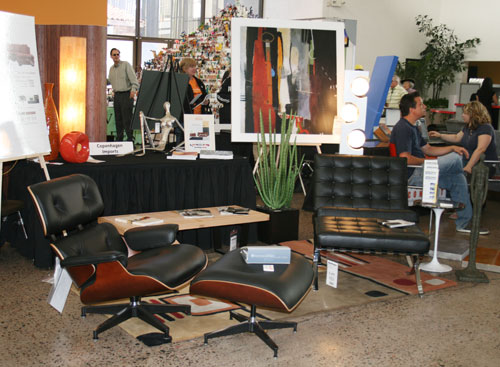 Copenhagen is a classic staple source for modern furnishings in Phoenix .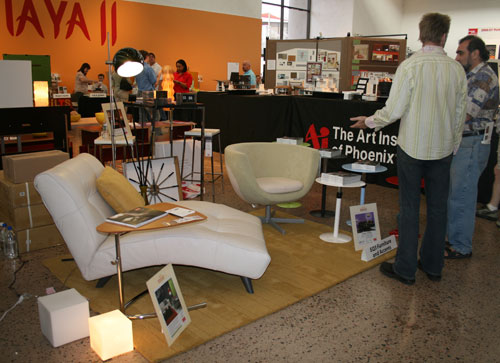 EQ3 is a newcomer on the scene, and provided furnishings for our Michael P. Johnson talk on Stage 2.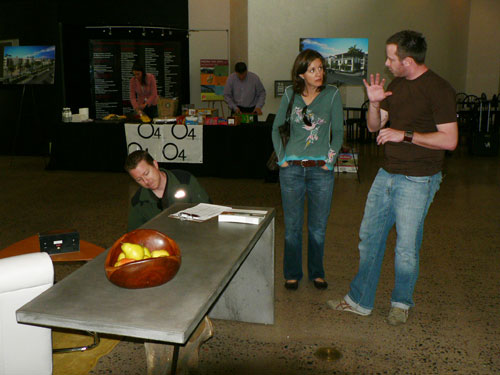 Brandon Gore of Gore Concrete Designs, LLC debuted a new concrete tabletop design.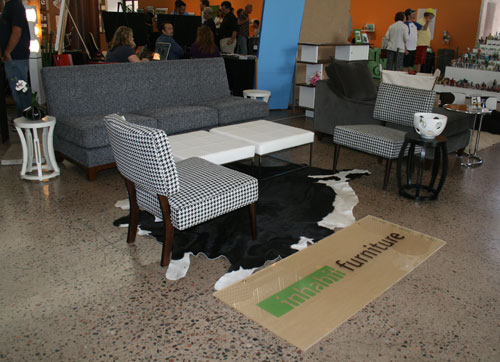 Inhabit Furniture goes black and white for the season and will soon move from their North Scottsdale location to Uptown Phoenix.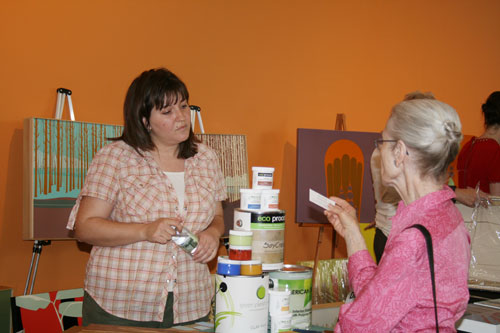 a.k.a. green brought eco-friendly materials to share.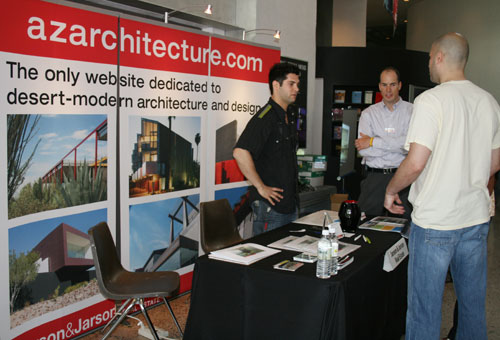 The fellahs at Jarson & Jarson real estate shared new desert modern properties.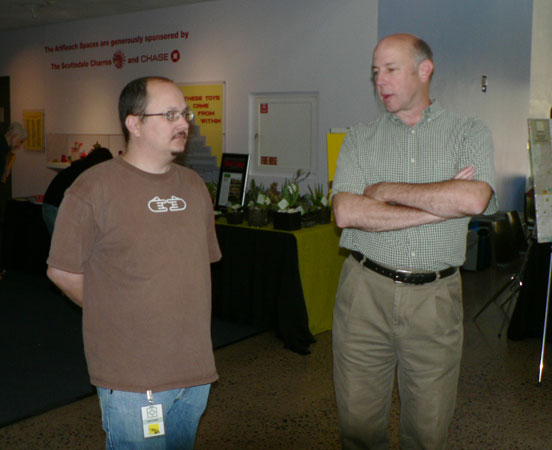 Keynote speaker Alan Hess chats with event host Mathew King.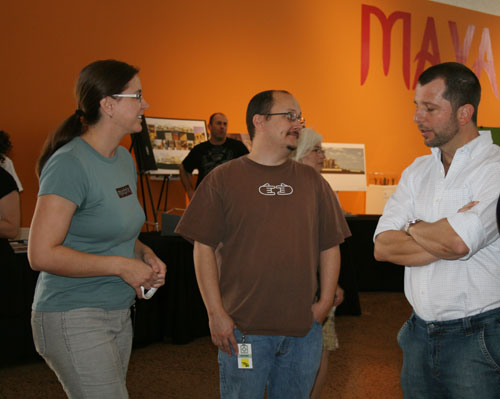 Matthew and Alison are all done setting up the the expo, and pause to talk with Daniel Germani of Brett Smith Woodworks.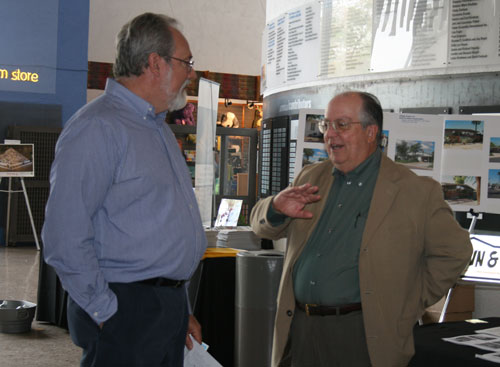 Don Meserve of the Scottsdale Historic Preservation Commission shared information about Scottsdale's recent and ongoing MCM designation efforts.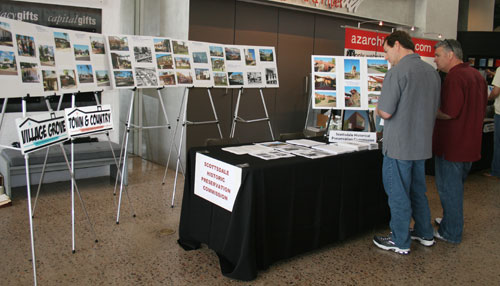 Village Grove and Town & Country in Scottsdale are both potential sites for the 2008 Home Tour.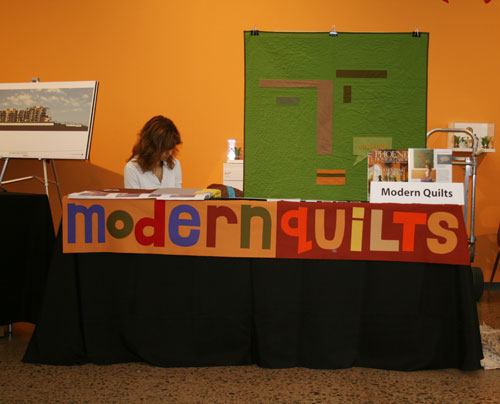 Artist Regina Alexandra brought the most creative booth signage ever, crafted from fabric of course.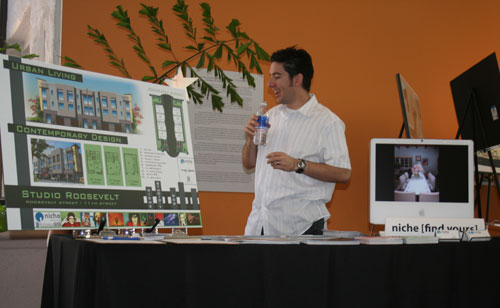 Shawn Danley of niche [find yours] is pleased to offer some MoCo properties.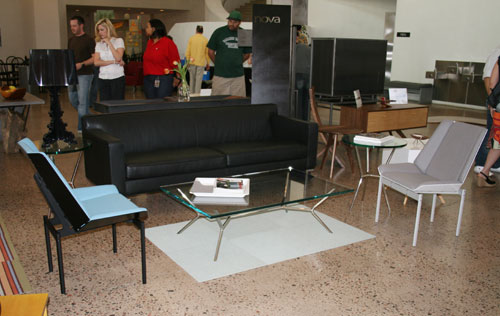 novaMODERN set up in our furniture district with their new designs.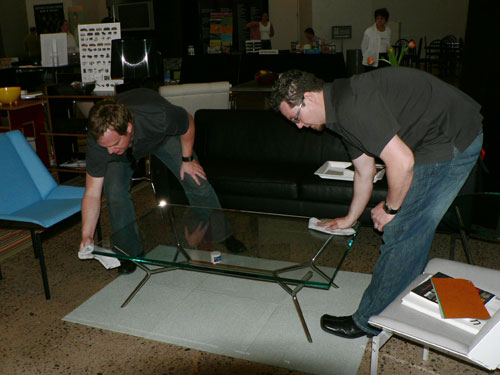 novaMODERN puts the polishing touches on their display before the show opening.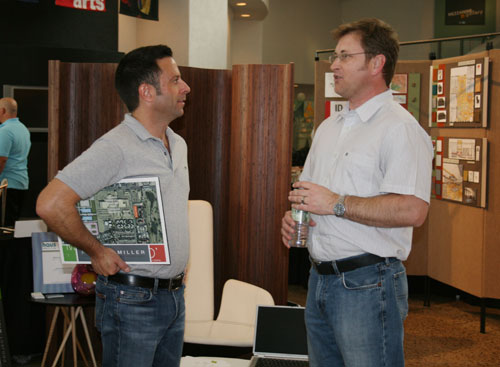 Kevin O'Neill of the O' Companies discusses Project Miller in Scottsdale, designed by Wil Bruder.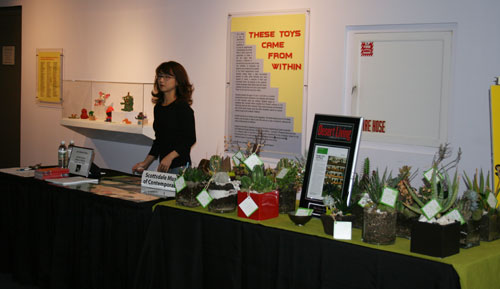 The Green Room provided strikingly designed succulent and cactus plants as thank-you gifts for the homeowners on the tour.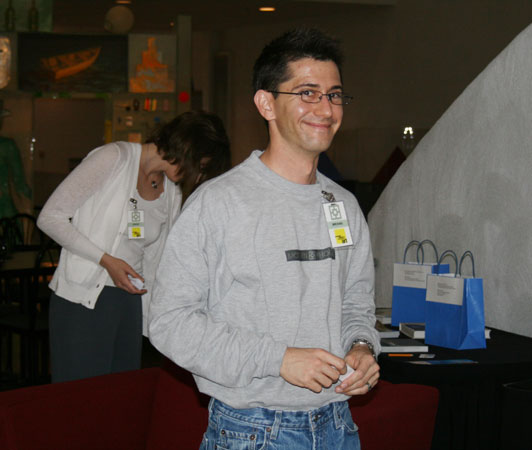 Stacy Wolski and Michael Voloudakis encouraged expo attendees to register for the wonderful door prizes donated by the ModPhx community. A host of volunteers helped the event run without a hitch.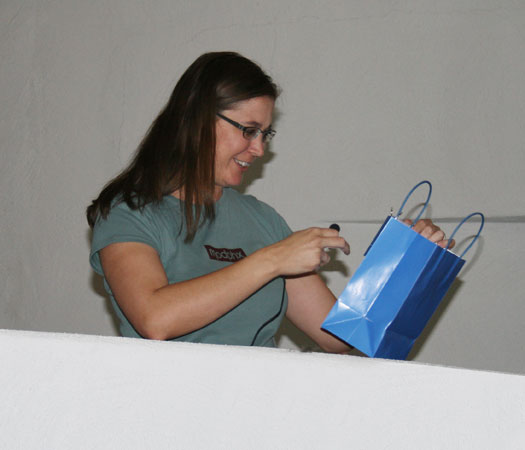 Alison's favorite moment of the day -- diving into the blue bags to give free stuff away!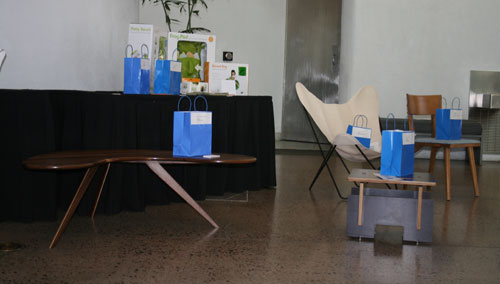 Thirteen donors offered prizes such as custom contemporary furniture, fine art, baby gear, jewelry, classic Modern furniture, and books.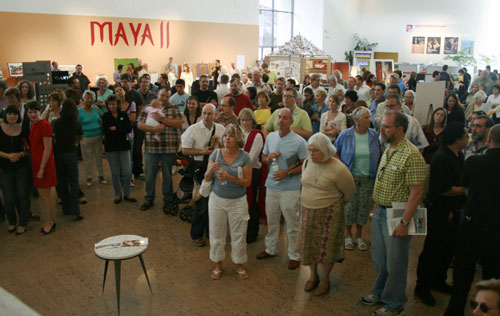 The expo crowd settles down and waits in anticipation for the door prize drawings.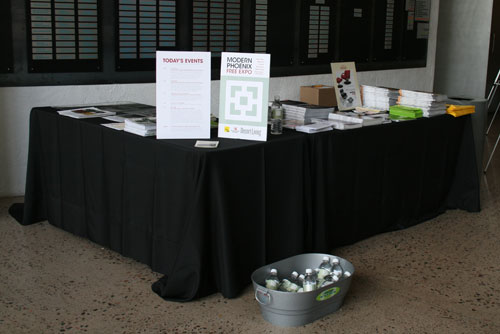 The Media Table was a great pace to pick up free magazines, flyers and cards from organizations not exhibiting.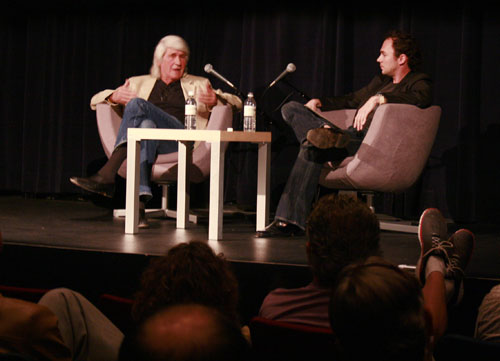 During the Expo, four guest speakers shared their opinions and expertise to a packed house. Designer Michael P. Johnson and Desert Living Editor David Tyda get deep into a discussion about the modification of Haver Homes.
David attempts to not slink under the table as Micheal implicates just about everyone in Phoenix using the name of Al Beadle in vain.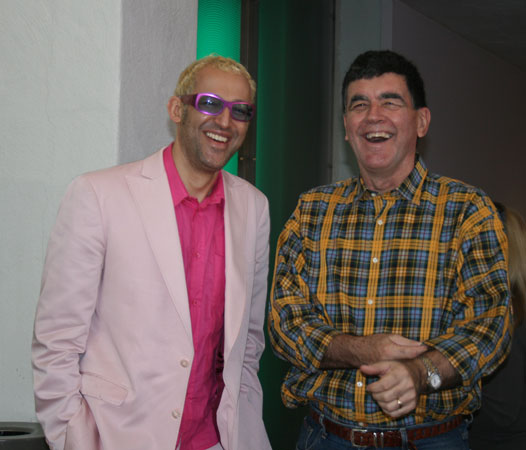 Surprise! You never know who is going to show up at the ModPhx expo. Heads turned as a cheerfully blush Karim Rashid swung by for a brief look.