The 3rd Annual Modern Phoenix Home Tour in Ralph Haver's Marlen Grove Neighborhood, 2007
Sign up to receive advance notice of next year's events!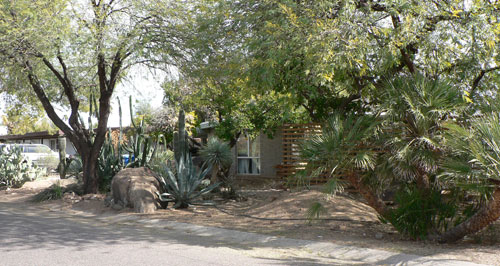 The Koehler + Clay Residence

75% complete
Architects James Koehler and Roberta Clay have lived in this home since January 2000 , and have significantly added on to the square footage to expand the master bedroom and study, create a third bedroom, and maximize the two bathrooms by co-opting space from other storage areas. The front living space was opened up by eliminating the walls enclosing the original kitchen.Exterior work consisted primarily of sand-blasting the existing and new masonry and painting the existing wood elements to blend with the desert plants. The front patio trellis enclosure (in progress) is designed to be an extension of the living space as well as engage the area around the pool. Originally designed by former owner/landscape architect Marcus Bollinger, the backyard was a much wilder version of what the front yard looks like today, but has been since tamed to allow for little people and dogs to playX.Since the original remodel they have more recently created two separate bedrooms for the children. Kid-friendly cork floors, a chalkboard graffiti wall and a striking Richlite kitchen prep surface are just a few of the neat details you'll find. Koehler + Clay have maintained the Haver character of the front and carport facades by respecting the original mullion pattern of the steel casement windows with the new aluminum windows.