Koko Restaurant and Theater
By Ralph Haver, 1951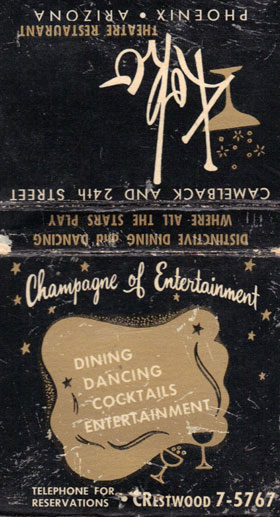 The Koko Club was located immediately south of the Biltmore Hotel and Resort, making it a prime spot for entertainment and nightlife.
The Koko Club in the Biltmore area was designed to entertain vacationers and residents of Phoenix in a casual, unpretentious atmosphere. The modest scale and residential proportions were a reflection of the limited budget and a self-imposed rein on materials — both criteria that Haver excelled at meeting. It is no accident that the elevation of the restaurant resembles a post and beam Haver Home in the casual modern ranch style. The exterior walls are raw pumice block. The concrete block is painted on the interior, or clad with board-and-battens cut in random widths. The wooden ceiling beams are rough-hewn and feature a natural finish with fiber insulation boards in between. There were two dining rooms, one for lunch and another for more formal dinner. The flat conical lighting fixtures were designed by Haver himself. Murals of Northern Africans with camels (a nod to the nearby landmark of Camelback Mountain) and a bustling café scene graced the two dining room walls. Oddly, there was a one-room apartment behind the main dining room with a compact kitchenette in the corner so the owner could sleep on-site, presumably from staying up late entertaining guests. The Koko was featured in
Architectural Record
in 1953, just two years after it was built. It was reinvented as the Koko Theater and Restaurant through a series of natural expansions. The venue hosted an increasingly elite roster of entertainers including familiar Rat Pack favorites Dean Martin and Sammy Davis Jr. Prime rib, lobster and frog legs rounded out the classic midcentury menu. The club suffered a fire in 1959, possibly resulting in the renaming of the building "The Embers" in the last photograph of this series.