2nd Annual Modern Phoenix Home Tour and Expo in Al Beadle's Paradise Gardens, April 2006
Receive advance notice of next year's events!
The Jones-Glotfelty Residence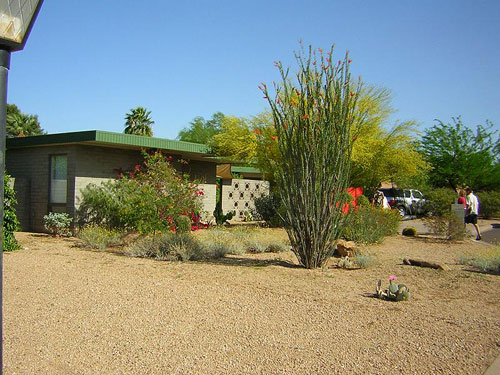 Drawn to the mountain, the Jones/Glotfelty family moved to this house 8 years ago from a territorial adobe they'd restored. Previous owners built the painting studio where a pool had been. Since 1998, changes and additions have been ongoing as resources allowed — a master bedroom suite for Marie's father in front, a dining room, a pantry/laundry area — with other changes in the imagining stage. The owners appreciate the flexibility and livability of this house, especially the ability to open it up to the garden areas which Marvin tends.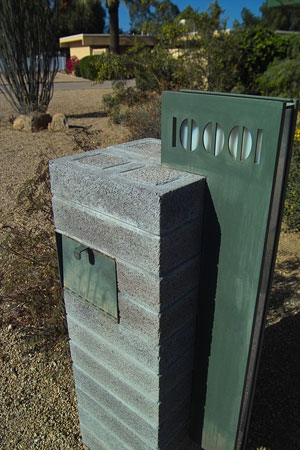 One of the 1000 Reasons why Paradise Gardens is the Land of 1000 Nifty Mailboxes.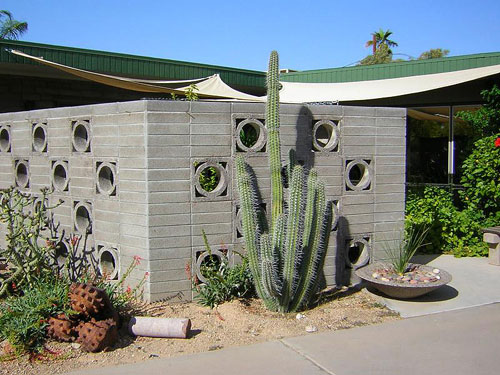 Rusty steel grinding gears, cast concrete elements and sculptural cacti all collaborated to create interesting textural and sculptural contrast against the entryway.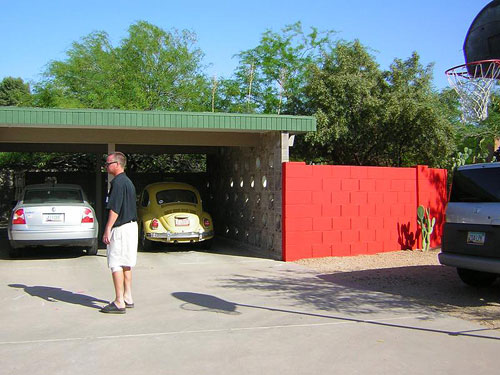 Complementary colors are unified by neutral gray block in between and provide the illusion of the home sprawling even more horizontally.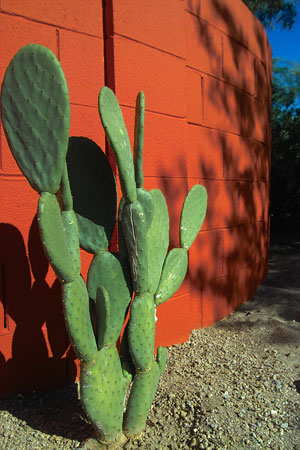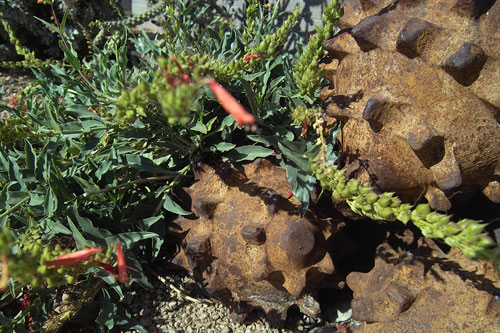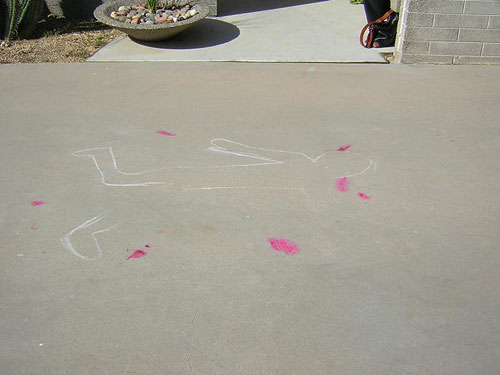 The grounds featured clever artwork in the most unexpected places. Here, thier son's chalk body outline greets visitors entering the courtyard.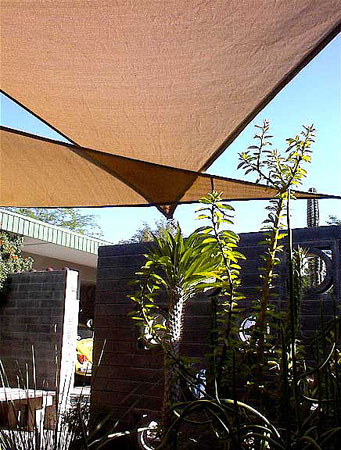 Tensile fabric sails over the entrycourtyard protect Mr. Glotfelty's impressive succulent collection while welcoming visitors inside.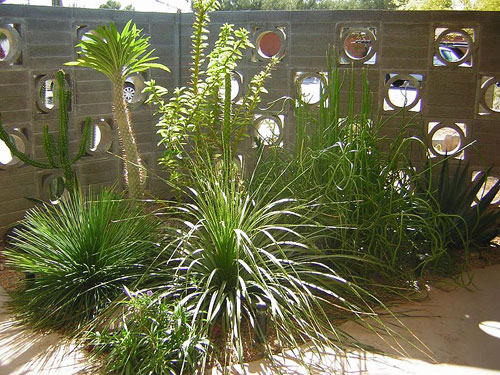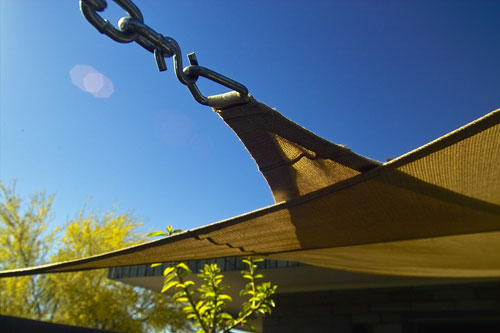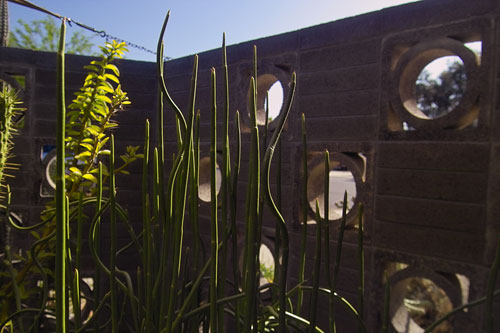 Signature screen blocks create a perforated privacy fence between street and courtyard and effectively defining another outdoor room.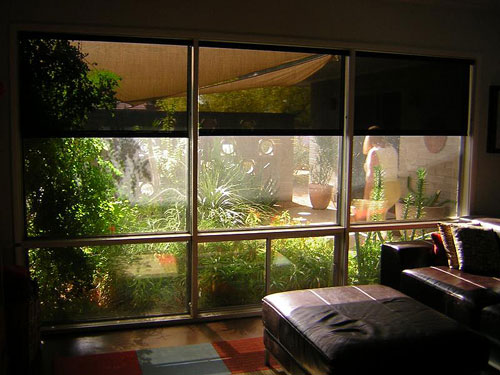 The harsh western sun is tempered by both the sails outside and dark pull-down shades, creating a cavelike coziness to the living room.
Marie Jones has made the kitchen the true heart of the home with this broad island that folks naturally gravitated toward.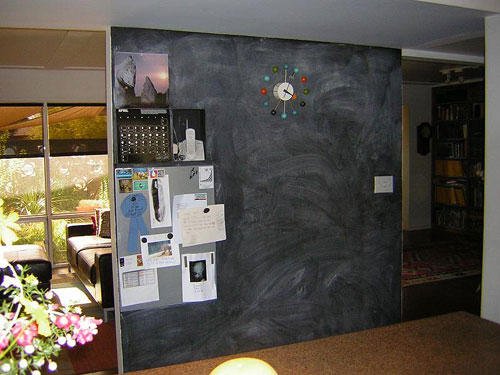 Chalkboard paint transforms a kitchen wall into a communication center, and offers endless possibilities for organic wash patterns as the artist's whim.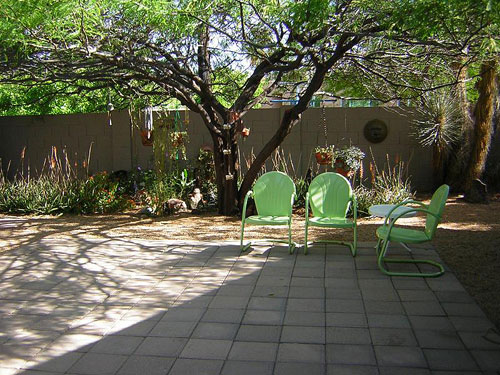 Vintage steel chairs under a mesquite canopy make up just one conversation space that many tourgoers lauded as a peaceful, humanly-scaled patio.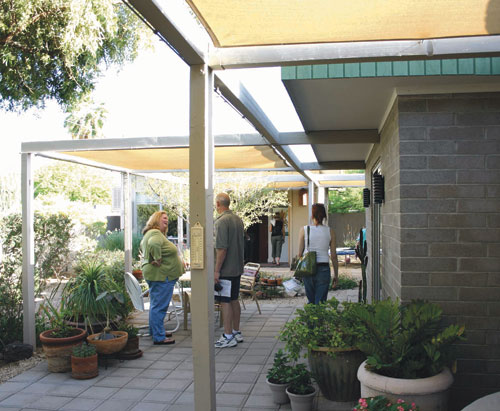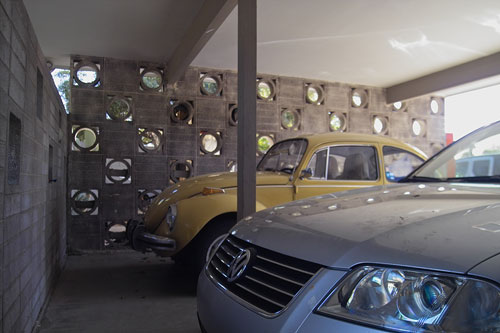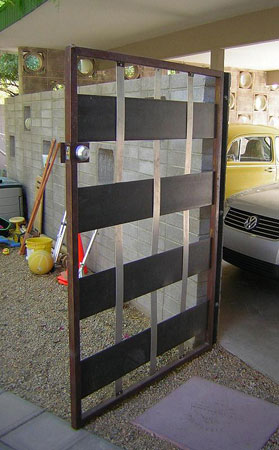 This simple woven fence reflects a similar screening purpose as the surrounding textile block walls.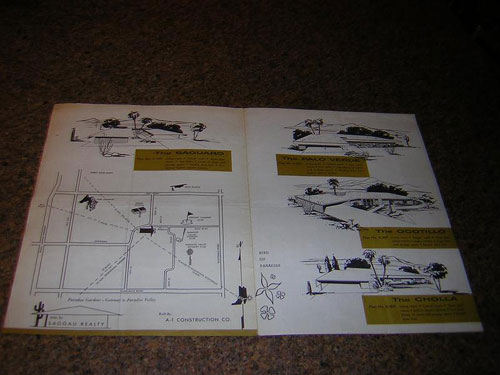 One of many unexpected delights was the sharing of an original copy of the Paradise Gardens model home brochure. We've scanned in enlargements and made them available here to assist residents in identifying the model of home they reside in: The Saguaro, The Palo Verde, The Ocotillor or The Cholla.
Receive advance notice of next year's events!