2nd Annual Modern Phoenix Home Tour and Expo in Al Beadle's Paradise Gardens, April 2006
Receive advance notice of next year's events!
Sign up for site updates, special events and info on our Home Tour + Expo next year!

Our 2nd Annual Home Tour was a smashing success from both an organizational and participant standpoint. We really enjoyed all of the face time and virtual discussion about the incomparable Paradise Gardens. One aspect that didn't lend itself very well to photography and couldn't be included here was our seminar series. The feedback letters that we received were consistently inspired by the guest speakers, and jazzed about having access to such wonderful resources here in the Valley. We've grown from 120 attendees at our first annual event to 300 participants in the short span of a year. Thanks so much to everyone who contributed to the success of our annual event. See you next spring!
The Expo and Seminars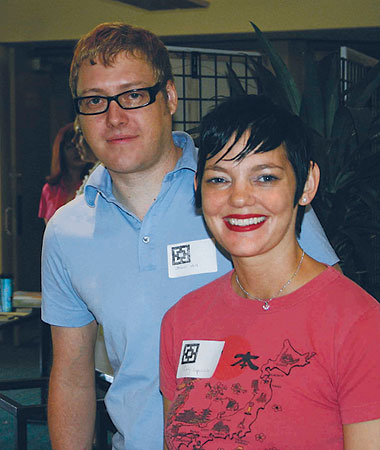 Jason Hill and Cary Lopiccolo enjoyed meeting all the MoPhos at Jason's expo table, where he had serigraphs and paintings of MCM themes to sell.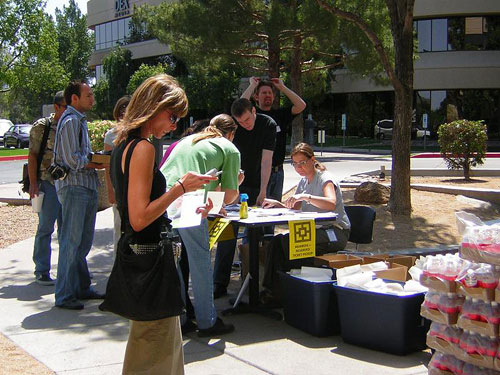 Tour coordinator Alison King trains the first batch of volunteers how to register the ModernPhoenix members for the tour. Daniel Burrell, Justin Anthony, Mr. Natural and the Acuñas held down the fort for the first few hours.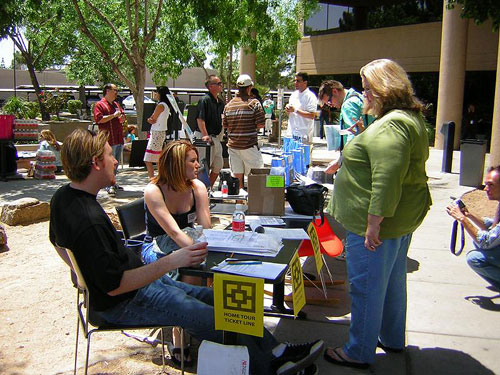 Member Daniel Burrell and friend manned the registration tables for non-members most of the morning, guiding them to the door prizes and expo just beyond.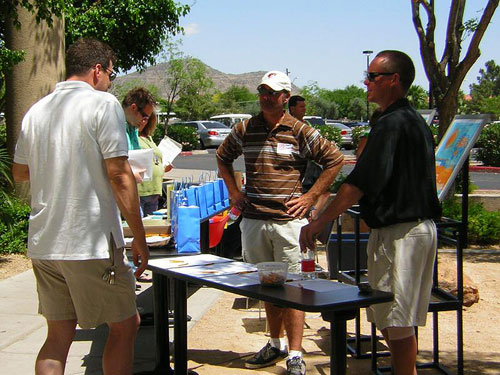 Shawn Schuette and Jeff Wilson manned the door prizes and volunteer signup table, gleaning dozens of volunteers for future efforts. Notable door prize offerings included an Eames Rocker, A Case Study Houses book, an Al Beadle Documentary DVD, fine art prints, t-shirts, a free design consultation and gift certificates.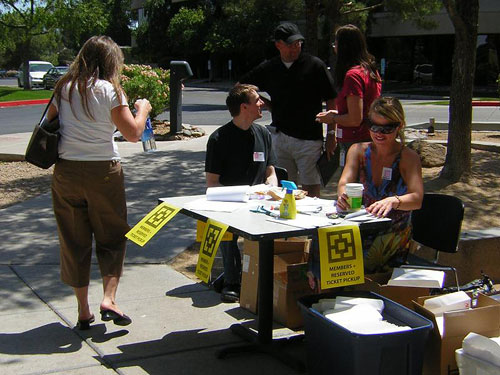 Mr. Natural and Stephanie Reynolds manned the members ticket table a while.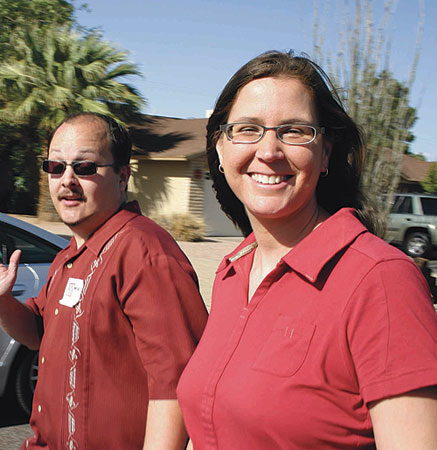 Matthew and Alison King reap the reward of all the last few months' work by finally slowing down to enjoy the stroll through Paradise Gardens -- spectators at last!

Receive advance notice of next year's events!