2nd Annual Modern Phoenix Home Tour and Expo in Al Beadle's Paradise Gardens, April 2006
Receive advance notice of next year's events!
The Fernandes Residence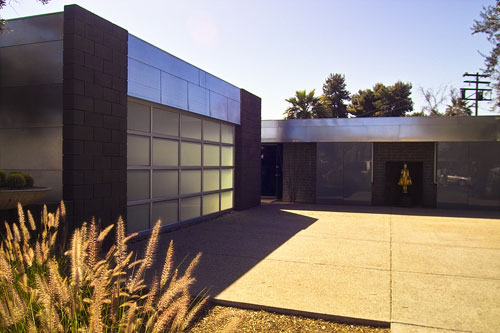 The project is a transformation of a mid-twentieth century model home designed by Al Beadle. The existing floor plan was opened to create shared use space consisting of living, dining and kitchen. A subterranean master bedroom and bath were added taking advantage of southern mountain views. Materials used for new construction include integral color concrete masonry units, galvanized metal shingles, anodized aluminum and solex glass. Running along the spine of the existing structure is a fin-color plywood soffit; other interior finishes include black slate, plate steel, and maple. Exterior architecture consists of an orthogonal composition of grass tufts and river-rock filled gabion baskets. The completely contemporary restyling of the Fernandes Residence stands on a prominent corner in Paradise Gardens, beckoning the casual bystander deeper into exploring the different interpretations of these standard tract home models. This example retains the original lines and formal structures, but has completely been transformed into a home that speaks clearly of contemporary materials and construction.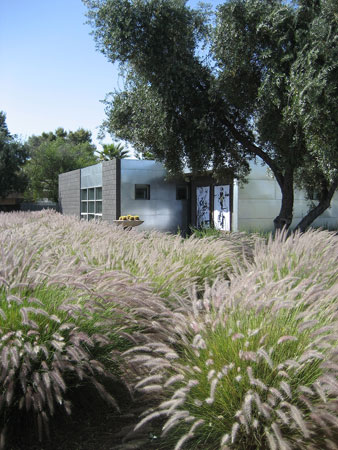 A field of formally-planted Regal Mist grass creates a flowing sea of movement.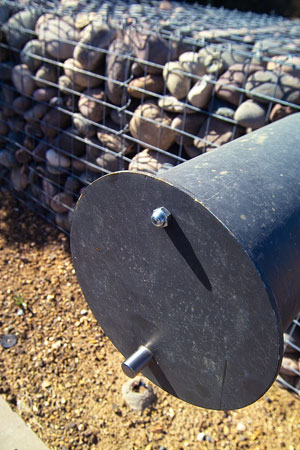 In the Land of 100 Nifty Mailboxes, Fernandes styled his own take on the trend.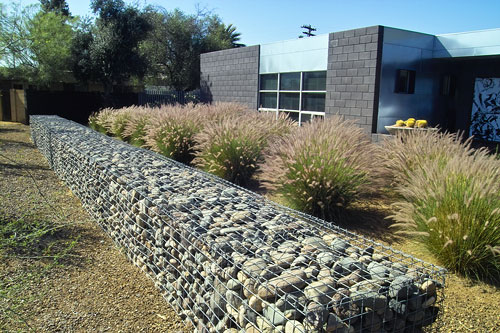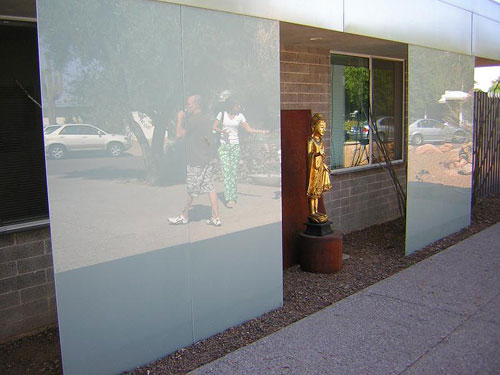 The three suncreen panels particular to this model are given a contemporary interpretation and feature a gleaming golden Buddha to greet guests in the driveway.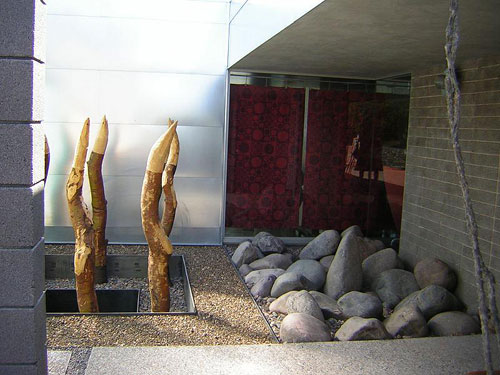 The shady entryway with northern exposure was a welcome respite from the sun.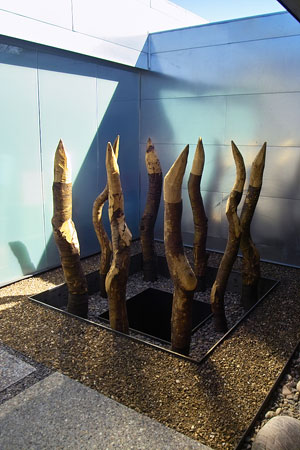 The Pit of Despair (or the Time-Out Pit as some parents snickered) sets the tone that one is about to enter an edgy space.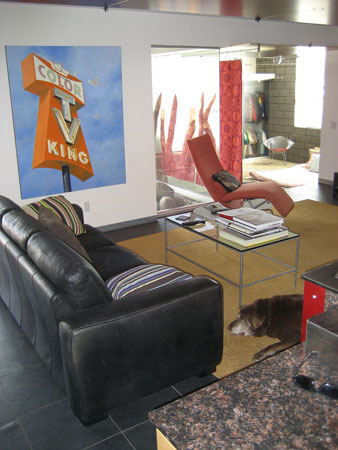 Floor to ceiling glass near the entryway fill the livingroom with light.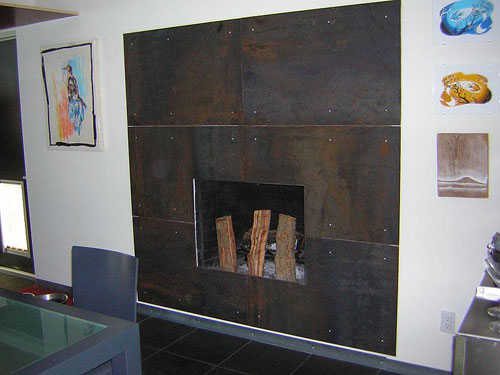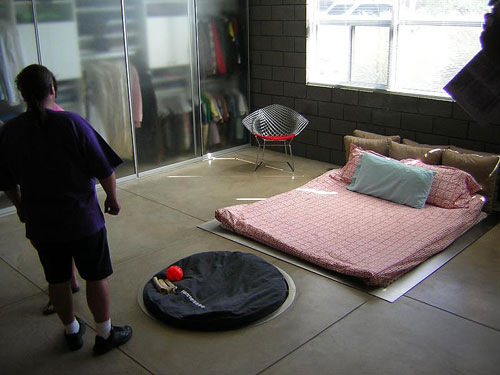 The bed of possibly the luckiest dog in the world.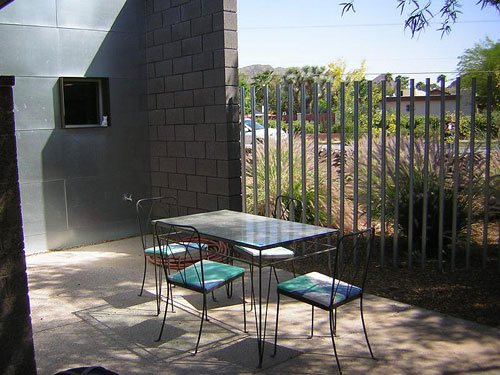 This dining and conversation area appears open to the street, yet is set back enough to be private.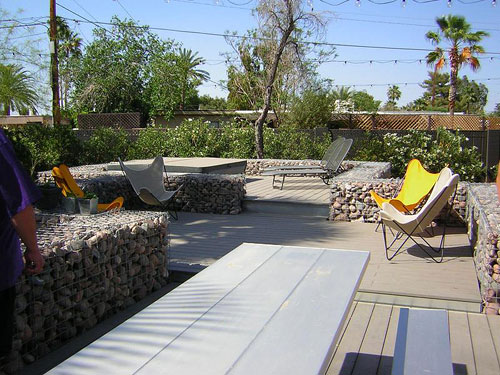 Screening structures were used on the back and side walls to compensate for the elevated deck's advantage.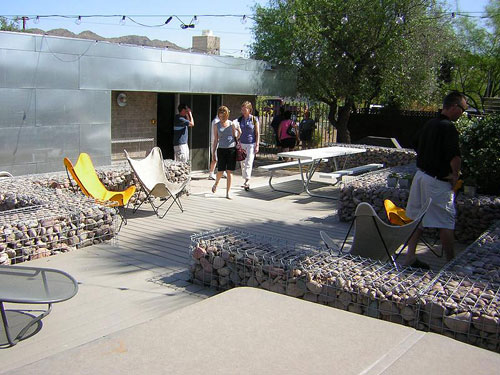 Elevated synthetic decking, gabion walls and utilitarian patio furniture are scattered throughout smaller defined conversation spaces.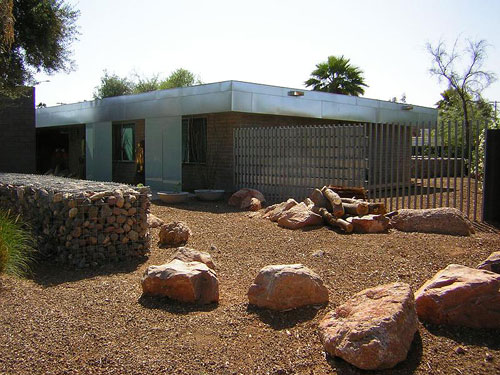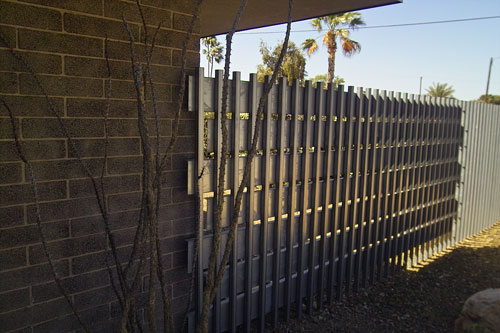 Different levels of privacy are attained through the use of screening metal attached to close-set posts.
Receive advance notice of next year's events!