Modern Phoenix Week
is coming! Never miss an announcement by following our Facebook Page. Already a fan? Upgrade to FOLLOW to receive ALL announcements.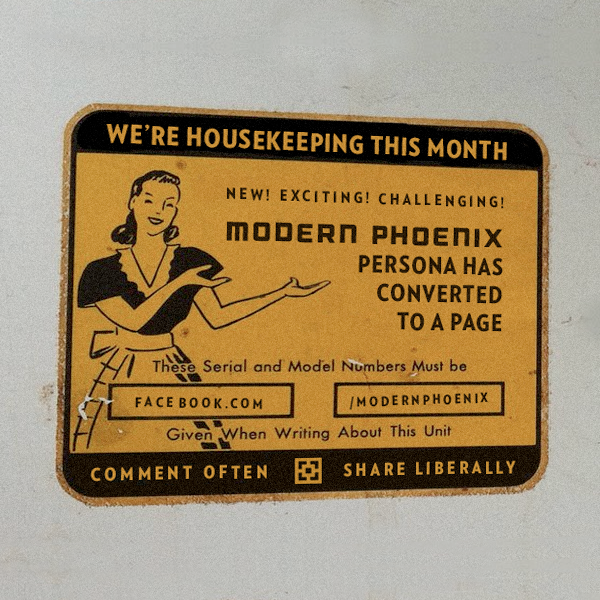 SHUCKS! We acquired over 5000 friends and were forced to convert over to a Facebook Page! Our reach and visibility in your news feed depends largely on the community now -- yep, that's YOU! Here are six ways you can help keep other MoPhos in the loop by increasing our post visibility in your own News Feed:
1] Follow. It's like an extra-strength like and you can do it in the header here.
2] Share. Share with your spouse or a friend who simply can't miss that post!
3] Like. It's easy! Nothing's changed, you guys love to like.
4] Comment. Join us in conversation so others are encouraged to jump in as well. We lost a lot of good conversations in the conversion to a page but we can build that back up. I do have them all archived, you just can't see them.
5] Tag. We can't easily tag our friends in posts to get your attention, emphasize importance or to show we were at the same event. But let's see if you can tag each other in comments and photos!
6] Ask to be a part of the Modern Phoenix Marketplace closed group. This is where you are going to find the real estate listings and great vintage finds tailored for locals only!
Among our 6400+ friends and followers, we have built up a tight community of people that actually know each other face to face, and your strong real world connections are going to help our communications reach the right people. We are so appreciative of your support over the years and look forward to seeing if and how our reach changes in the months to come.
So leave a comment and tag a friend -- let us know you're still listening! Thanks, Alison


Modern Phoenix Week is April 10 - 19. view full agenda here. Sign up for news, special events and info on our Home Tour + Modern Marketplace.
---


AZ Central Critic's Choice
2012 + 2013 + 2014
BEST HOME TOUR




BEST HOME TOUR
Best of Phoenix 2014
Best of Phoenix 2012



BEST MODERN ARCHITECTURE TOUR (for docomomo) +
BEST MODERN PHOENIX TOUR STOP