Executive Towers
Designed by Al Beadle with Alan A. Dailey & Associates
Built in 1962-3, Central Uptown Phoenix at 2nd Ave. & Clarendon
Featured on our
Founding Fathers of Modern Phoenix tour
in 2009.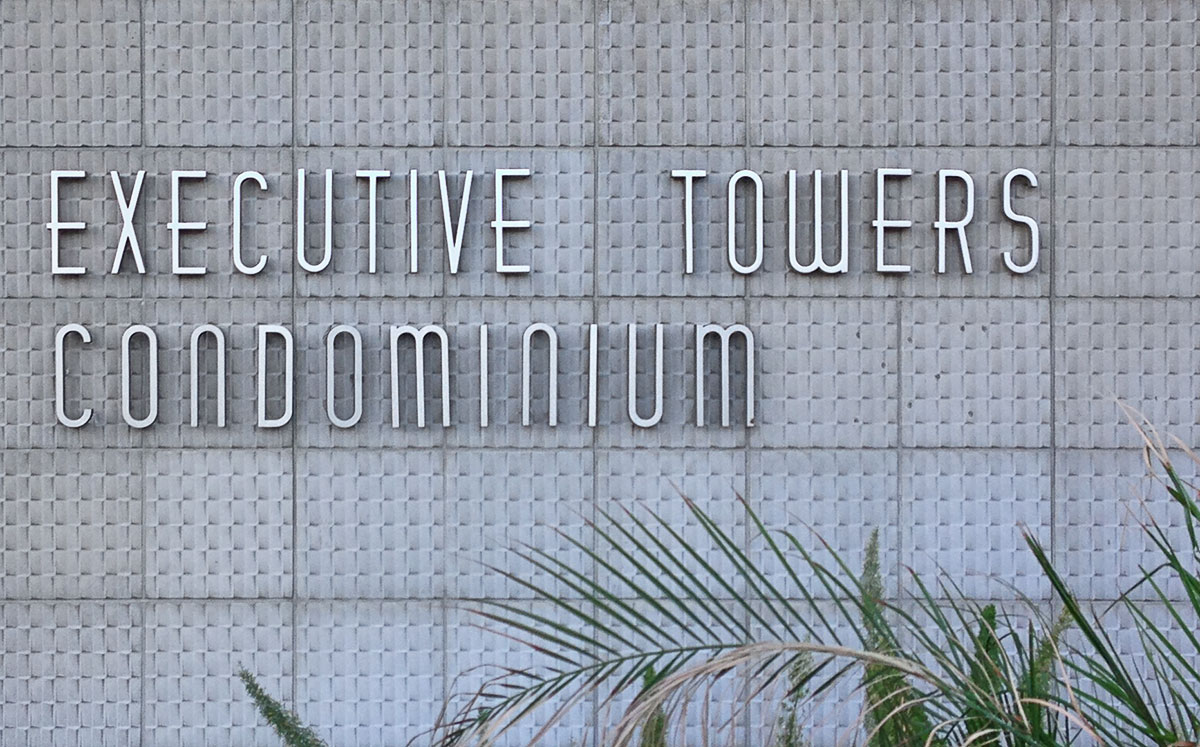 Executive Towers was the tallest skyscraper in Phoenix at the time of its construction in 62-63. Aerial photos from the time show Uptown Phoenix as still possessing vast dirt lots interspersed among a few midrises and sprawling parking lots. At 22 stories high and designed by the talented yet formally unschooled Navy SeaBee Alfred Newman Beadle at the young age of 33, this multi-family apartment complex is truly one of a kind and much beloved by Phoenicians.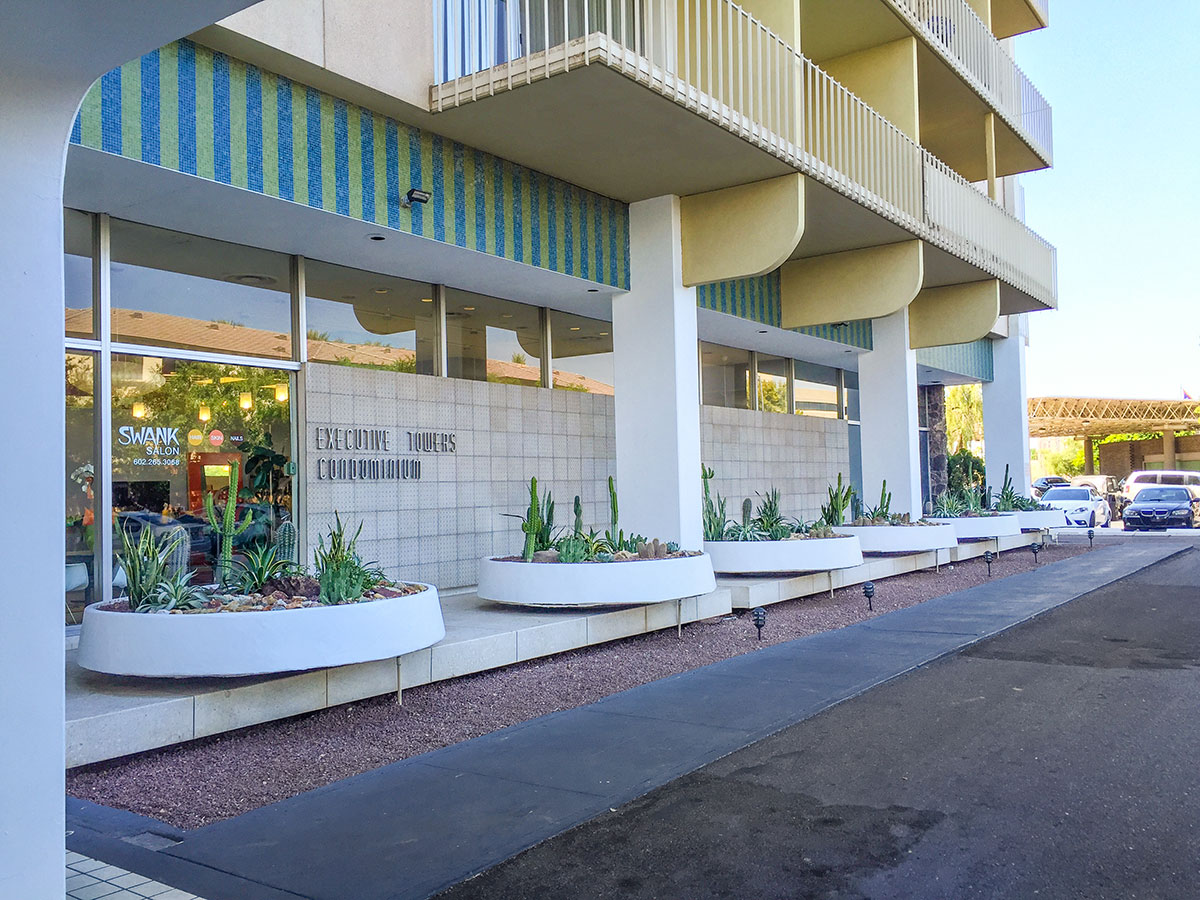 The 160-apartment building would later convert to condominiums under the care of Moss Development Corporation of Chicago in the year 1971.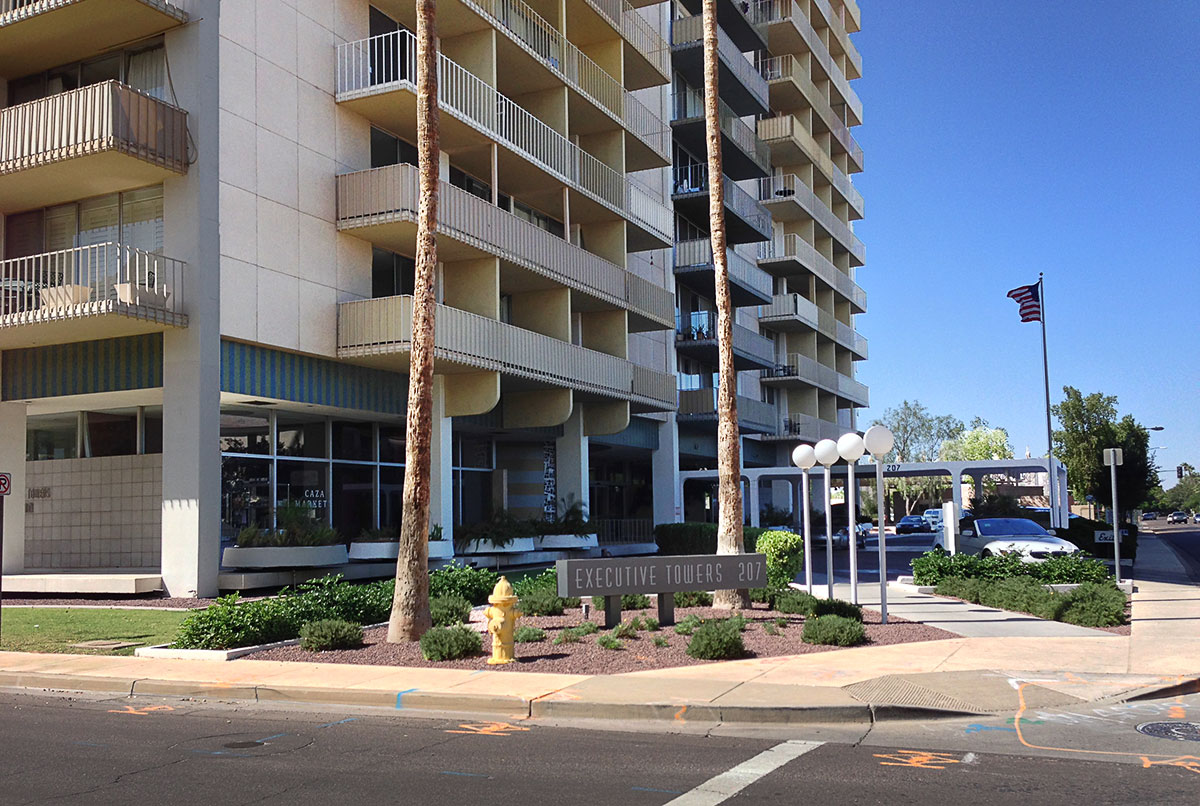 The property's strict angles are periodically softened by curves in the form of cheerful "Beadle Balls" -- a favored lighting form used by the architect.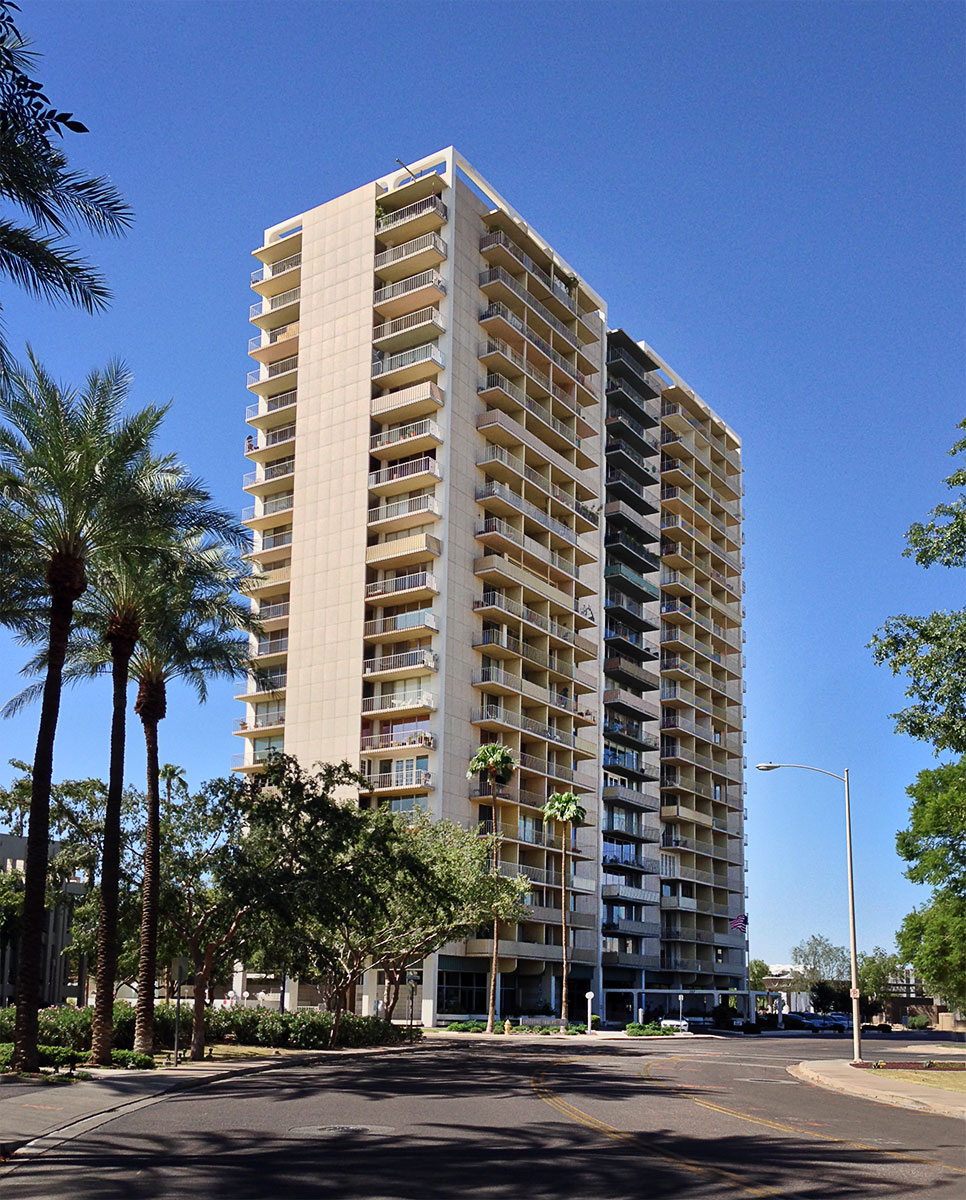 Standing proud and somewhat separated from other midrise buildings around it, Executive Towers maintains an unrivaled silhouette looking west.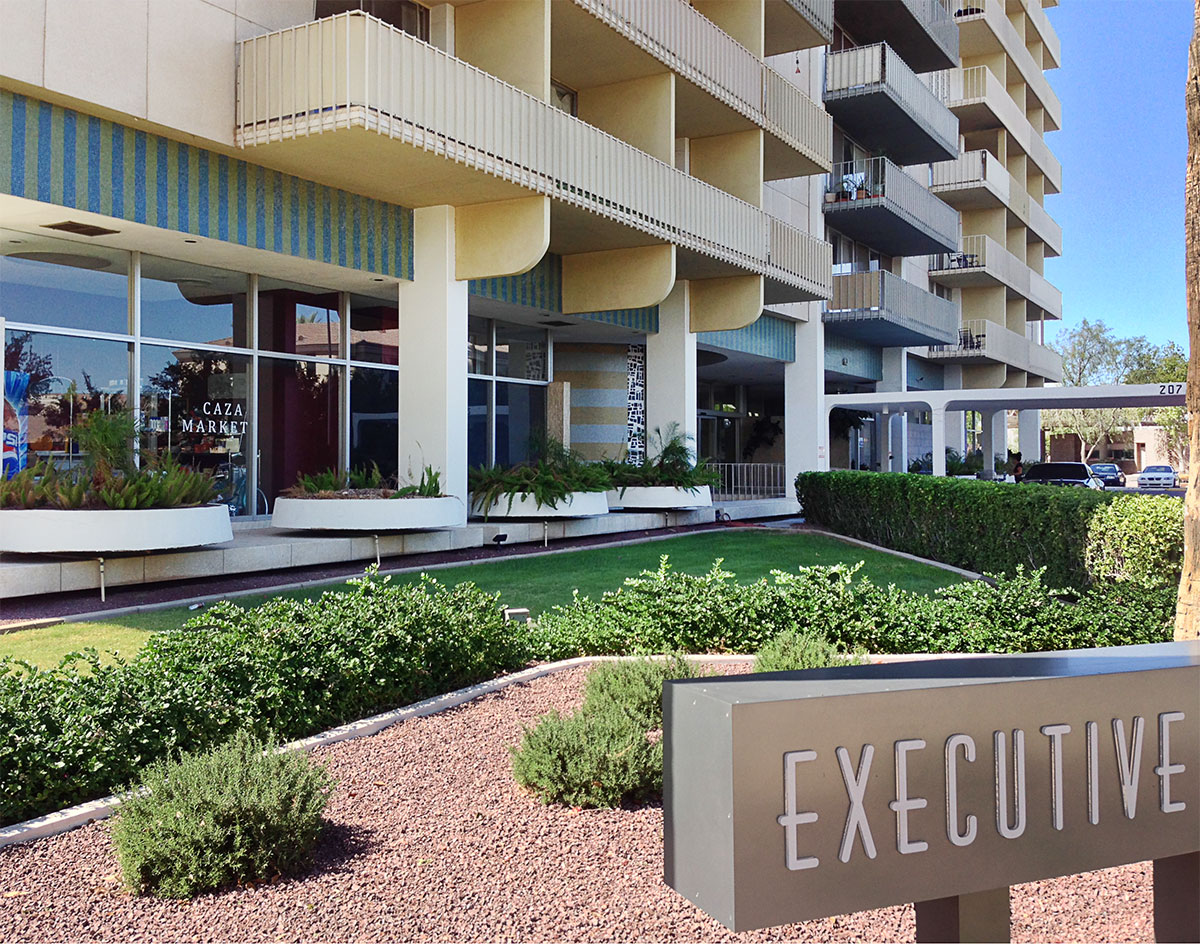 The communal pool area is dominated by a one-of-a-kind cast concrete umbrella using whimsical forms that scoop available light and cast shade.
Curves, concrete, glass and steel interact harmoniously at the complex's heart.
The generous north-facing porte-cochere provides a grand entrance for visitors, and sets the tone for the curved columnar supports found as accents throughout the property -- most notably atop the penthouse and parking garage. Beadle used port-cocheres at the
Safari Hotel
in Scottsdale and experimentally in homes for
Paradise Gardens
.
To the east, larger buildings lend contrast and comparison of scale.
Beadle took great care to integrate architectural arts throughout the plan from the start. Sgraffito artists Milton Tuttle and his aide Olin Sherrod were able to beat the Arizona heat and carve their low-relief plasterwork within a few hours of open working time. The work is cryptically entitled "207", after the mortgage title. Mr. Tuttle's work can also be found on the old
PBSW Furniture store on 7th and Indian School
within walking distance. Is it possible for a parking garage to be award-winning? Somehow Beadle's touch made it so.
The remaining third of the pool area contains a small rose garden encircled by a meandering, fenestrated block wall. A known curmudgeon, this is perhaps one of Beadle's most overt acts of whimsy.
The structure's surface materials are highly expressed and provide relief, including these modular stone tiles that leave ragged edges proud.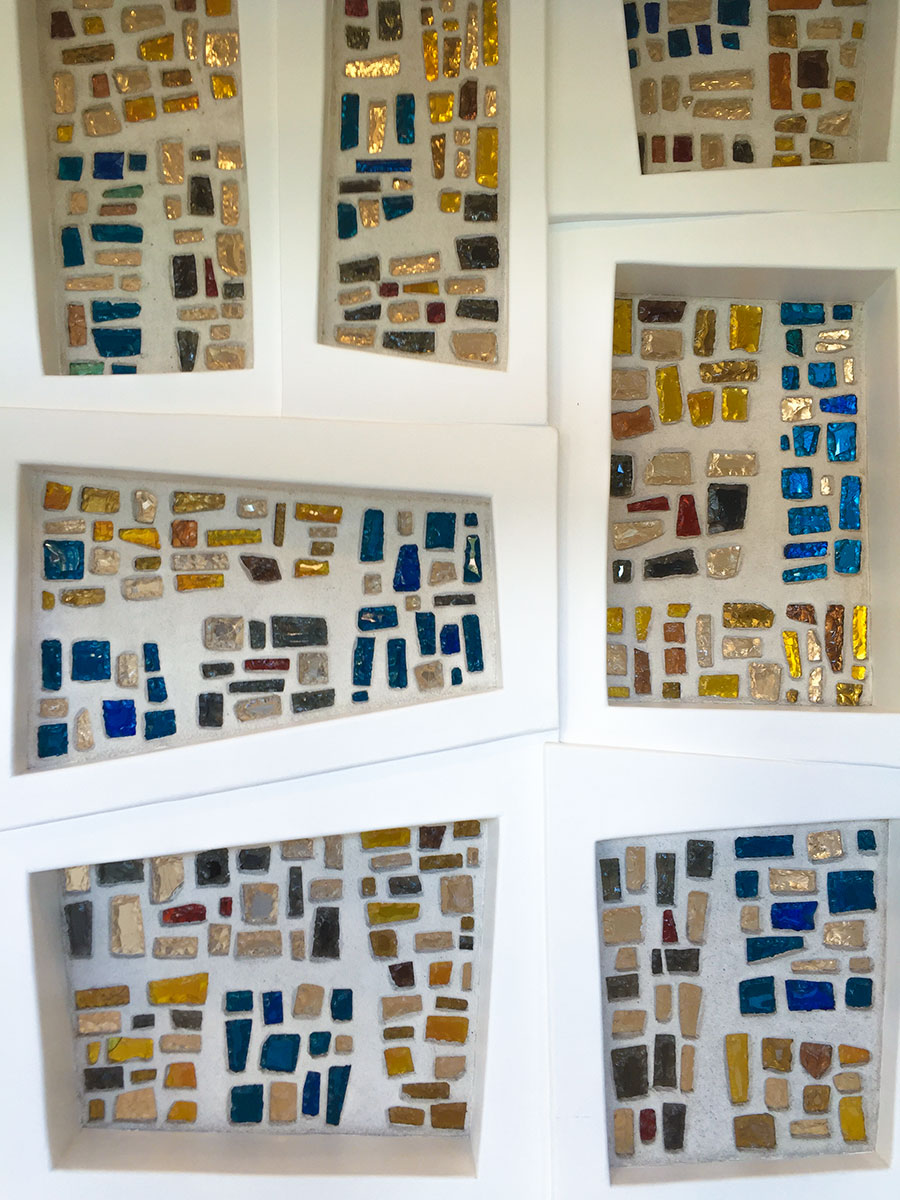 The lobby entrance is graced by a monumental floor-to ceiling installation by Glassart Studio of Scottsdale, one of the leading glass artisans of the 60s and 70s. The glass is faceted in the medeival tradition, which refracts light in dazzling ways.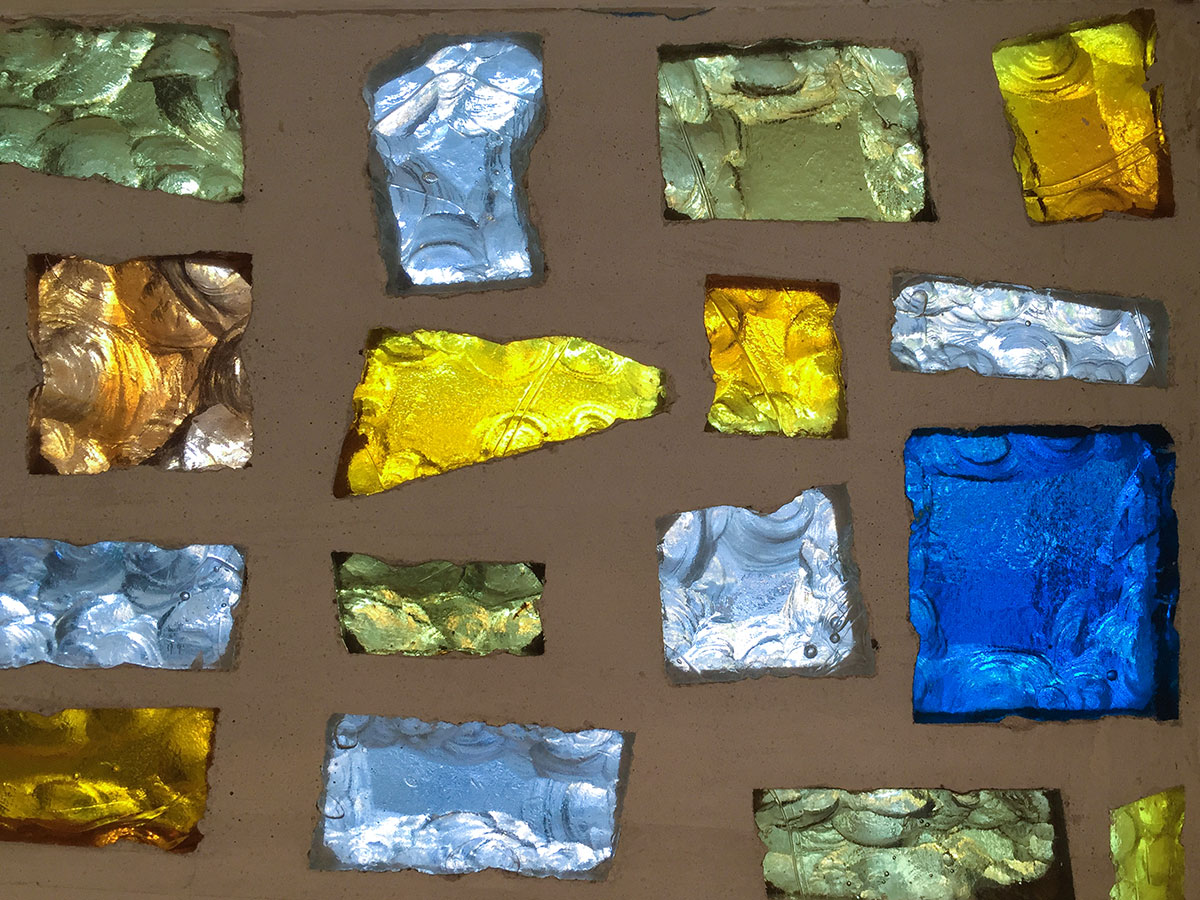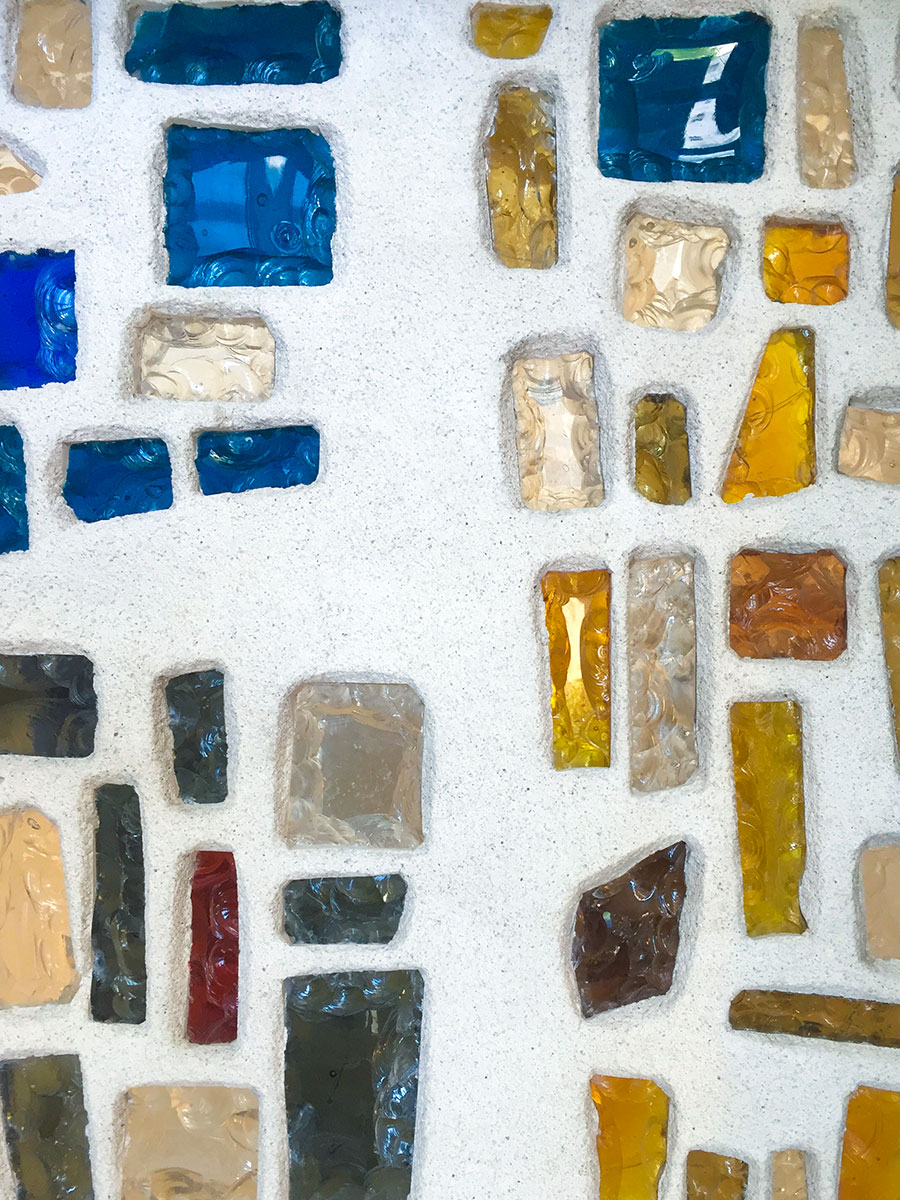 The leisure program and promenade toward the garage becomes clear from above.
Executive Towers, despite its strict palette of architectural forms, is rich in texture and materials. These tiles appear to be cast concrete, and undulate in a corrugated pattern along the ground level exterior walls.
Turquoise and sage glass mosaic tiles are set at freize-height beneath the shaded cantilever of the main structure, reflecting the verticality of the other midrises around it.
As complete and surprising contrast, ruddy volcanic stone was used on the
western face of the building.
No Phoenician apartment complex would be complete without a permeable fenestrated wall of some sort, showing just a little ankle of what is to be found beyond while providing shade and breeze for those inside.
The second streetside entrance is less grand, but no less attractive. Note how the building seems to lift off the ground -- a classic Beadle touch to make a 22-story building appear to float on air.
A similar pool-turquoise tile was used decoratively on the exterior of Beadle's own
1958 home on White Gates Drive
, and at the
Kramlich Residence
.
Uncluttered views of uptown and downtown are a a favored feature.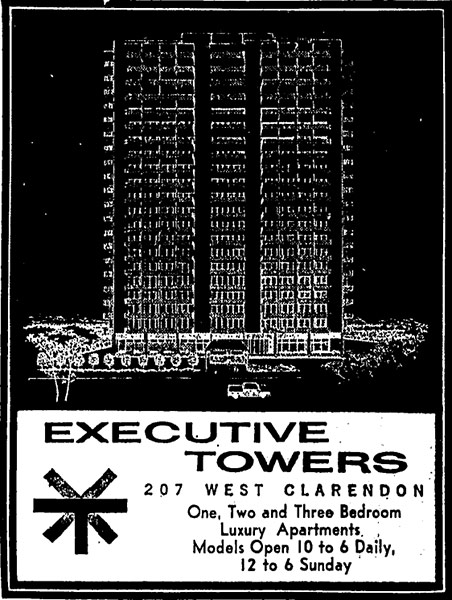 Vintage newspaper advertisements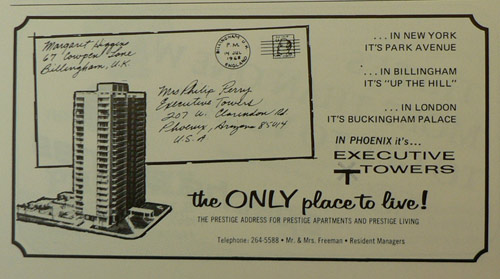 ---
FUTURE OF EXECUTIVE TOWERS
Although the interior of the Executive Towers Condominiums are ultimately left to the homeowners, the building is starting to show some external wear and tear, as well as personal expression and modification along the balcony lines. Listing on teh National REgister of Historic Places is currently being pursued in order to provide incentives to restore exterior communal property as well as individual unit exteriors. Letters of support for historic designation have been compiled by a virtual
Who's Who
of architecture in Arizona, including Nancy Beadle, Bernard Michael Boyle, Max Underwood, Douglas Sydnor, Michael P. Johnson, Richard Fairbourn, Eddie Jones, Ned Saywer, William Fearnow and Wayne Chaney among many others.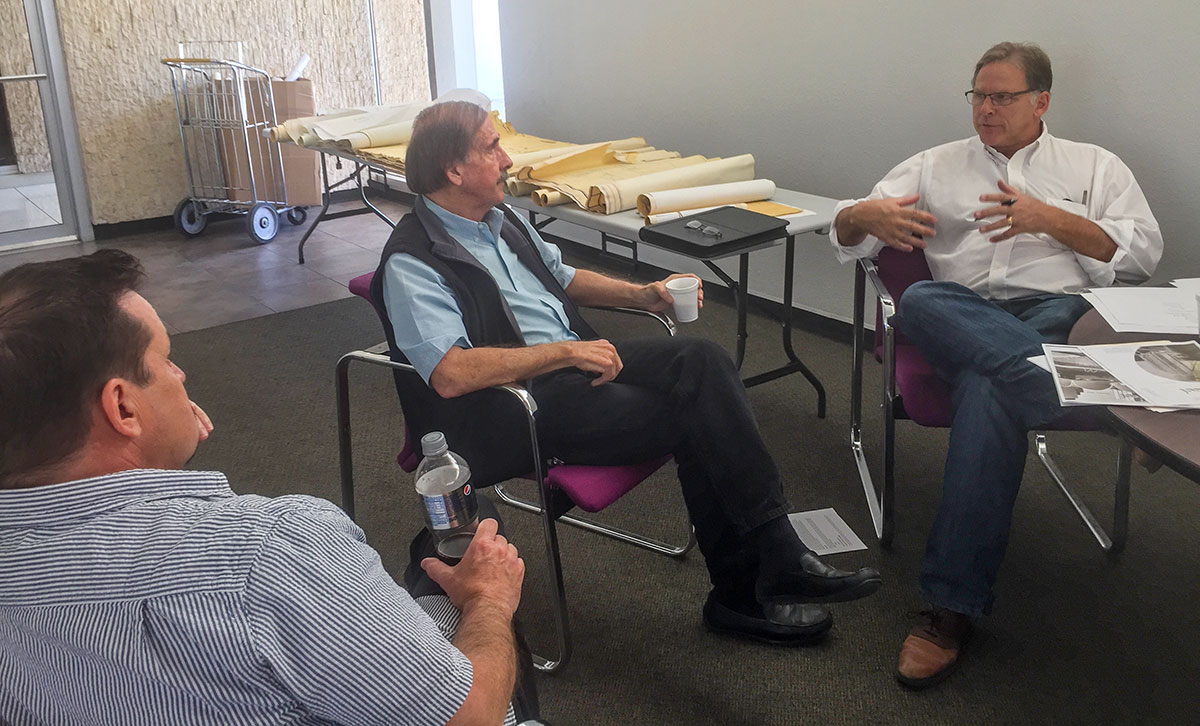 Roger Brevoort and Donna Reiner are writing the nomination, based on 2008 background work by Richard Elardo. During the process, the blueprints were found and are being consolidated in the
Beadle Archive at ASU Libraries
.
---
SOURCES
This article has been made possible by the thorough and impressive research completed by the Executive Towers Association, and in particular Modern Phoenix member Richard Elardo, Ph.D., who served as vice-president of the Executive Towers Association from 2006-2008, and chaired its historical committee.


"Art in Architecture"
by Mary Leonhard, The Arizona Republic (year unknown, mid 60's?)
"Towers go Condominium"
by Ken Bacher, The Arizona Republic, Jan 23, 1972


"Historical Property Information Form and Application"
by Dr. Bernard M. Boyle, Richard D. Fairbourn, Edward B. Sawyer Jr, Wayne Chaney and Nancy Beadle, 2008


"The Executive Towers - A History"
edited by Richard Elardo, Ph.D., 2008