The Story of Superlite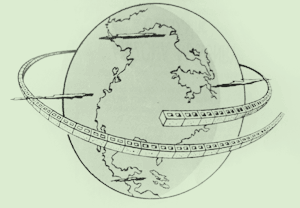 How Superlite Shaped Phoenix into the Block Capital of America
By Taz Loomans
"Phoenix is the block capital of America" proclaimed William J. Blaha in his article, The Superlite Story, in a 1965 Concrete Products magazine. Blaha was right then and he's right now. We have a remarkable amount of concrete block buildings in the Valley, due largely to Superlite, the local concrete block manufacturing company which rose to prominence during the postwar housing boom.
By 1955, 75 percent of all new buildings were constructed with Superlite concrete block, and in 1965, it accounted for a whopping 80 percent of all wall construction, which helps explain the cityscape of block buildings we see today.
The Superlite innovation that you may be most familiar with is the decorative block that became popular in the 1950s and 1960s, which today adorns the entire Valley. It was used for everything from the top course of a block fence to entire building façades. But the majority of Superlite lies hiding in plain sight as the boxy, unadorned building material that renovators today are scrambling to
sandblast
back to its original integrated color: flat, gray and practically effortless to maintain.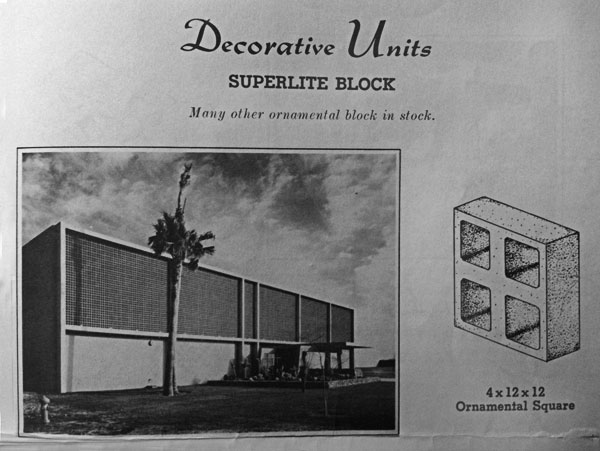 The invention of decorative block units proved to be a boon for post-war modern architects. Local architect Jimmie Nunn recalls that Ralph Haver's firm designed some of the decorative patterns, like the samples pictured below (currently out of production). Locals used to specify the material using "Haver Block" as a nickname.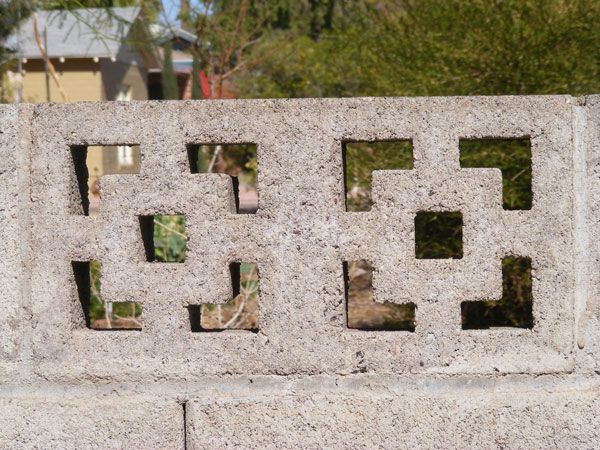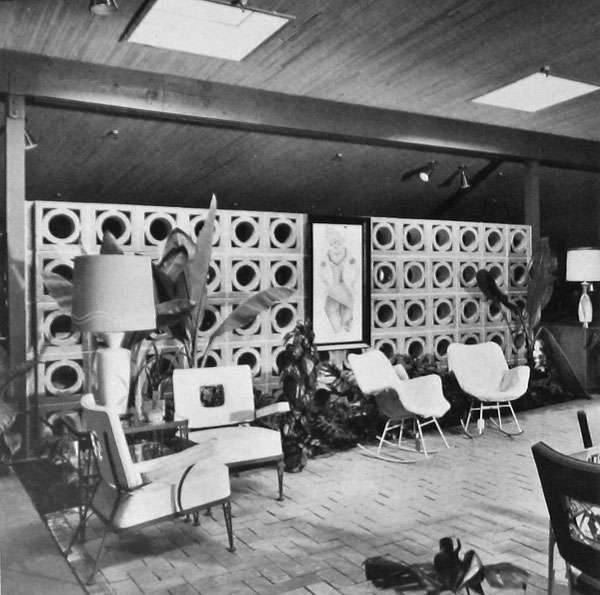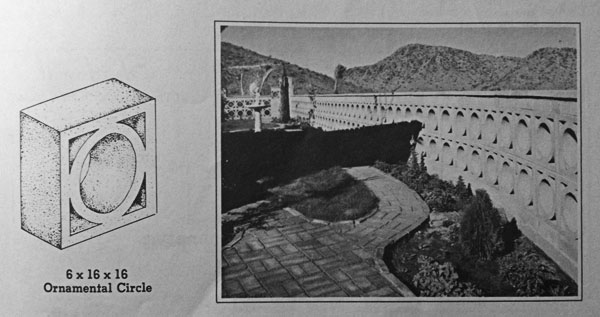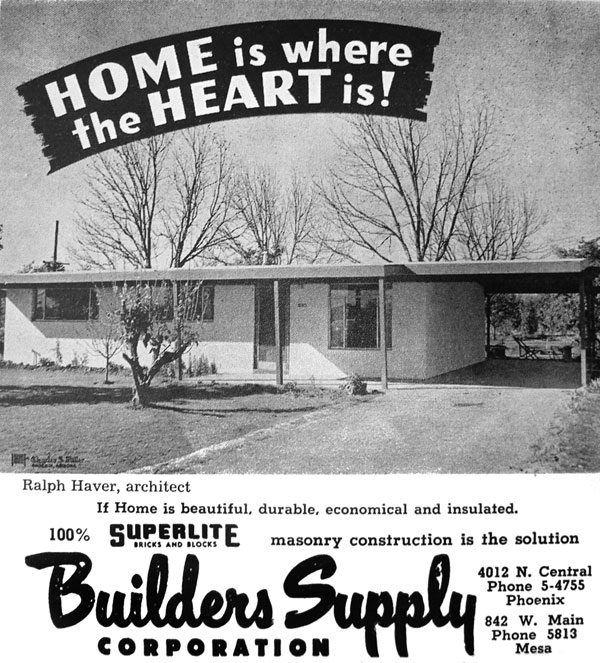 One likely reason decorative block was so popular with the Modernists of the time—whose mantra was "ornament is crime,"—is that it provided interest and decoration to a building while still remaining true to the material itself. After all, decorative block could still be structural—and in many cases, served functions beyond the purely ornamental. A popular use was to screen the building from the sun or to create privacy while still allowing daylight and breezes in—resulting in the
brise-soleil
feature seen so frequently in Phoenix and Palm Springs architecture.
Decorative blocks are not as widely used anymore as architects now favor other Superlite innovations such as the Integra Wall System, in which the voids of the individual blocks are filled with an expanding insulation creating a super-efficient building envelope. When The Vig Uptown needed the pattern for their 2010 renovation of a 1960s Haver + Nunn bank, they had to locate the original mold and ask another company to fabricate blocks custom for the project! Decorative blocks are only a fraction of the story of Superlite and its influence on the Valley.
Before Superlite revolutionized construction in the Valley in the mid-1940s, wood frame construction was the norm. Concrete masonry did exist at the time, but the concrete blocks before Superlite were made out of heavy sandstone, and were even cast in place at times. In 1944 three men—Coach Thomas, Bill Thomas and Gilbert Olson—set out to manufacture an innovative light-weight concrete block. With a modest investment of just $3,500, they formed Builders Supply Corporation. At first, they used a combination of sand, Portland cement and perlite (the
perlite
in Su
perlite
), a mineral they mined in California, to achieve their goal. But they quickly shifted to using volcanic scoria, the naturally occurring "froth" from volcanic eruptions. Following an eruption, the froth cooled rapidly, trapping tiny gas bubbles. The resulting aggregate was surprisingly lightweight, very strong and has excellent insulating properties.
One place volcanic scoria occurs naturally is Winona, Arizona, just east of Flagstaff, where Superlite has had a mine since 1959. The material has a rich history in the building trades, used in ancient Rome on buildings such as the Pantheon. But Superlite's founders saw even greater potential for the material in the desert Southwest honing in on its insulating characteristics. A solid Superlite concrete block wall acted as a thermal mass, absorbing heat during the day—and because of its insulating properties, didn't release it until the coolness of night set in. At least this was true before the urban heat island effect became so problematic, preventing just about anything from cooling down so readily.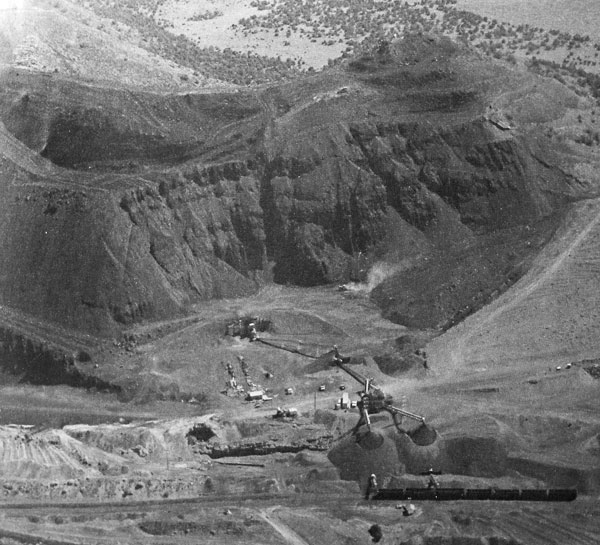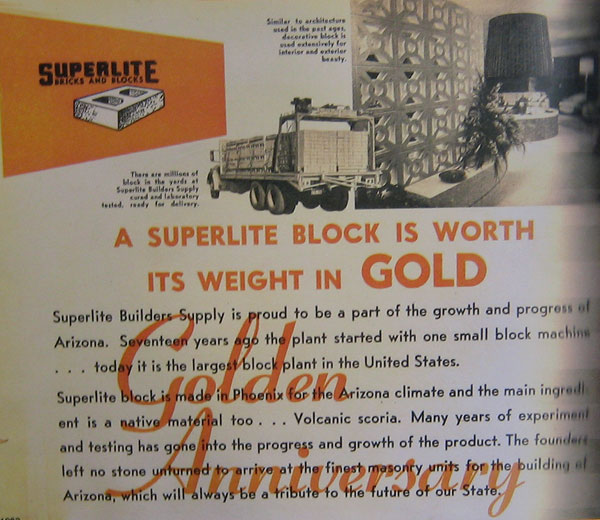 Superlite concrete block was unique when it was first invented because it addressed many different problems at once. To this day its an all-in-one material. Its depth of 8 inches and composition makes it strong enough to support a roof structure, whereas only specially-designed brick is structural (most is designed to be a veneer). Block is both structural and a finish material. Architects don't need to add a separate skin to the building, not even paint. Unfortunately, after the 1970s, many people started adding synthetic stucco to block, covering up its natural and beautiful texture.
A spectacular example of block's natural beauty can be seen at the
St. Vincent de Paul Church
campus designed by Haver and Associates in 1958 at 3140 N. 51st. Ave. to support John F. Long's new community in Maryvale.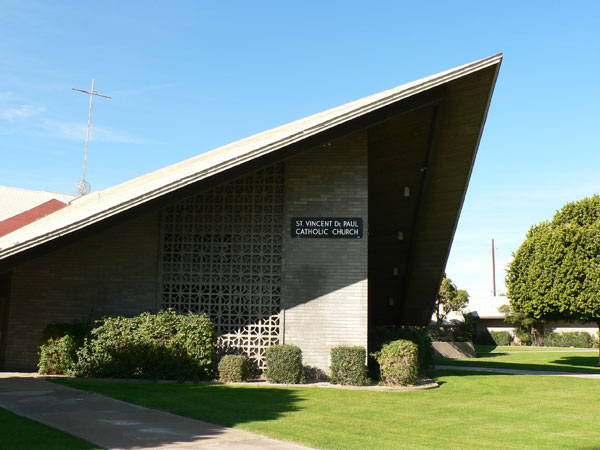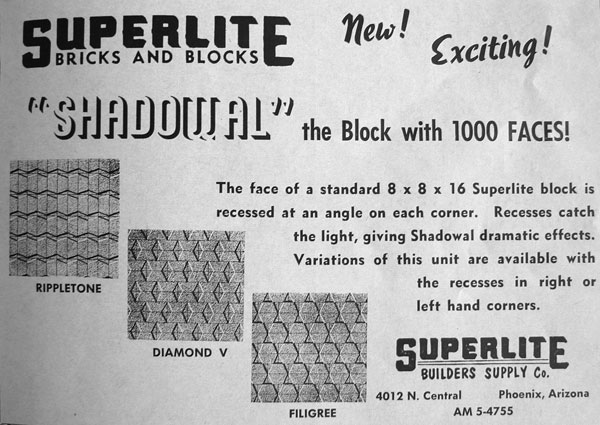 Plain gray block may have seemed too raw for some, so Superlite came up with the
Shadowal
line and the integrally-colored, earth-toned slump block. Slump block was made by slightly compressing the block before it was cured, creating a slight bulge on the face. The integrally-colored block required no painting yet looked like a finished exterior wall that provided an interesting texture to boot. This speaks to other benefit of Superlite block—the material is virtually maintenance-free.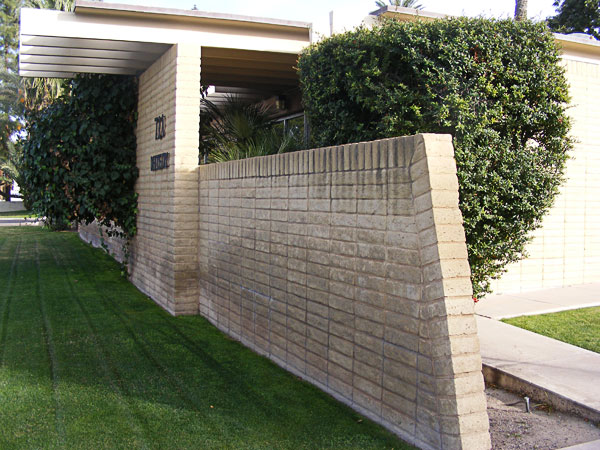 Another reason Superlite block took off as the material of choice in the 1950s and 60s is because of its unit size. Typical structural sizes were (and still are) 8inches x 4inches x 16inches and 8inches x 8inches x16inches, both of which are larger than the normal brick (4inches x 2 2/3inches x 8inches). This allowed builders to build faster, thereby reducing the ultimate cost of erecting a structure. It turns out that when concrete block first was introduced to the construction industry, there was some resistance to it due to unfamiliarity with the large 8inch x8inch x16inch block size. So Superlite invented the 8inch x4inch x16inch that was more similar in size to a brick but still a little larger retaining the benefit of fast erection. This smaller block size was more readily accepted by both the builders and homebuyers of the time which explains the multitude of 4inch block buildings we see today.
Superlite concrete block is also fire resistant, absorbs sound, and is immune to decay and termites. If it sounds like a miracle building material, that's because in many ways, it is! Builders and architects of the 1950s and 60s in the Valley certainly thought so. At one point John F. Long, possibly the most prolific builder of the post-war era next to Del Webb, specified six million units of Superlite block for the thousands of homes that his firm erected in Maryvale.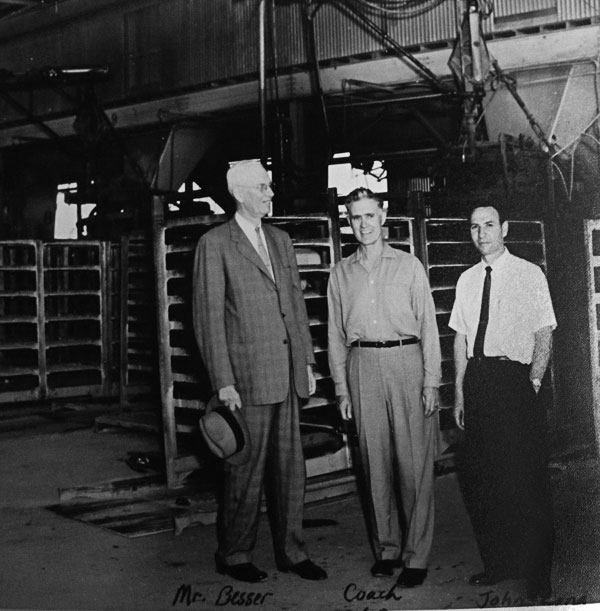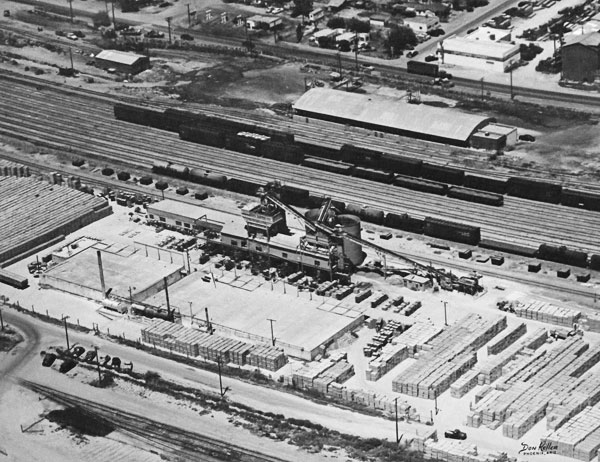 In 1959, they added another plant in Tempe on University and Hayden. And around 1960, Builders Supply Corp. officially changed its name to Superlite. In 1965, York Building Products (located in Pennsylvania) bought the company, owning it for a short four years until US Industries bought it from them. US Industries held on to it until the early 1980s, ultimately selling the company to Europe's Hanson Aggregates. And in 1989, Max Graves with Arizona Block and Oldcastle bought Superlite from Hanson Aggregates with an understanding that one would buy the other out after five years. So in 1994, Oldcastle bought out Grave's interest in the company, and now owns it outright. Despite all this change in ownership, the Valley's operation of Superlite remains the most innovative and productive of Oldcastle's regional operations, according to Phoenix Site Manager Don Barton.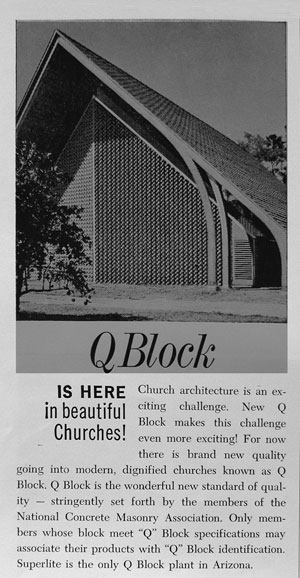 Superlite's astronomical success was due not only to the quality of the individual block that it manufactured, but also because of the ability to manufacture a great quantity of block in a short period of time. For example, in 1964, a comparatively bad year due to a recession, the company turned out roughly 50 million 8inch x4inch x16inch units. In 1962, it produced 62 million. The Superlite block machines would run 24 hours a day, five days a week, enabling its plants to be among the most productive in the country.
For decades Superlite was considered the largest block manufacturer in the world. And remarkably, 90 percent of Superlite's block was used in Maricopa County, evidence of its popularity when the Valley exploded in size after the war. Superlite/Oldcastle continues to be a big producer, and today has 15 regional plants that have the capability of producing 450,000 blocks per day, which equates to 148,048,000 blocks per year.
Superlite concrete block was invented in Arizona and is manufactured here—from the mining of the raw materials to the crafting of each block—yet, it remains a largely underappreciated point of pride for the state. Nowhere else has concrete block been used as extensively and as creatively as it has in Arizona, specifically in the Valley of the Sun. This is apparent with just a glance around town.
A culminating tribute to block can be seen at the Shepherd of the Valley Lutheran Church on Maryland Street and 15th Avenue built in 1965. This was the church that Superlite co-founder Gilbert Olson attended and is rumored to be "the church that Superlite built".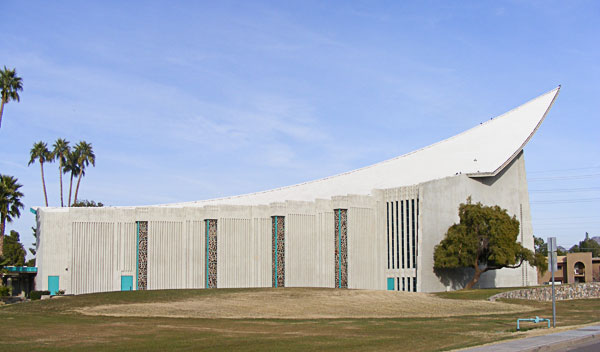 There are many other examples of the unique application of concrete block in the Valley that aren't as grand as Gilbert Olsen's church but are still remarkable. For example, Blooming Rock's development in Central Phoenix, built in 1963 with concrete block (original architect unknown), illustrates an interesting method of slightly offsetting the courses, thus creating varied and interesting exterior walls that cast dynamic shadows that further accentuate the indentations.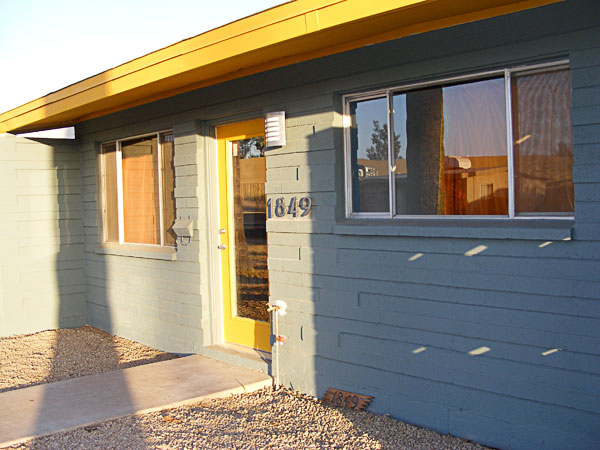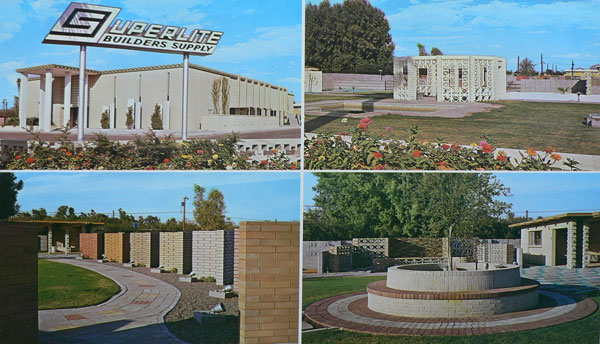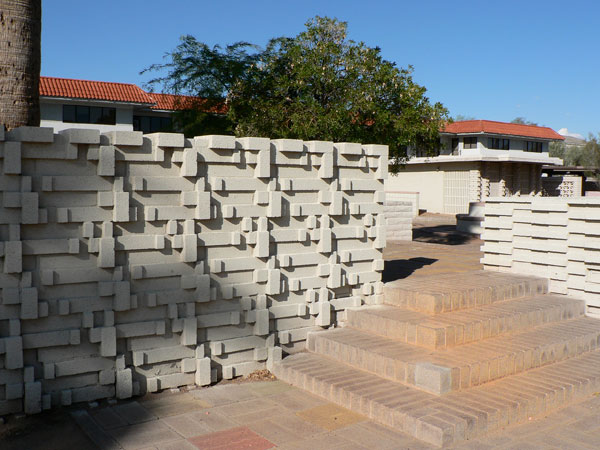 Concrete block is not merely an artifact of the post-WWII era though. Because of its inherent qualities, such as durability, structural integrity, thermal properties, and natural beauty, it is still widely used today. Unfortunately, it's not as inexpensive as it was in the postwar era due to more complex and expensive mixes that are being used now along with more expensive labor. It no longer dominates the building industry as the material of choice as it once did.
But the concrete block that Builders Supply Corp first invented is still a favorite material among architects today. When asked why he chooses concrete block for many of his projects, Eddie Jones thought it as a 'go-to' material.
"There are endless variations of patterning without asking the block to be something it does not want to be. I appreciate its efficiency; block loves compression, block is small enough to enjoy curving, block is tough and weathers with dignity".

John Kane of Architekton likes block because
"it can range from a commodity product to an exquisitely refined custom material. It is scalable, being able to relate to different scales at the same time. And due to the many shapes, sizes and options for the mix matrix, its compositional opportunities are endless."
Marlene Imirzian likes it too.
"I can use it as a load bearing, durable wall construction inside and out, in many shapes and sizes, with opportunities for a wide variety of openings, grout patterns, grout application, and on its own without requiring other structural elements."
John Chonka sums it up nicely,
"It's macho and tough,"
not unlike Arizona, the state of its origin.
Concrete block is the consummate local building material in the Valley. With all the emphasis on using local materials from green building rating systems like LEED, in addition to its insulating potential, concrete block is still a natural choice for today's architects and builders. Aesthetically, it's also very much what has made the Valley that we know today, its use being so widespread, it has become an integral part of our urban context. Indeed, no other built environment in the world looks quite like ours, thanks largely to the influence of Superlite.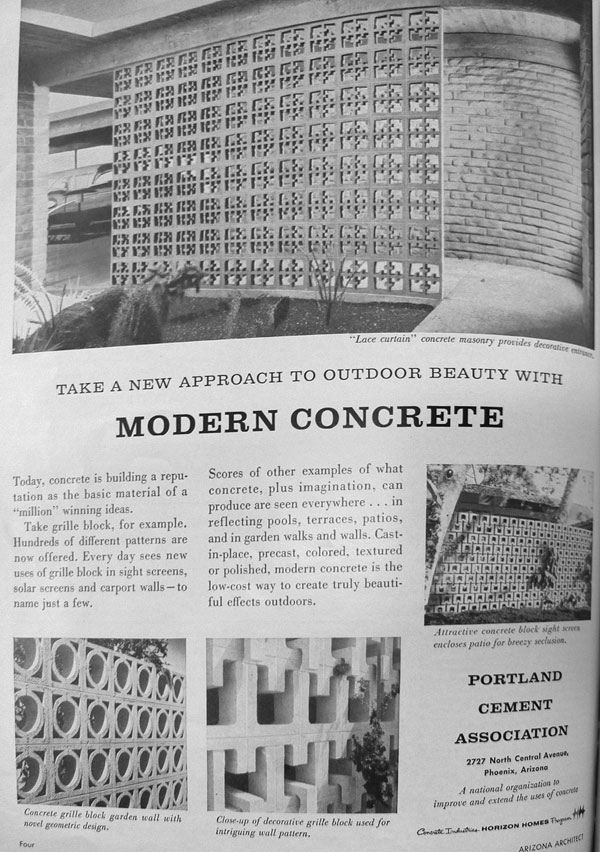 The Story of Superlite