Ralph Parachek AIA | 1927 - 1980
Founder of Parr of Arizona was a stylish, outspoken champion of Desert Architecture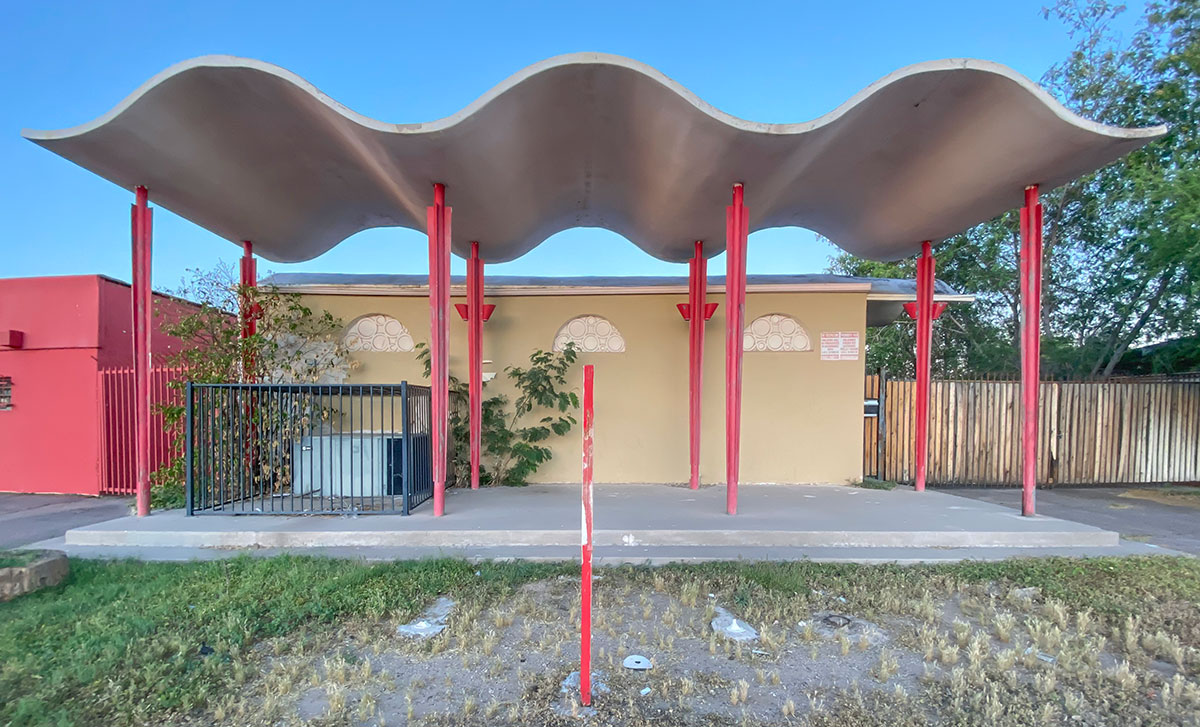 Mail Order for Males at Parr of Arizona
If this wavy building on 16th St and Indian School has ever turned your head, it's for a reason. Like all googie architecture, it's doing its job! This glorious work is the 1963 headquarters for the notorious Parr of Arizona, which specialized in formfitting sportswear designed for body-conscious men with little to hide.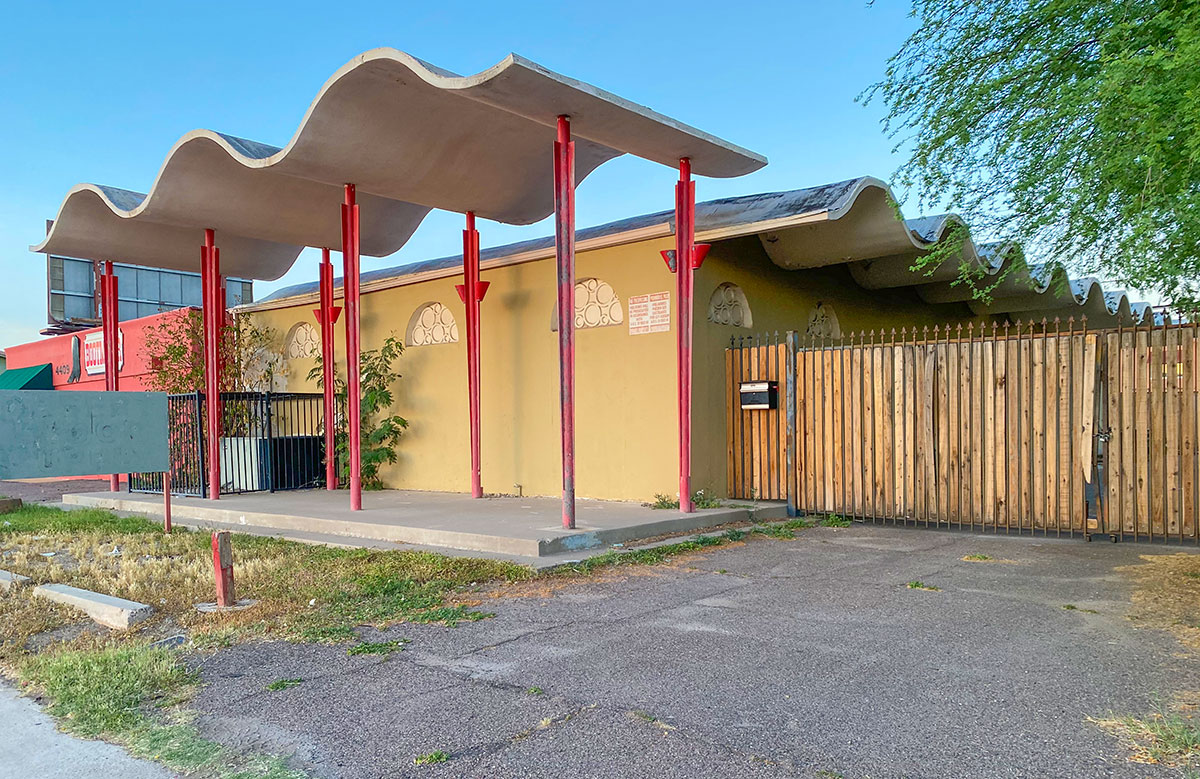 Presumably designed to reflect an aquatic theme, the undulating precast concrete roof and bubbly grille on the clerestory windows supports the motif of frothing waves. Architect Ralph Parachek AIA believed this was the first time that insulating concrete foamed with aluminum powder was used in the Southwest. While this building has clearly seen better times, it is also good to see that so much of it remains intact.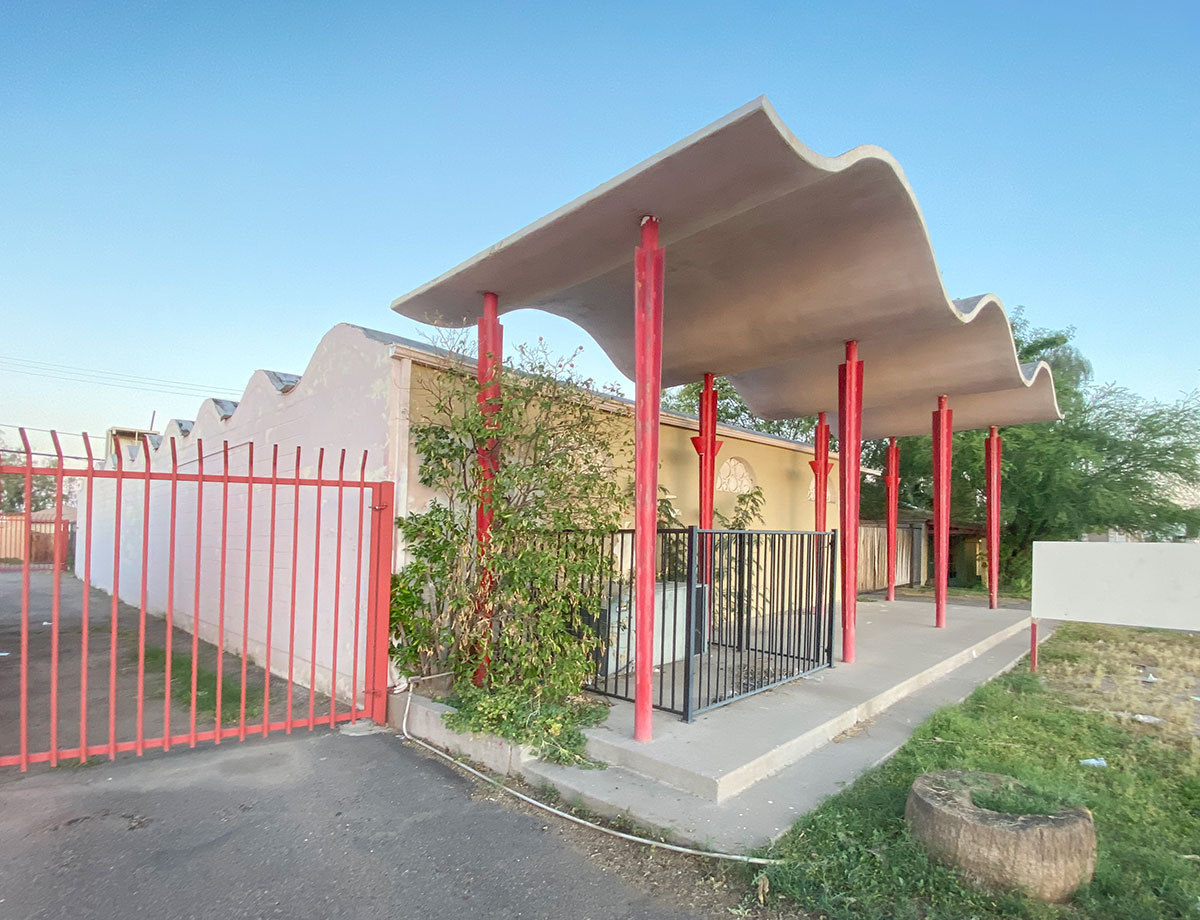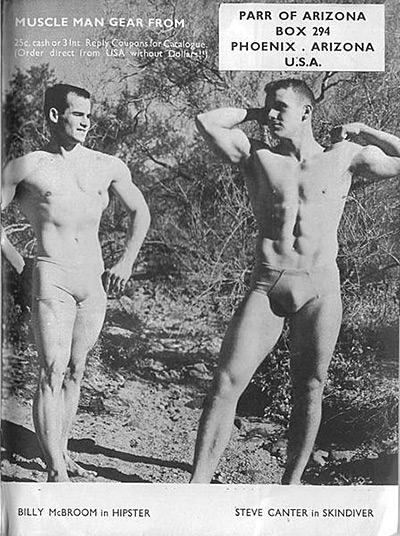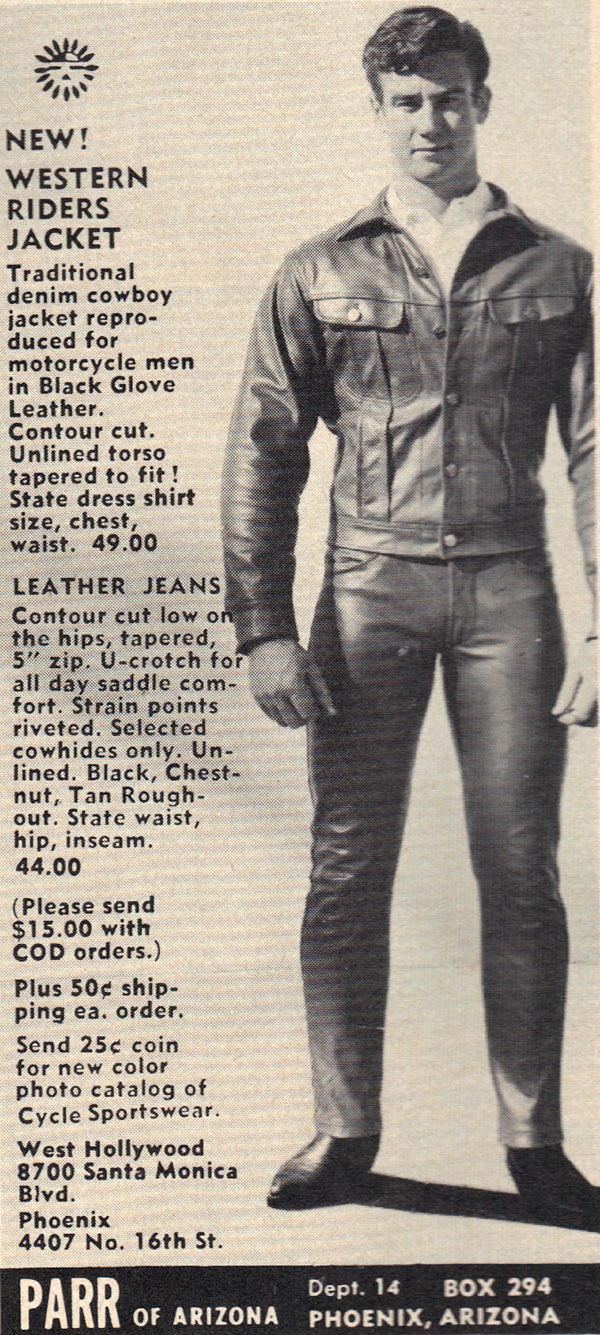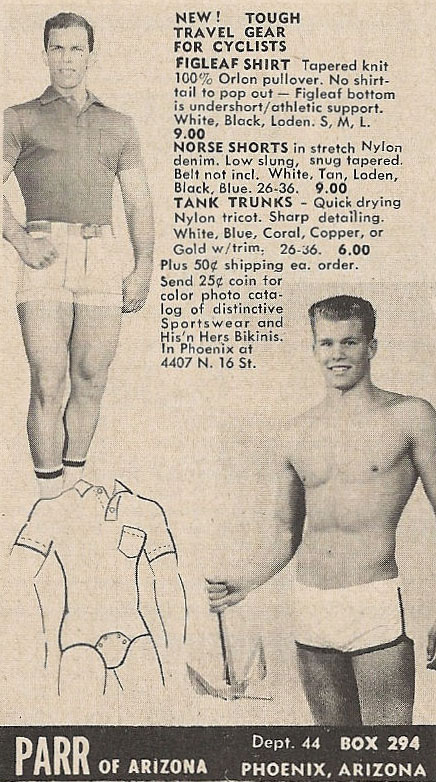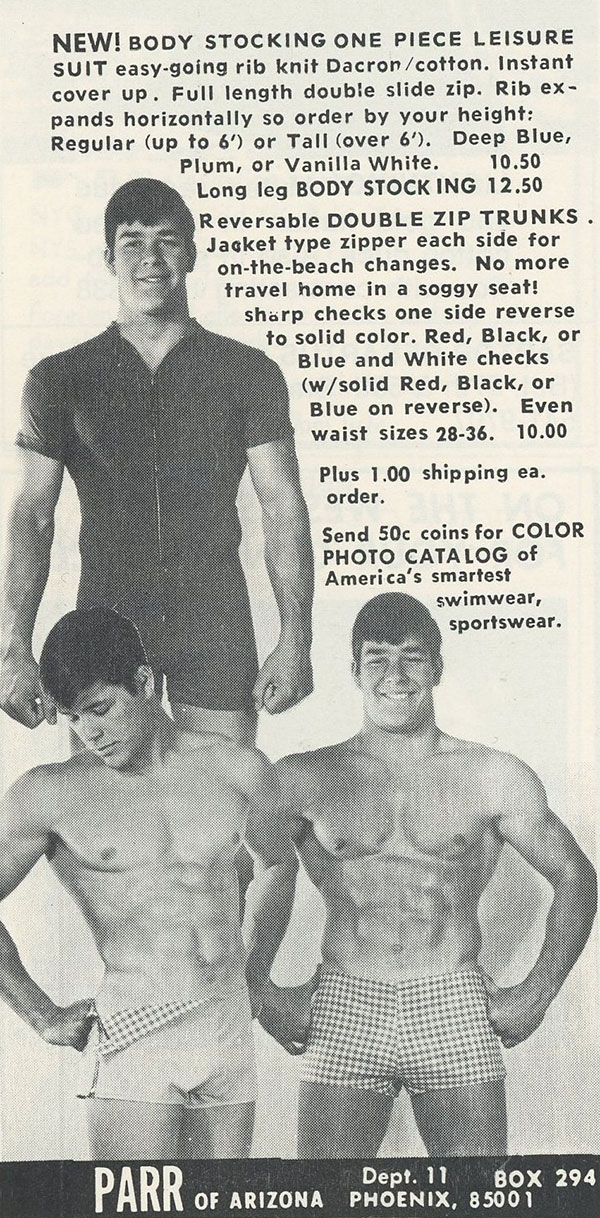 Parachek wasn't just the architect, he was the founder of Parr of Arizona too. While attending architecture school in the mid 40s, Parachek started designing and selling
skimpy swimwear discreetly by mail order in male physique magazines.
He continued developing the Parr of Arizona brand after moving to Phoenix when the war ended, where he entered into architectural practice.
"I get blamed for everything around here," Ralph Parachek AIA declared in 1967, cheekily responding to the growth of Phoenix's flashy fashion and resortwear scene. He claimed to be an early innovator in bikini bathing suit design, which he thought were introduced the market too early to gain widespread acceptance. Whether he was referring to bikinis for men or women, we're not so sure — probably men in the bodybuilding world and skindivers, who would have had the first real use for them.
As an early adopter of stretch denim fabric, we can also thank him for advancing the fit of skinny jeans. He crafted a niche in tough, tight riding leathers popular in motorcycle culture and
denim for men seeking to attract other men
. In 1970
Harold Farberman's motorcycle opera "The Losers"
at Lincoln Center clad their cast in Parr's fashionable leather duds. Clothing could be sewn to order. If customers provided key measurements on their order form, they could tailor the leathers as tight as practical.
A 1968 AZ Republic article claims that Parr costumed a humanoid alien race in stretch jumpsuits for Star Trek. He was proud to clothe Phyllis Diller in jumpsuits and outfit Yul Brynner in one of his snap-front onesie white shirts that defied becoming untucked. This "figleaf" design also provided athletic support. Some of this other more memorable designs include the side zip-and-strip styling of mens' swimsuits, claiming to make quick "on the beach changes" more pleasant.
After Parachek's death in 1980, Parr of Arizona continued to operate under the name Nu-Parr until the store closed a few years ago.
American Evangelical Lutheran Church
Born in 1927 in Ohio, Robert "Ralph" E. Parachek attended architecture school at USC and moved to Phoenix in 1946. He received his architectural certificate in 1957 — the same year as modernist contemporaries Reginald Sydnor, Cal VanNess and Paul Christian Yaeger.
Though he was not yet licensed, he got an early foothold in design with
American Evangelical Lutheran Church
at 19th Ave and Glenrosa in 1950, of which he was a member. The church was built by all-volunteer labor and still stands today. First Brethren Church at 30th Ave and Bethany and Arizona Lutheran Church at 35th Avenue and Roosevelt soon followed, as well as a warehouse downtown using precast concrete elements. We'd love to know more about who Parachek worked for in the 1950s, and other evidence of his work. If you have a lead, send us a line.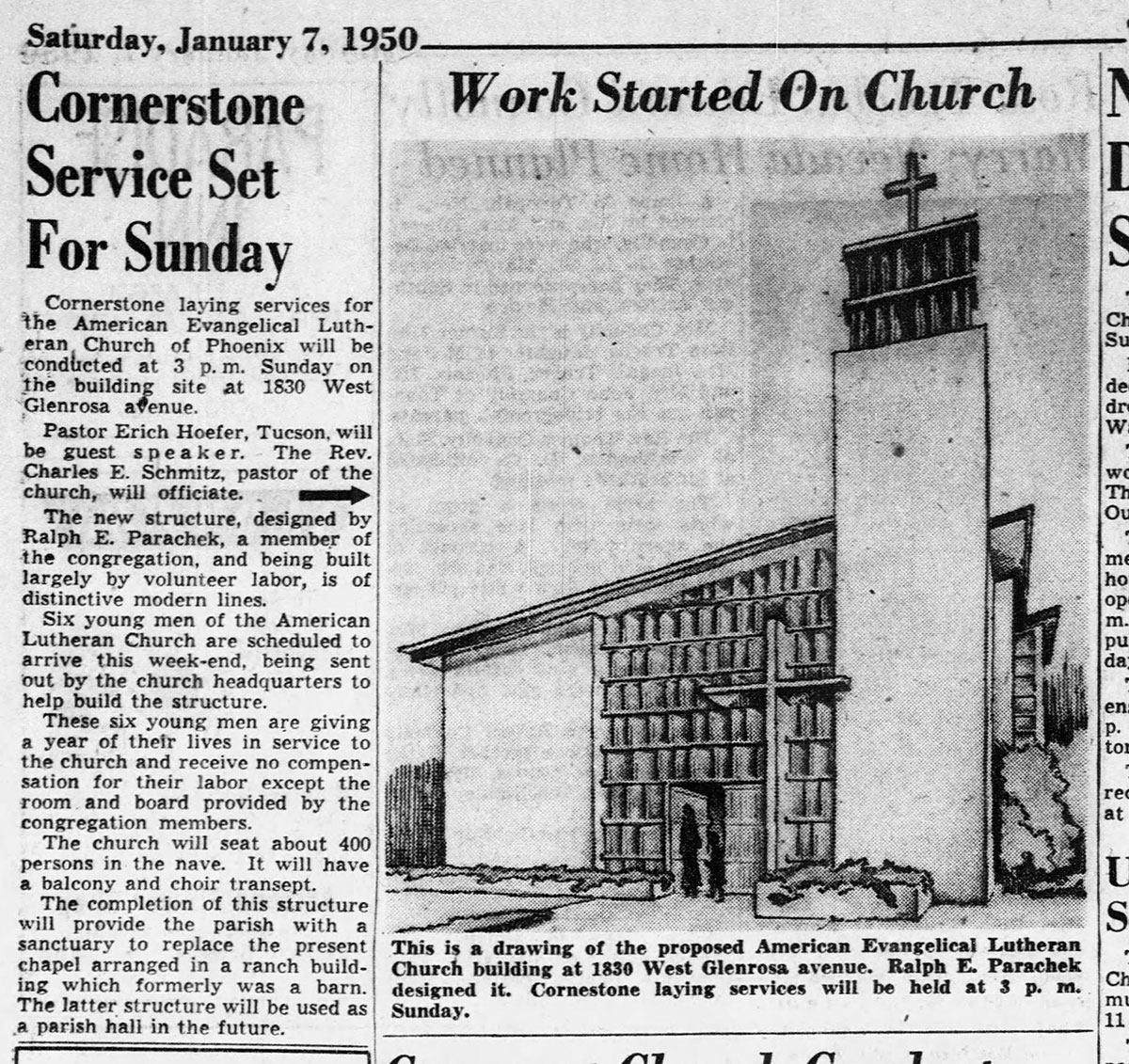 American Evangelical
received a gracious welcome in the
Arizona Republic
with an article and line drawing that shows just how unaltered the building facade stands today.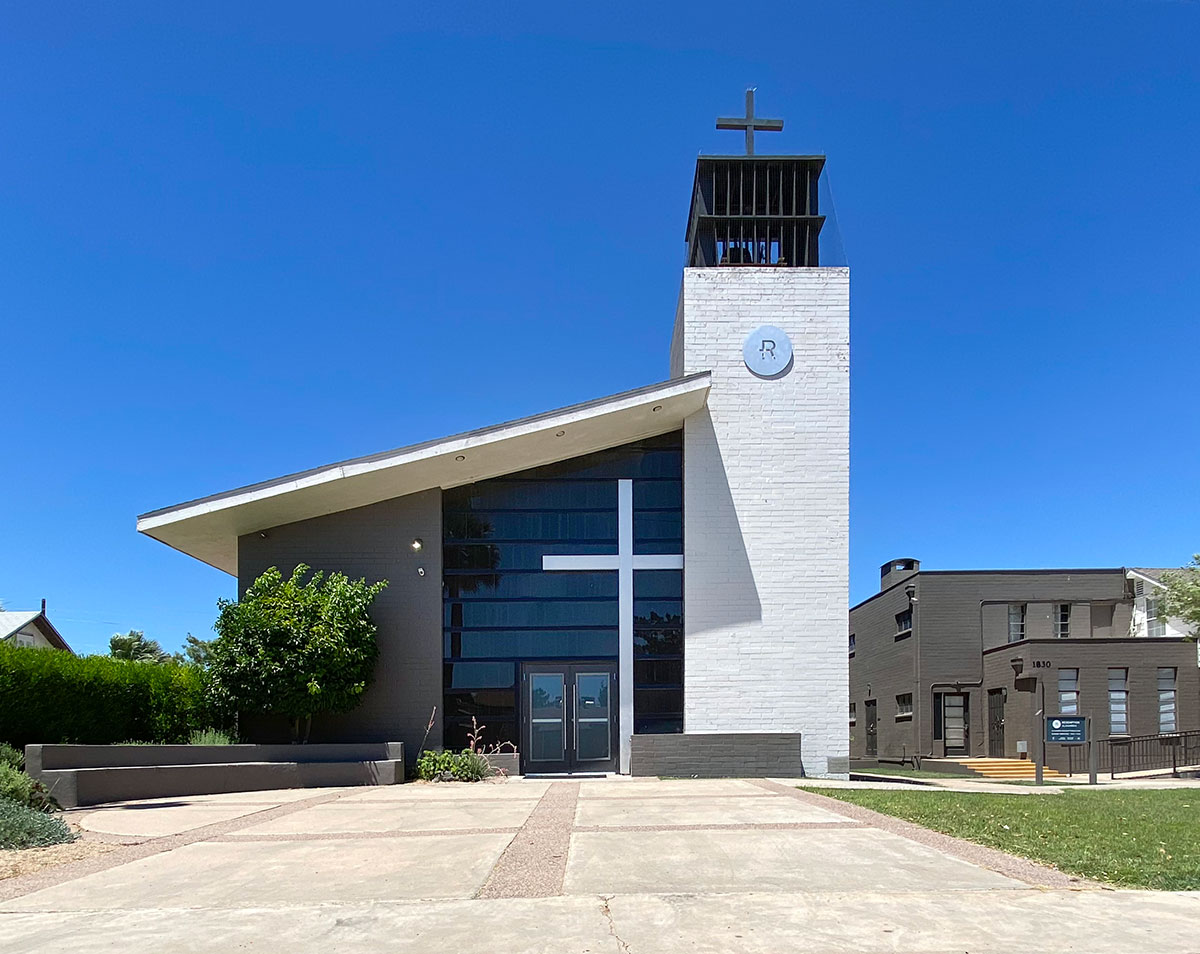 The parishioners used the space for over 60 years, but when the aging congregation dwindled to about a dozen in 2014, they donated the entire compound of buildings (including the property's original ranch house and a spectacular 1960 gymnasium) to a new plant of Redemption Church.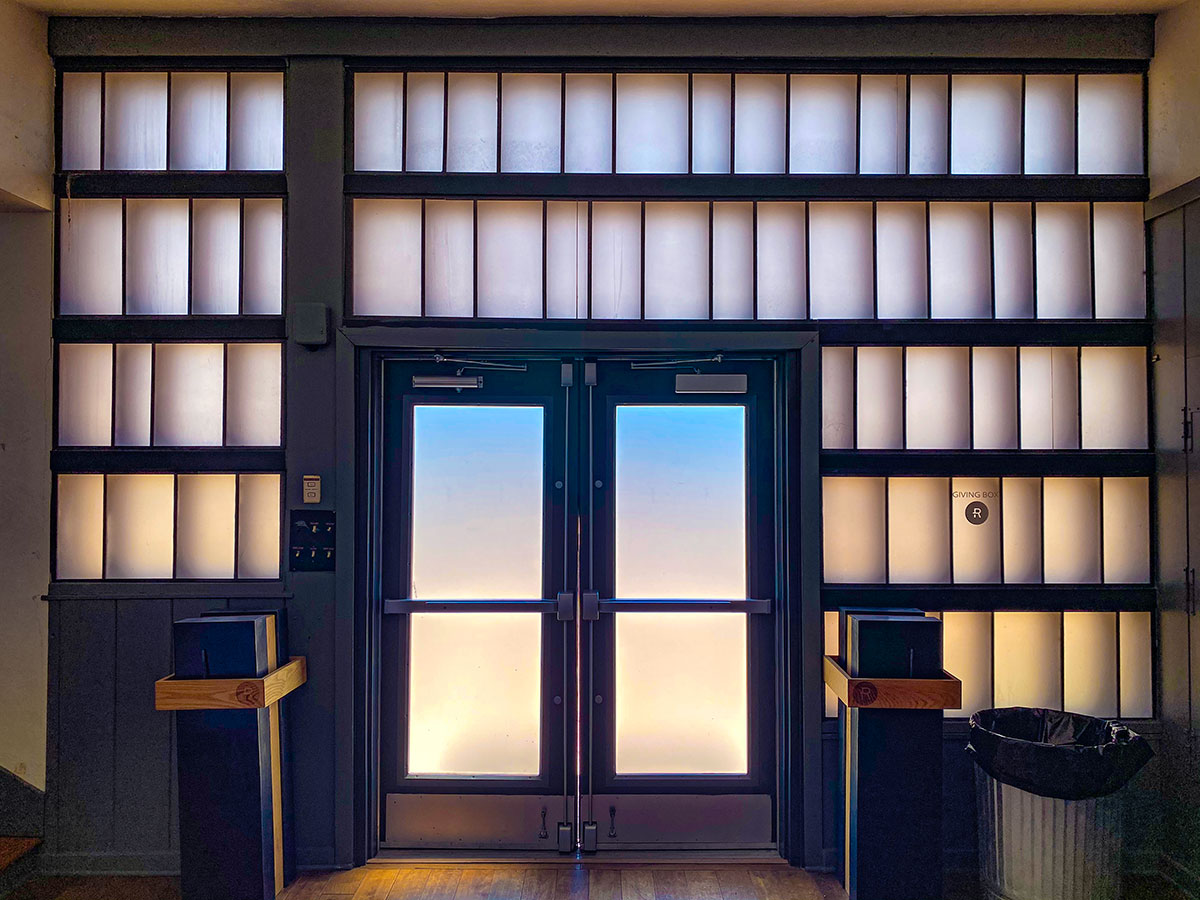 What Redemption has done with their gift is nothing short of artistically astonishing, making this campus relevant and vital contribution to the Alhambra community on Phoenix's west side.
When they inherited the church campus, they worked with
debartolo architects
to transform it in the image of the congregation they wanted to attract.
"We're fortunate enough to get to do all the work across Redeption's churches statewide," says Jack DeBartolo 3 FAIA. "We helped them appreciate the architecture that was there, and understand the beauty of light in a worship space. We replaced all the glass and preserved all the louvers to keep it pure to what it once was. A lot of my job working in these old spaces is just going in there and cleaning it up."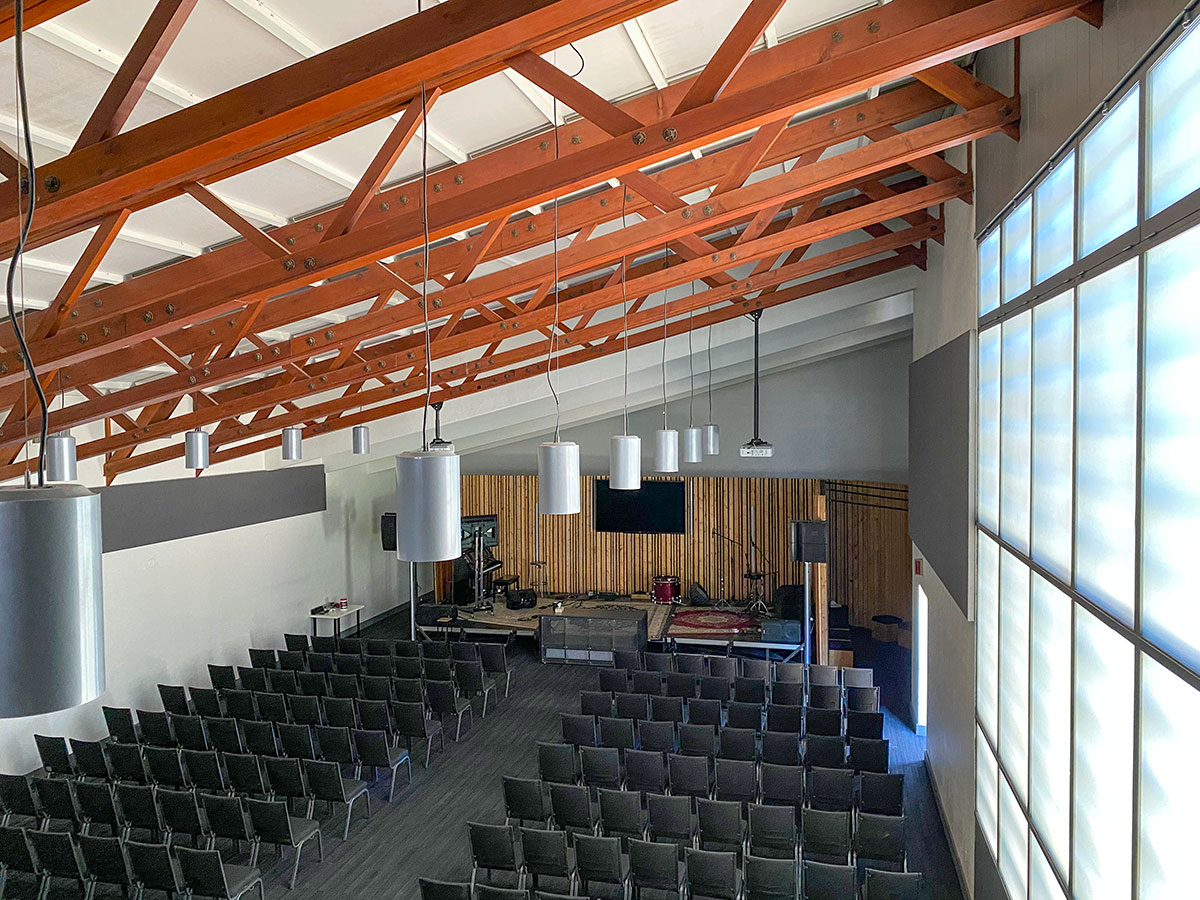 Like the original congregation of 70 years ago, they took a hands-on approach.
"This project needed to be done on a shoestring, so they self-performed a lot of the work," says DeBartolo. "There's a common thread of the wood louvers that pervades throughout all their church campuses. These guys are super creative; they were able to make that acoustic backdrop in a way that's tolerant of humanity and imperfection."
Now a fresh coat of paint in trendy dark neutrals gives the 1950 church a contemporary and respectable look, yet belies the wildly artistic payoff tucked just around the corner.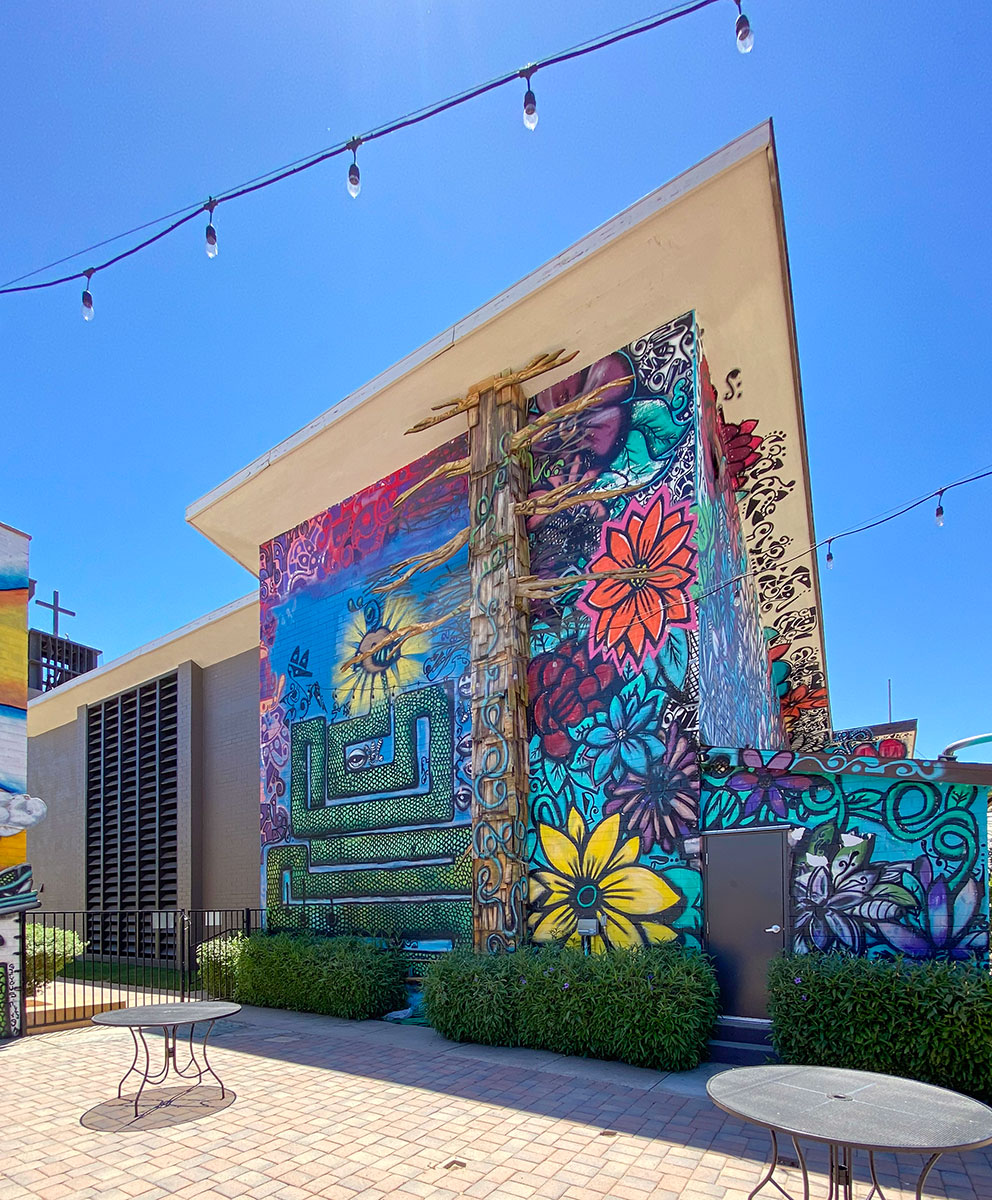 Street artist
servouS nysteM
, aka Carlos Rivera, transformed the church's courtyard and back garden into a sweeping spray paint narrative illustrating The Garden, The Fall, and The Redemption. It wraps around the back of the church and across several buildings that surround the court.
An Aztec-styled snake tempts at a tangled wooden sculpture of the Tree. Jesus' tomb door has even been reconstructed on the Elders' meeting space. Children's classrooms, restrooms and other community spaces ring the court.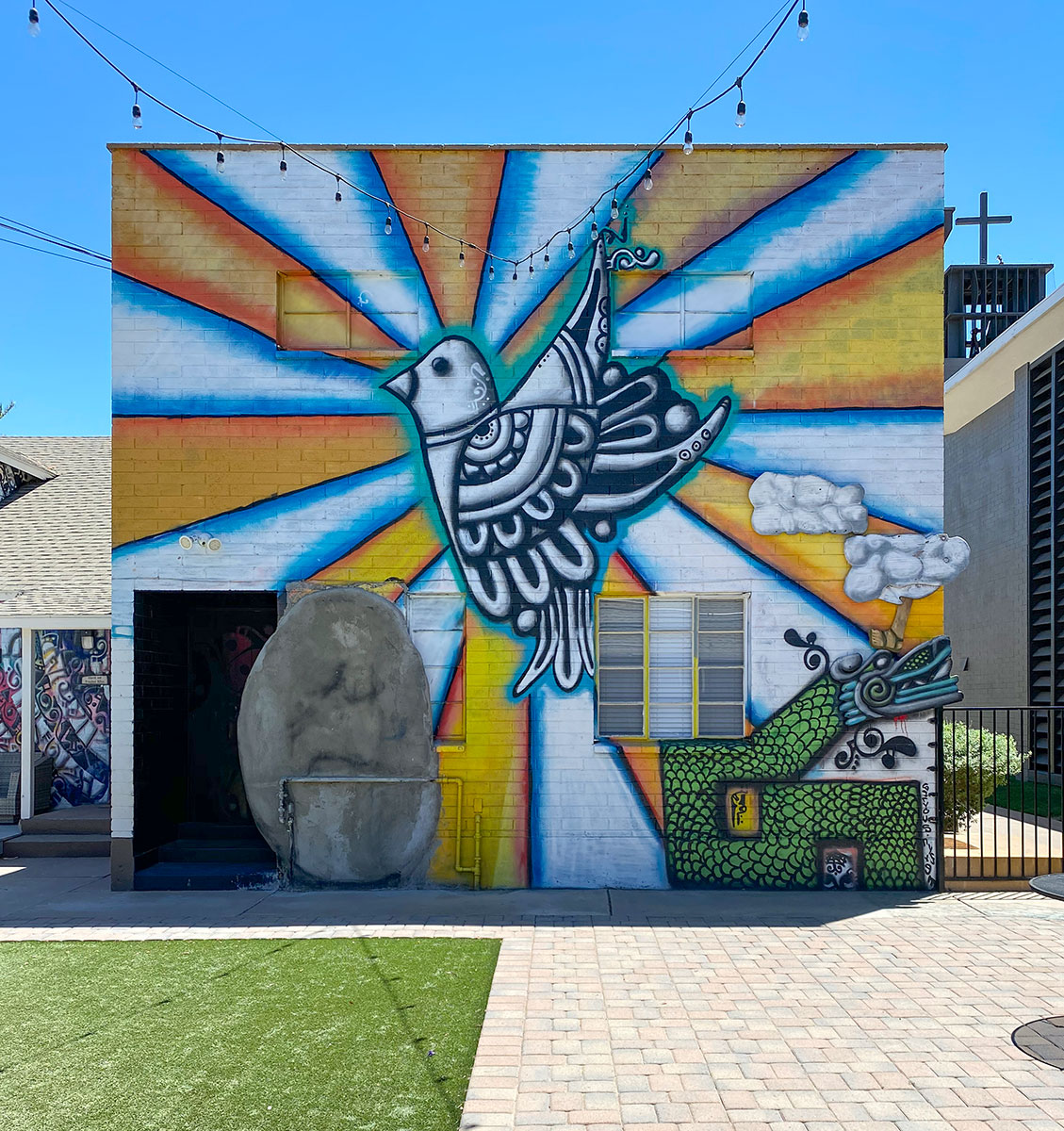 But the real treasure at
American Evangelical/Redemption Alhambra Church
is found in the mid-60s era gymnasium.
William Lockard FAIA
of Tucson designed this magnificent space in 1960. The western elevation only hints at a high vault, as the eastern end is conjoined with a two-story parochial building. Once inside, the gym reveals its true beauty.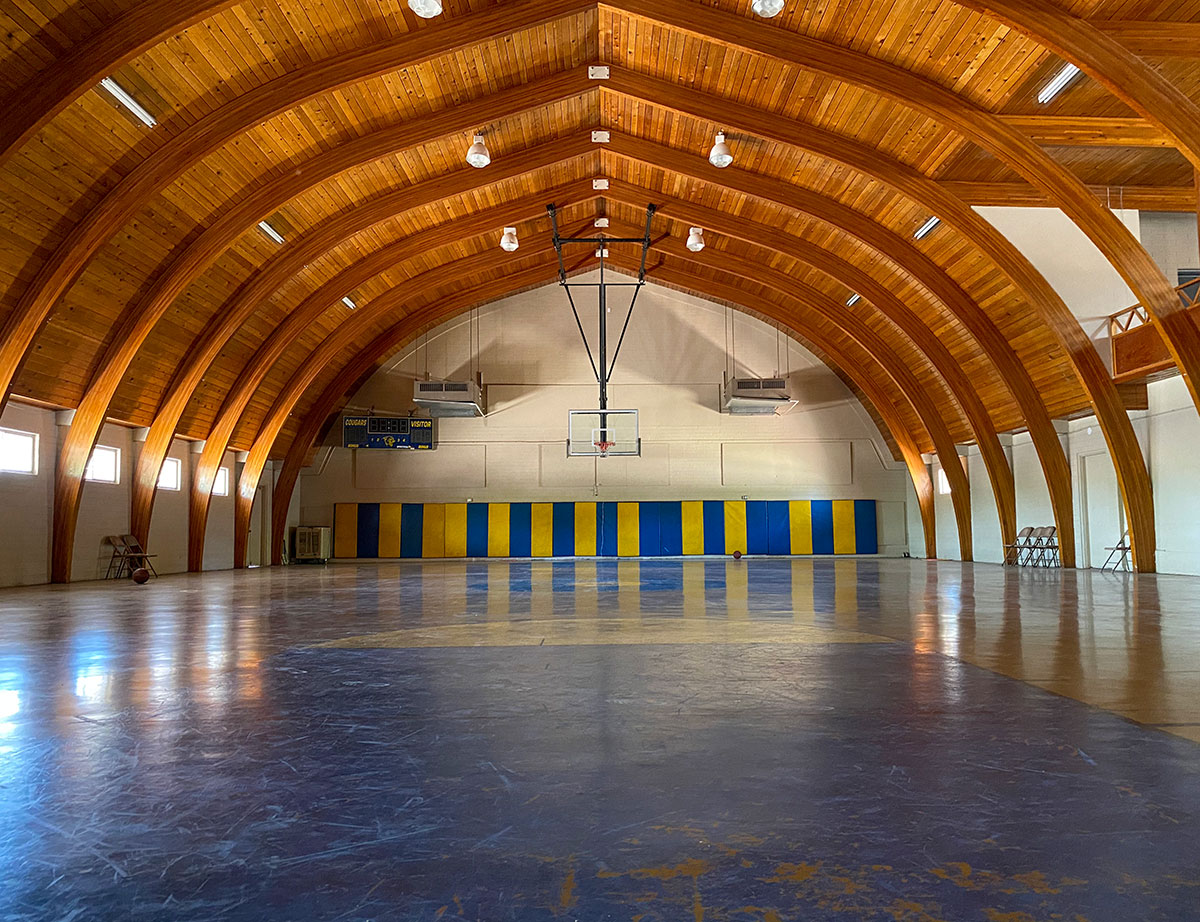 The enormous, open basketball court is naturally lit by high clerestory windows capped with a soaring wooden vault.
Massive glulam beams
meet at a gentle point in the middle.
The entire ceiling is clad in Douglas Fir, and the floor is a glossy concrete. A large second-story loft to the north lets in even more indirect light and makes the space feel barn-like, as if Noah himself was about to fork over a bale of hay. It's no wonder the parishioners affectionately call this remarkable place "The Ark".
You can
see more of this church campus here
, and find his First Brethren Church at 18th Avenue and Bethany Home Road, below.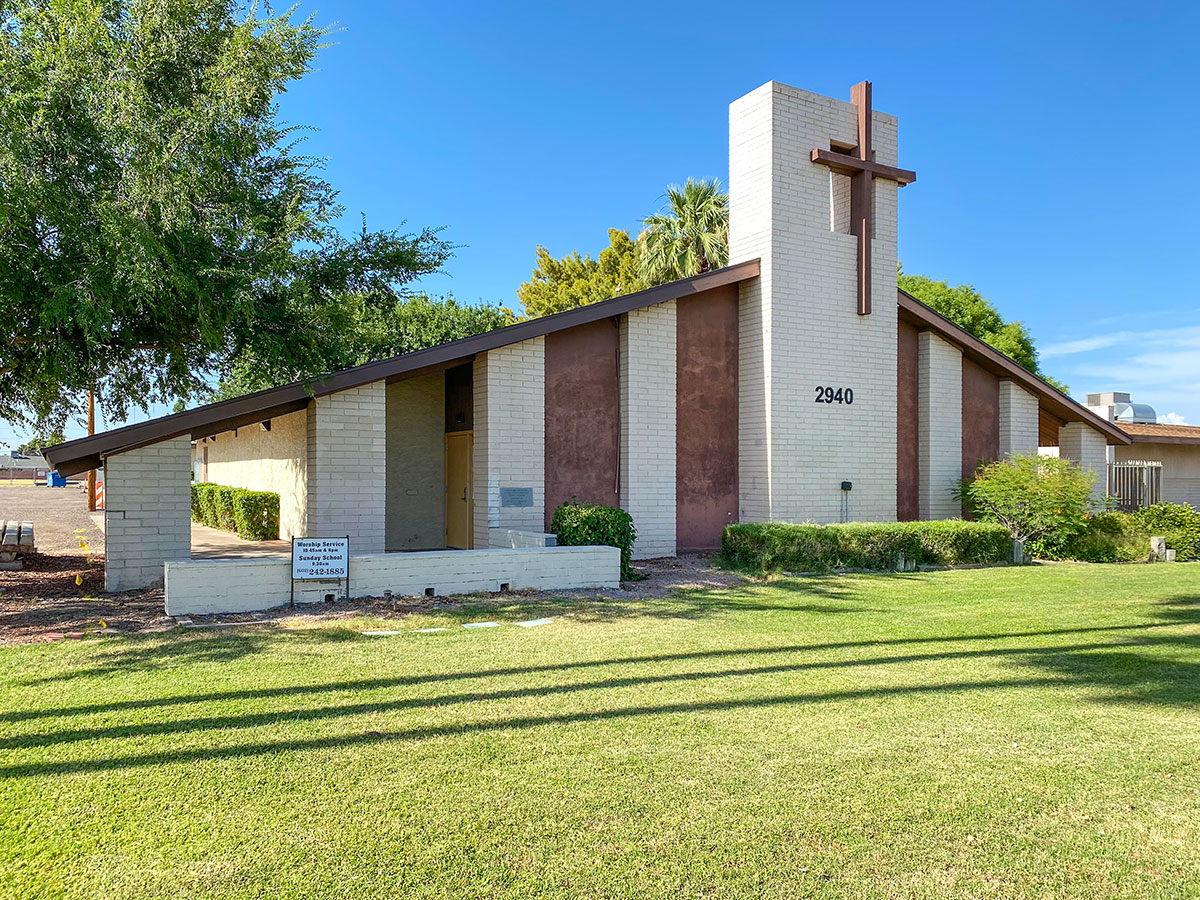 Discovering Desert Architecture
Ralph Parachek AIA was outspoken and opinionated, as evidenced by several letters to the editor on city planning and zoning topics. He wasn't a bad writer, either, but was also not without faults. In 1967 he self-published a book
Desert Architecture
under his company Parr of Arizona.
We found a pristine copy of the book this week and discovered that it's an adequate survey for the layperson, if not also sometimes tinged by the typical privilege of his race when critiquing accomplishments in Native American culture. The use of a Hopi Sunface Kachina motif for his company brand is puzzlingly tone-deaf by contemporary standards of cultural sensitivity. While this is not excusable, it's a telling record of late midcentury naiveté in cultural appropriation of sacred symbols to represent products largely unrelated to native culture.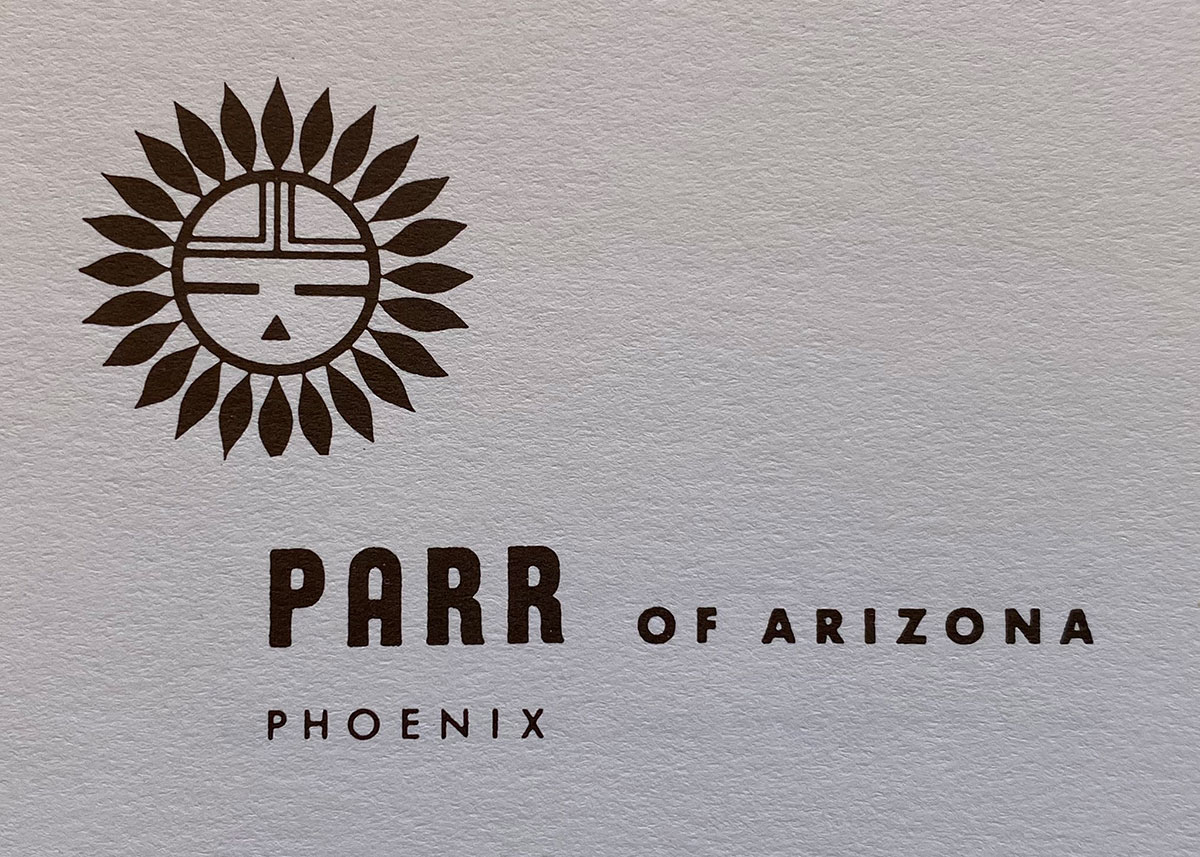 Excellent photography by one of Arizona's best midcentury photographers Stuart Weiner appears throughout the book, alongside promotional imagery from local chambers of commerce as well as many sketches by the author.
A bitter book review of
Desert Architecture
in
New Mexico Architecture
magazine describes his research as "entirely secondhand" and "disturbingly uneven". The last section of the book is devoted to the architecture of Arizona, which the reviewer also found to be offensive. Parachek did pause to loosely define the boundaries of the Sonoran Desert dipping down into Mexico and into New Mexico. Changing the title of the book to
Sonoran Architecture
would have averted this complaint, but then excluded the Pueblo cultures he sought to discuss.
As for his research being
entirely
secondhand, that is an exaggeration. The detailed text indicates that he has spent time at the sites themselves, and the section on San Xavier del Bac goes into great depth. This may explain why the vintage copy of the book we acquired was signed as a gift by Lew Murphy, Mayor of Tucson for 16 years.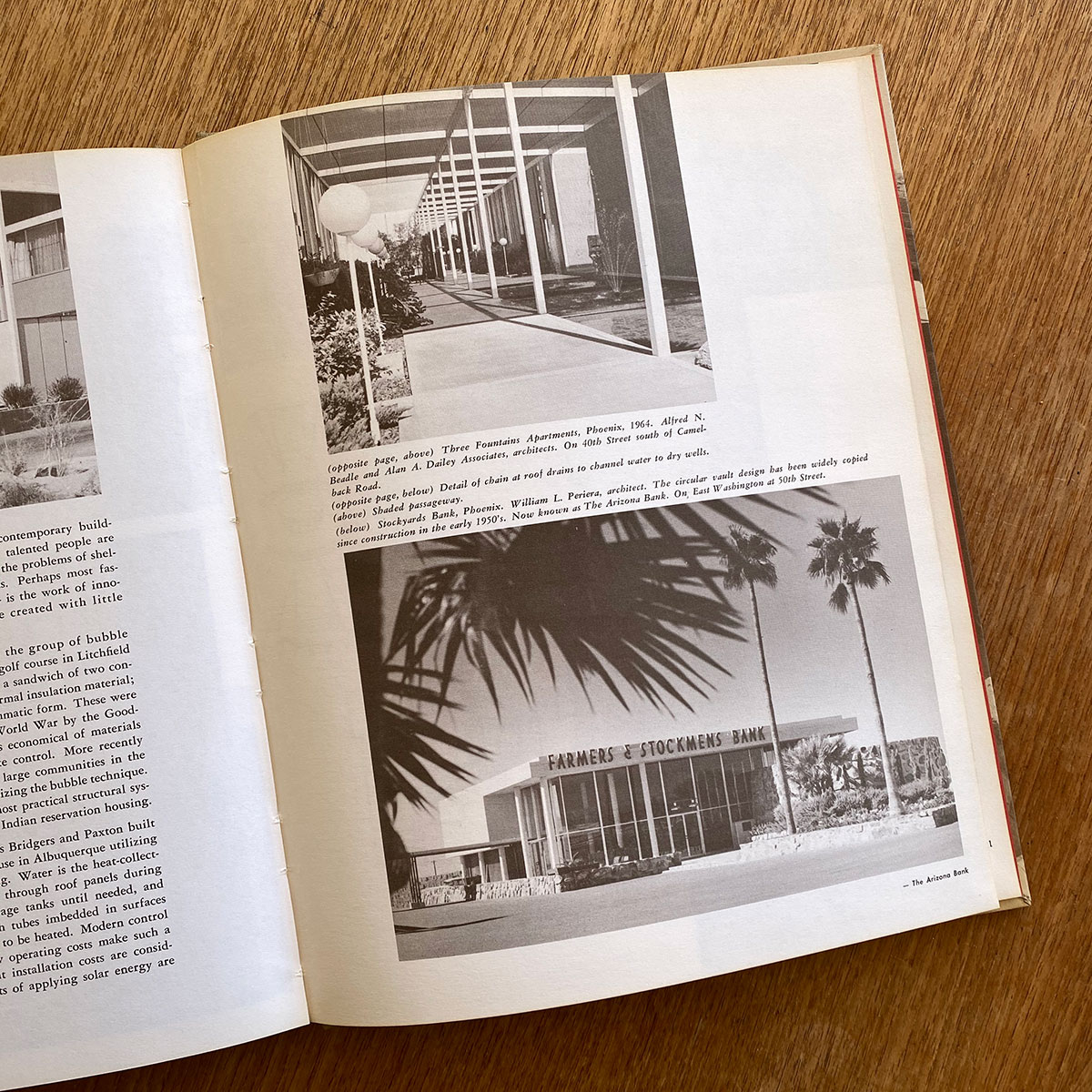 Parachek had a good eye. The architecture by his midcentury contemporaries that he considered noteworthy has aged well, and most that he highlighted have since entered the canon of midcentury classics.
Beadle's Three Fountains
,
Gonzales' Nogales Library
,
Haver and Varney's Municipal Center
, Soleri's Dome House and
Drake's single family homes
all get a nod alongside the expected discussion of
Frank Lloyd Wright
, including the David and Gladys Wright house.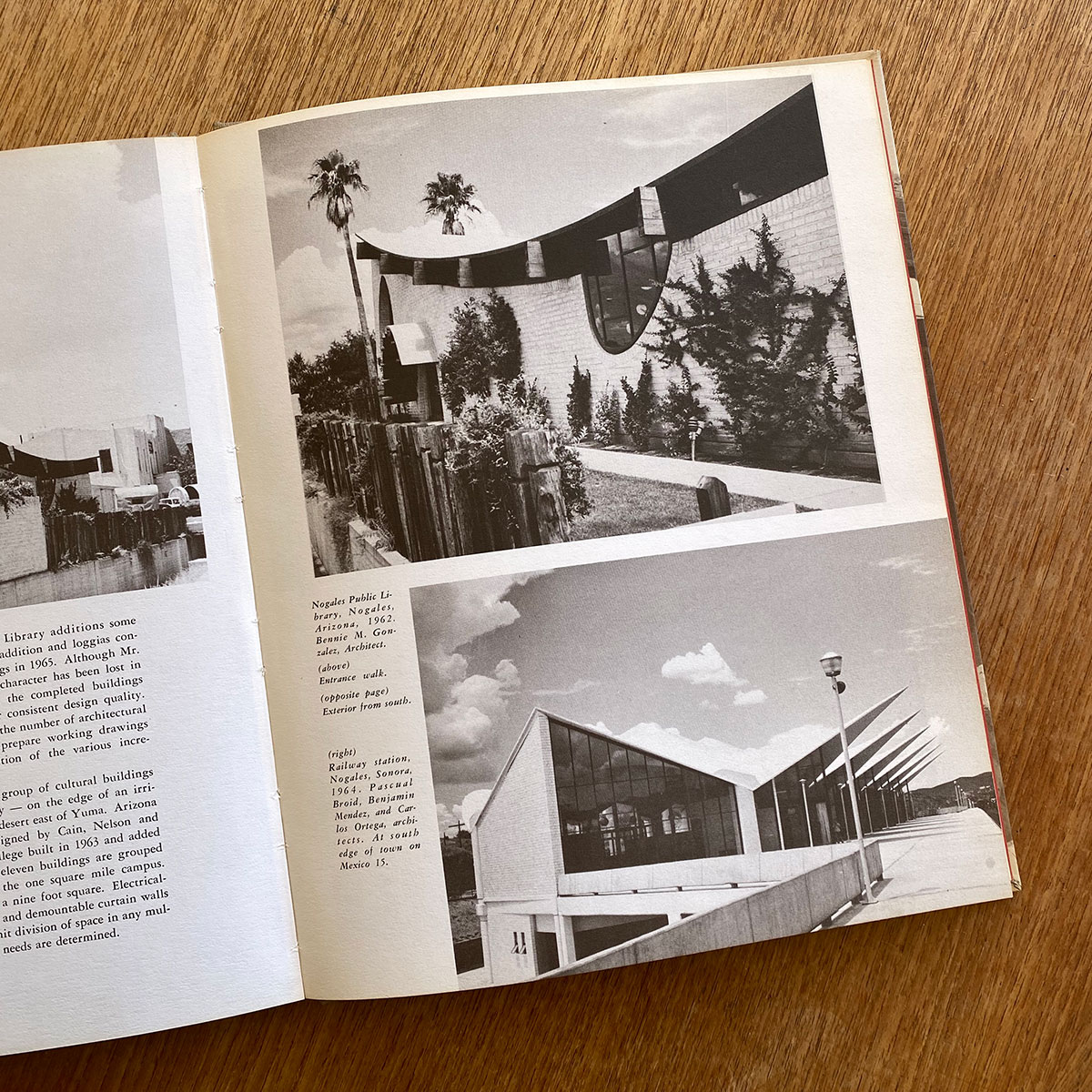 Indulging a few pages in resort and tourism architecture, Parachek was well aware of Arizona's leading industry as either a vacation destination or pass-through state. He notes the emotional means by which motorists would select a novelty-themed motor inn as a projection of their own self-identity. Coming full circle, that observation is ample argument that the aquatic forms found in the Parr headquarters were meant to evoke a carefree spirit of leisure.
He may not have been an advanced scholar, but creating a book of this breadth took tremendous effort and passion. Parachek left an excellent record of what he considered to be noteworthy
Desert Architecture.
It is an informative read for any fan of Weiner's photography and those curious about Arizona's Architectural history.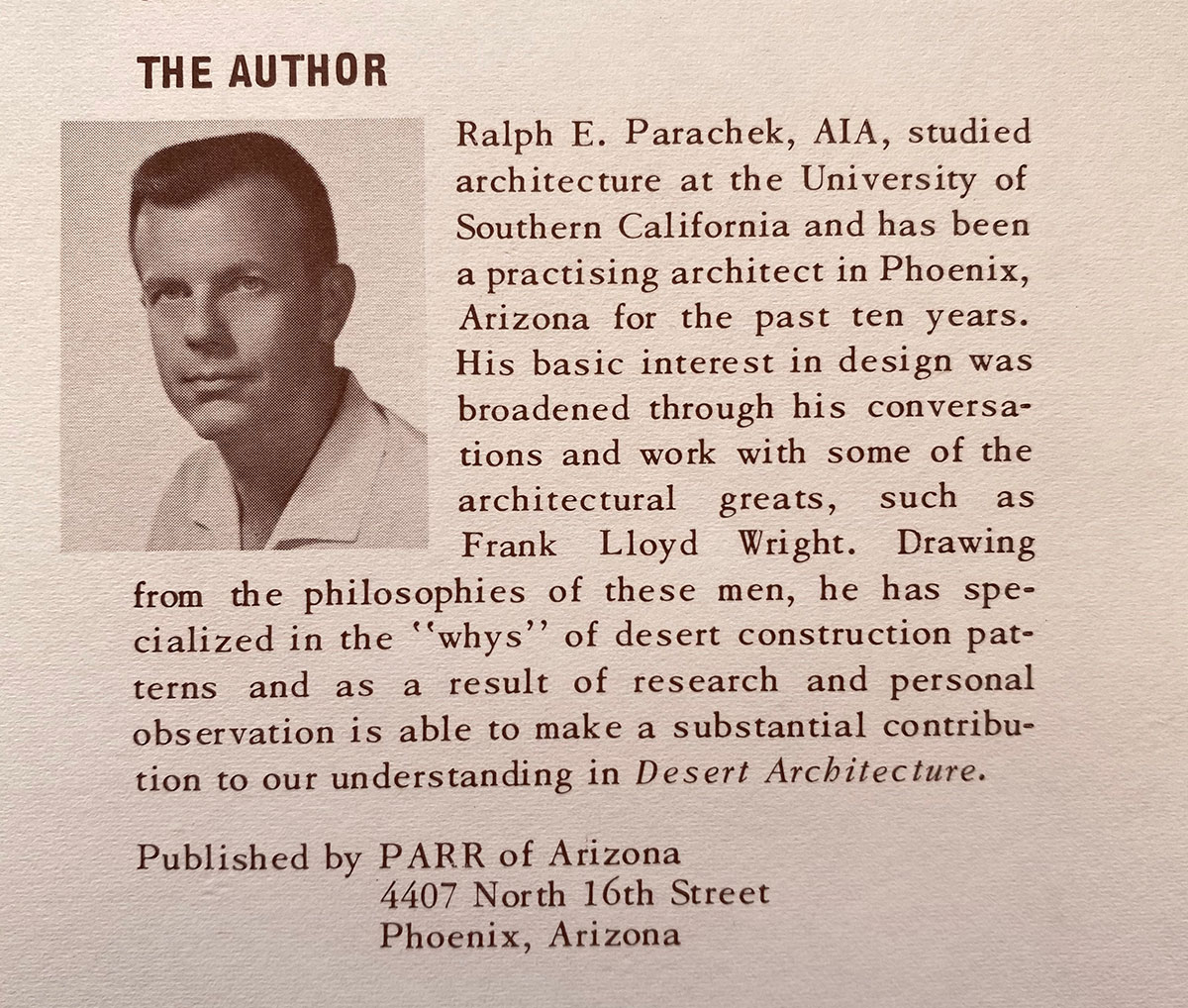 Parr of Arizona
American Evangelical Lutheran Church aka Redemption Church