Howard Madole

Sedona Circa 1948
Howard Madole came to Arizona as a 25-year-old University of Iowa graduate with a bachelor's in science and commerce. His parents had purchased 10 acres of land in West Sedona and built a small road to their property, which is known as Madole Drive to this day.
"There were about 350 people living there at the time — if you shook all the bushes," says Madole. "Something about the area seemed to draw the characters." Some of the people Madole hung out with in those days included with the surrealist painter Max Ernst and former Hollywood stunt flyer William "Jack" Frye who, as president of TWA, convinced Howard Hughes to finance the purchase of first commercial plane with a pressurized passenger cabin.
With no formal training or experience, Madole designed and built his first house with his family — hand making several thousand adobe bricks. They invented their own mud concoction containing recycled asphalt to add strength to the bricks. The house also had a very unusual red rock fireplace that could be enjoyed from two sides. The kind of improvisation Madole applied to this house would stay with him throughout his career. The house still stands on its original site off of Tranquil Avenue.
Madole continued to learn the construction business and carpentry working on projects such as the Verde Valley School, and by 1952 owned the largest construction business in Northern Arizona.
Taliesin West Circa 1955
Madole was active at Taliesin West in the mid 1950s. "It was pretty spartan when we first saw it," he says. Frank Lloyd Wright was on the scene in those days and made Madole an occasional dinner guest. Madole built the Usonian design that currently sits at the site. A replica of the design Wright built in Chicago, the award-winning house comes apart in four-foot sections and was displayed in Dallas, Chicago and the Smithsonian during a national tour.
The Usonian home came on the market during a time of great residential expansion. The Usonian design addressed the needs of the middle class for affordable houses. The word is a play on "USA," and was an affirmation of the Jeffersonian ideal that land and home ownership were the birthright of all Americans.
"The thing about architects is that all of us have designs that we would just as soon forget that we did," he says. While he considers the Usonian house at Taliesin West to be one of the better designs, he says certain elements are not practical for an average family. "The kitchens were terrible — about eight feet wide, and Frank Lloyd Wright didn't believe in anything in a bedroom other than a bed and a dresser. I had a client once who couldn't even fit a bed in one of his bedrooms."
Madole went on to adopt certain design elements of this and other Frank Lloyd Wright styles in his future work, but would continue to improvise and bring his own learning experiences to the table when it came to his designs.
"I've done all the hard work in the field, so I know carpentry and construction. That is what allows you to improvise successfully, and a lot of what makes for interesting architecture is improvisation."

Madole Drive 1960-1965
Located off of Hwy 89A, Madole Drive features five houses built by the architect. Most of them have been modified and added to over time. While various Usonian and other Frank Lloyd Wright-inspired elements were incorporated into the homes, Madole says they don't fall into any particular design philosophy.
"I just did my own thing," he says. "Back when I did those, people were not building big houses. I started out modestly, with tract-type construction. By today's standards, they are kind of low key."
The houses feature two-by-four laminate roofs with flared roof lines and razor-edged fascias — a feature Madole developed. "It is a very aesthetically pleasing roof line, and it was really nice to listen to the rain hitting on those laminate roofs."
The homes also feature schist rock walls and fireplaces, one of them with stone work done by Hopi craftsman Emerson Maningha, whom Madole met when they were working together on the Verde Valley School.
"You learn by doing. The last home that I lived in had a 12-foot overhang with a plate line less than six feet high. You could walk right on to the roof — in fact my daughter did."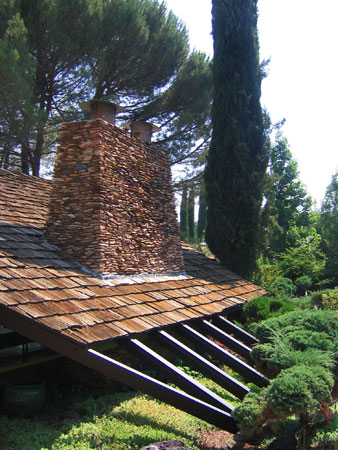 Phoenix
Madole moved to Phoenix in 1966, and went on to design hundreds of residential and commercial buildings all over Arizona. His favorite commercial building is the former Northwestern Mutual Life building which still stands on the southwest corner of Third Street and Osborn. This two-story building was built in 1977 and won awards for its concrete design. The second floor is four feet wider than the first with a 45 degree vertical return, and Madole says he particularly likes the lobby.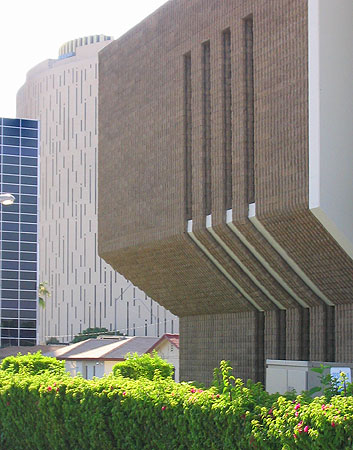 Today and the Future
Madole is uninspired by what he sees happening in today's home building market. "The main thing that is going on is tract, tract, tract--and that is going to jump up and bite us economically." That being said, at 82 years old, Madole is still a working architect with a full plate of innovative projects.
"I'm still cranking! I intend to work until 90, and then I might think about retiring. I just finished reading a book that has inspired me and made me think about what I can contribute."
The Confessions of an Economic Hit Man by John Perkins, a former chief economist at Boston strategic-consulting firm, delves into U.S. foreign policy and global domination through financial strength. "I think it's too bad that greed has taken the toll that it has."
Madole has been working on designing residential and commercial buildings made of expandable polystyrene. "The expandable polystyrene is strong, lightweight, termite proof, water proof and ecologically sound."
Twelve years ago, he was slated to build 12,000 of houses in Sierra Leon Africa, but the civil war there prevented the project from moving forward. The 950 square foot homes are a design spin-off of Wright's Usonian designs. The material is even scored to look like the masonry that Wright used. "They are interesting little houses with yards--not an instant slum, no tract stuff."
There are plans in the works for Madole to build a plant where EPS components will be manufactured. He would like to build the plant near the Prescott airport, where the former navy pilot would also be able to indulge a desire to fly again.
Madole is currently working with his nephew Todd Nanke at Nanke Design and Construction in Prescott. He can be reached at 928-778-1433 or nankedc@earthlink.net.