Holy Houses!

Midcentury Modern Churches from the Iconic Age of Phoenix

Los Arcos Methodist Church



7425 East Culver Street
Scottsdale, AZ 85257
DEMOLISHED

Story by Walt Lockley

The Los Arcos Methodist Church building dates from autumn 1966 and its appearance in this spot, and its motto ("Church in the Marketplace"), are connected to the nearby Los Arcos Mall. This was a regular pattern in the growth of Phoenix, new commercial and housing growth sprouting up around the newest malls. (And it's worth saying -- the Methodists in town have more than their share of adventuresome churches. Hurrah for the Methodists.)

After a long and controversial decline Los Arcos Mall finally closed in 1999 and is now the site of ASU's SkySong project. The immediate surroundings to the east, around the church, need the love and attention and revitalization that SkySong will bring. This modest church, with a small but devoted congregation, is an important anchor in the neighborhood. They have good seats for the upcoming changes.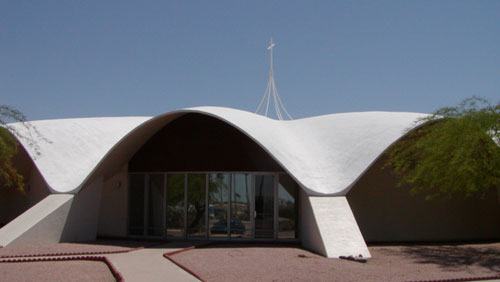 The low, gentle, almost material exterior shape here is consistent with at least one more church-of-the-future, the 1962 Priory Chapel in suburban St. Louis, and with the old La Concha Motel on the Las Vegas strip. All three of these buildings are derivative of the work of the great Mexican architect-engineer Felix Candela, a true innovator in thin-shell paraboloid concrete structures of the time. Like this one they tended to be white. They were all round in floor plan, of course. And like any other architectural curves, the twelve arches of Los Arcos required expensive custom construction. The buttresses are a clue that the engineering here was less 'pure' than in other buildings, either by design or in mid-course correction or in retro-fix.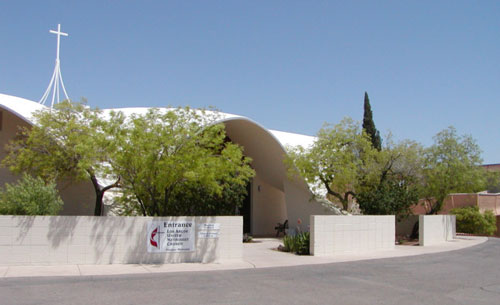 If the outside is mid-sixties futuristic, it does nothing to prepare you for the inside, which takes you back to the Flintstones or beyond. What might have been a cool, bright, light, crisp interior, what might have been open to sunlight through the many perimeter archways, is a dark cave-like interior, like a theme restaurant, or a sophisticated mud hut. Irregular nubby panels with lighting elements drop down from a ribbed, biomorphic, nubby ceiling with a couple of big rounded HVAC bulges. Where the circular floor plan might have been used to suggest equality and participation, the interior configuration, ironically, ignores the unusual qualities of the building -- which is not to criticize how the congregation has adapted to its unusual heritage. As changes come to Los Arcos, we wish them well.

Postscript: The church was demolished