Holy Houses!

Midcentury Modern Churches from the Iconic Age of Phoenix

Glass and
Garden Church


8620 East McDonald Drive
Scottsdale, AZ 85250
480 948 8800

Story by Walt Lockley

The visionary behind the Glass & Garden Drive-In Church was the pastor Floyd Goulooze. Goulooze came to Scottsdale from Lakewood California in 1963 and bet on the city's growth eastward. So he bought seven acres of cotton fields in an empty landscape and commissioned a double play: an ambitious 1400-seat circular church building, and an adjacent drive-in facility, complete with drive-in-movie speakers, so parishioners could get churched up in their own comfortable upholstery. One of only a handful across the country. Goulooze was influenced by Robert Schuler's instant success with his 1955 drive-in church, especially since Goulooze was Schuler's seminary classmate back in Michigan.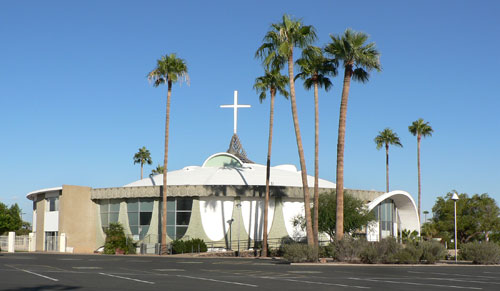 The church was designed over 18 months and took three years to construct. The architect was E. Logan Campbell, whose other known credits are few: part of the Phoenix Zoo, and a 1993 patent for modular housing. Which is a shame. It's a fine and original building.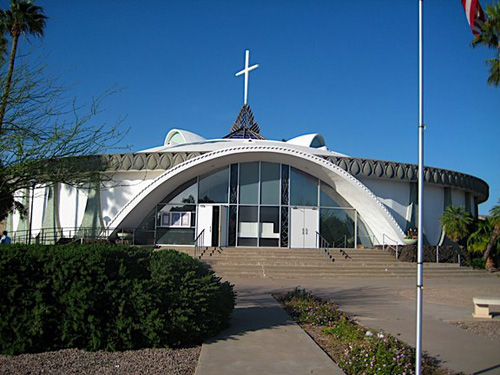 The circular ceiling is pleasingly simple and punctuated by a lovely almost-Chartres-blue skylight. There was a garden inside, visible through the windows, partly green and partly plastic, and once a running stream too. The exterior detailing is scaled up (faint echoes of the Cine Capri) but too dignified to seem Googie. And the portal, tricky on any circular structure, is handled well.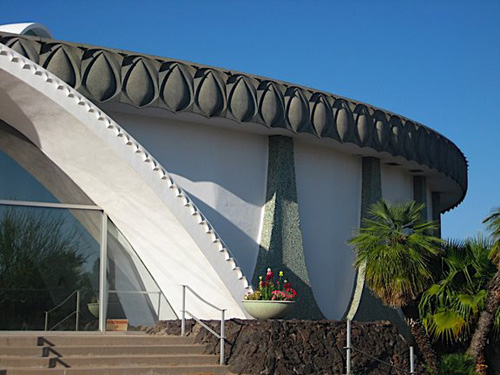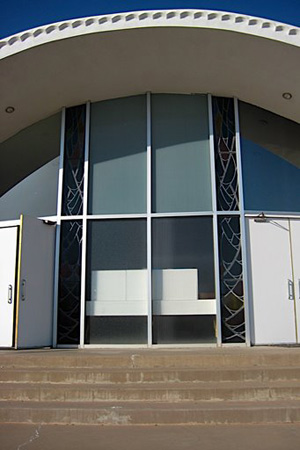 But Goulooze had made an ill-considered bet. Directly east from here is the only direction the city didn't grow in. The drive-in paradigm was a good novelty but built no long-term loyalty in the congregation. Fourteen hundred seats is a the largest capacity on this list and must seem empty even with a good turnout. After opening on Palm Sunday in 1966, the church has survived anyway all these years, with sermons broadcast out over AM 800 but with the speaker poles now removed, and with this marvelous building intact, still aesthetically bold. The congregation has recently struggled with a garden-variety hypocrite ex-pastor who siphoned off maybe $100K to pay his own bad bets, but it looks to recover. We surely hope so.