Vintage Neon and Googie Signage in Phoenix
Now being cataloged by the Arizona Vintage Sign Coalition

Phoenix was once plagued with an overabundance of exuberant street signage — so much that current ordinances seemed to have virtually phased them out. A few great examples remain, and we're tracking them down to reach out and ask owners to keep the signs intact.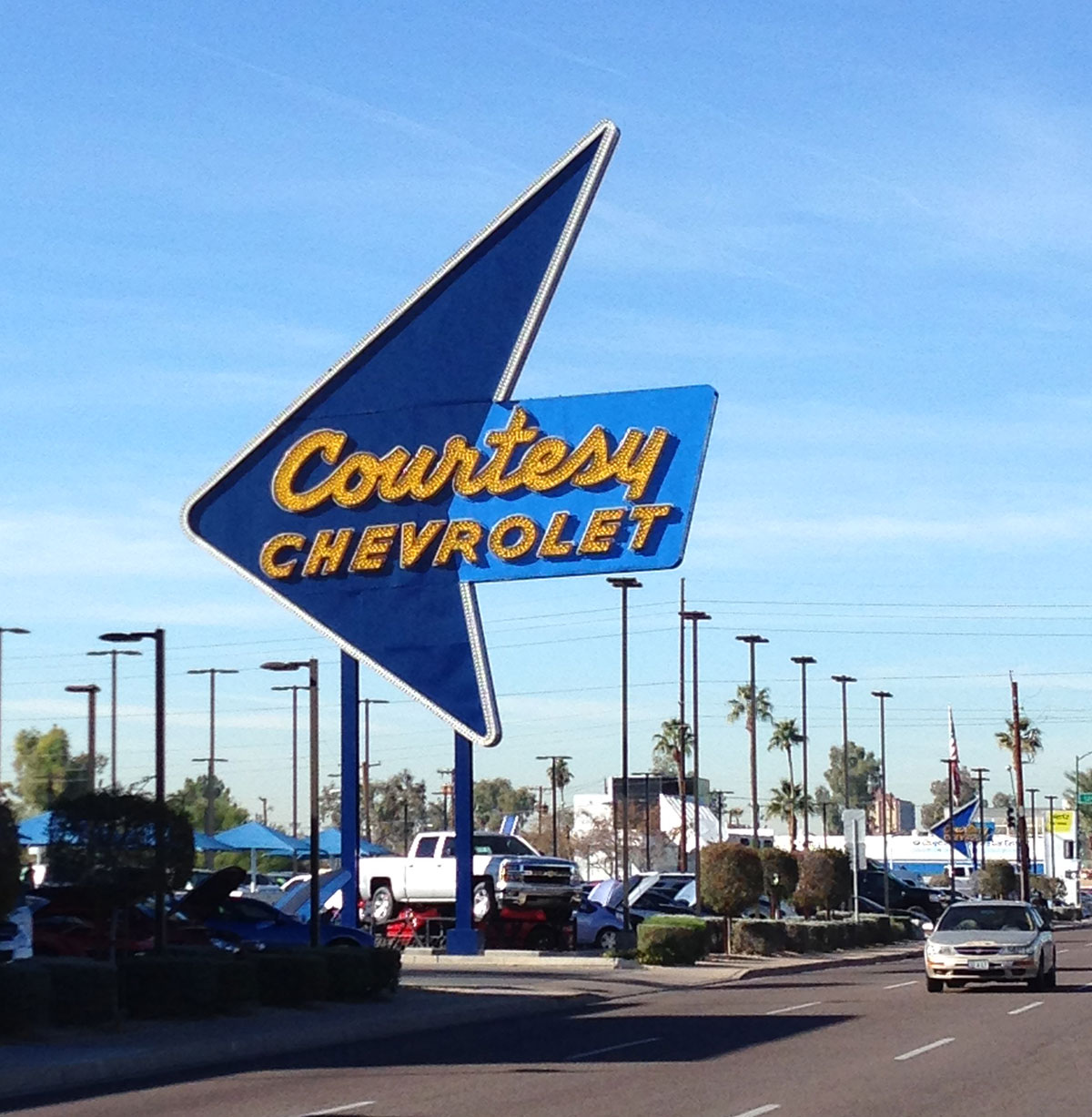 Courtesy Chevrolet recently replaced their neon and bulbs with what appears to be LED, shown below. What do you think?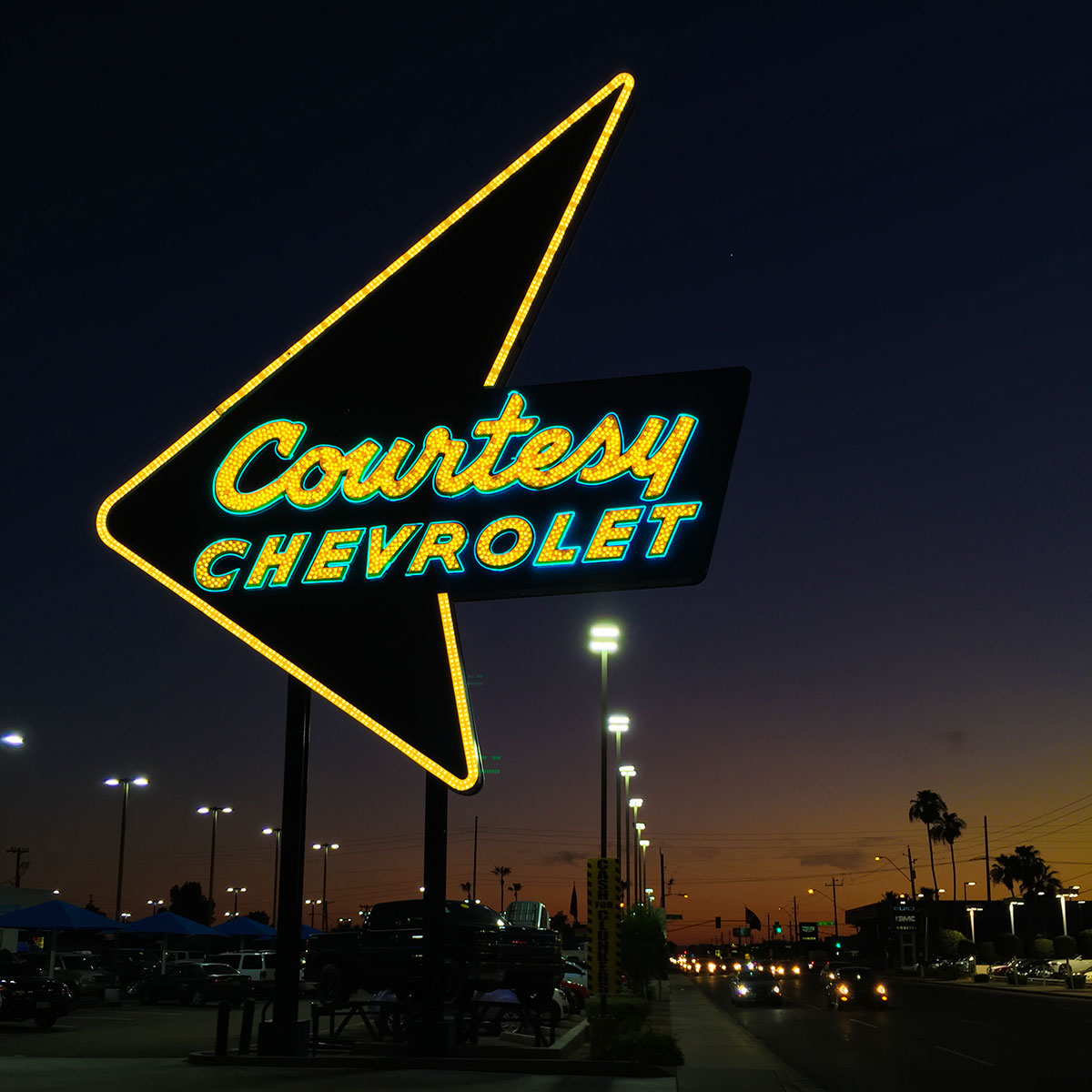 Many have been concerned about the fate of the colossal Bill Johnson's sign that went up for auction in the dead of summer 2015. This icon on Van Buren was designed by Valley legend Glen Guyette, designer of other favorites such as Mr. Lucky's, My Florist and Courtesy Chevrolet. On the day the sign sold, The Arizona Vintage Sign Coalition quickly mobilized to contact the sign's new owner. Through negotiations before the sale, we received permission from Gateway Community College (ultimately the landowner) to keep the sign installed on site until a longer-term preservation plan could be put in place. A few months after that decision was made, the owner of the sign was asked to come remove it. It is now part of the collection of Speedway restaurant in Maricopa.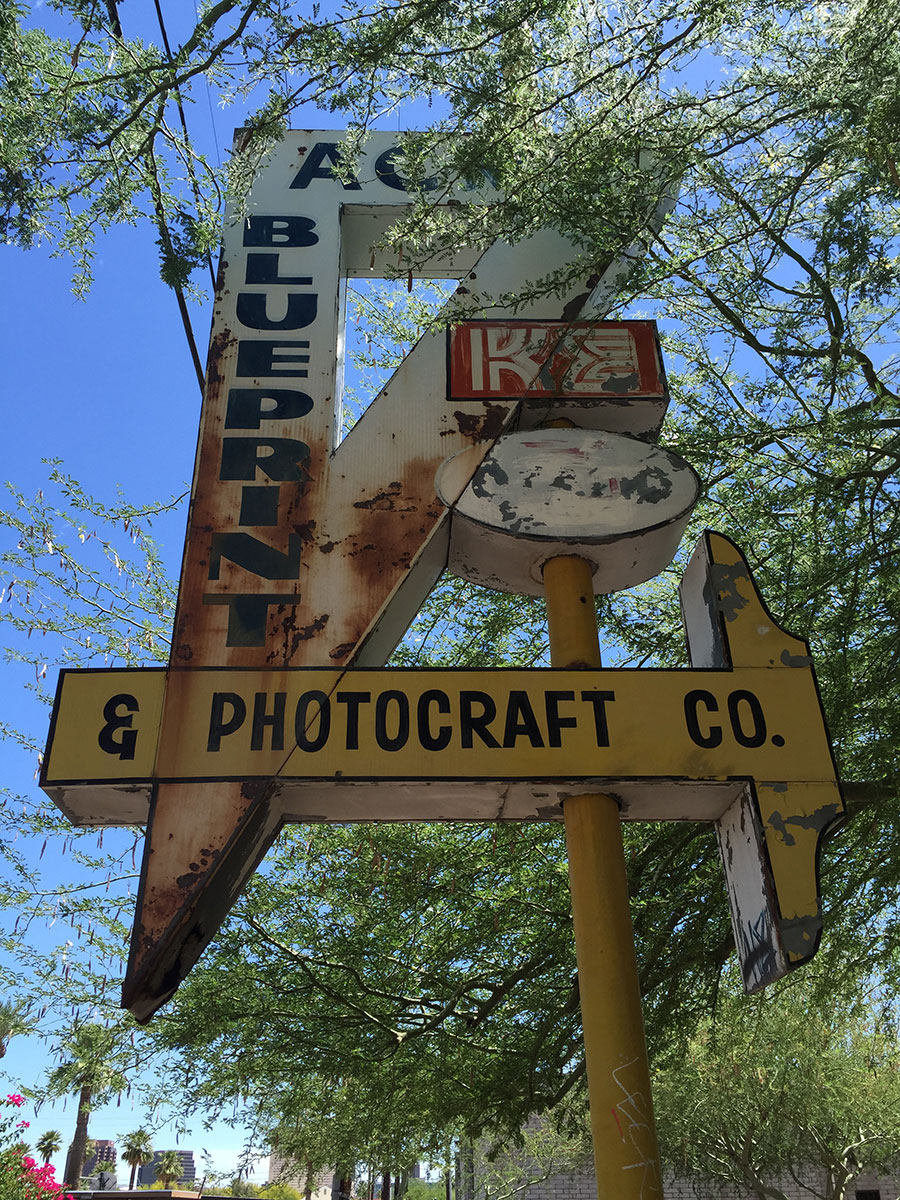 Everyone asks me where this sign is. It's deep behind Giant Coffee on McDowell Road. Happy sign hunting!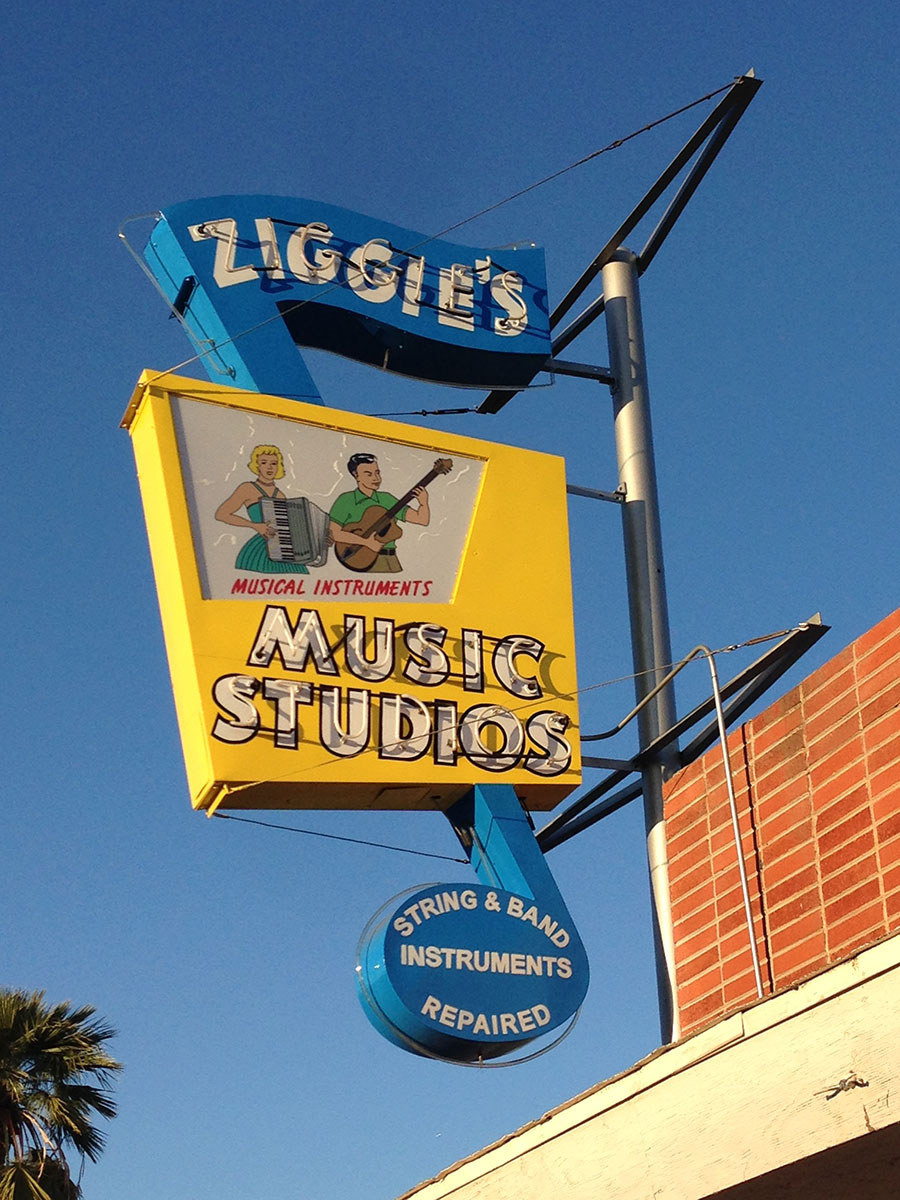 Ziggie's recently rehabilitated their sign, even if it is only occasionally illuminated at night. Good for them!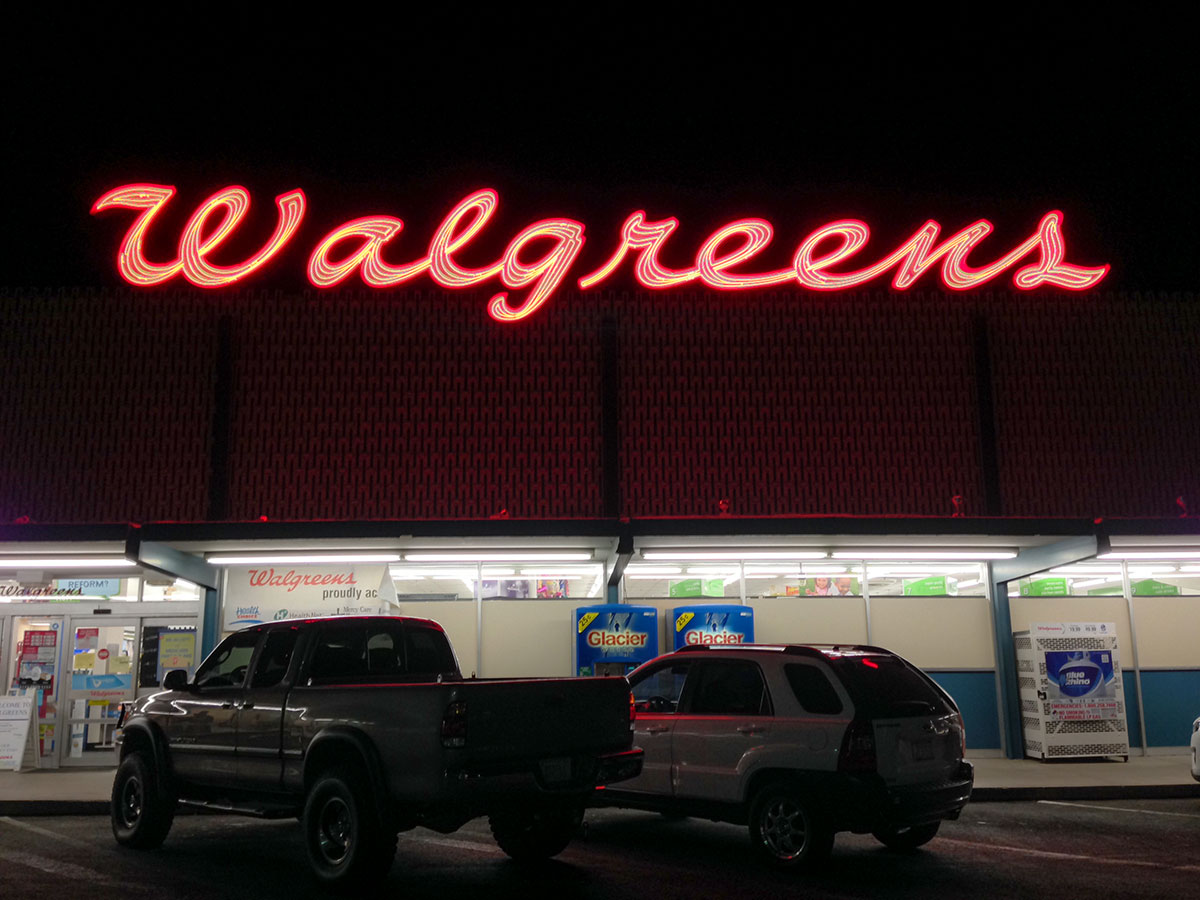 We've received many inquiries about the Walgreens sign in Sunnyslope but as far as we know, the building is going to stick around. The neon was replaced by LED as far as we can tell and no longer features as many strokes.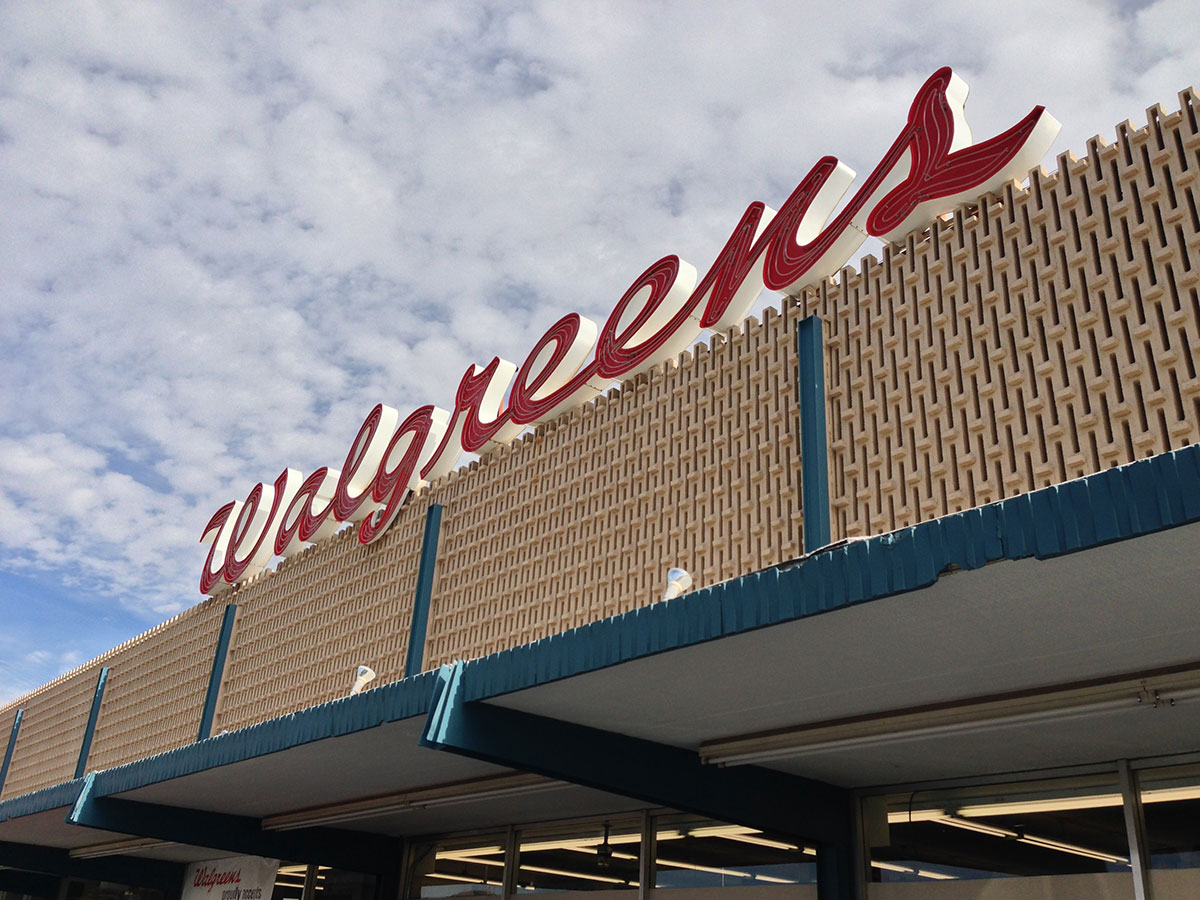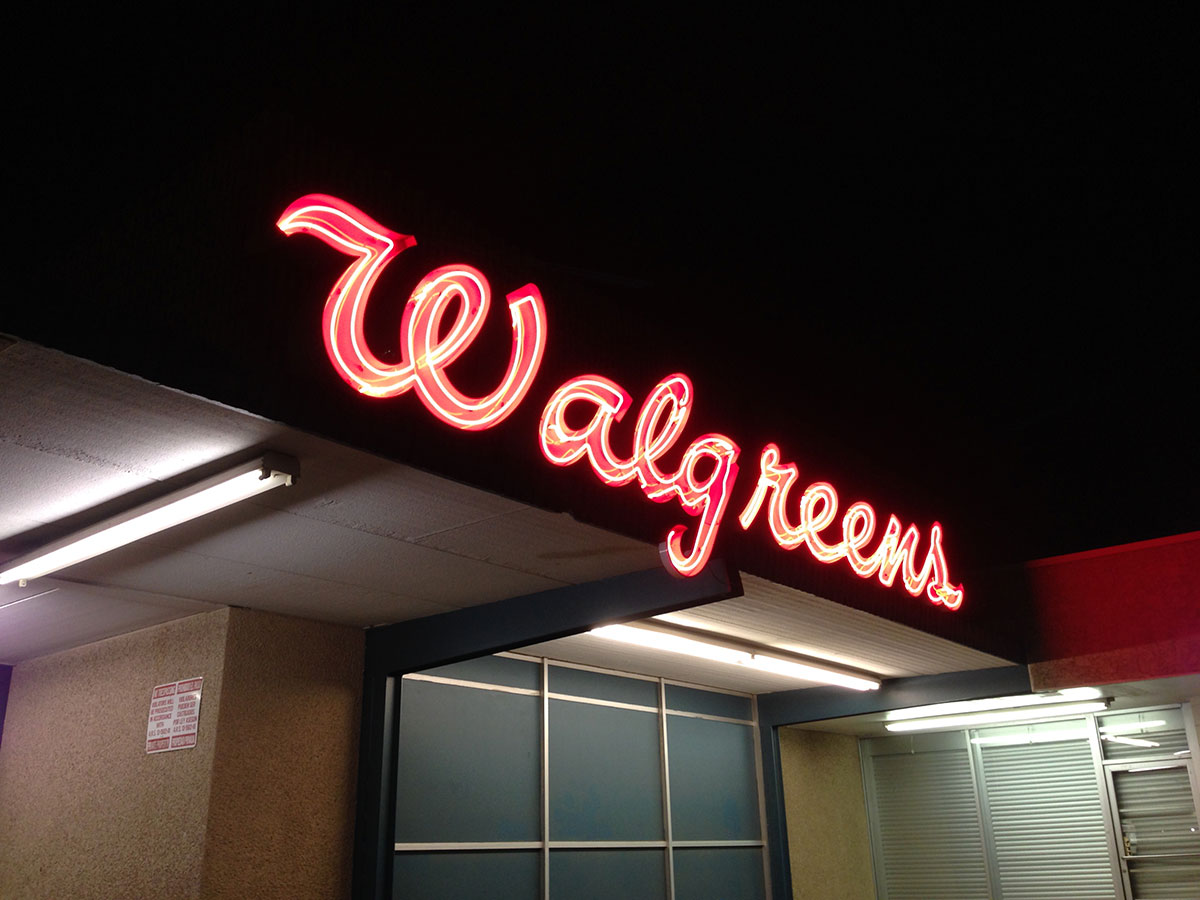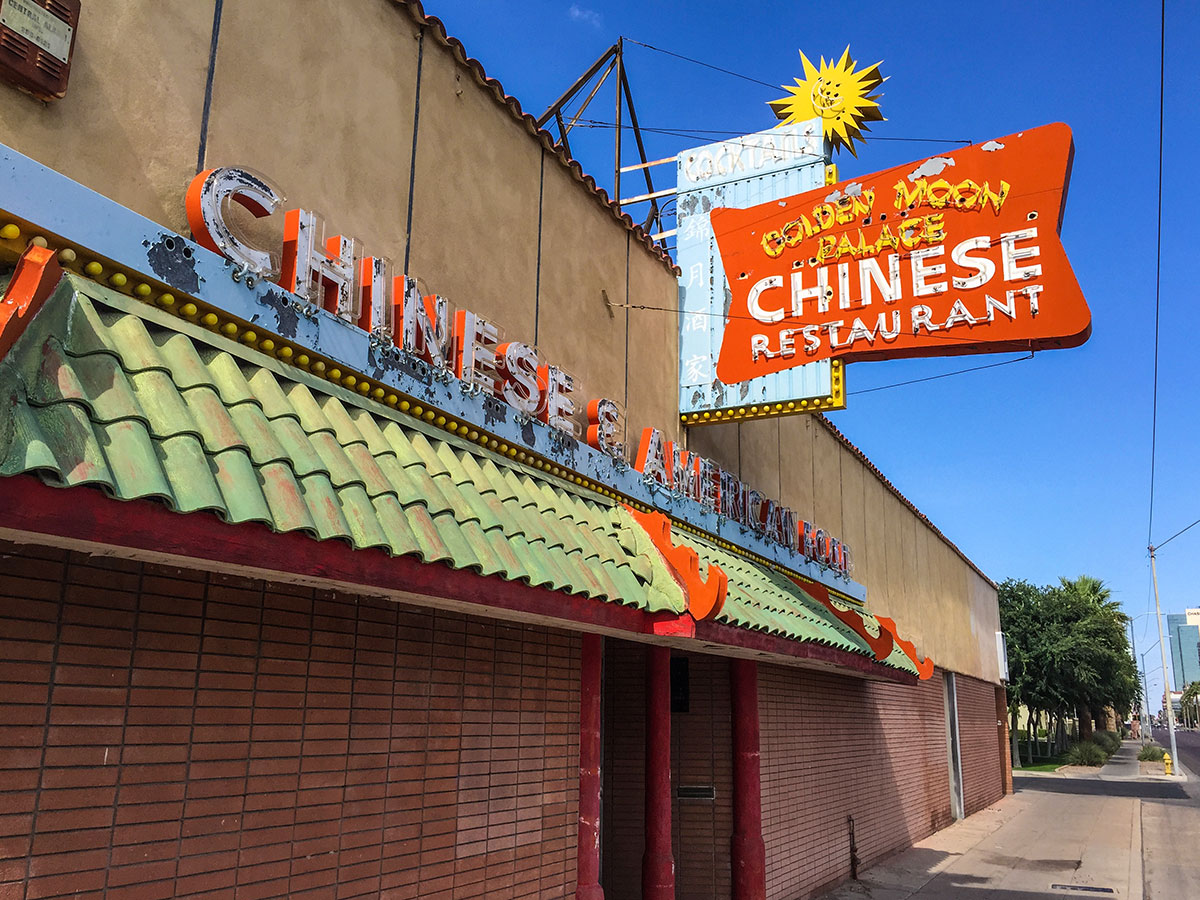 Golden Moon Palace recently closed its doors. The sign was removed by an unknown buyer.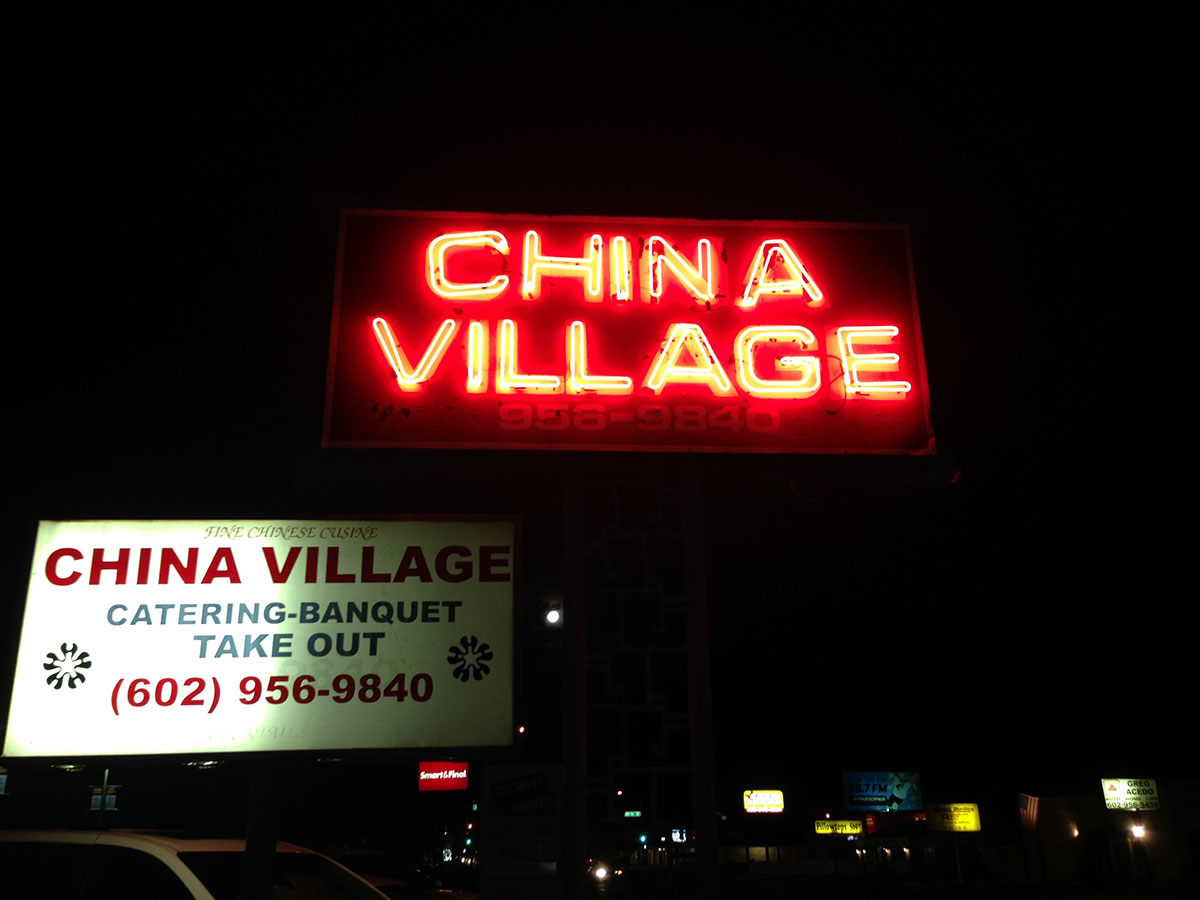 China Village replaced their charming neon sign with color-modulating LED in 2015. Here's what it looked like about a year before the replacement.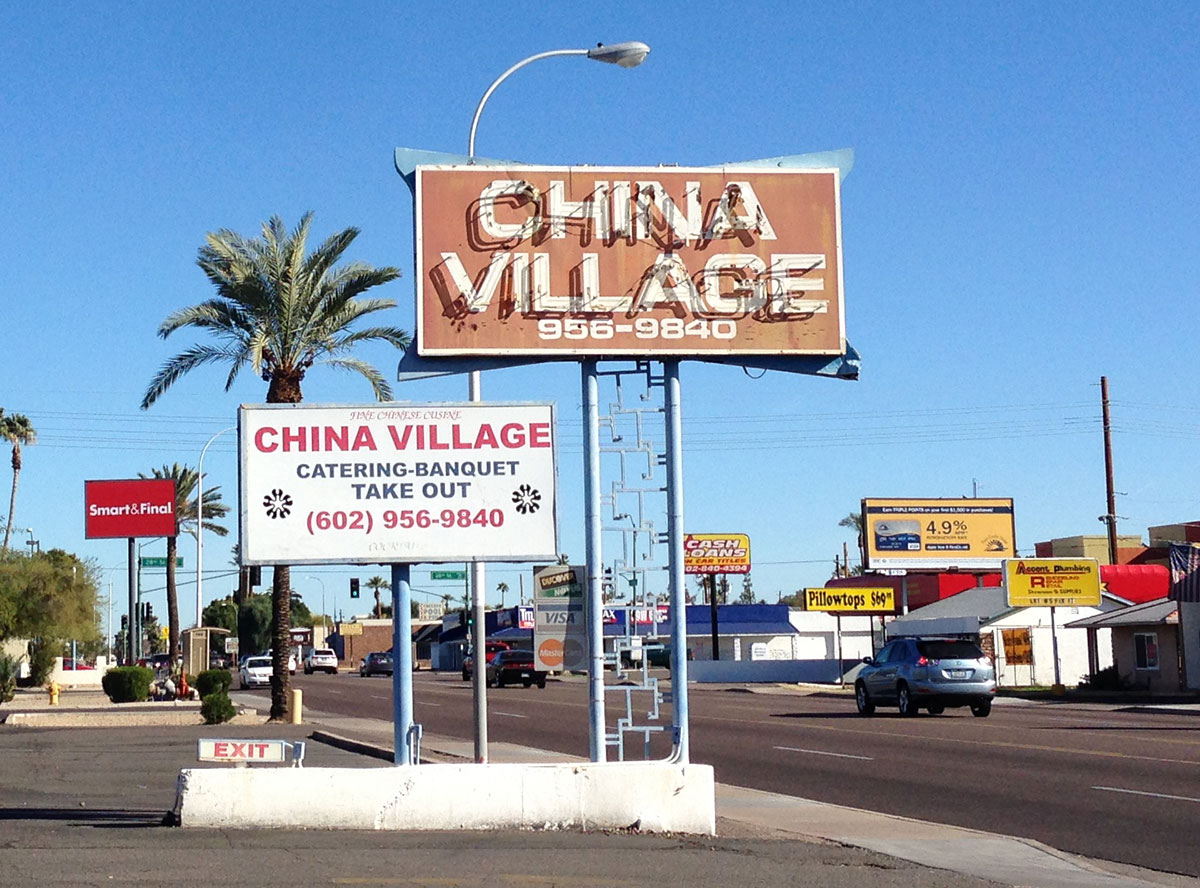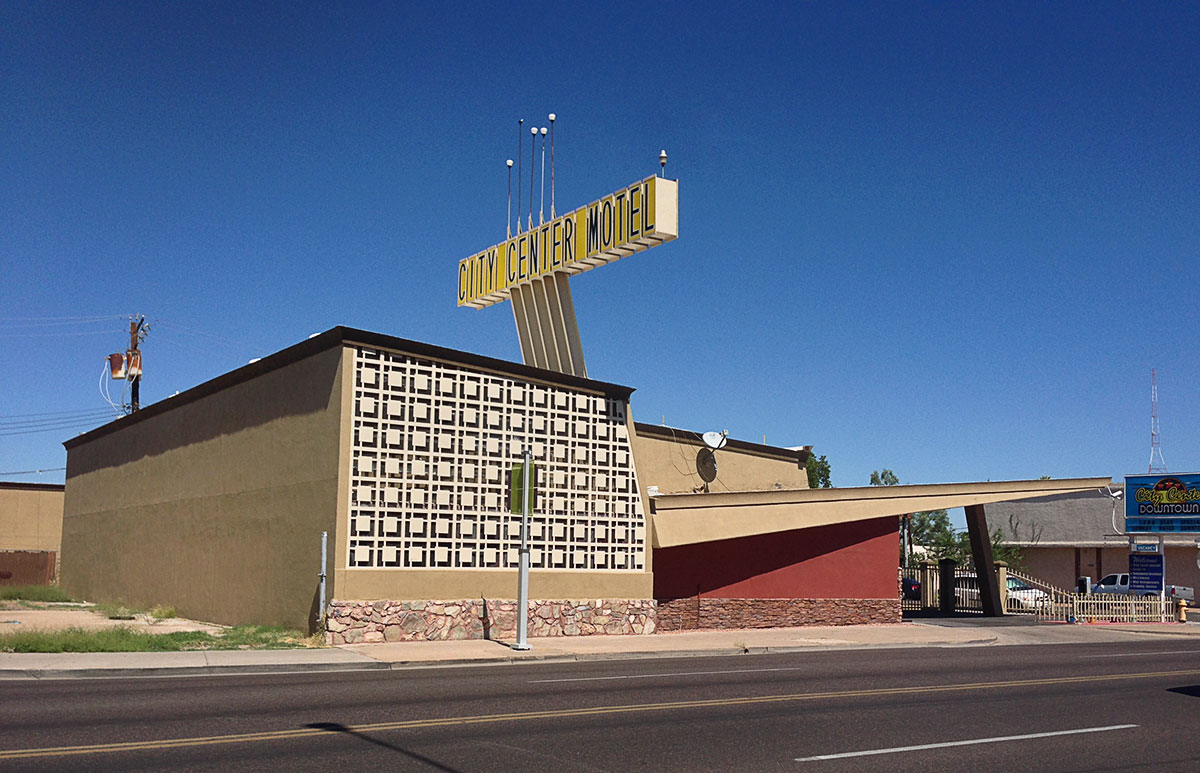 Last we talked to City Center Motel in 2014 they were on board with preserving their motel's character, signage included. However, when the motel became part of the Travelodge franchise, the yellow letters were removed and replaced with blue Travelodge branding. AVSCo purchased the huge yellow panels and they are being held for safekeeping.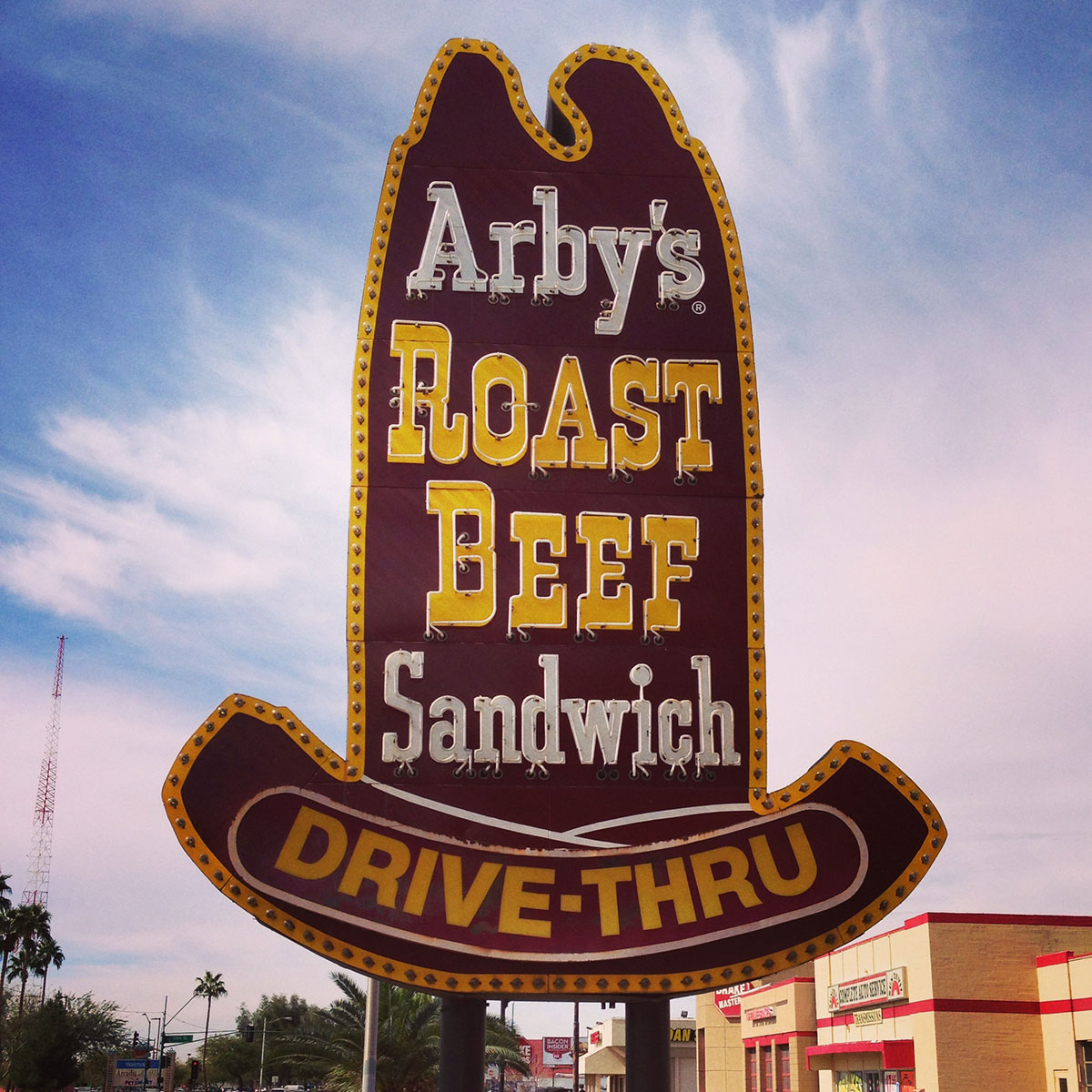 The monumental Arby's Hat is still shining strong on Thomas Road.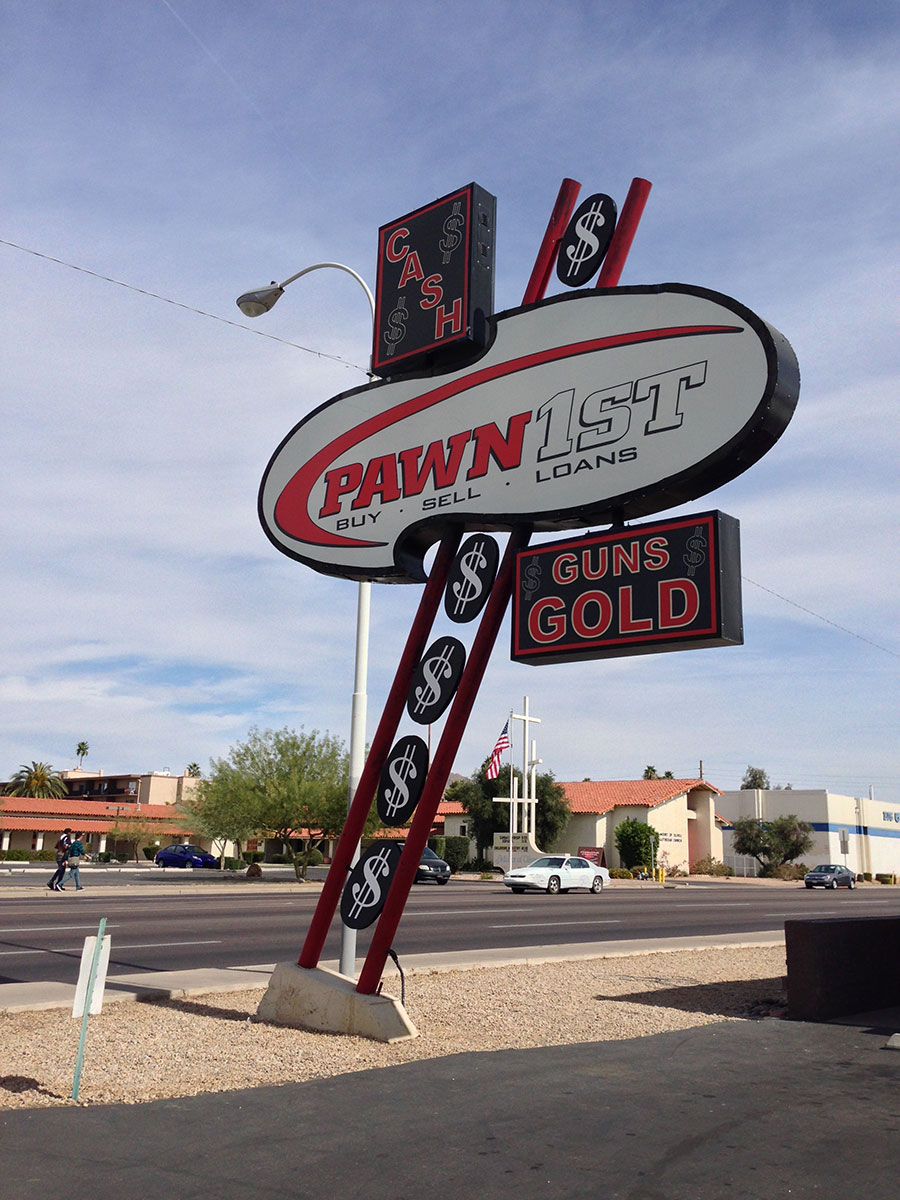 This pawn shop was Heddy's Wig Shop on east Indian School Road. The dollar sign ovals used to be round H-shapes but appear to have been filled in.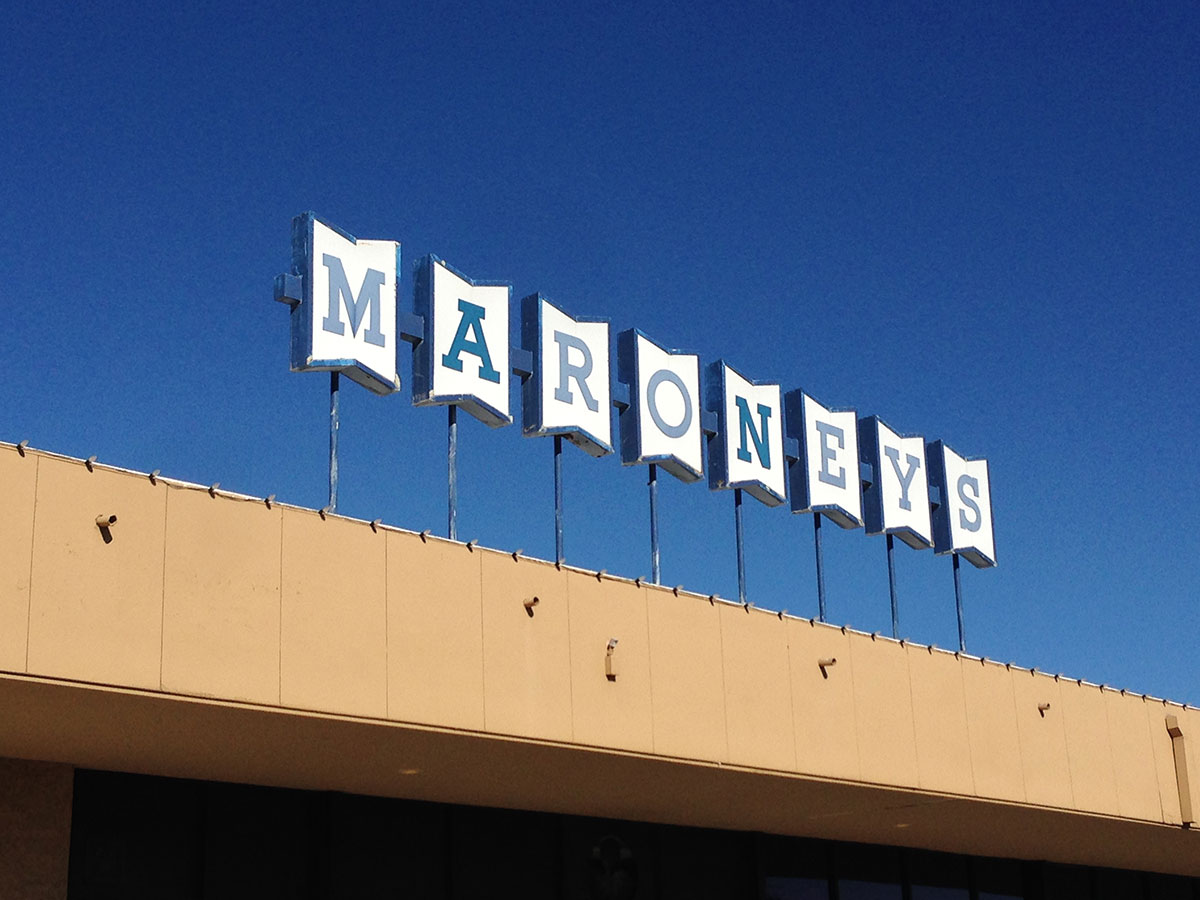 Maroney's appears to be doing great both day and night!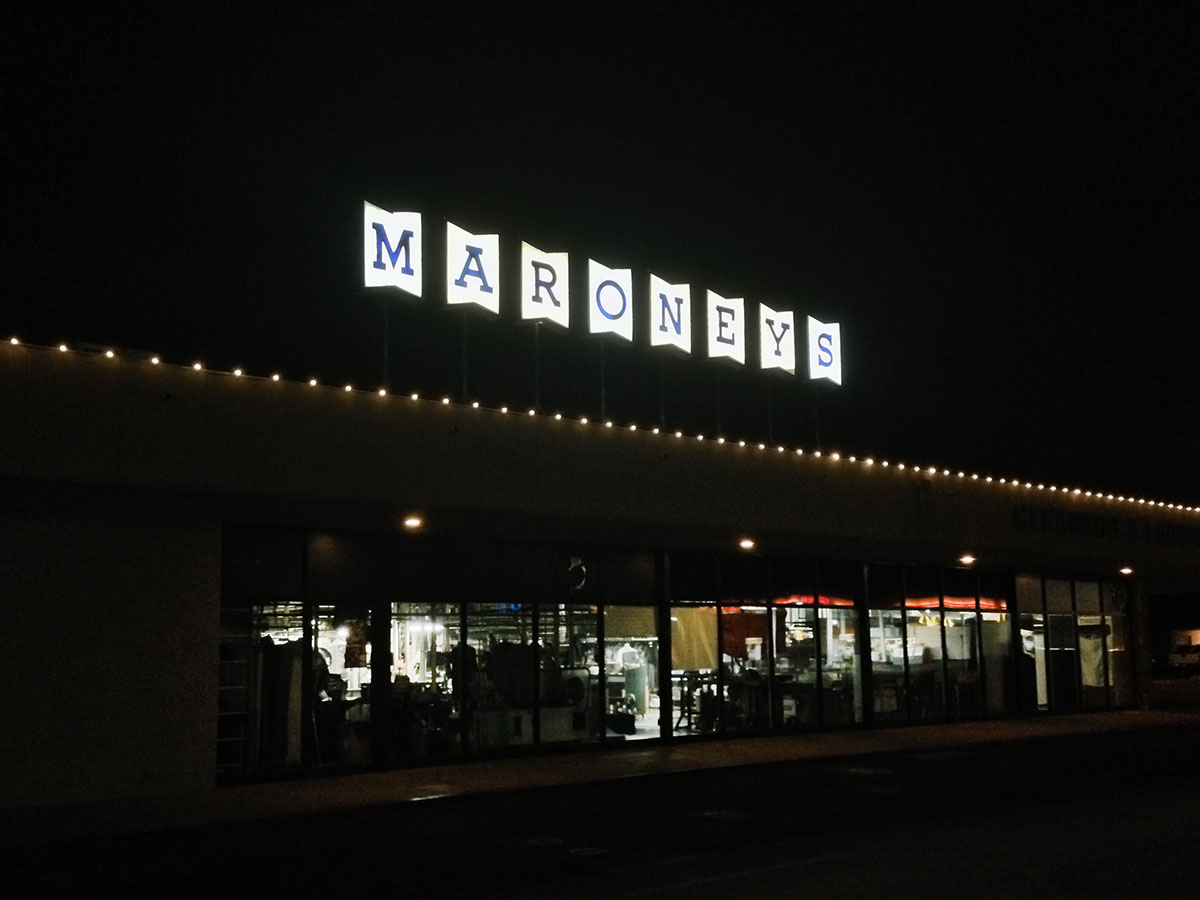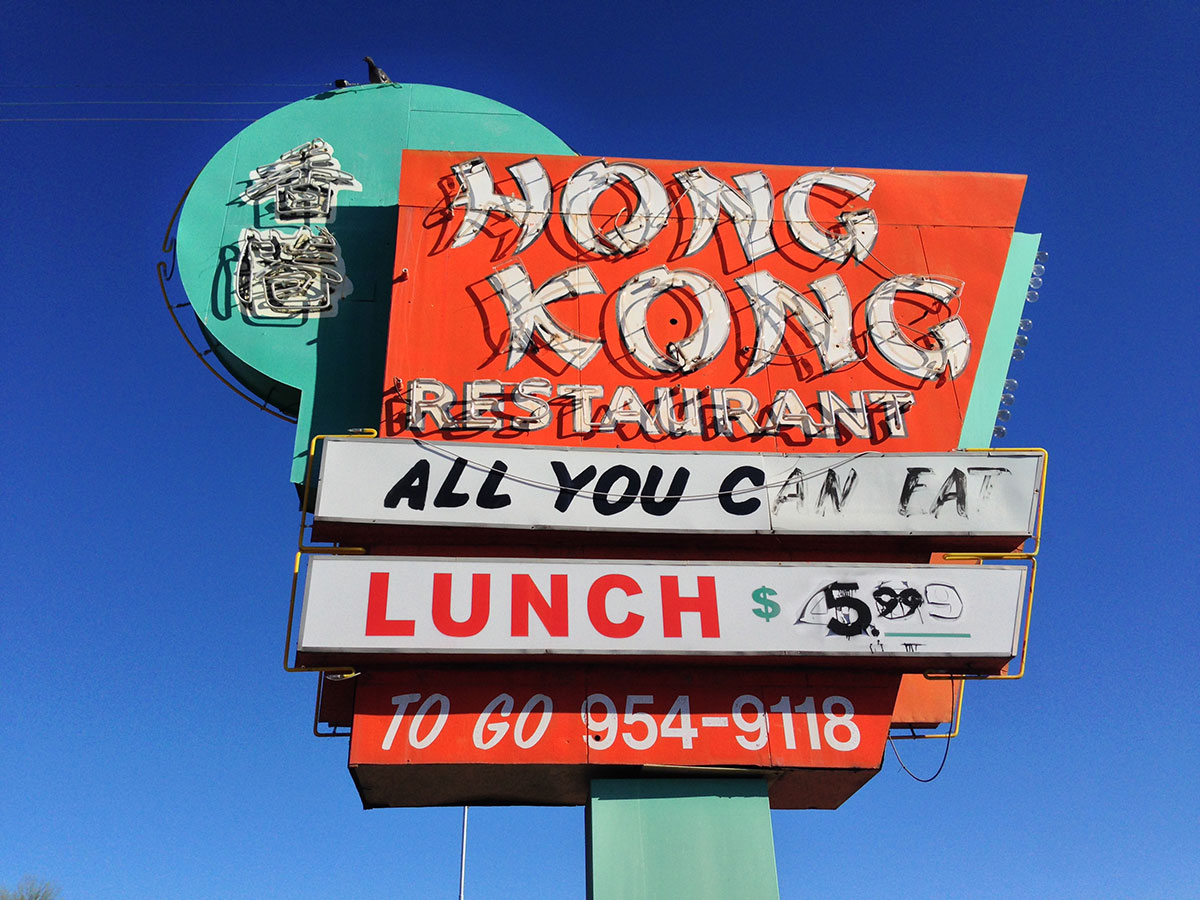 The Hong Kong sign has deteriorated in maintenance over the last few years far beyond what's shown here. Keep an eye on it.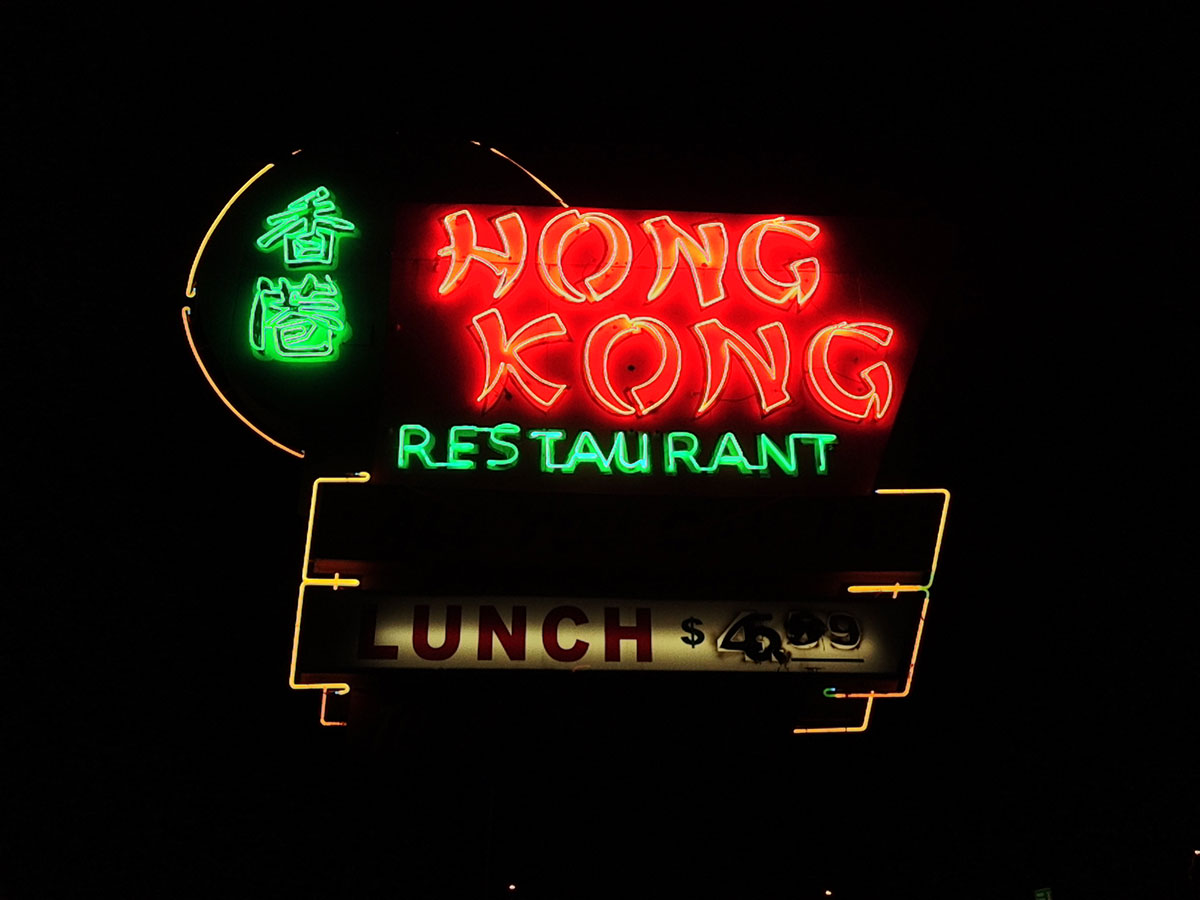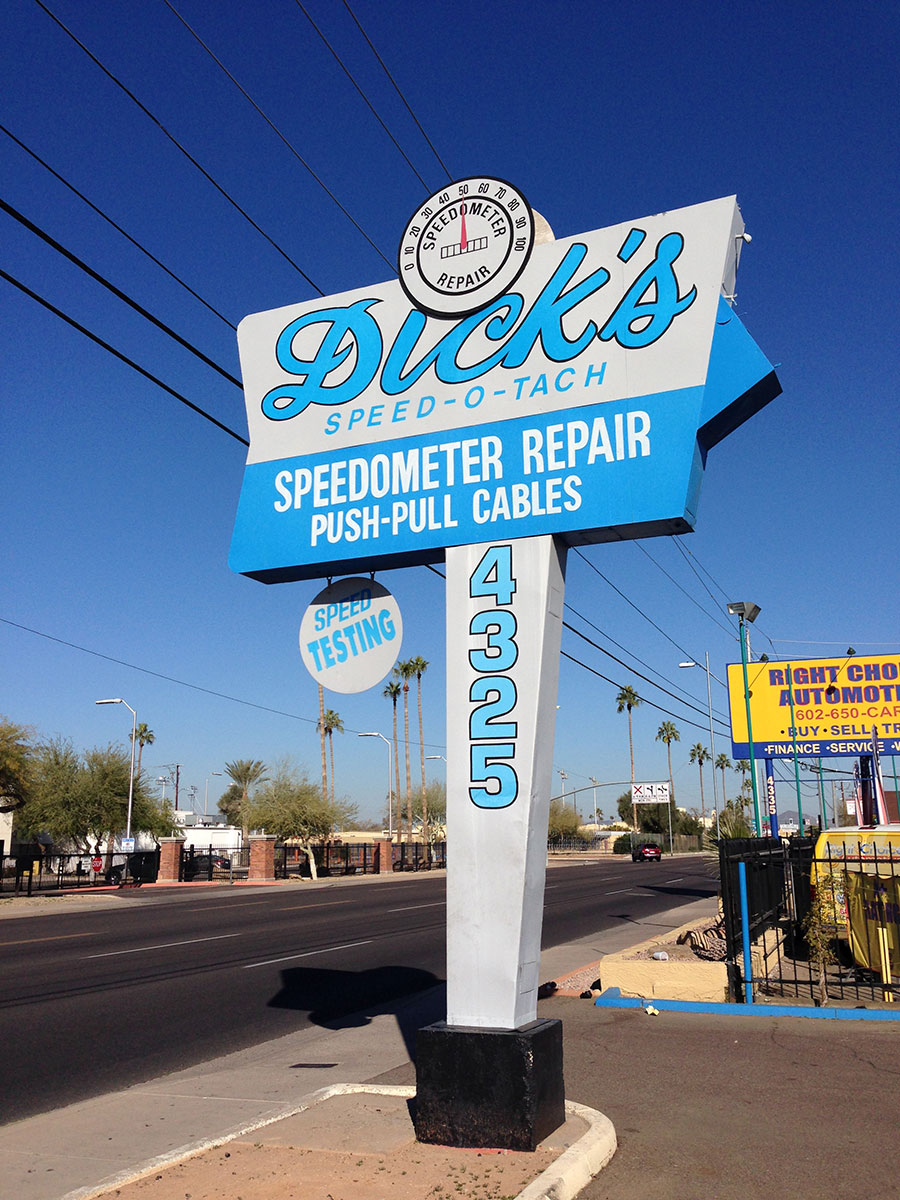 Dick's is actually a refresh of an old sign. We don't know how they got it done, but we think it is a fair treatment of a Googie style sign, given the current restrictions on signage. Good example of grandfathering an existing shape!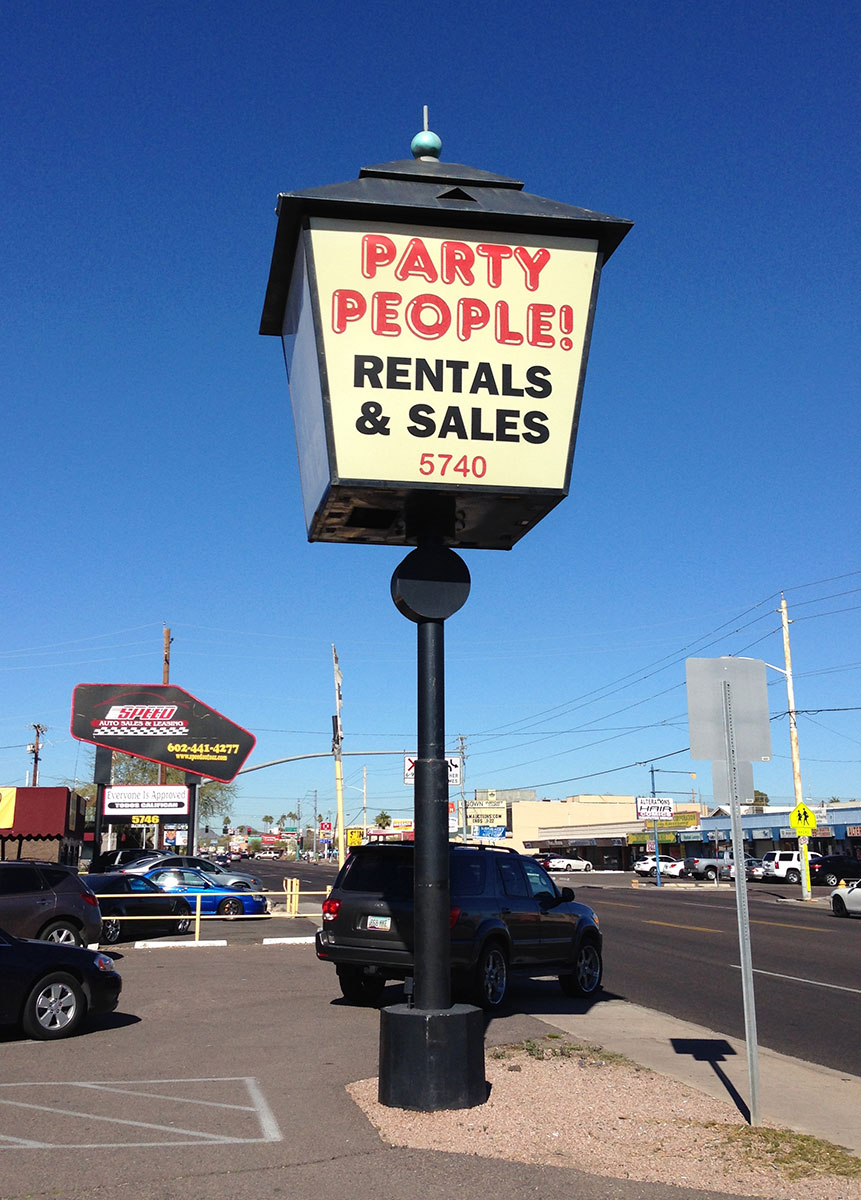 We're guessing this was a lighting store at some point, but props to the Party People for maintaining the sign this way for so long.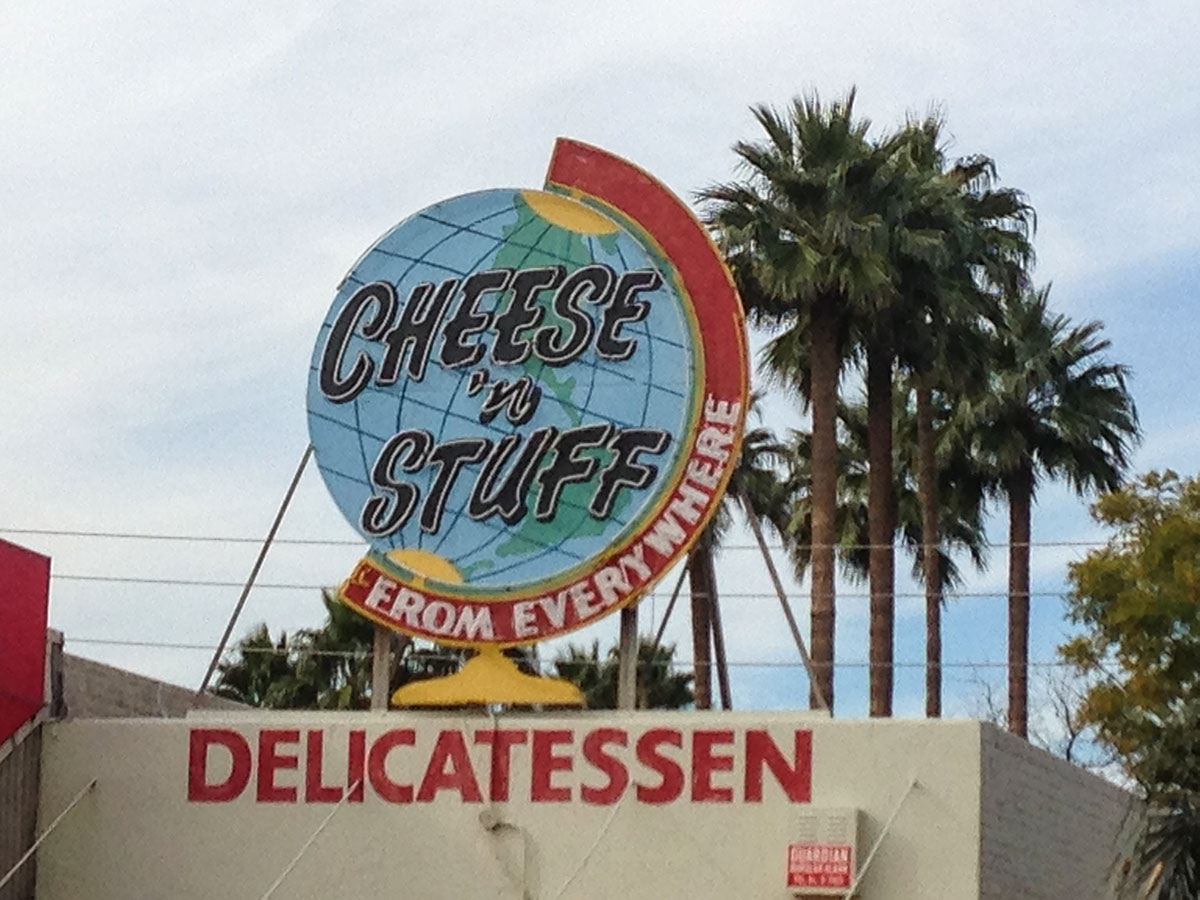 The Cheese 'n Stuff sign was dark for years, but Christy's signs repeatedly offered to rehab it for them and they finally accepted.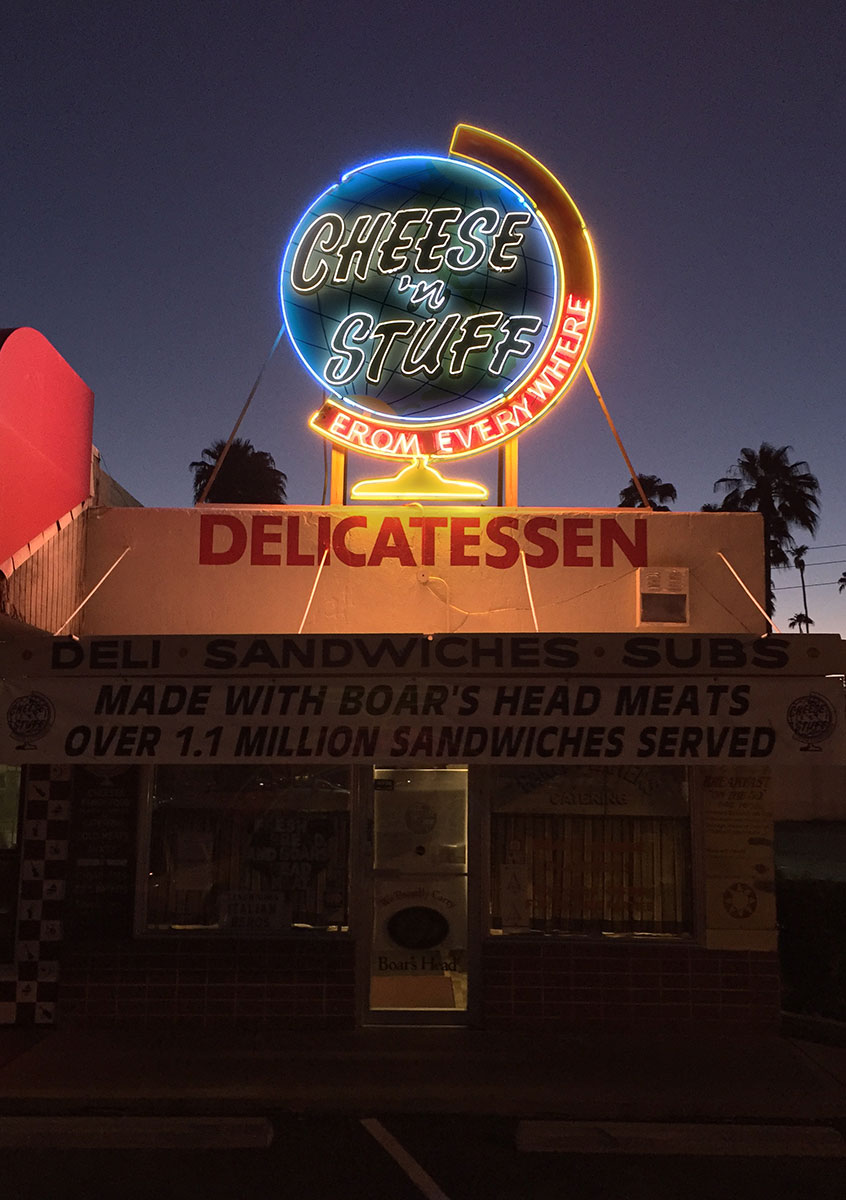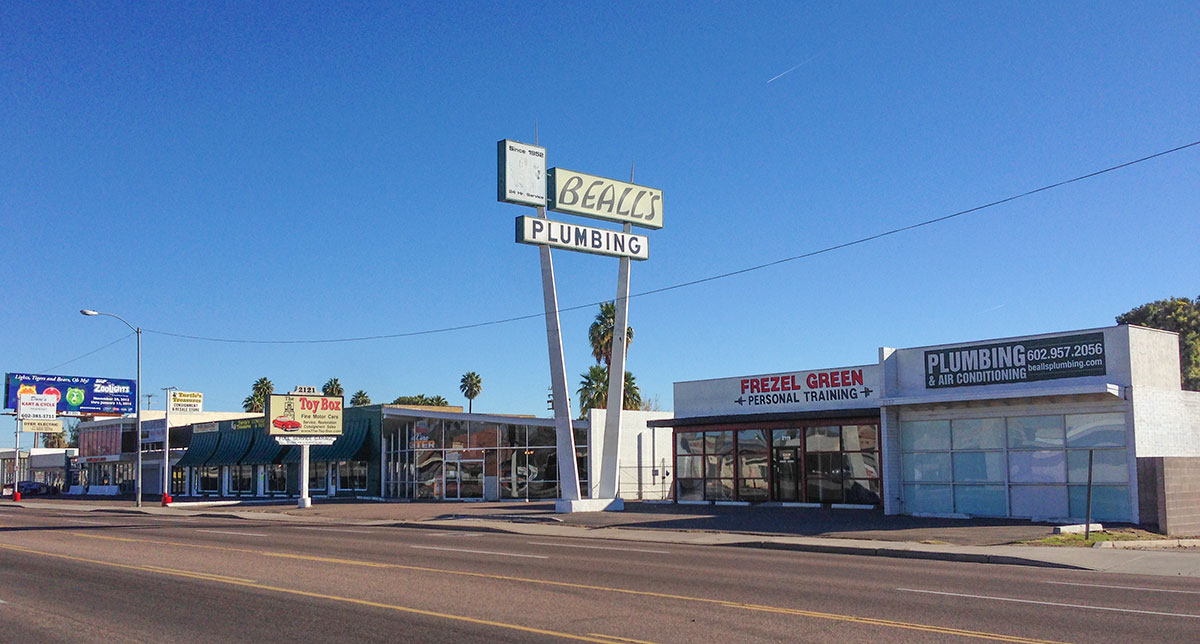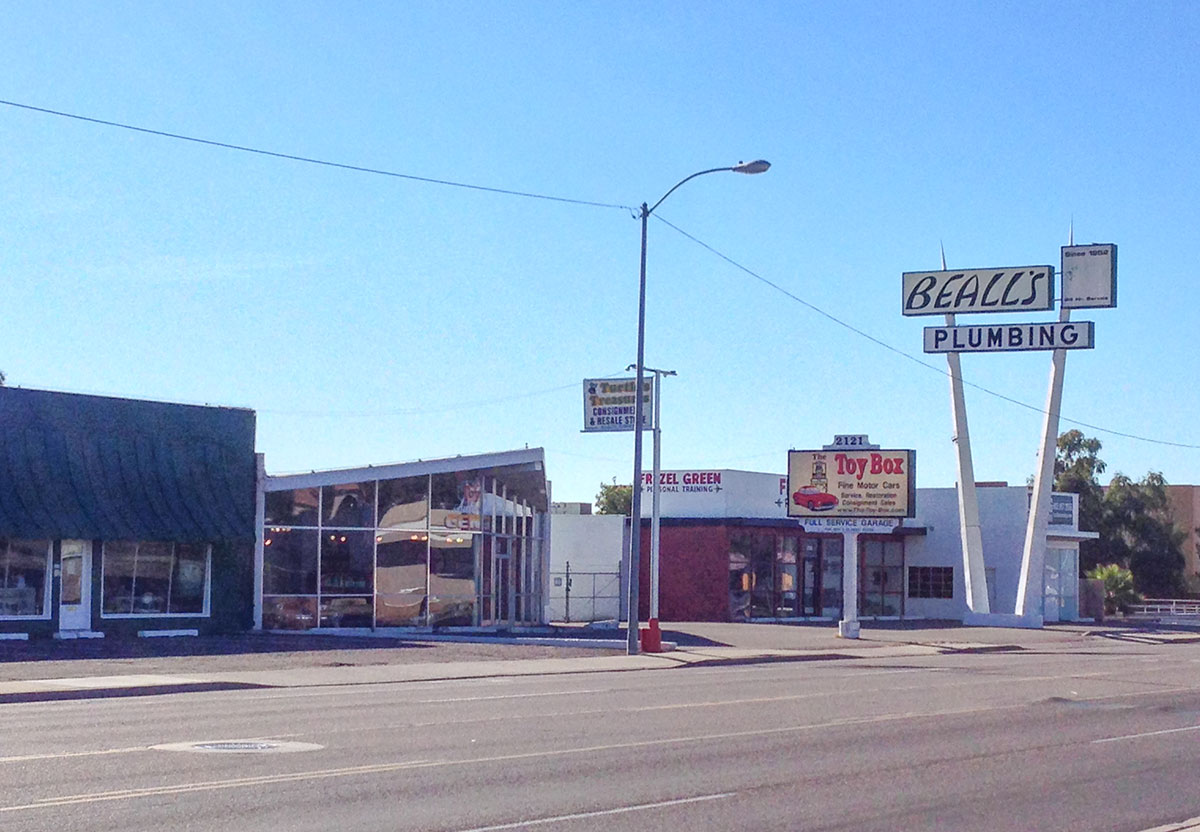 This strip of Indian School Road used to be a center for home design and furnishings, which may explain the giant compass shape. Legends and lore welcome!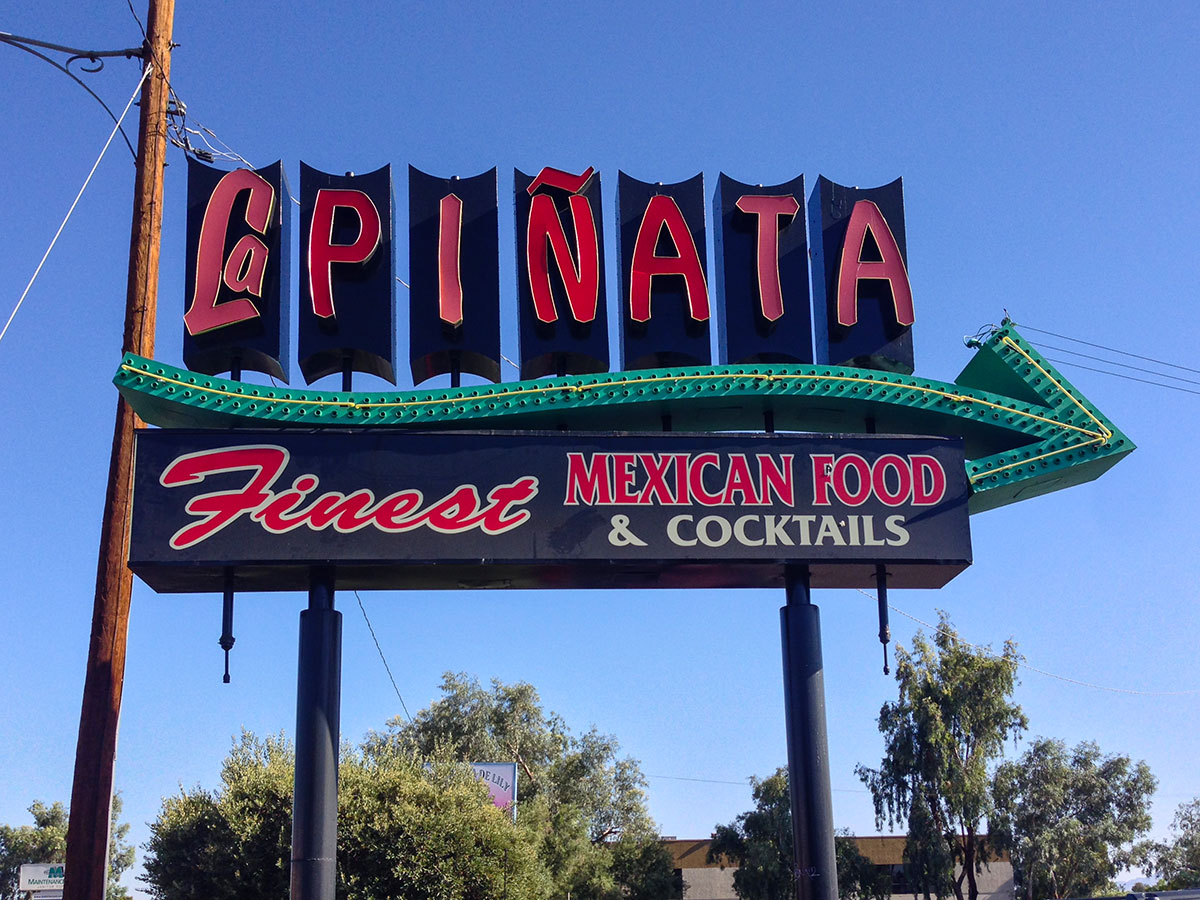 La Pinata has relocated to 7th Avenue and Missouri, and couldn't take their sign with them. Their new sign was replicated on a smaller scale with LED. We're certain than most neon enthusiasts would agree that a replica just isn't the same. The original sign has been put in storage by a local sign company until future use can be determined.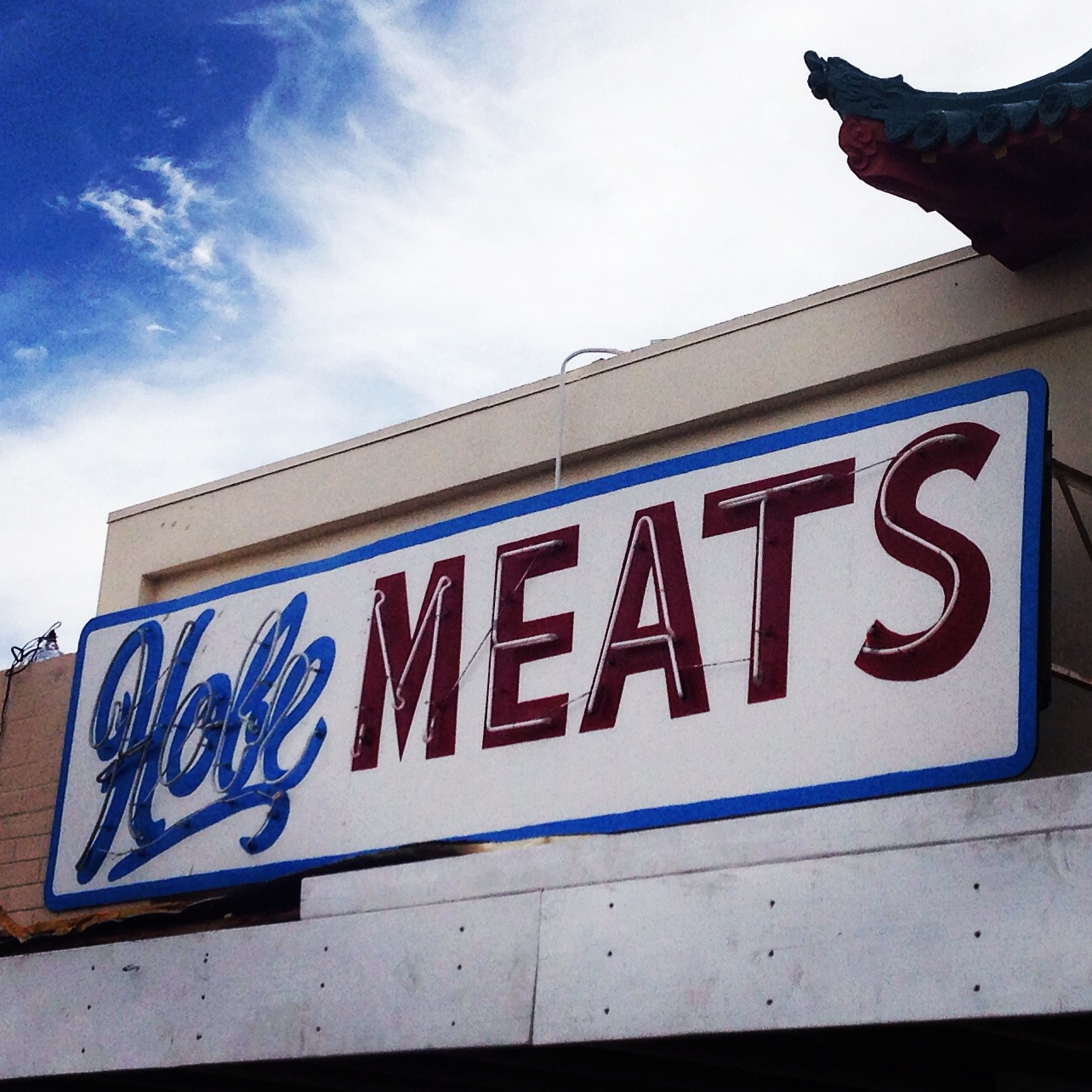 Pretty sure that Hobe is not going anywhere!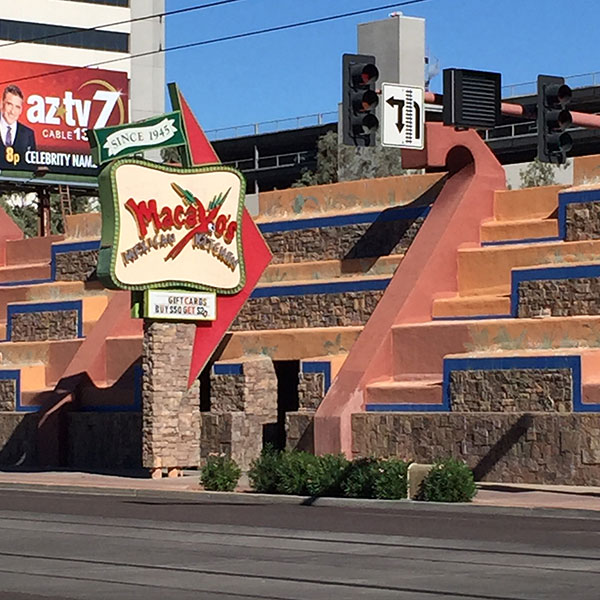 Macayo's huge sign on Central Avenue was supposed to be relocated to their new restaurant location in 2016, but that status is currently unknown.
Did we leave out your favorites?
View a much larger map of neon signs in separate window
.
Compiled by AVSC - Arizona Vintage Sign Coalition.