| | |
| --- | --- |
| Xerophytic Design Process II | |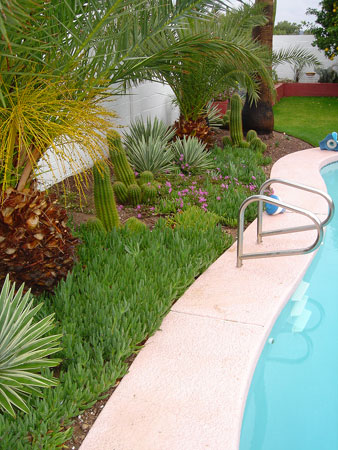 The next step is more challenging. It integrates hardscaping elements, focal points, and your plant palette with transitional spaces. As the process unfolds textures will sort themselves out. The transitional spaces take you to your next destination in the landscape. They can move you to the front door from the street, across an entryway, through a window into the garden, to the pool, past the pool, and into the hammock. The most important tool with transitional spaces is that they give the focal point strength. Their textures are complimentary, contrasting, or sculptural. The combinations can be bold yet subtle enough to still allow the focal point to have the attention. I like to take the plant list and mix and match, and then rework it again until I feel that the textures will either create the softness of an English cottage garden or have the architectural strength we strive for in modern design.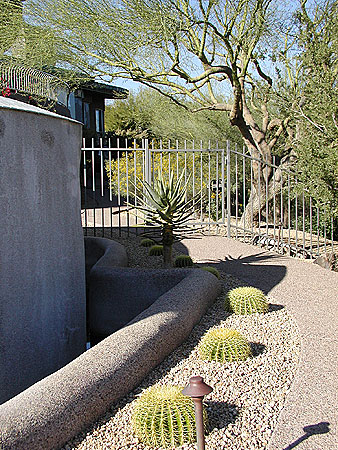 Not only is texture vital to this step, but repetition of form will make or break the design. Regardless of the theme of the garden, clearly pulling the client's eye from one "ah" to the next "oh" can only be accomplished by maintaining sight lines. Repeating an agave, pot, or grass throughout the landscape provides continuity, flow, and texture that unifies the landscape, provides clarity of design intent, and emphasizes movement either with the eye or the foot.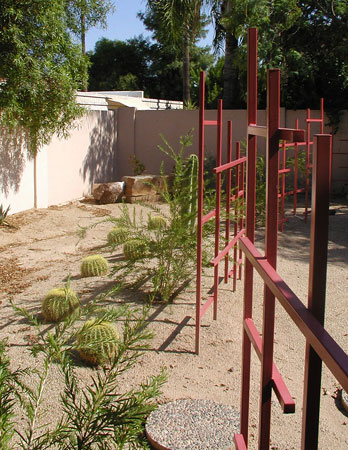 Every garden, no matter how well thought out, can always use an accent or two. A cluster of pots by the front door with bold aloes is a great start. The right fabric that for a brief moment takes your eye off the garden and makes you want to go sit down and read. A water feature trickling in the background creates a sense of calm in the garden that could tone down the brightly colored wall across from the pool. Close your eyes, think of your favorite thing, and then let me know so I can integrate it into your garden.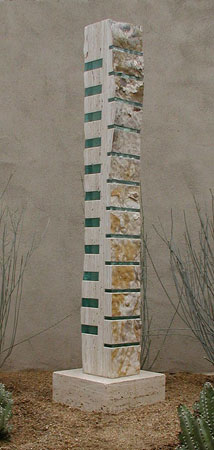 Sculpture:
Otto Rigan
| | |
| --- | --- |
| Light is often the forgotten afterthought. Light plays such a key component in our interpretation of a space. Shadows cast on a wall, light filtering through the limbs of a palo verde, or the pattern created from a trellis structure all change our mood and our comfort level in that outdoor environment. Lighting isn't just for nighttime. That is a huge misconception. Our world-famous sun is the Valley's most valuable free resource to harness in a garden. Light and shadow can affect your choices in hardscape design, tree location, accent walls, and pool position. | An easy 3D software application, SketchUp, enables armchair designers and professionals alike to pre-visualize patterns of the sun in Phoenix as it casts shadows across your landscape through out the seasons. |
The best inspiration that I have found is skimming through modern architecture books and trying to visualize the subtleties of courtyard spaces as they change throughout the day. In addition to working with daylight, night lighting is an art in and of itself. Keep in mind that less is always more -- it's the golden rule of night lighting. We are not -- I repeat -- we are NOT trying to land a plane! When I finish a project and I can't particularly tell how the garden is lit, then I did it right. Landscapes with great lighting will also create social gatherings that have better traffic flow. They draw guests deeper into spaces that were previously unnoticed. My favorite light is a post light. It's simple, clean, small, minimal, yet gives off enough glow to light the way up a path, around a corner, or see the numbers on the street address. Playing with beam angles, filters, direction, bulb wattage, and colored lenses all dramatically change the feeling of the space. Try out different fixtures. I will often attempt to light a tree, and then weeks later drive by after dark, and realize that moving the fixture two feet would illuminate the tree silhouette better, reduce glare, or catch a shadow across a wall that I never knew existed. Experiment, and then try something else.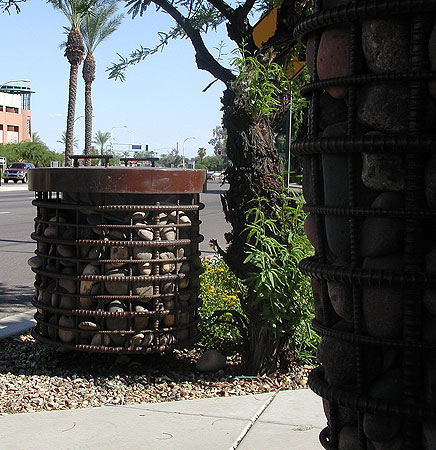 Design:
Kevin S. Berry
?
I believe that a major shift in landscaping style is underway. My hope is that this shift will help to create "local color" for Metro Phoenix. Rusted steel, native plants, funky art, restored buildings, and innovative designs are being used city wide to create a new look. The goal of designers in today's fast paced world, is to create long lasting local color that harmonizes with historic, present day, and future homes.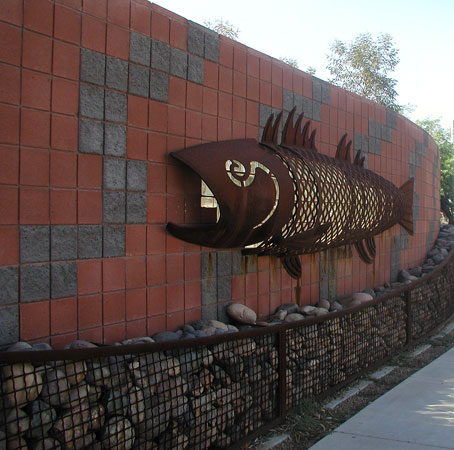 Design: Kevin S. Berry
There are numerous designers leading the way. A few that have inspired me are Christy Ten Eyck, Troy Bankord, Carrie Nimmer, and Steve Martino.
Every good designer must also have a handful of artisans and craftsman that can bring their vision to life. Some amazing artisans and vendors that I have had the pleasure of working with are Davis Salvage, Relics, Oest Metalworks, Mitchell John Interiors, and On the Veranda.
Not all of these designers and craftsman are prominent figures in Modern design, but when it comes to creating local color and maintaining the integrity of a community and home, I truly believe that they are all great resources.