From Modern to Moonscape
to MoCo: A Brief Background on Landscaping Trends in Phoenix



The roots of xeriscaping in The Valley of The Sun can easily be seen in photos from the 1950's. Home after home preserved the native desert in the front yard landscape. In some cases new plants were added, but throughout numerous older neighborhoods on the perimeter of preserve areas, it is easy to see the original native landscapes with saguaros, ocotillos, creosotes, red barrels and hedgehogs. A mixture of Mexican fan palms, olive trees, mesquites, and palo verdes made up the canopy layer.

As Phoenix's population started to boom, landscaping began to become more deliberate and more costly to the environment. Citrus was planted, privet and oleander hedges lined the streets, and grass unfortunately started to show up as the norm. A drive through some of Phoenix's historic districts shows ample evidence of this trend. Transplants to the Valley really wanted to re-create the familiar grass lawns and lushness of the gardens they enjoyed back home.

Many transplants originally moved here to escape asthma, to help allergies and to live in the dry heat that was said to help Tuberculosis. Little did they know that some of the common landscaping plants being used widely in Phoenix were also an irritant to the respiratory system.

Modern Phoenix's longtime favorite modern neighborhood Sunnyslope once centered around Desert Mission, a Tuberculosis sanatorium! Healthseekers flocked to Sunnyslope for its dry and therefore"healthier" air. To this day it features several creative examples of both formal modern and more natural drought-tolerant landscaping nestled in a stunning mountain preserve setting.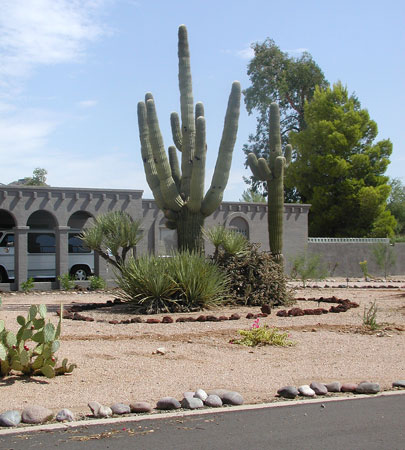 Unlike Los Angeles & Palm Springs, where the mid century modern movement was gaining momentum, interior and exterior spaces were seldom integrated in the typical Phoenix home. There was a clear distinction between home and the desert surrounding the livable areas. Backyard and frontyard spaces just did not seem to get the development that pulled them back into the home's architecture.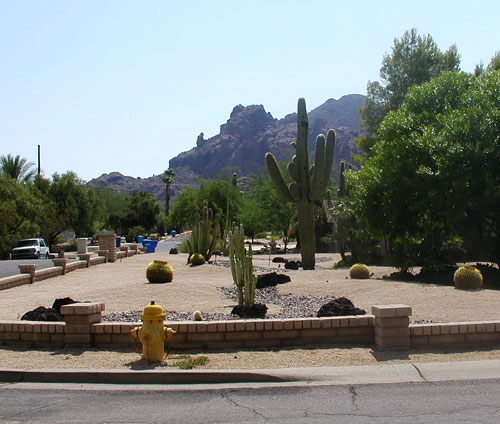 As Phoenix moved into the 1970's, a different type of indigenous landscaping emerged. It seems easy to classify it as "moon-scaping", given the sparse, monolithic plantings that are evident in some Paradise Valley neighborhoods. The creosotes, hedgehogs, and red barrels gave way to open areas with Joshua trees, golden barrels, banana yuccas, and columnar cacti species.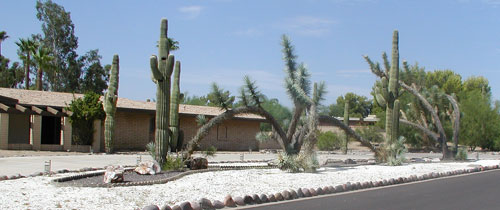 Desert varnish rock was no longer the top dressing, but was relocated as a border to define spaces and enclose landscaped areas. White gravel became the top dressing of choice. In Sun City artificially green gravel was not uncommon, reminding residents of the greener grasses of home. Gleaming, sparkly and highly figured accent stones were strategically strewn about the space. Dark basalt and deep red lava cinders provided porous moonlike textures.
As all trends come full circle through the ages, some of these formal, upright monolithic landscaping principles are currently enjoying a revival in a contemporary context, such as in Mr. Natural's 2005 Desert Aquarium.
As Phoenix residents rediscover their goldmine of mid-century modern properties, they are presented with the opportunity to make over some of the poorly-planned sins of the past and create sensitive, stylish landscapes that maximize the use of native plants as well as some of the newer, highly sculptural plants such as African Euphorbia previously unavailable in decades past. In the pages that follow I'll use photos of my own designs and others landscapers in the Valley to illustrate a how to put fundamental xeriphytic landscape design principles into action for your modern, contemporary or historic home.

Xerophyte: A plant adapted to a dry environment

Xeriscape: A Trademarked landscape method that uses drought-tolerant plants. Used here with a lowercase x, we refer to low water use landscaping.