| | |
| --- | --- |
| Xerophytic Design Process I | |
The major design components I consider in making the ultimate design are simple.
First of all, what is the theme of the garden going to be? Creative thinking, intuition, local color, or even historical restoration will all lead to inspirational designs. However, for some of us, sticking to a basic theme and finding examples in books, on-line, or on garden tours can really help to kick start the visualization process.
Some common garden themes include zen, minimalist, contemporary, modern, English cottage, tropical, native Sonoran, desert, gnome & mythical creatures, rock garden, conifer, or eclectic. My personal style and flexibility makes the use of succulents compatible with any of these themes.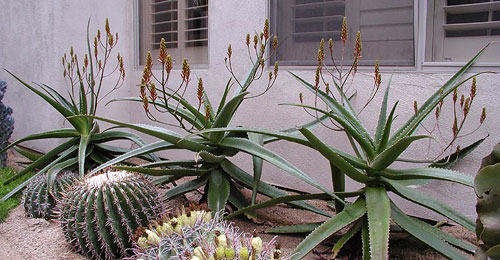 The second component is analyzing traffic flow. How are you going to move through the landscape? This concept brings the hardscaping elements like overhead structures, walkways, screening, transitions into interior spaces, pool layout and access, as well as play areas together. It is not necessary to pick specific materials at this point, however utilization of your space is essential. Common items that I design into spaces are dedicated play areas, putting greens, meditation spaces, greenhouses, spas, pools, entertaining and dining areas, color pots, succulent pots, and water features. The major concern is the fluidic movement throughout the space. Avoid dead ends if at all possible. Creating harmony with the home is the essential objective.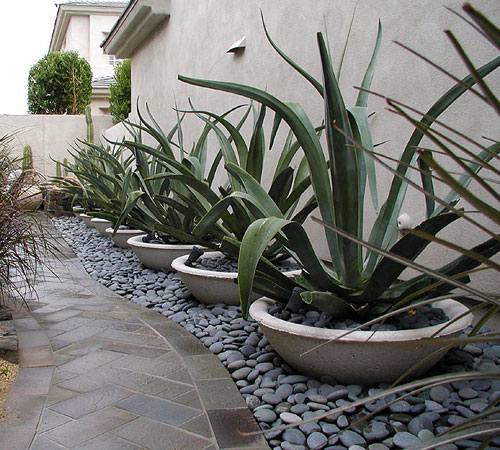 After creating a theme, specifying hardscaping elements, and determining the traffic flow; its time to start selecting plants and accents that will fill the garden. I start with a simple concept: it's all about focal points. Whether you are integrating interior and exterior spaces, driving up to the home, walking to the front door, stepping out onto the back deck, or carrying that first glass of wine onto the exterior dining area; what is the first thing you want to see? What element would pull you to the back of the property to experience the entire garden, not just the views from the interior windows? This is your focal point. It really is the backbone of the garden. Exterior spaces require an anchor to set the stage for what is yet to come. This can be a sculpture, art, water in any form, a tree, a bonsai shrub, a cluster of pots, a specimen cactus, flowering tree aloes, a gazebo, a shed with crazy art and steel on its sides, or anything personal that helps make your space one-of-a-kind.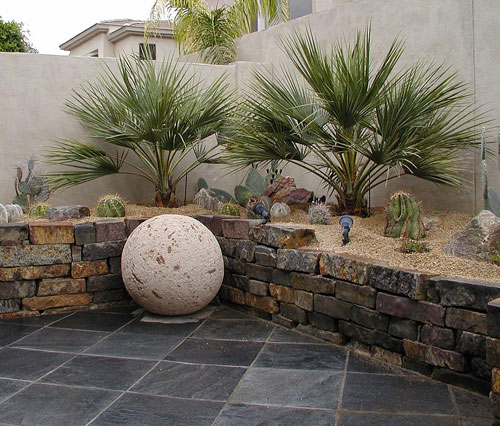 Creating a clearly defined plant palette is the next obvious step. Re-examine the theme. What plants are typically seen in these designs? What plants will survive here in the heat of the summer? What plants am I comfortable replacing annually if necessary? As this list unfolds I always flip through books, check my personal plant palette, and go visit Baker Nursery. While they do not carry every plant that will grow in Phoenix, they surely come close.
It's easy to forget one or two tried and trusted plants that will guarantee success in your landscape. Take an hour, walk the nursery, write down or photograph everything that you like. Then step back and see how these plants could enhance or take away from the design. I always tell my clients, "If that plant doesn't turn you on, I'll go pick another". You are going to live with these plants and I hope enjoy them for years to come. So pick something amazing that makes you smile every time you see it.