Select Commercial Architectural Designs by Haver, Nunn & Associates
By Alison King, Founder of Modern Phoenix LLC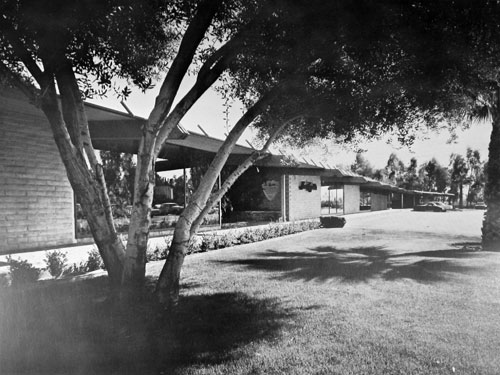 Ralph Haver's firm had the special distinction of being one of Arizona's premier furniture store designers. Their portfolios list over 26 individual stores or phase additions up until 1967. One of the finest remaining examples is the original Lou Regester furniture store of Uptown Phoenix, which narrowly escaped demolition with the development of the Highway 51 overpass near 20th Street and Camelback. It maintains the low-slung profile of regional ranch homes, only on a grander scale. Most distinctive is what was described at the time as an "18th century revival mill-floor roof". Today this commonly called a Copenhagen Ceiling in architectural and real estate jargon. Rustic wooden two-by-fours of varying quality and length were nailed together crosswise to create a rugged yet modern ceiling effect. It is a technique used with great effect in some of the custom Haver Homes of the same time period. Large-paned windows facing Camelback road feature a staggered pattern commonly found in other Haver architecture such as schools and churches.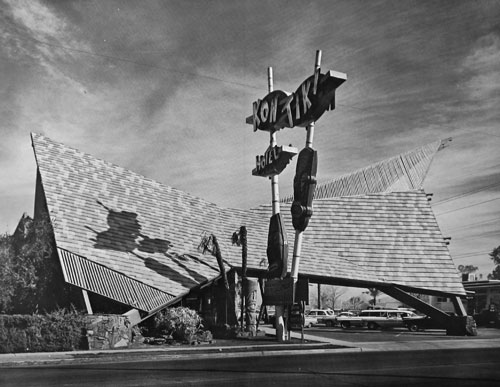 This iconic traveler's motel was located along the Van Buren Strip at 24th Street in Phoenix. It featured a swooping Polynesian profile roof of slatted wood. The dramatic entryway beckoned those traveling through Phoenix by automobile. It was a popular winter resort and ran brisk business in its themed restaurant. The colorful molded plastic signage was designed by prolific Phoenician sign designer Glen Gulette. Jimmie Nunn credits the general look and feel to artistic director James Salter AIA. It slowly fell into the same demise as many hotels along Van Buren (though not as steeply or raunchily) and was demolished around 1994.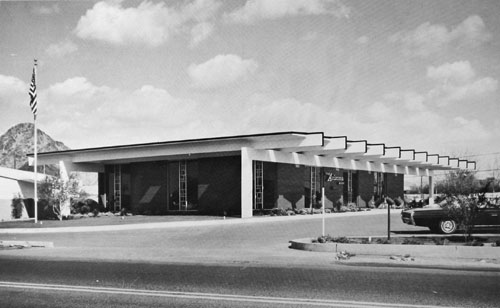 1961 Arizona Bank branch
This award-winning bank branch was one of many built citywide by the top firms of the area in the 1960s. It is most notable for its angled position on the lot, allowing passers-by to catch a better glimpse of the building's beauty from the comfort of their automobiles. It is a demonstration of state-of-the-art engineering with huge pre-stressed concrete Tees painted gleaming white to contrast against Arizona's famously blue skies. Massive concrete beams support the entire weight of the structure; there are no load-bearing walls. Most notable is the egg-carton style cast concrete block structure in the center of the bank, which acts as the vault. Today it is the wine cellar of The Vig Uptown restaurant, which is responsible for the building's adaptive re-use in 2010.