Banking on Progress:
The History and Future of the Valley National Bank Buildings in Phoenix
Story and photos ©2006 Walt Lockley. Additional photography ©2006-2016 Modern Phoenix LLC.
The Indian/Central Branch
Based on some previous descriptions, I'd run by this former Valley National Bank branch at Indian School and 3rd Avenue on a Saturday morning expecting to take some photos of the exterior, and photos of the homeless slumped against it, expecting a closed and dirty endangered building, another chapter in the sad narrative called "experiencing-Modernism-as-a-series-of-losses".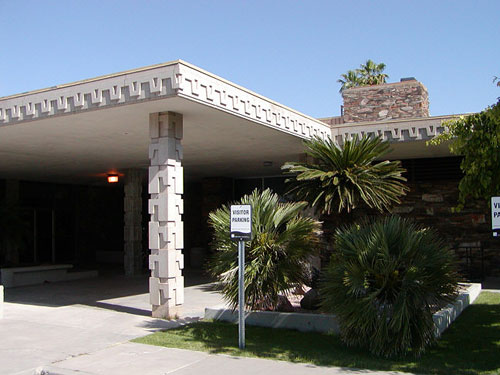 But the front doors were open, pickup trucks outside, construction crews at work. I took a few pictures before a friendly figure ambled out to meet me, we introduced ourselves, and within 45 minutes I'd met the new owners, gotten a thorough building tour and a look at the original plans, and an introduction to a seriously great renovation of a seriously great building.
And a happier storyline.
The exterior of the branch now occupied by Hoskin Ryan Consultants is currently unmarked and modest with a low profile, literally. It's easy to overlook, across Indian School from Arizona Art Supply and its otherwise-dead strip mall (I worry about Arizona Art Supply), and bordering a large sizzling parking lot. Not the best urban context. In a car approaching from the west the view is blocked by an auto dealership.
Even when your attention is directly drawn to the bank, even after you've noticed the stonework and the signature cast-concrete columns, it doesn't assert its identity. There is no main entry, no face. Only after you've walked around and strolled through and understood the whole design does it become beguiling, akin to discovering that without her glasses, your lab assistant Miss Katz is not only beautiful, but has firm biceps and speaks fluent Italian.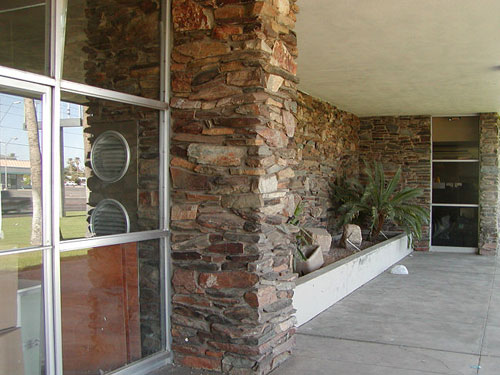 The design dates from about 1962 according to my tour guide, although the mechanical plans are dated 1956. My own guess is 1958-1959. The designer was Herman Jacoby, of Weaver and Drover. There's a concrete brise-soleil on the western exterior, a deeply shaded entry on the south, a sort of courtyard on the east. Instead of one main entry, customers would have been able to enter from the north, south, and east sides, which strikes me as an un-bank-like traffic pattern.
There's quite a bit of sprawling empty space. With those stonework walls inside and out (surrounding the former vault, for instance, and separating the main banking floor from the backoffice), and those cast-concrete columns inside and out as vertical punctuation, and the building envelope enclosed in glass -- this spread-out, spacious, rambling nature, its horizontal rhythm, its open relationship to the surroundings, and a feeling of, I don't know, a relaxed kind of affluence.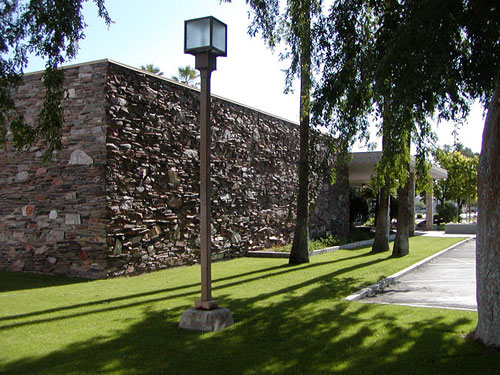 In the original design there was a major piece of art behind the tellers. Most, if not all, of the VNB branches had major pieces of art. On the main banking floor I'm guessing the tellers would have faced east. Not sure; the furniture is of course long gone. Here the big artwork would have been the colorful natural locus of the entire building - it was a series of square glass panels in single colors, a very Midcentury sort of artifact that's easy to imagine, somehow reminiscent of DuPont and Corbusier and UNESCO and an entire modernist Zeitgeist. Also long gone.
...but safely in storage. And destined to be proudly displayed somewhere in the building.
Which brings us to the renovation.
(Paul) Hoskin and (Tom) Ryan Consultants, engineering consultants, have owned this building since about June 2005 and have hired local architect Jack Black of OWP/P for their renovation. They look to be about 75% done.
My tour guide was totally impressed with Black's work and for good reason. They've dedicated the former bank vault, situated on the northeast corner of the building, to printing and archiving their design plans. (There's a funny little cylinder on the side of the vault; if you got locked inside, you could telephone for help, then operate a hand crank that would extend the cylinder so you could get air through a tiny hole.)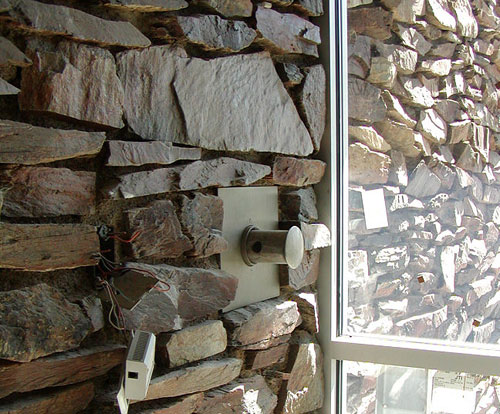 Black's work has introduced curves into this otherwise-rectilinear design, for instance curves in the carpets, in the ceilings, and a beautiful choice of those shiny nautical-looking air vents.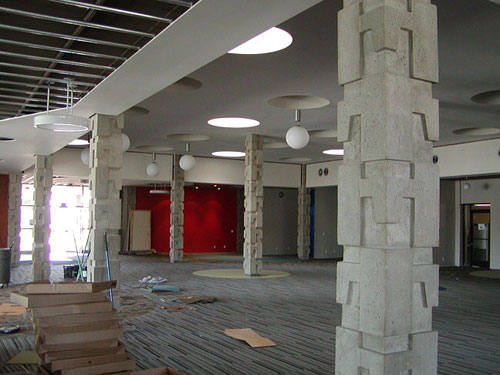 They pulled down a drop ceiling in the main banking room to reveal a beautiful series of cylindrical skylights, defining the bank's central area, its sunny core. (Unless I'm mistaken, the only original curves in the building.) In the renovation some of the skylights have been covered over and hung with expensive and fragile big white Italian globes. It is this room, with the combination of the signature columns and the skylights and the globes, the Modernist vibe is the strongest, the New Frontier buzz running at about 200 watts.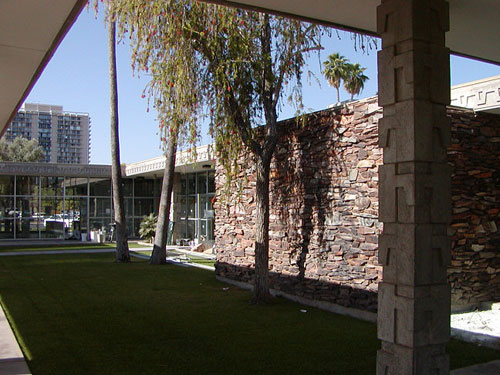 Outside, more confirmation that there IS such a thing as vintage landscape design. Certain plants go out of style for no good reason. From this early 1960s era you'll find a lot of juniper, myrtle and dwarf orange prescribed by landscape architects, now out of style. ASU has a nice collection of obviously-vintage plantings, especially around the Gammage. In some minor miracle this branch still has its original landscaping job with grass and sod - they have the original plan - which includes a healthy Callistemon viminalis, a weeping bottlebrush, whose red blossoms are now ignored by landscape architects for no good reason, because it's a beautiful out-of-style tree. My guide remembered a set of lovely and huge examples of Callistemon viminalis in a Smitty's parking lot nearby, six or eight of them, ignorantly cut down one day.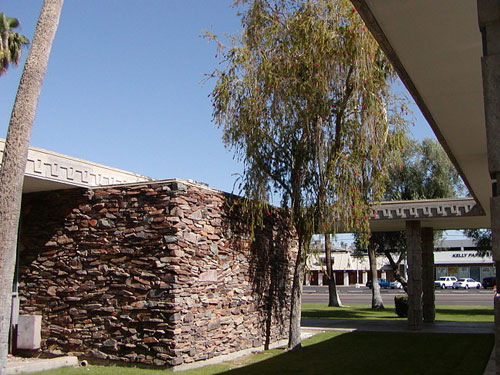 But those losses belong to a chapter of the other sad narrative, the one about Modernist loss and regret. This is another story completely. Paul Hoskin, Tom Ryan, Jack Black, Russell MacDonald, thank you.
For more recent photography of this VNB visit our tour page from 2013.
Banking on Progress:
The History and Future of the Valley National Bank Buildings in Phoenix
Story and photos ©2006 Walt Lockley. Additional photography ©2006-2016 Modern Phoenix LLC.