Campus Homes at Roosevelt and 13th in Tempe
Photos and story by Vince Reiselman
Editor's note: We've long suspected that these are Haver Homes, just haven't been able to confirm in any substantial enough way just yet. That's okay, we're still working on it. We do know that Haver worked with Del Webb, we just can't call the connection as a sure thing just yet.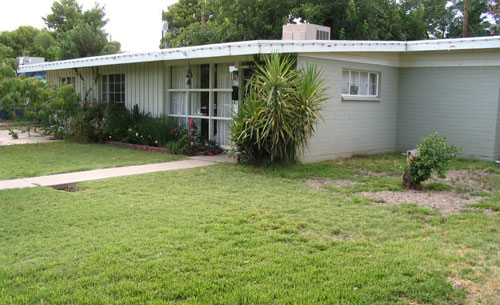 I recently lived in a Del Webb neighborhood in Tempe that is just like
Camelback Park Estates
. The development is called Campus Homes. The perimeter is 13th street on the north to 17th street on the south from Roosevelt on the west to Farmer on the east. Del Webb built an entrance monument to the development and for years it has been called
"Camus Homes"
after someone stole the "P" out of Campus. I always add the phrase
"the best in existential modern living".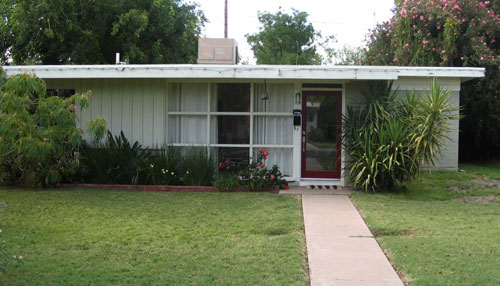 I bought in this neighborhood because I liked the style of the houses. Unfortunately because it is so close to ASU there are a lot of rentals and no one has recognized this area as a cool place to live except investors. These houses are really simple, 3 bedrooms and 1 bath some models have 2. The kitchen has only 9 feet of metal cabinets (mine have over 7 layers of paint on them). My property had been a rental for some time and after doing some research I found out that the Gin Blossoms and the Band Azz Izz have lived in my house. Also Ladmo of the Wallace and Ladmo show lived one street over until he died a few years ago. This year my house will be 50 and I had intended on renovating but investors keep buying up everything around me, letting the properties slide.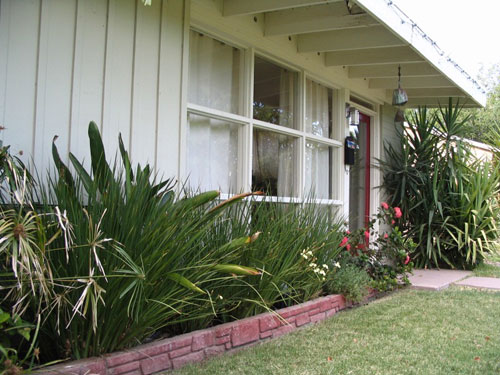 I found out that my neighborhood was the first tract housing development ever built in Tempe. I contacted Del Web Foundation to see if they had any promotional stuff and they didn't. I know if I did a little more searching I could find something in the Tempe tribune. Someone in the neighborhood is currently working with the city of Tempe to see if somehow we could get a historic designation but when I perused this the city was resistant. I ended up selling the home. You would be surprised how many areas in Tempe area are the "modern" style.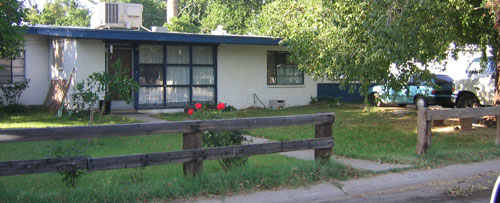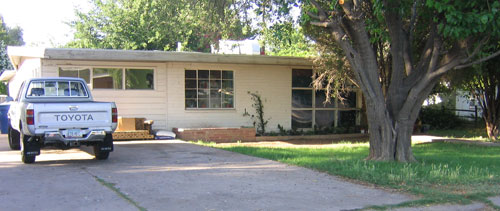 Campus Homes
neighborhood in Clark Park, Tempe
Photos by Lisa Roach of www.clarkparkna.com
Campus Homes Guide written by RJSChex
The main distinguishing characteristic of many homes in Campus Homes is the use of the 9-pane window next to the front door, which is a motif that is also used in the
Camelback Park Estates
neighborhood in Scottsdale. Some of these models, however, have higher-gabled roofs. Lisa has compiled a huge amount of primary source research on this neighborhood, including advertisements and oral histories, which we hope to be able to share in a future article. Built in 1953, Campus Homes are the first example of tract homes built in Tempe.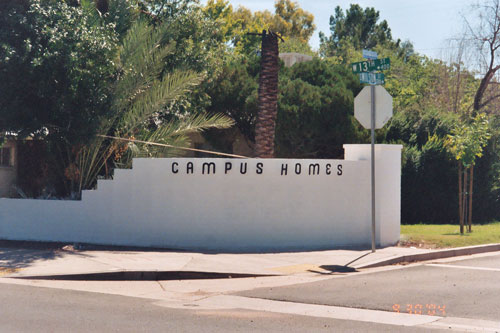 Field Guide to Campus Homes
On June 27, 1953, Del Webb opened up the model homes for Campus Homes subdivision here in Tempe. On that very day (a Saturday), the Tempe Daily News featured a two-page advertisement (pages 4 and 5) for the subdivision, which included drawings of the original six models, along with the original purchase prices of each. Later, two more models were introduced. For anyone curious about the homes in Campus Homes, I've created a little spotters' guide here, giving the name of each floor plan, and a brief description.

Harvard ($7,500)
The least expensive home in the subdivision. Two bedrooms, one bathroom. Features the floor-to-ceiling 9-pane picture window in the living room. Also on the facade (on the side toward the carport) is a 12-pane casement window to the kitchen/dining area. A side door in the kitchen leads to the carport; behind the door (on the outside) is the bathroom window, with four panes. A wood-faced storeroom/laundry room is at the end of the carport. On the opposite end of the house appear a pair of 8-pane (horizontal) windows: one to the living room; the other to one of the bedrooms. Back wall also has two matching 8-pane windows; one for each bedroom. Also, a 4-pane window is on the back of the storeroom. Comes with three roof elevations: gable, hip, and Dutch gable.
Yale ($7,800)
Also a 2-bedroom, 1-bath house. No picture window here, just a 16-pane casement window for the living room. Bedroom in front of house with vertical 8-pane window.
Princeton ($8,750)
Three bedrooms, one-and-a-half baths. Facade and carport identical to Harvard. On the end opposite the carport, the back half of the house juts outward to form the master bedroom.
Purdue ($9,200)
Four bedroom house. Small nine-pane kitchen window near front door; end opposite carport projects outward, featuring two six-pane windows. Two other six-pane windows, and four-pane bathroom window on side of house. Living room in rear with 20-pane window.
Stanford ($9,300)
Three bedroom house with two full baths; both bathroom windows (4-pane) are on the front of the house. Front door has a directly adjoining door-height smoked-glass (or similar material) window. Really tacky about this design is the storeroom tacked on to the facade of the house. Living room entry is in back corner of carport, which originally had an enclosed patio.

|
Dartmouth ($10,200)
Most expensive, and rarest, model. Features double carport and double-width storeroom. Facade identical to Princeton, except that front door and picture window are moved closer to the side wall. Master bedroom (behind living room) has a pair of wrap-around corner windows.
Chieftain
(later model, no price available)
Same as Princeton, but with only a flat roof, and only one bathroom. Kitchen/dining area window has 16 panes.
Highlander
(also a later model)
Three bedrooms, one bath. Shortened version of picture window (four panes, two large over two small) adjacent to front door. Two horizontal 8-pane bedroom windows on facade; pair of 4-pane windows (which look like bathroom windows) on end.
TRIVIA:
The home where local daytime TV star Ladmo used to live was a Highlander. In addition, there are also a number of custom-built homes within Campus Homes, which do not match any of these floor plans.