Arcadia Courtyards Condominiums
4200 N 38th St. North of Indian School Road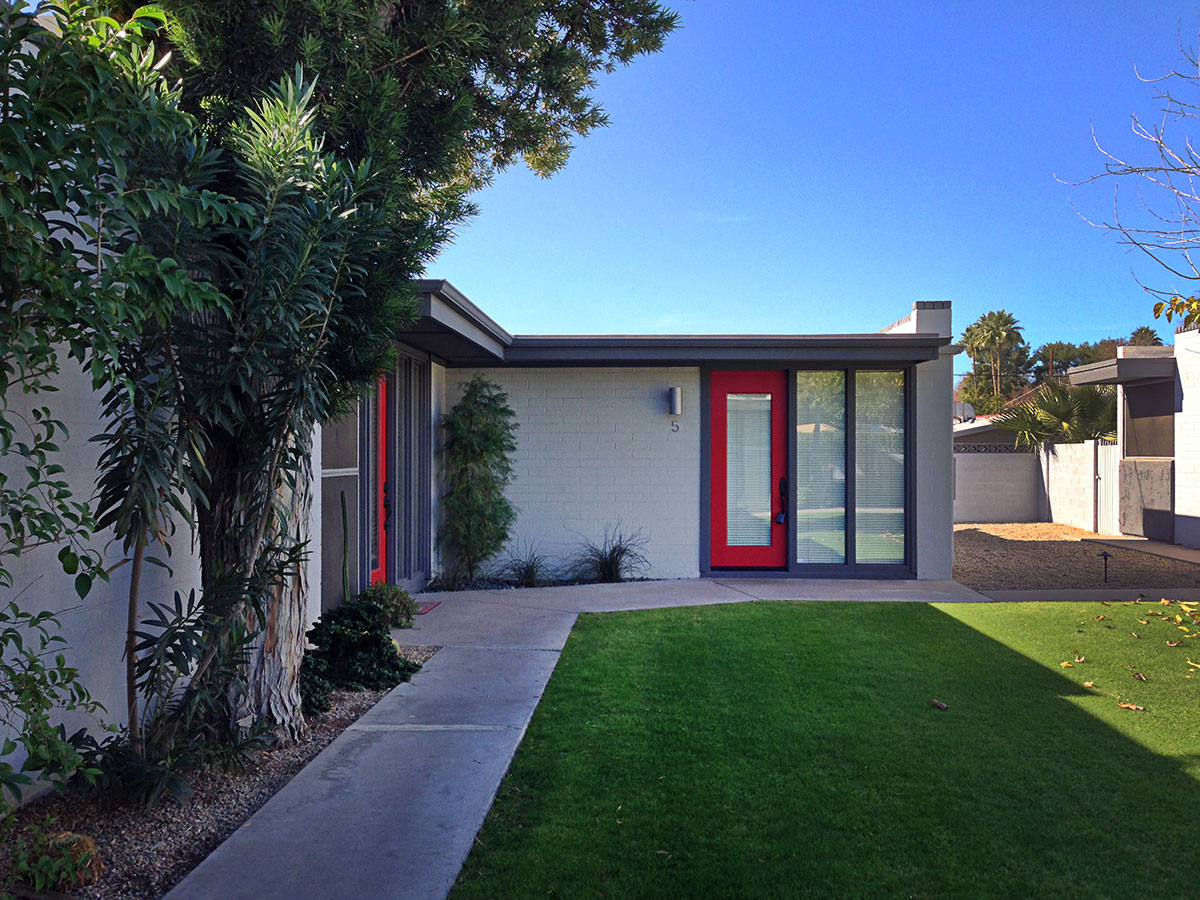 Originally built in 1967, the Arcadia Courtyards recently underwent an owner-originated rebellion against the 90s-era beigeification of their midcentury complex. The red tile "roof" applied sometime in the last decade or two was a complete farce, and the brown color scheme was in depressing conflict with the modern bones.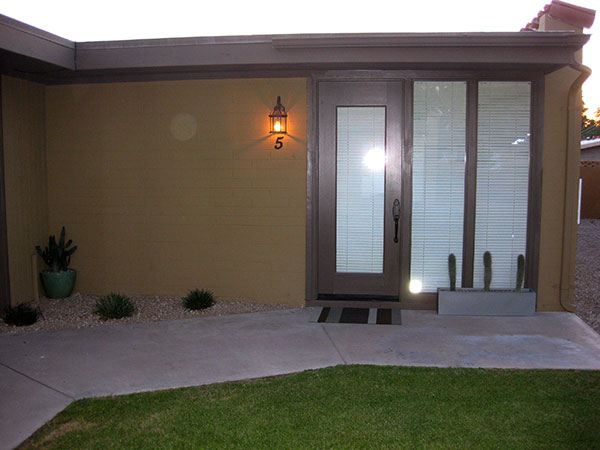 Red tile topping off the Superlite was only one of the 90s-era crimes against Modernism. Old-World lighting and door hardware unsuccessfully tried to throw the property back to the Eighteen Sixties instead of the Nineteen Sixties. Luckily, the original doors and overall structure was intact. The economic downturn spurred a series of foreclosures among the units, bringing new owners and a fresh perspective into the complex.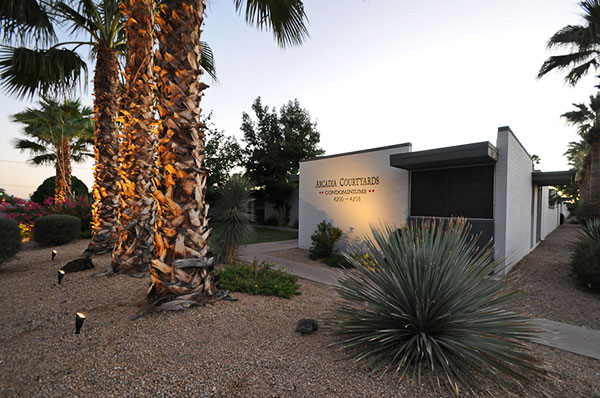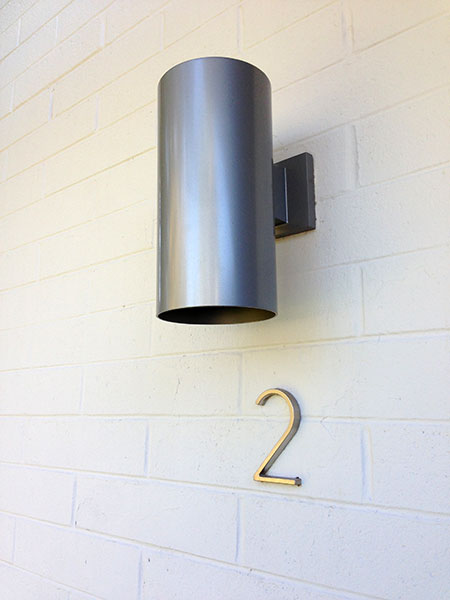 It all started with house numbers! You can make inroads with your HOA, too! Attend our workshop during
Modern Phoenix Week
in April to find out how to make green, smart and design savvy upgrades to your multifamily property. Over the last 5 years, the HOA gradually agreed to bring the original lines back into order, including clean, untiled rooflines and contrasting emphasis on the window overhangs.
Former HOA member Jevon Lake says his success started with convincing the community to replace the house numbers and illuminating lamps, and from there spread to the complex's color scheme and overall look. One meeting at a time, he brought in color samples and design concepts gathered from other modern properties in the Valley for discussion.
Though he soon found it wasn't easy or even possible to please everyone, consensus was gained. The rehab was completely funded through the HOA's monthly maintenance fees, with a little help from an insurance claim to repair an epic hailstorm that ripped up the pool area.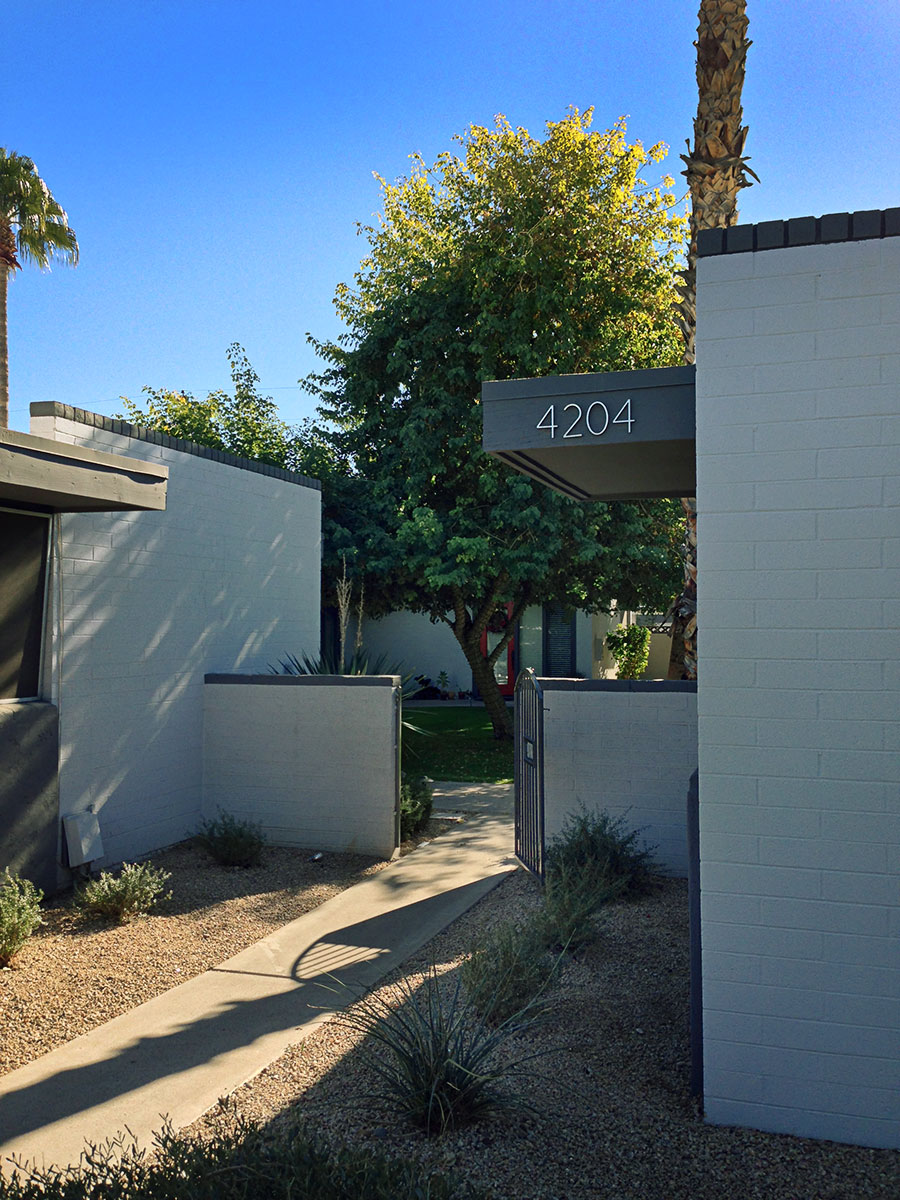 Each cluster of eight condos is centered around a grassy, quiet and well-kept common courtyard. Four units in each courtyard have one bedroom and four units have two.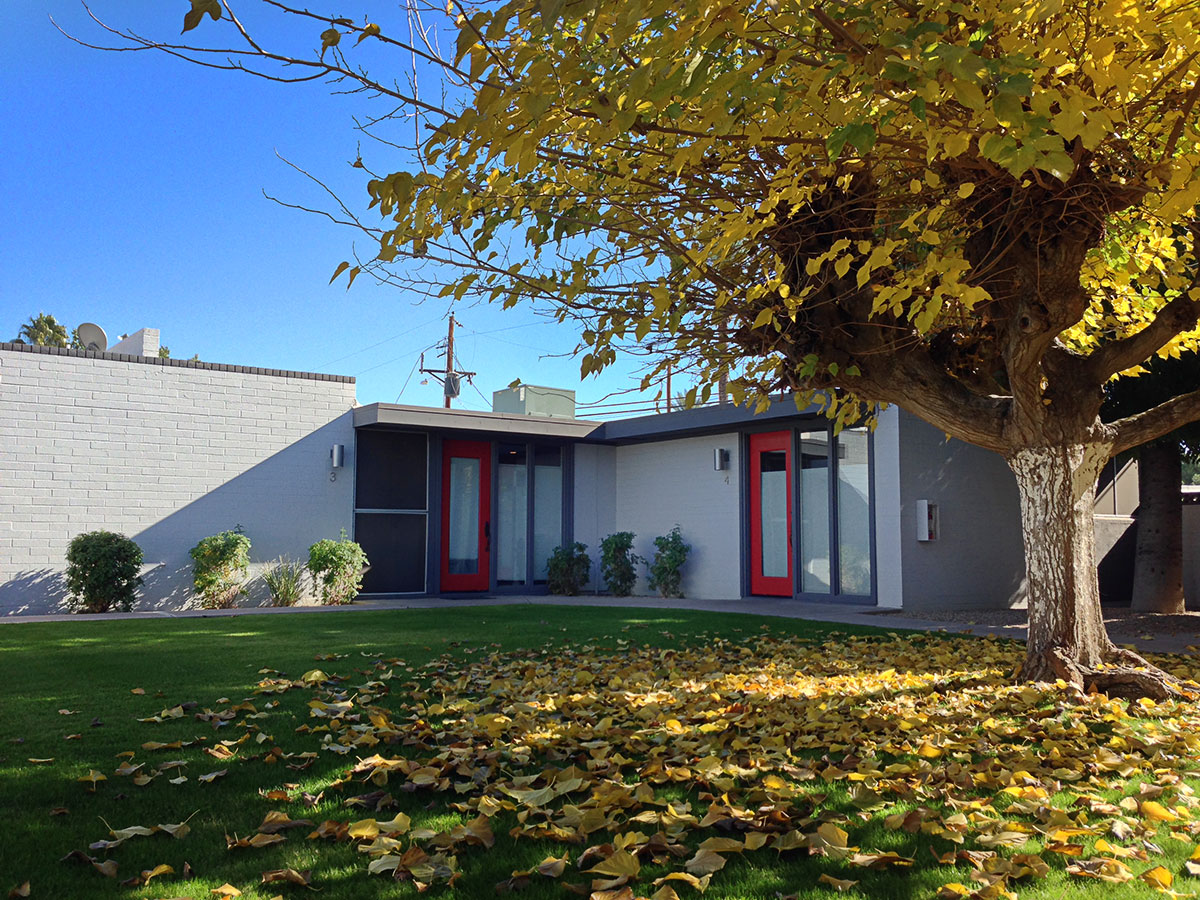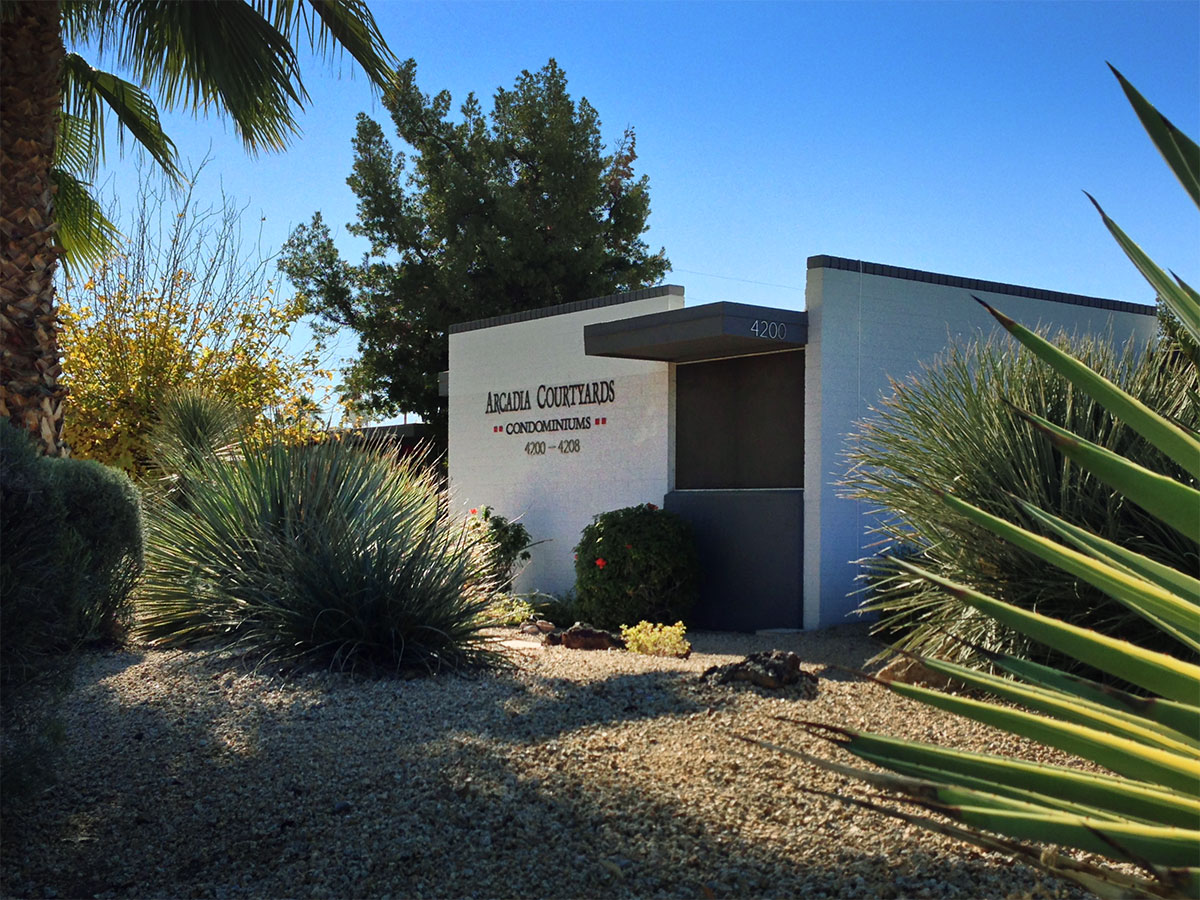 White walls and warm charcoal accents in place of beige and brown quickly elevated the midcentury appeal of these courtyard homes.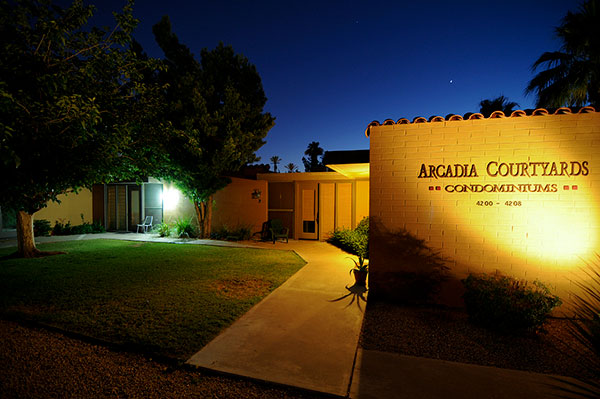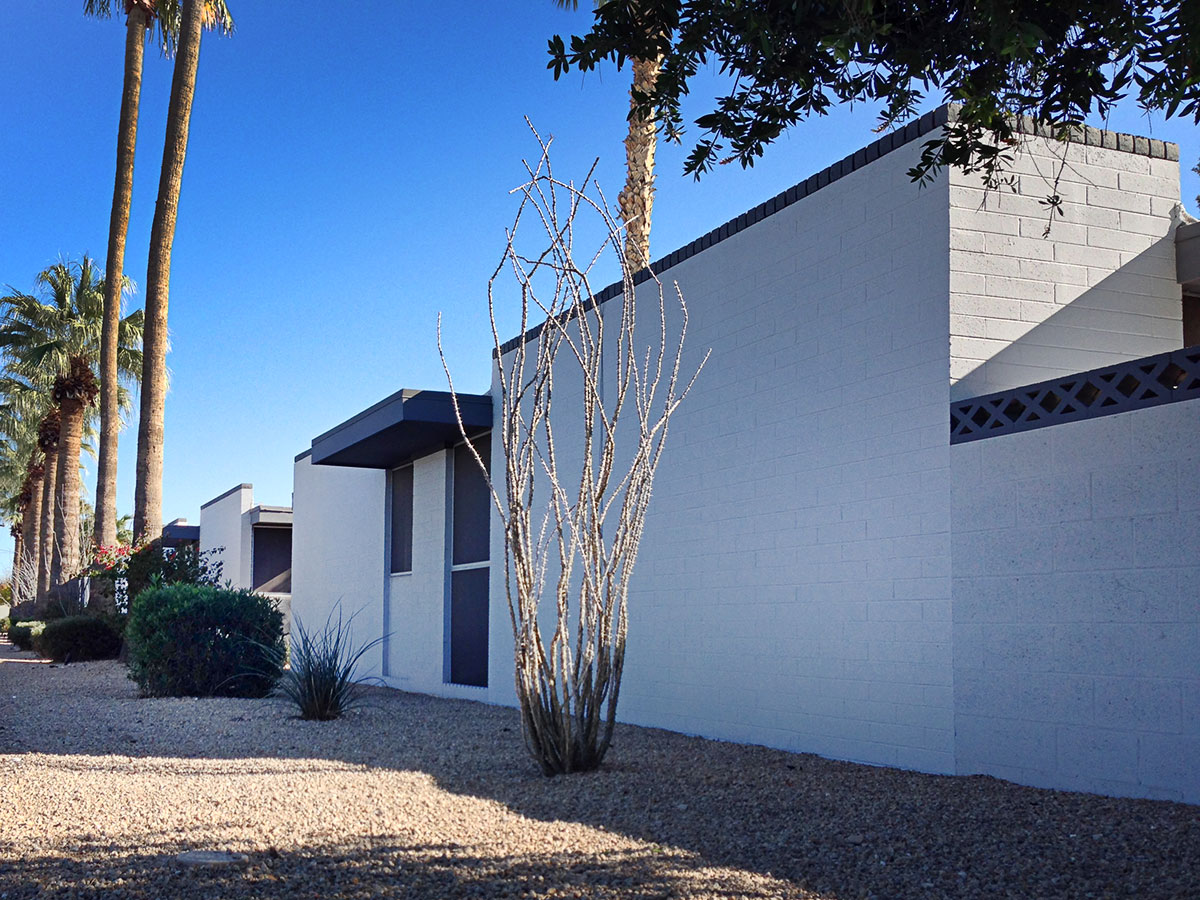 The distinctive Double-X Superlite block is now highlighted as a feature with a stripe of charcoal. In its new International Style color scheme, it might be mistaken for Bauhaus housing!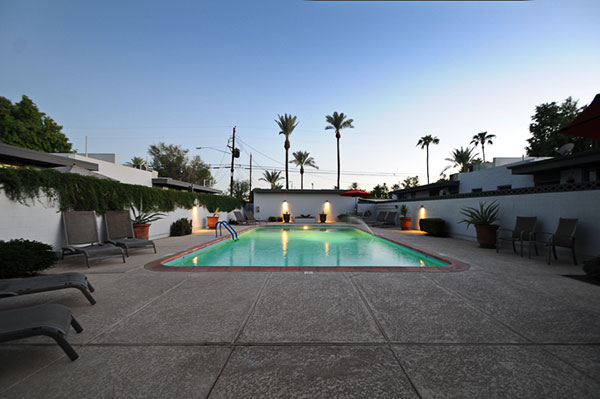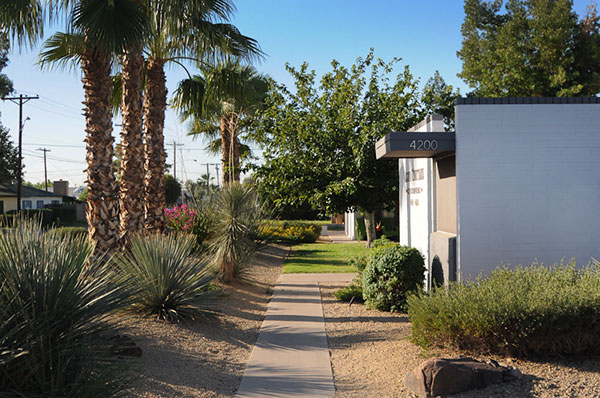 The complex is situated in the Arcadia Garden Apartment district, near
The Boardwalk
and
Pueblo Bonita
. Residents enjoys walkable access to La Grande Orange, Postino, Ingo's and other Arcadia area institutions. Many of the complexes have been sprucing up over the years and we look forward to watching the area come back into its own, as well as redeveloping a cohesive identity as a district with a midcentury flavor worth celebrating. To tour Jevon's former condo inside,
visit this beautiful Apartment Therapy feature
. An old colleague of Modern Phoenix's, Mack Ketcham, did most of the design work!