Fine art by Jason Hill
Gallery 1
|
Gallery 2
| Gallery 3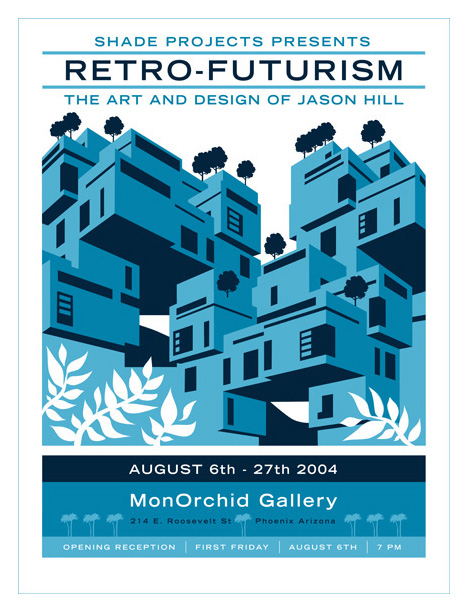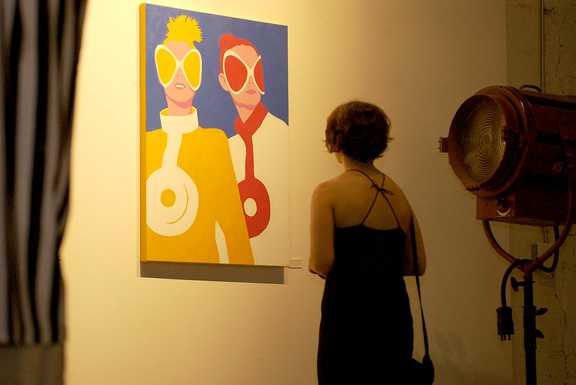 People seem to enjoy images that have some kind of familiarity to them. That's one reason why the local architecture pieces are so attractive to people. Also, I think the the "mid-century" imagery provides a certain cool mystique that has just amplified over time- a kind of James Bond or Rat Pack aesthetic that has been perpetuated and seems to be universally enjoyed by everyone. But, I try to put a contemporary spin on it and not let the work become overly nostalgic.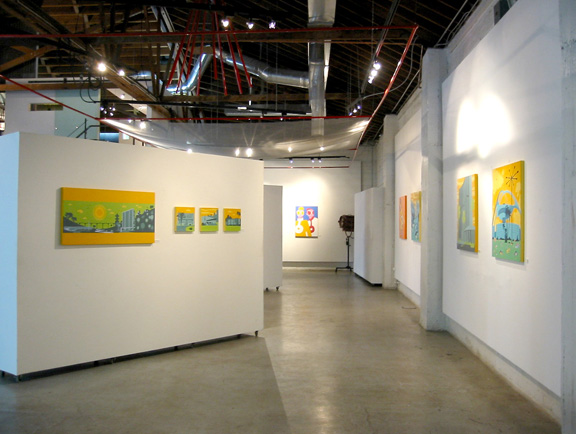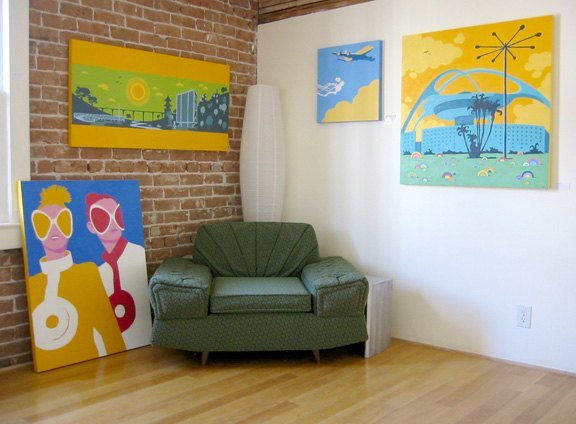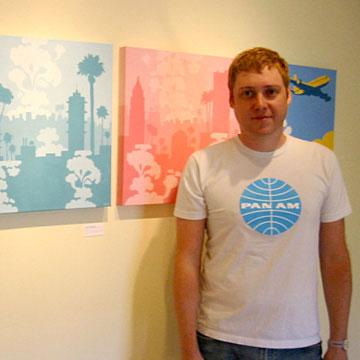 I was born in Southern California in 1969. In my early years I was kind of a skateboarder kid. I lived in San Diego and Santa Monica and Long Beach. By the 80's my family moved up to Bend, Oregon — a ski town. In '89 I moved over to Eugene to study art and graphic design at the University of Oregon. When I started design school, nothing was done on a computer. I mean, we're talking T-squares and rubylith! I had been drawing and doing pen & ink stuff all my life, so I was a good draftsman. The school only taught computer design programs for the last year I was there- If I had graduated a year earlier my design degree wouldn't have been worth anything.
After graduating I moved to Portland and worked for a bunch of different advertising agencies like Weiden & Kennedy. Eventually I spent some time at Nike in their Asia/Pacific department designing store graphics for Tokyo, Hong Kong, Sydney and everywhere in between.
My favorite project was the stuff I did for the 2000 Olympics. I moved to Phoenix a few years ago to escape the rain. Last August I did my first solo show in town at MonOrchid Gallery titled "Retro-Futurism, The Art and Design of Jason Hill." I displayed about 20 paintings, some digital collages and a numbered edition screenprinted poster. Since then I've been showing every First Friday at Untitled Gallery on 5th Street just a block or two from there. This month I'm also exhibiting some work in Palm Springs at Thomas Gallery on Palm Canyon Drive.
Some of my other recent projects include Illustrating a national billboard campaign for Johnnie Walker and working on a restaurant brand design with local design firm Blenderhaus. I knew I would be an artist at a very early age. My family recognized my talent early on and gave me lots of encouragement. I've never really thought I would do anything else. We didn't own a TV set until I was 16, so I spent a lot time playing outside, reading and drawing. I've always loved looking at art- paintings, photos, anything- even comic books were an influence.
My all time favorite painter has to be Dalî. He's just so amazing- his entire life was performance art. I once had a dream that I met him. In the dream I knelt down before him and kissed his hand! My grandfather was a portrait painter. He painted a bunch of portraits of generals that are hanging in the Pentagon and he did one of Lawrence Olivier. Dalî painted Olivier too... I guess that means I have less than six degrees to Dalî!
Gallery 1
|
Gallery 2
| Gallery 3