Fine art by Jason Hill
Gallery 1 |
Gallery 2
|
Gallery 3


In my art I'm trying to draw attention to the importance of an aesthetically pleasing and integrated environment. I'm trying to create a sense of place – not just as physical space, but also mental space. The buildings I paint go along with my generally retro-futurist point of view... looking at the future through the optimism portrayed in the design and architecture of the past.
Phoenix has tons of great old buildings. Unfortunately, they get knocked down and replaced with ugly brown boxes with no windows! I don't think people realize how much the landscape effects state of mind... I read a quote somewhere that said
"the task of the artist is not only to vitalize people but also to synthesize spiritual traits."


It is amazing to me how so many people can live in the soulless reality of living in tracts of McMansions and shopping at Walmart everyday like an army of zombies. There are so many other possibilities when it comes to lifestyle. It's good to know there are so many young designers, architects and artists out there that are helping to create a paradigm shift in our physical and mental environments.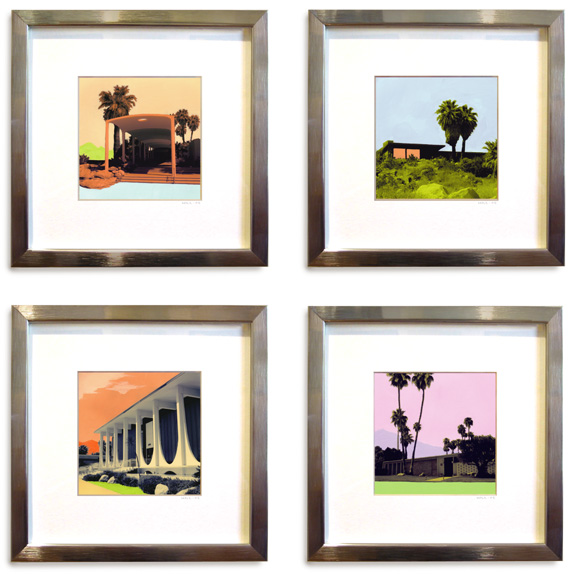 Three generations of my family lived in Palm Springs, from before WWII until the early 1960's. I was staying with my grandmother one year and came across a drawer of old ephemera from Palm Springs and Las Vegas. Matchbooks, ashtrays, announcements for bank openings, from places like the "Palm Springs Spa" and the "Flamingo" and the "Security-First National Bank." On each of them were these great architectural renderings done in these beautiful illustrative styles. The artists from that era had been trained in schools that treated art as more of a trade instead of this more self-indulgent perspective that is taught in the universities today. There was more emphasis on design and purpose and aesthetic beauty.
I think that is why I decided to study design- I wanted to stay away from the conceptual school of art where some guy paints a dot on a 20 foot canvas and attaches some kind of esoteric meaning to it. I wanted devote my skills to something that had a more tangible purpose. But, the 80's and early 90's was not a good time for the practical, modernist school of thought. it was all about post-modernism. Modernist buildings and ideas were viewed as outdated and a lot of stuff was just demolished. Unbelievably, when I was in design school I don't think I heard the name "Eames" uttered by even one of my teachers! So my knowledge of the subject is largely self-taught from my own library of old design books.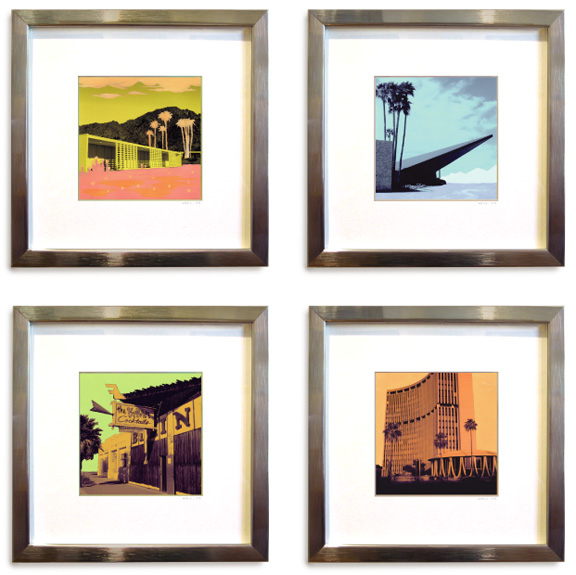 I think it's very important that the "Professional Building" downtown at Central & Monroe is preserved. It's that old 1930's building that has the McDonalds in it across from the Bank One Tower. It is a beautiful building that needs extensive renovation. In it's heyday it had a giant lit rotating sign on top that appeared in the opening scene of Alfred Hitchcock's movie "Psycho."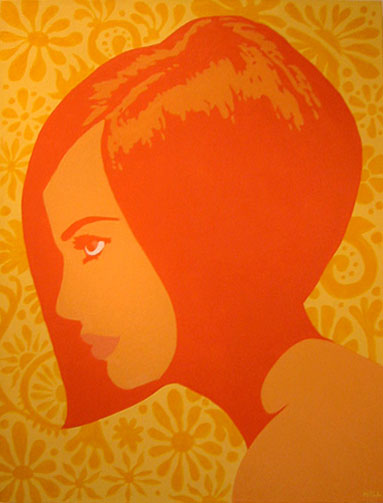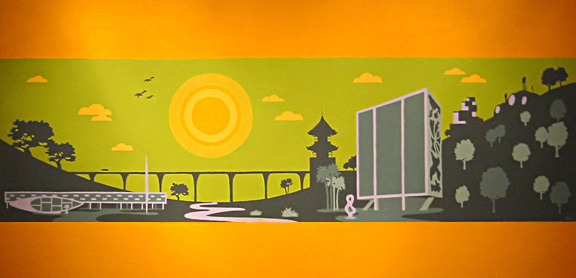 There was a big backlash against modernism's coldness and it began to be perceived as dehumanizing and sterile. 70's modernism had very futuristic stylings but those aesthetics soon became kind of quaint. The late 90's boom in the modernist aesthetic I think was largely fueled by nostalgia for a simpler time and place.
There was a certain kind of millennium fatigue that happened when people realized we had reached the mythical "year 2000" and we weren't zooming around in flying cars. All of a sudden there was nostalgia for "analog" culture of all kinds. Also, I think that the work being created by the neo-modernists is a lot more human and accessible. There are so many brilliant designers in the world today that are educated and forward thinking- I think the future is bright.
Gallery 1 |
Gallery 2
|
Gallery 3