Fine art by Jason Hill
Gallery 1
| Gallery 2 |
Gallery 3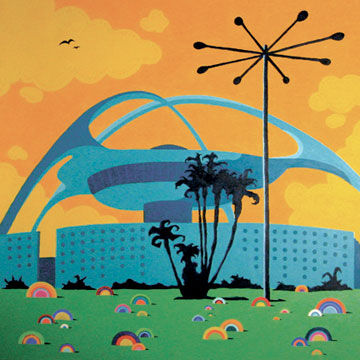 Generally the ideas for my images originate out of some pretty abstract thoughts. I'm less interested in making a concrete statement than in creating a vibe. It may sound silly, but I guess I'm trying to evoke a feeling of a wonderful carefree dream of innocence- Like floating on a cloud in a perfect world. On one hand I'm trying to perpetuate and canonize forgotten places and images, stripping them down to their most pure and iconic form to give them a kind of representational clarity. On the other, I'm trying to create a blend of naturalism with futuristic optimism, and together with the bright color palette it comes together as a kind of psychedelic hyper-realism!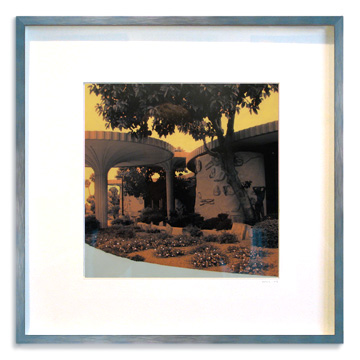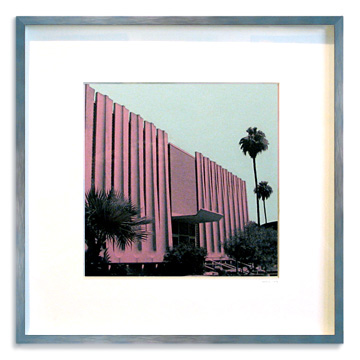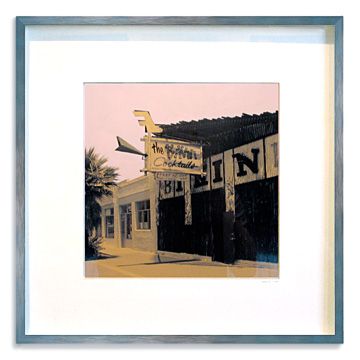 I had this hobby photographing old neon signs from the 50's. I would take pictures of them & sure enough, a year later they would be gone or the building would be demolished. So I started to document modernist and googie type architecture too. When I moved to Phoenix I fell in love with the architecture here and photographed a lot of it while learning my way around town. It never really dawned upon me that other people were as attracted to these subjects as I am. I made this series of photos for myself that I printed using a duo-tone technique and hand painted them with acrylic. I decided to show them on First Friday and was blown away by the public's reaction! They had so much fun trying to figure out the locations and told me all kinds of great stories about their histories. Now the sales of my photography rival my paintings and I've begun creating larger prints.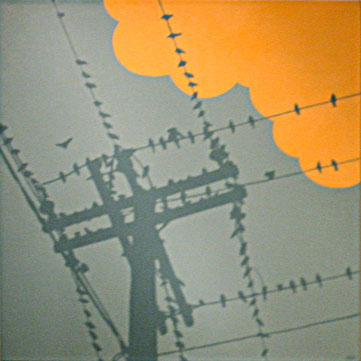 When it comes down to physically making the paintings, I'll start with a series of sketches for compositional purposes. I'll then mix my own photos with found images and hand drawn elements together on the Mac. I transfer the image to canvas and then all of the detail work and color palette is completed in acrylic.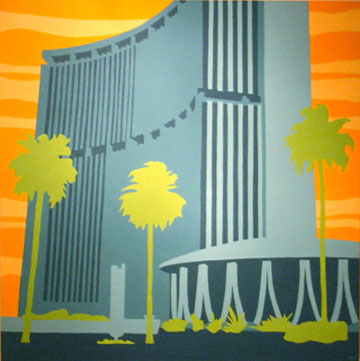 I live just a few blocks from the "Phoenix Financial Center" on Central and Osborn, popularly known as the "punchcard building." When I first saw that building, I fell in love with it- I've photographed and painted pictures of it. I even went to the public library and researched it's history, which is quite fascinating. Construction began in 1964 and originally held a 4.2 million dollar Univac computer that was one of the largest in the world. A "fallout proof" time capsule was placed in one of the fountain cornerstones at the time of construction. The items in it were chosen because of their relevance to Arizona in 2012, the 100th anniversary of statehood and the year in which the cornerstone is to be opened. I wonder if anyone will remember to open it?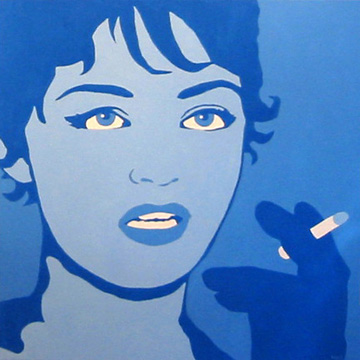 Gallery 1
| Gallery 2 |
Gallery 3