Star of Paradise by Jeffries Construction
36th Street and Cactus Road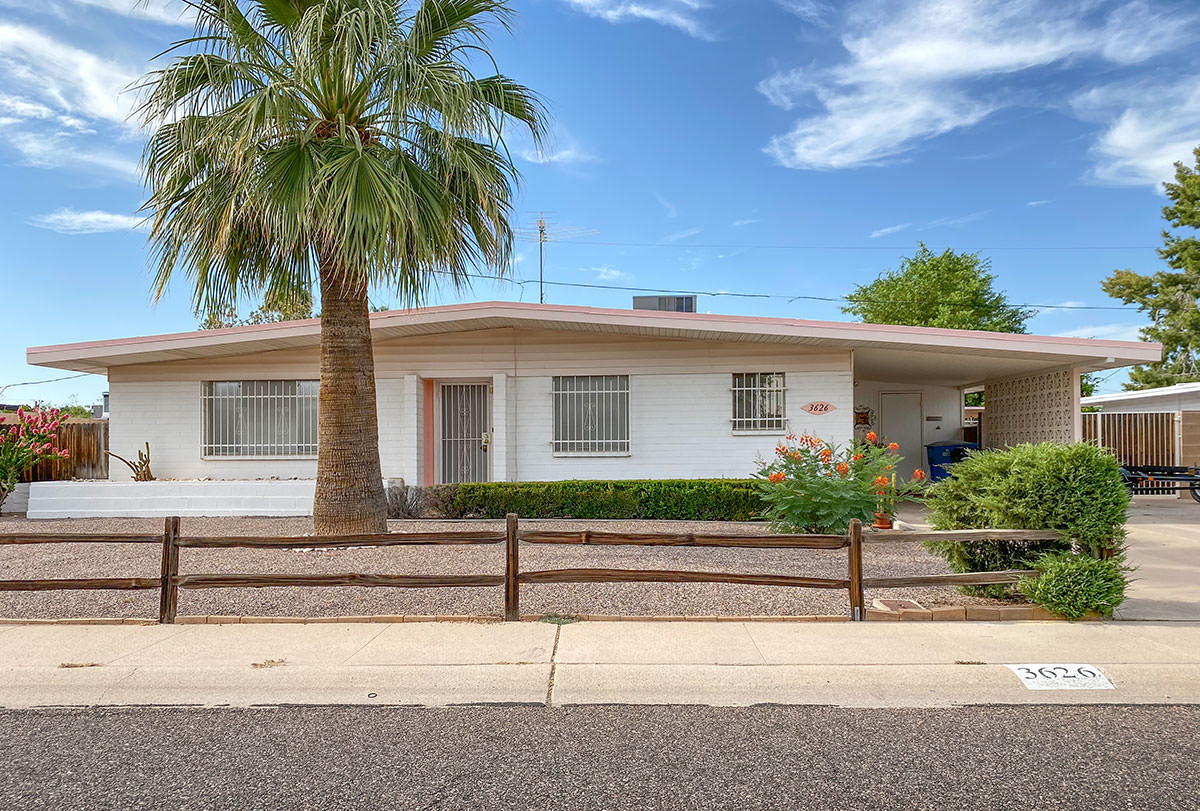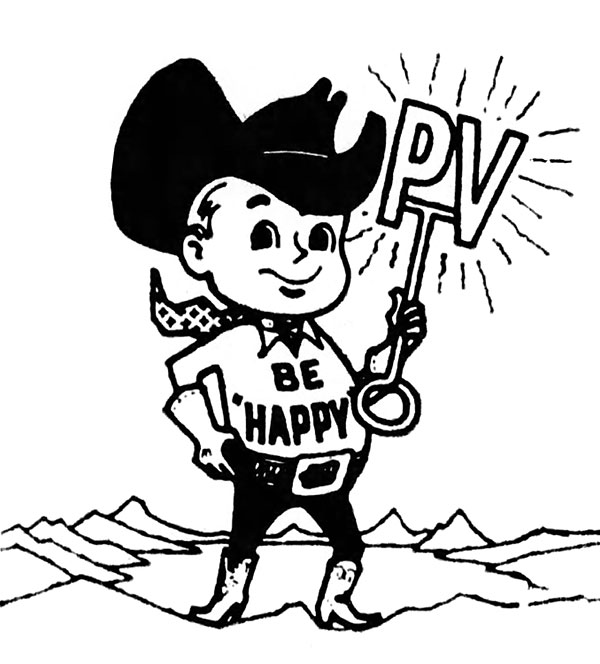 Vintage marketing mascot for Paradise Valley, which is a region of Northeast Phoenix as well as its own separate township
The architect of these modestly modern tract homes is currently unknown, but this neighborhood in North Phoenix is well documented to be the handiwork of Jeffries Construction.
Low-sloped, single-story homes with a variety of modern elevations in a convenient north Phoenix location have made this neighborhood desirable for property improvements.
In 2020, homes were being listed anywhere from $350,000 (unimproved) to $450,000 (improved).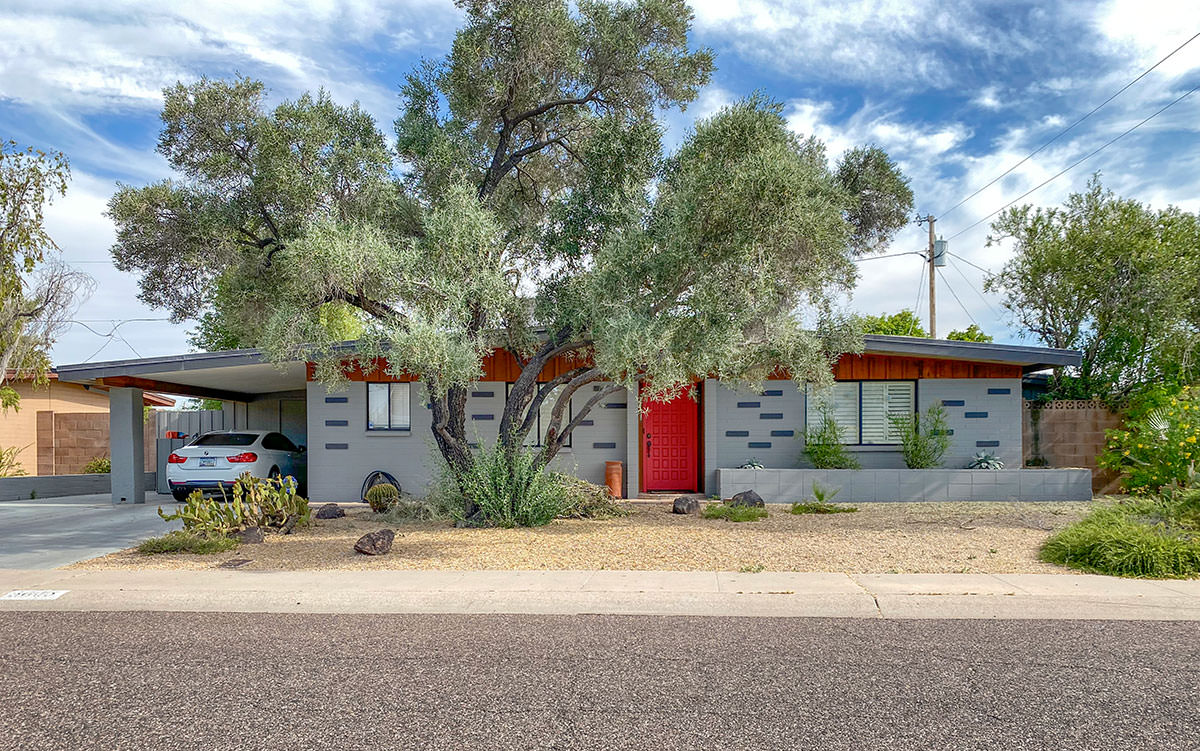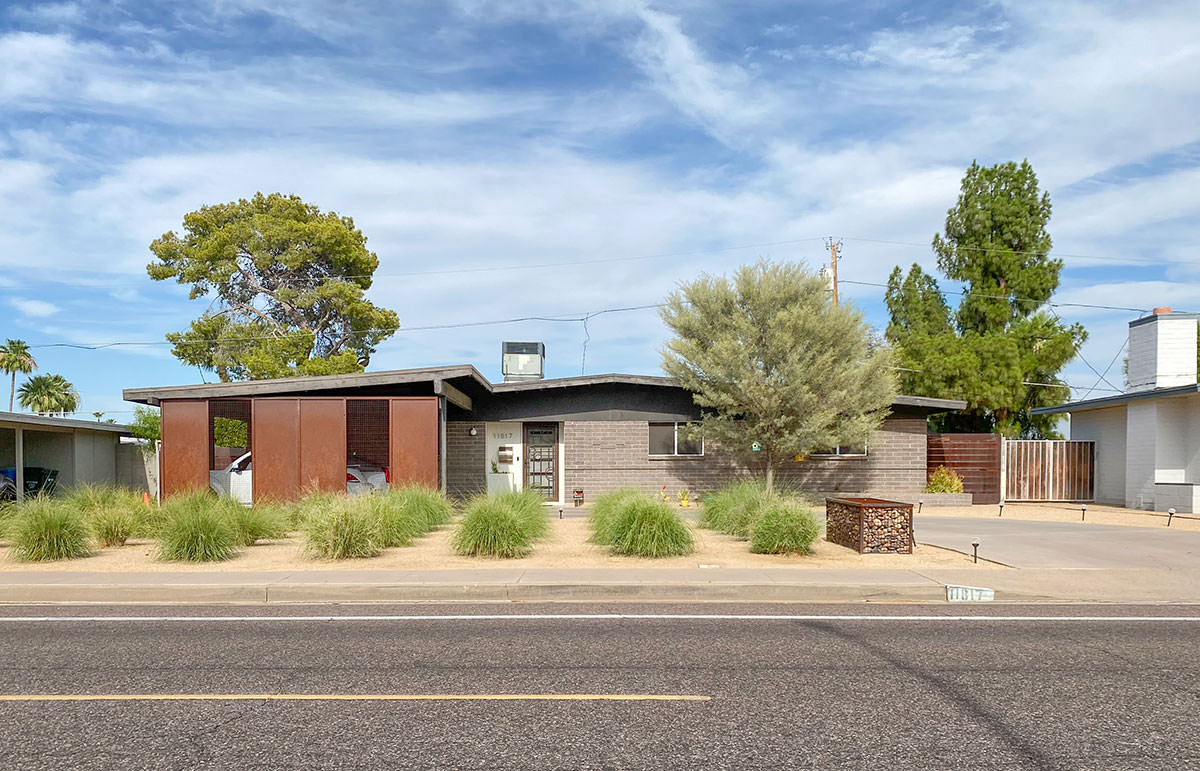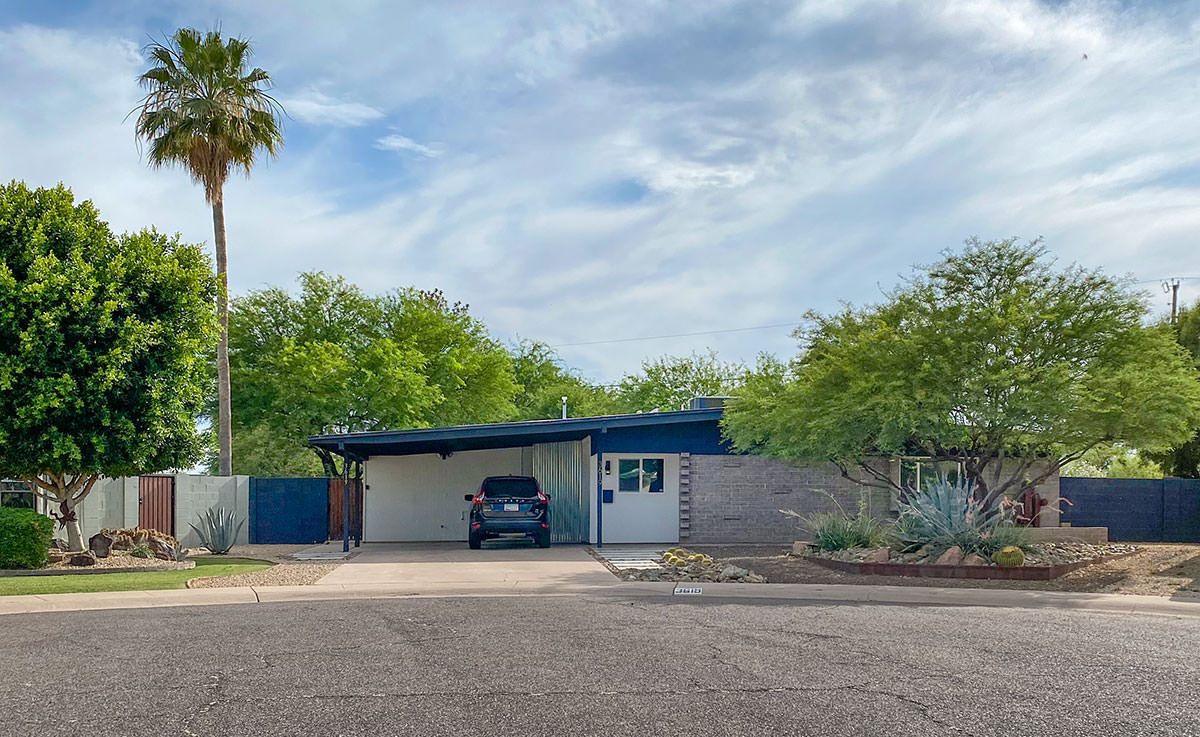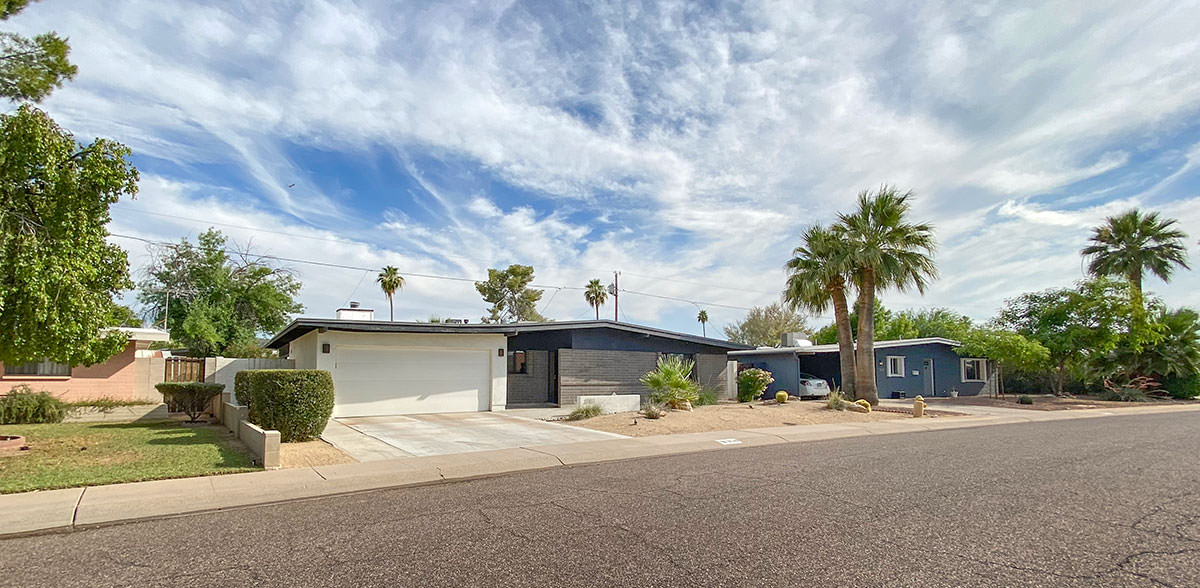 Gently curving streets and small cul-de-sacs add some variety in the neighborhood's sightlines. Mature palms and Aleppo Pines provide shade. A mix of desert landscaping, hardscape planters, and occasional breezeblock give this neighborhood a quintessentially Phoenician look.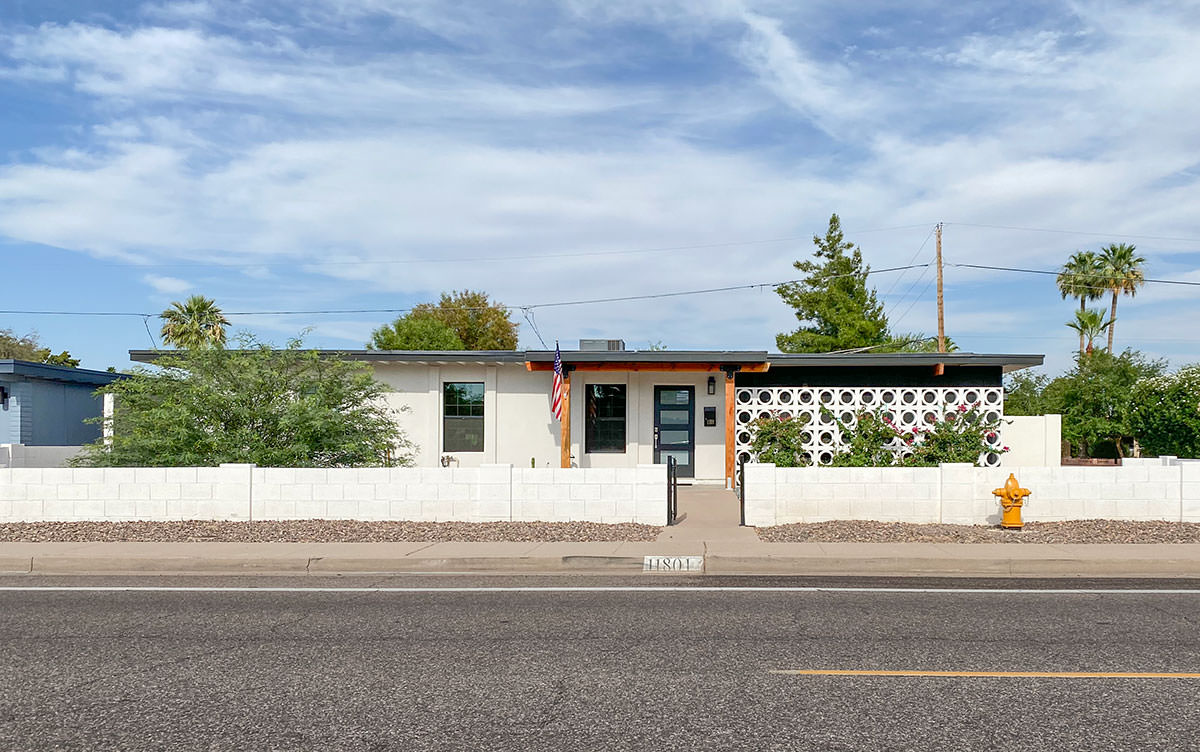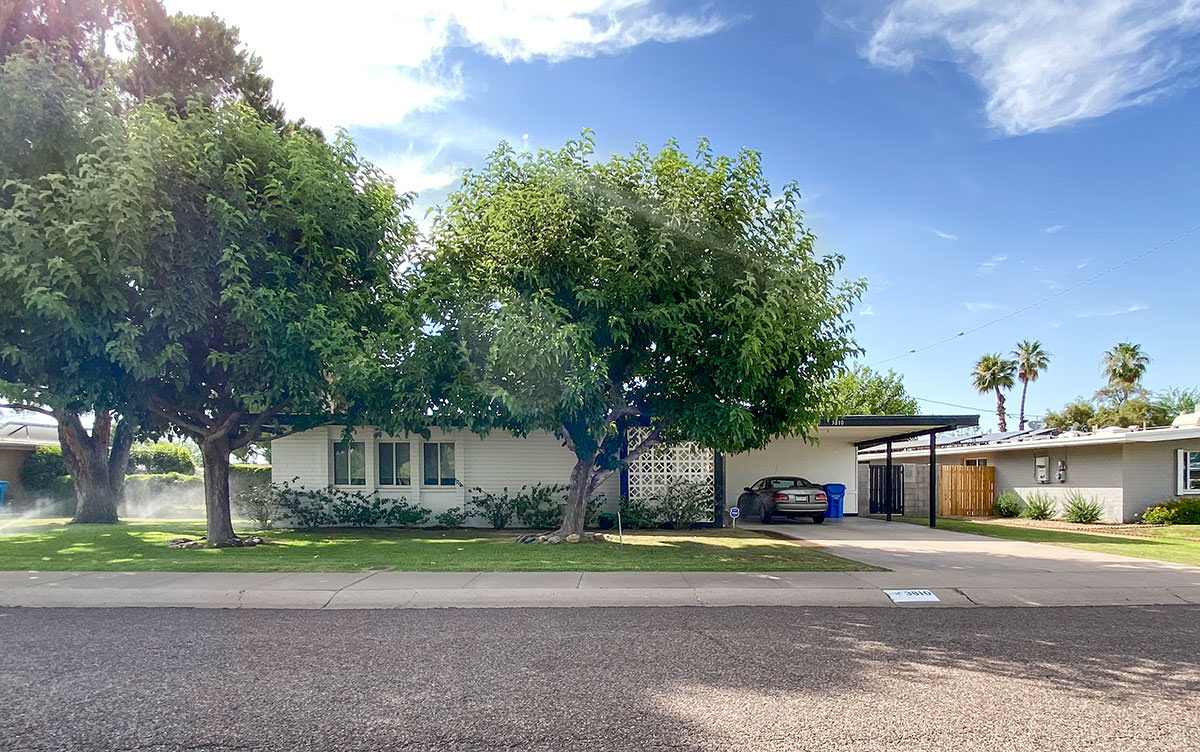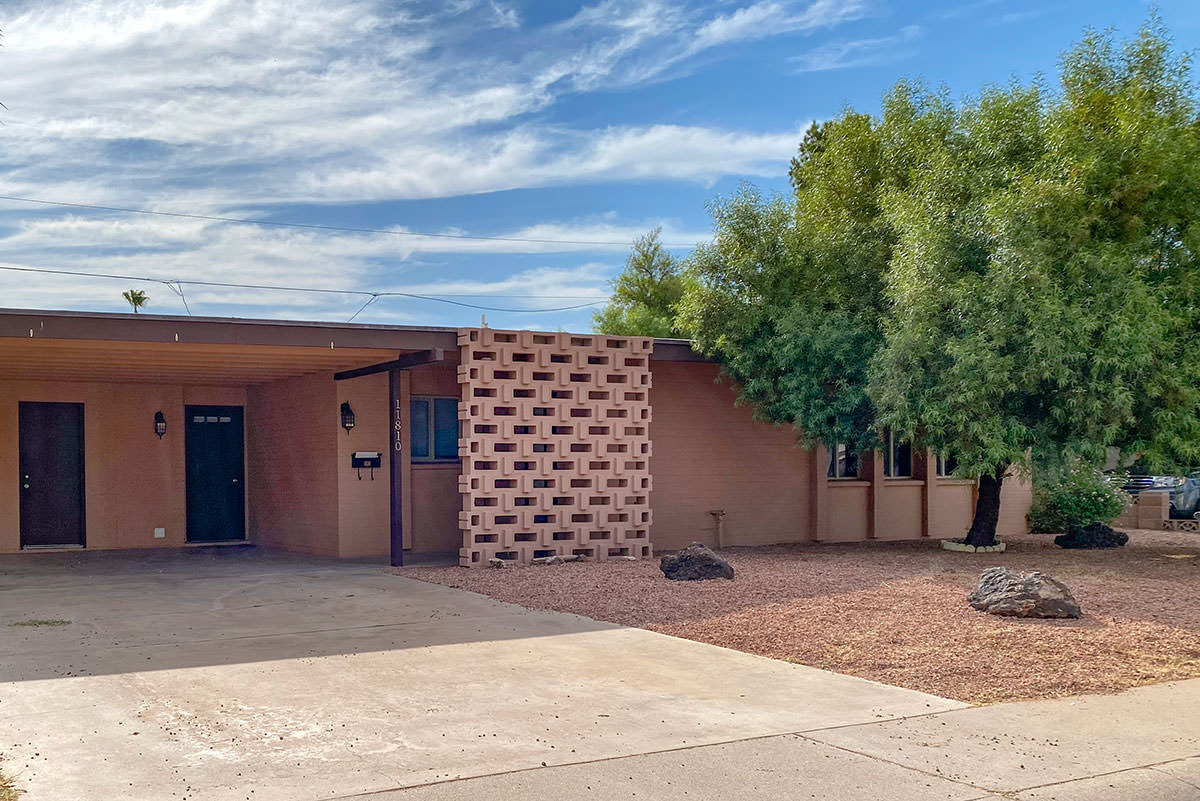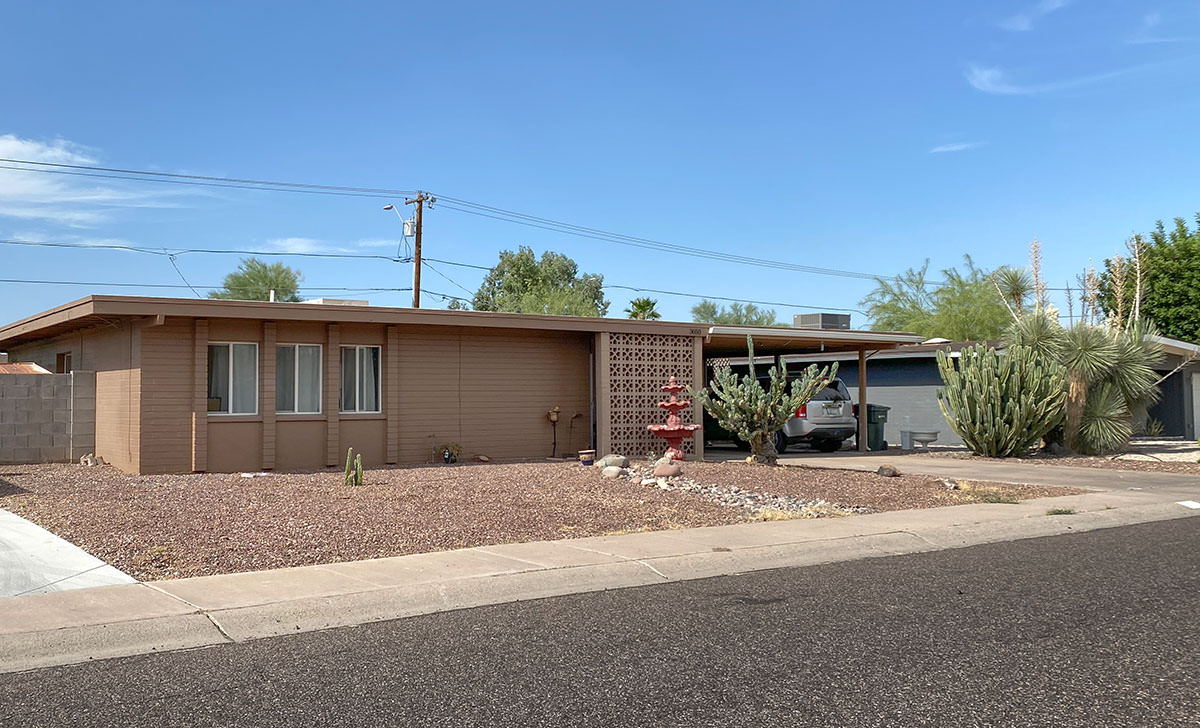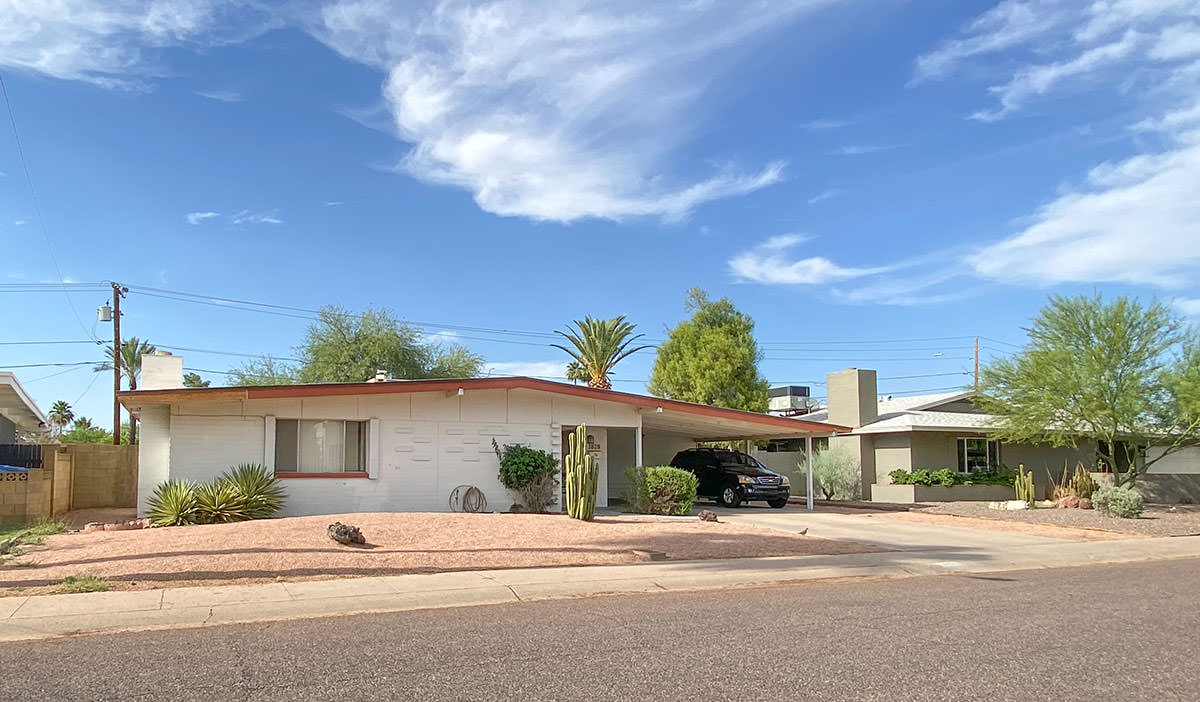 Some of the homes feature a textured domino pattern of randomized CMU blocks in low relief.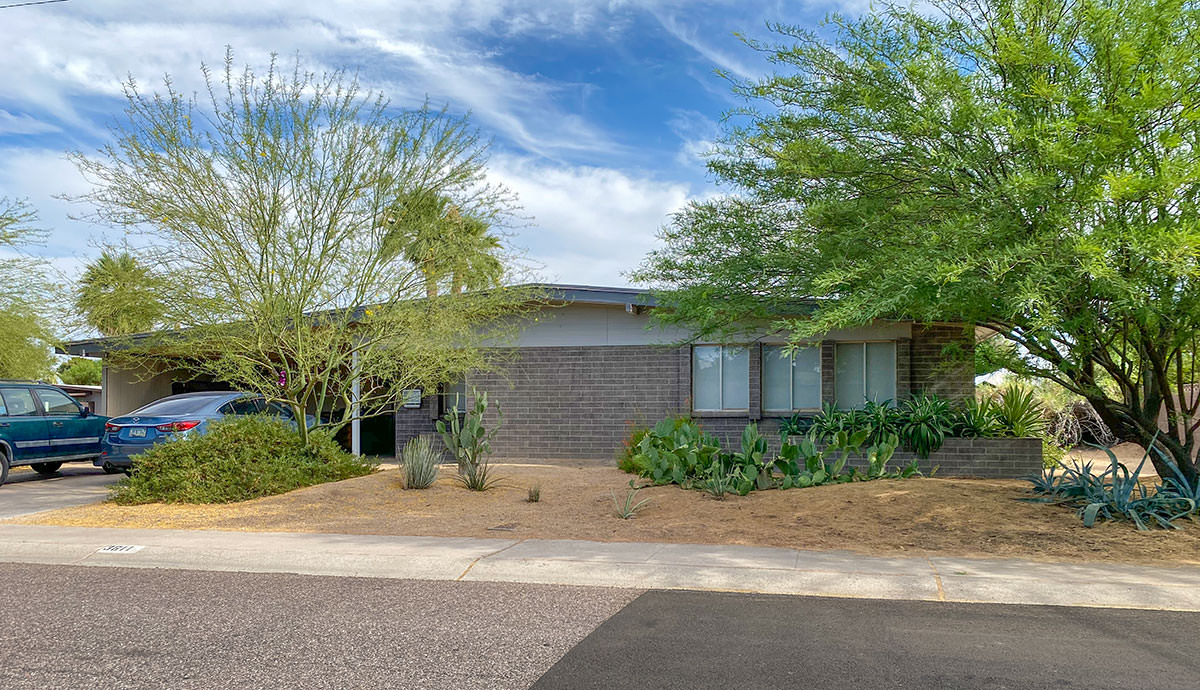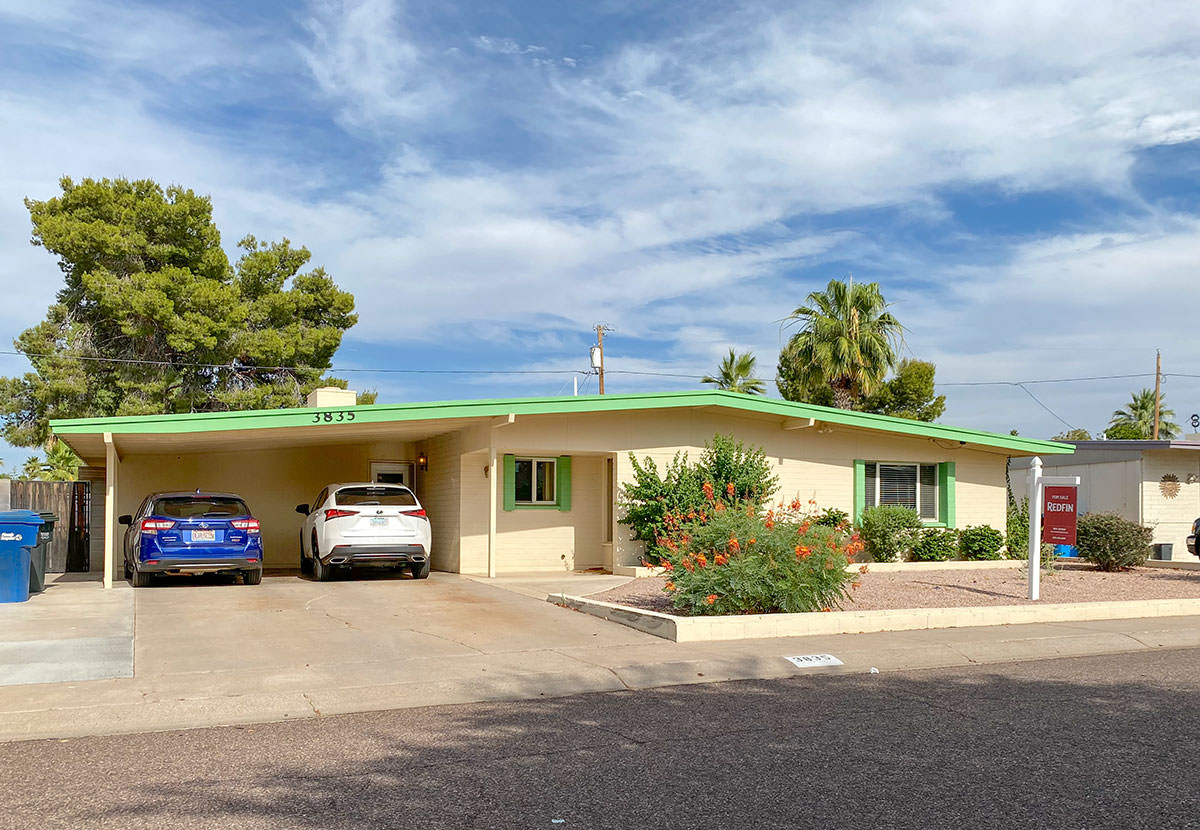 In 1961 the homes were marketed as low as $10,800 and 1962 the subdivision featured 4 model homes with 5 floorplans to choose from. Homes were then priced from $11,800 to $16,000.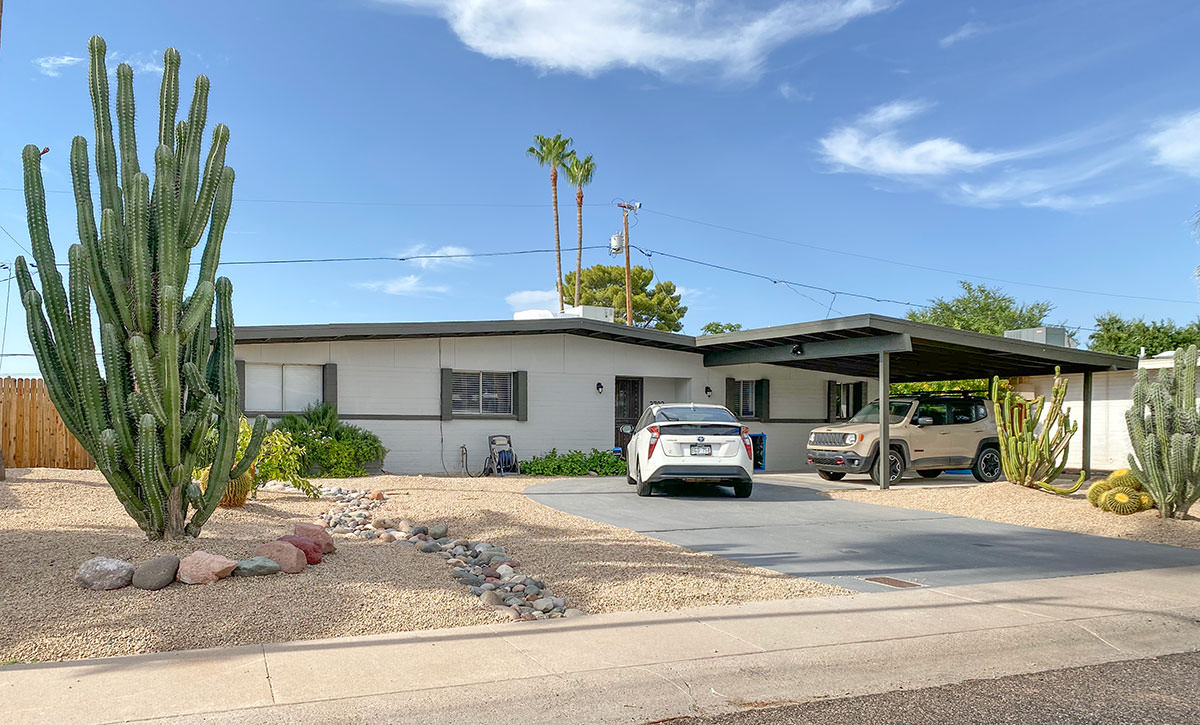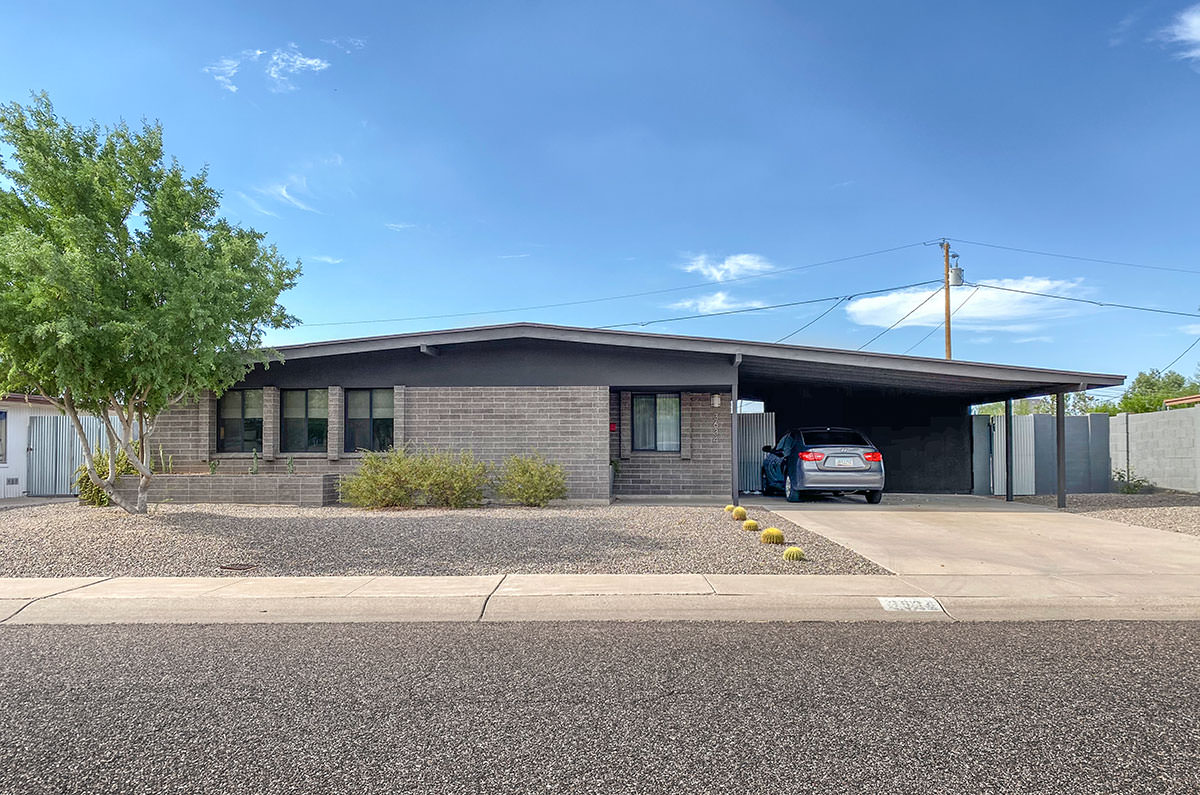 It's possible that Star of Paradise beats out
Paradise Gardens
for both the highest number and highest density of
sandblasted CMU homes
in all of Phoenix. If sealed correctly, this finish makes a modern and maintenance-free surface. Block color is a mostly consistent grey with rare unsightly coloration surprises. Large, nearly flat roofs make solar panels an attractive option for many homeowners.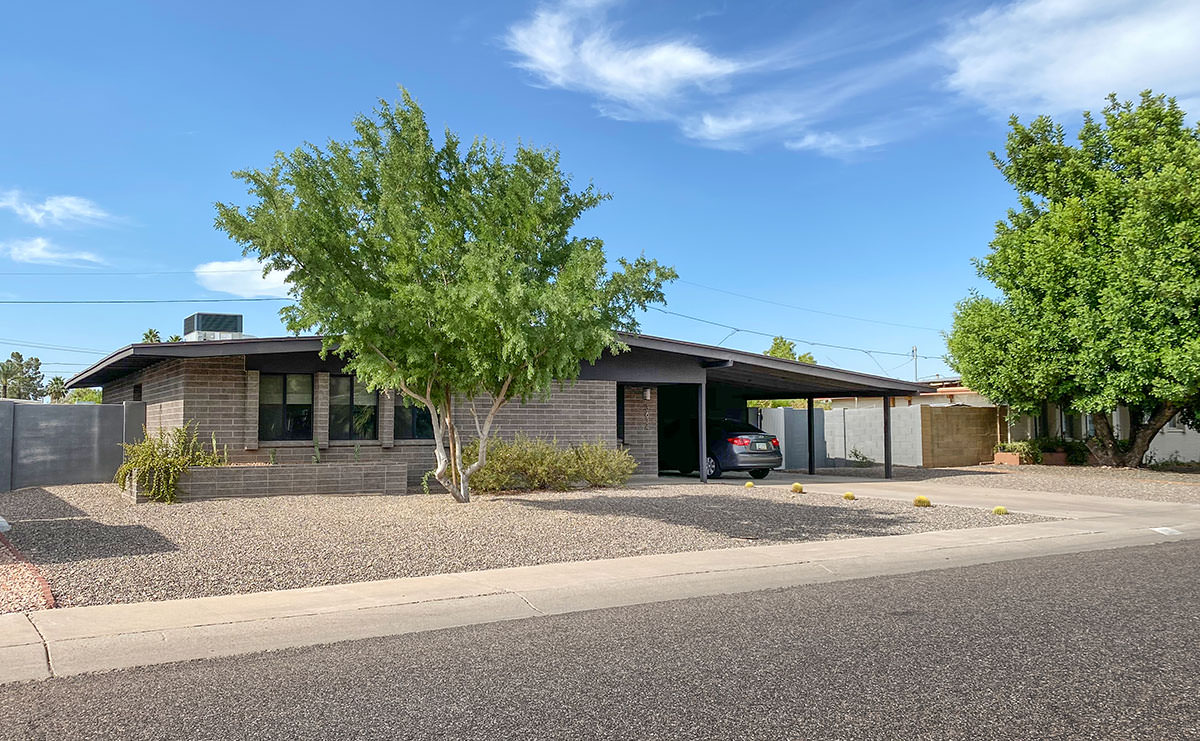 Homes came standard with three foot roof overhangs, glass-enclosed showers, tile floors, landscaping, Formica countertops, glazed cabinets, double carports, bath skylights, built-in planters, and separate entrances.
The area was sparsely populated but identified as being in the heart of Paradise Valley at the time. While this may not be true today if using the strict definition of the municipal boundaries (which were established in 1961) it's important to remember this area was called Paradise Valley long before the town's incorporation.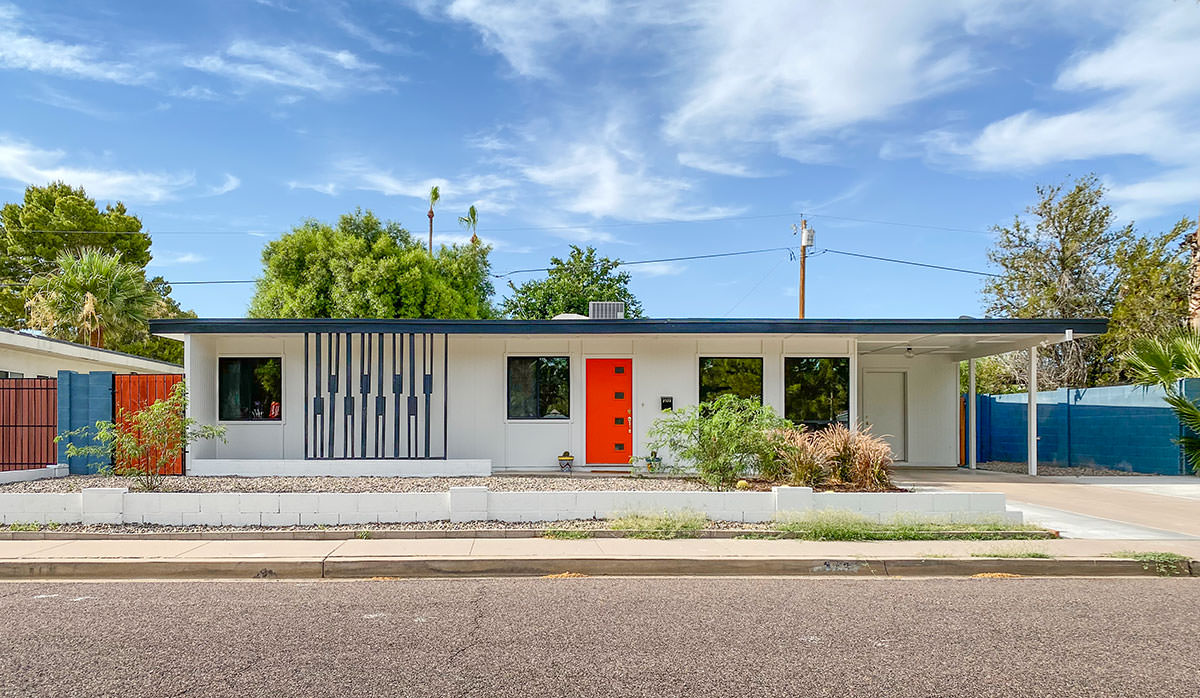 This new door and wooden grille lend a graphic retro feel to what was once an ordinary facade.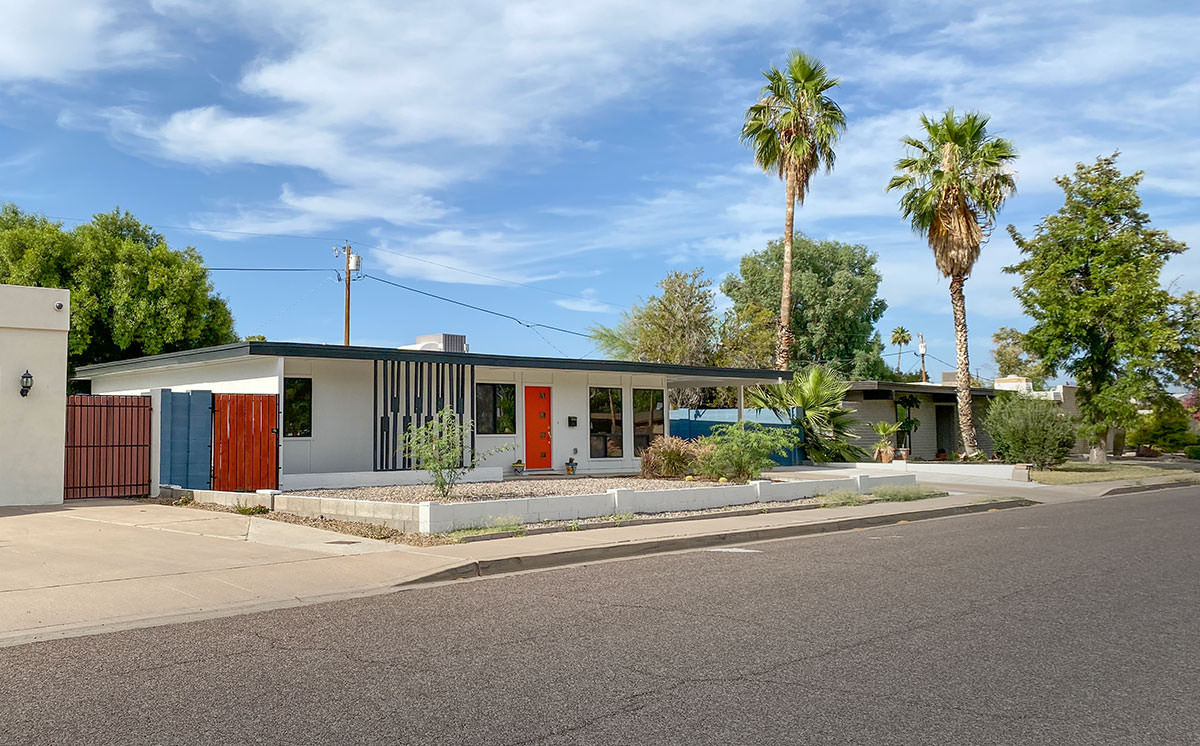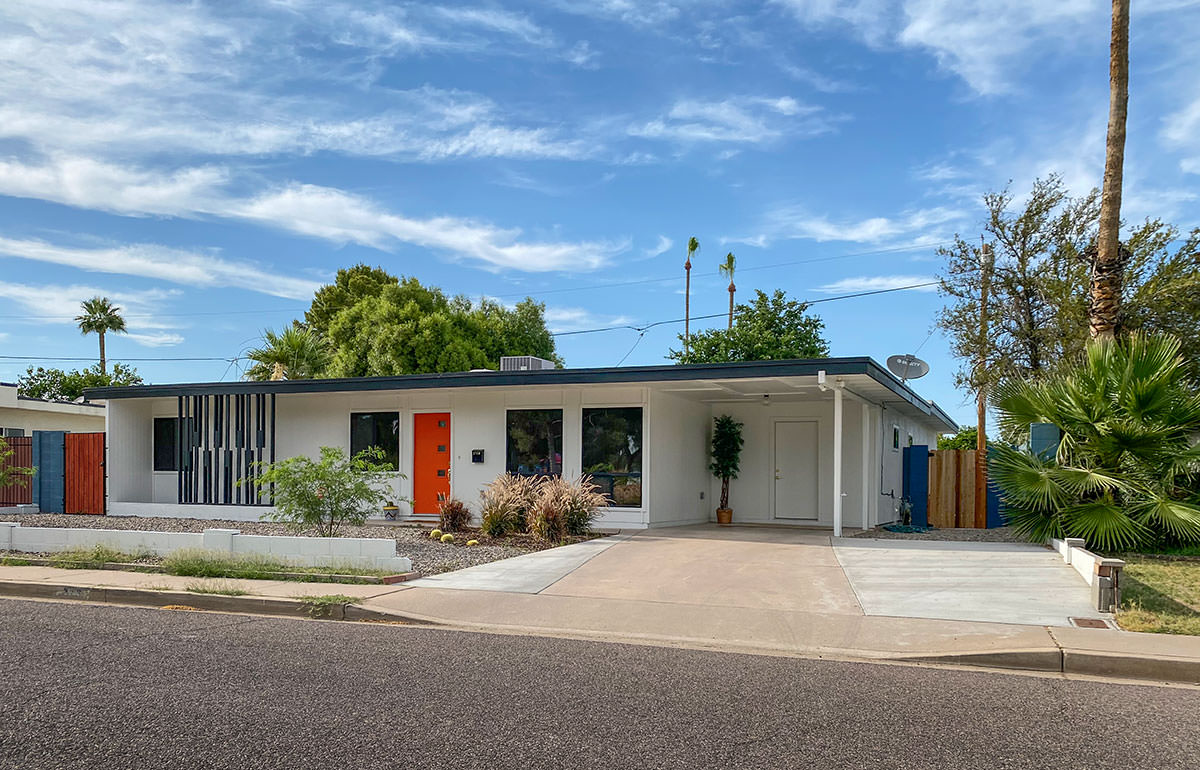 Many of the open two-vehicle carports have been enclosed since the 1960s; a variety of options and aesthetics are shown below.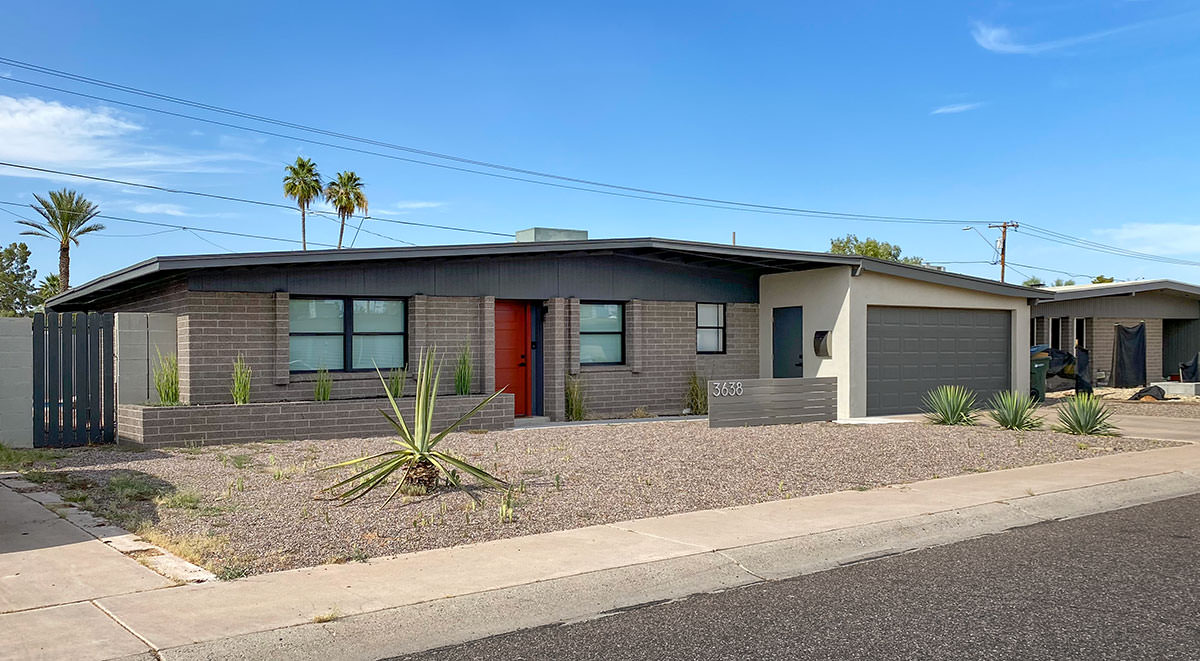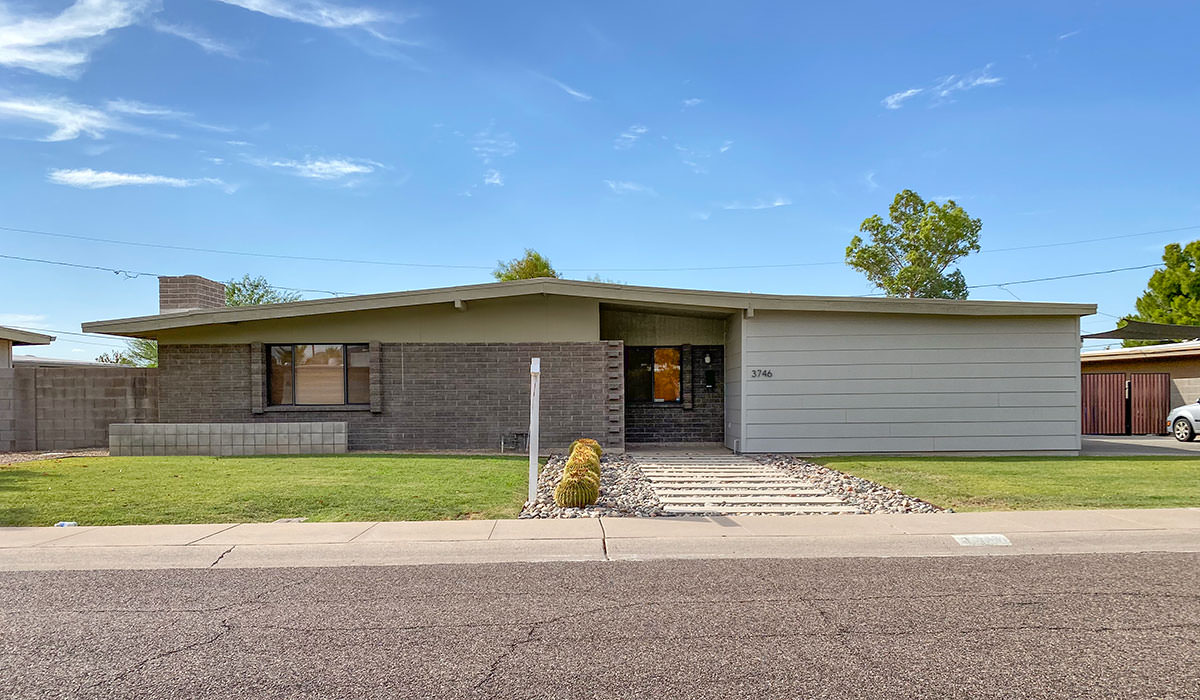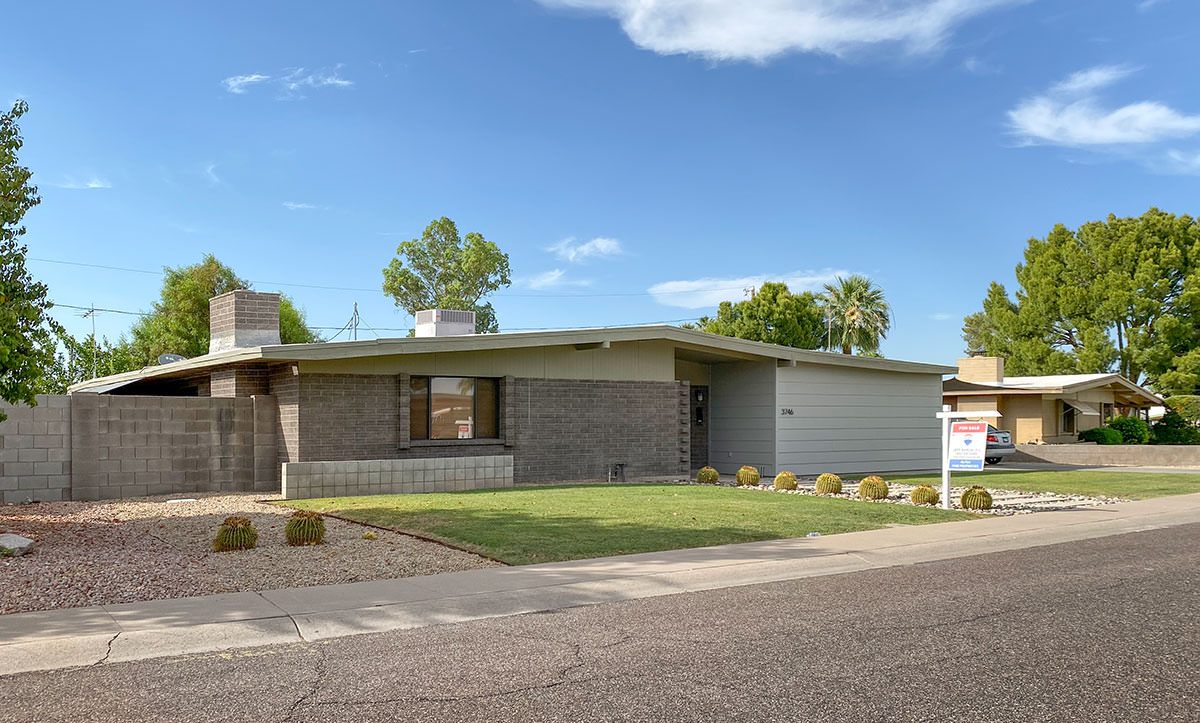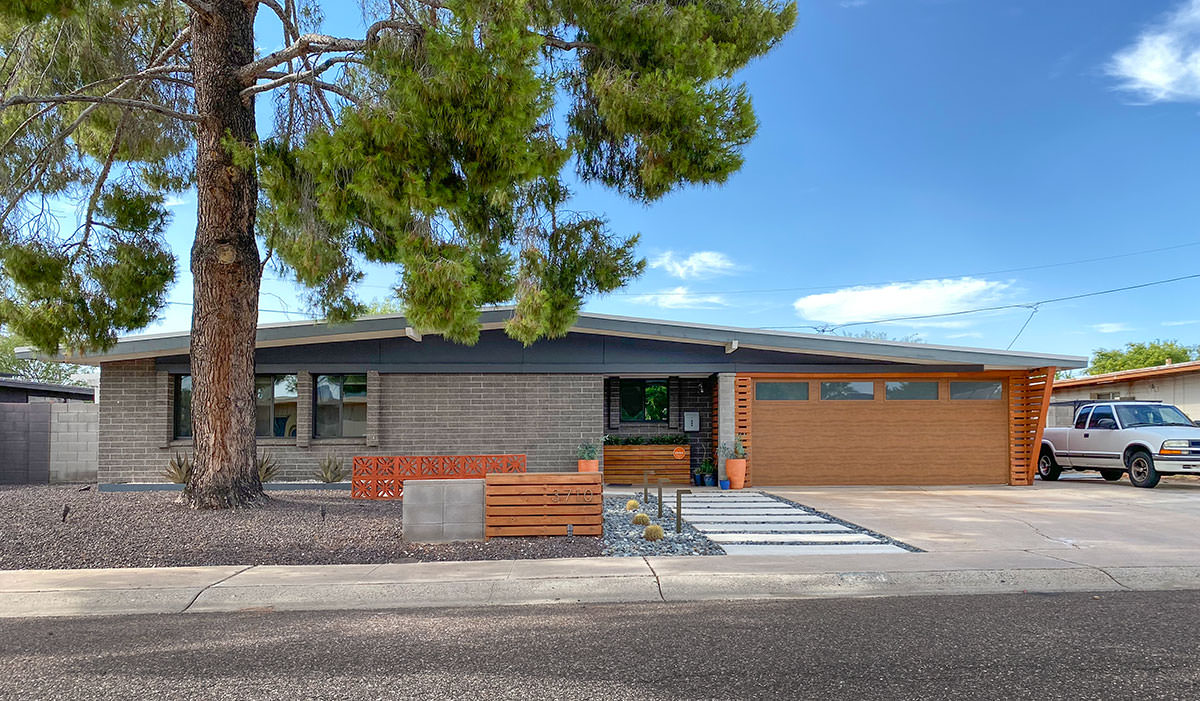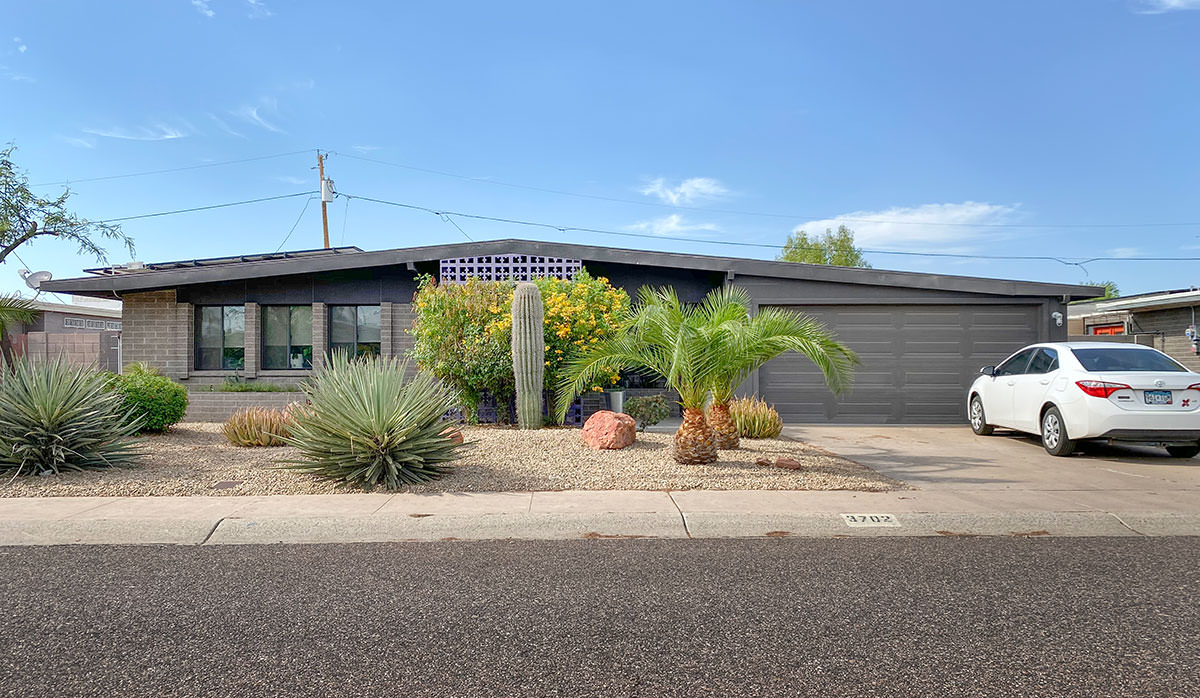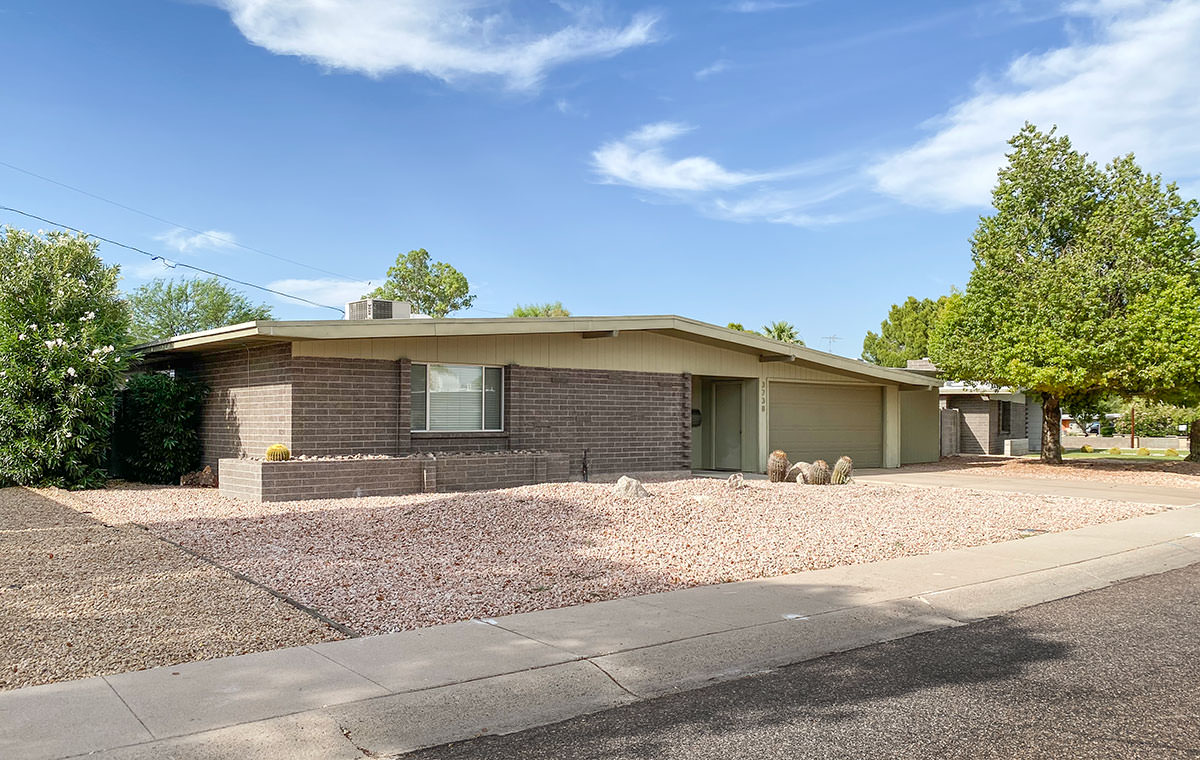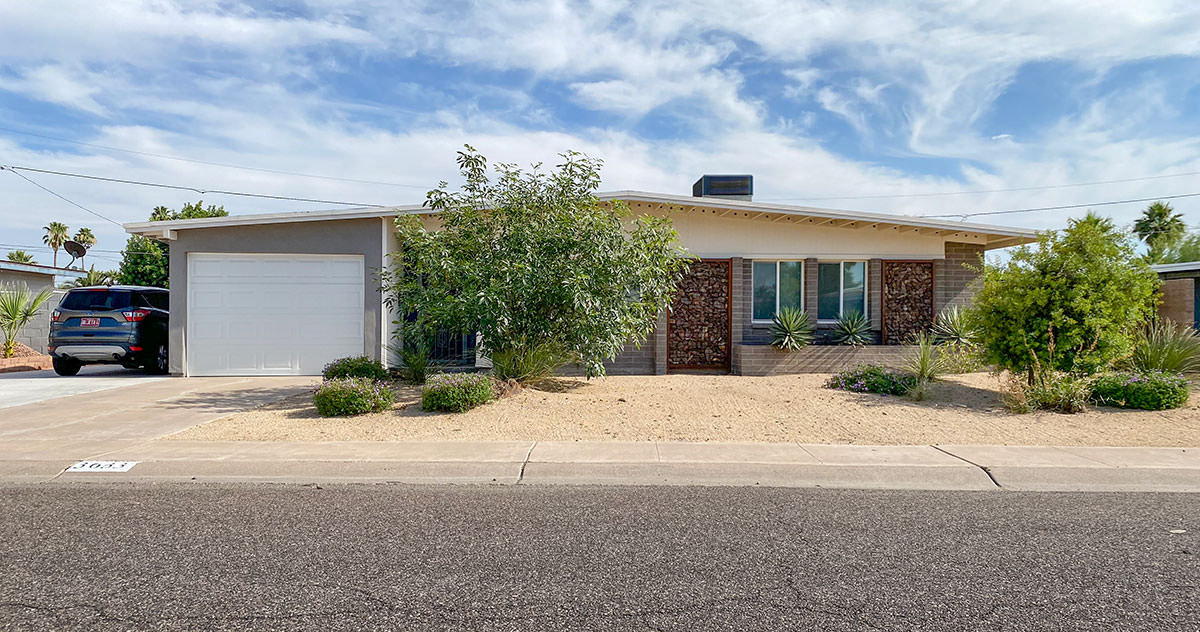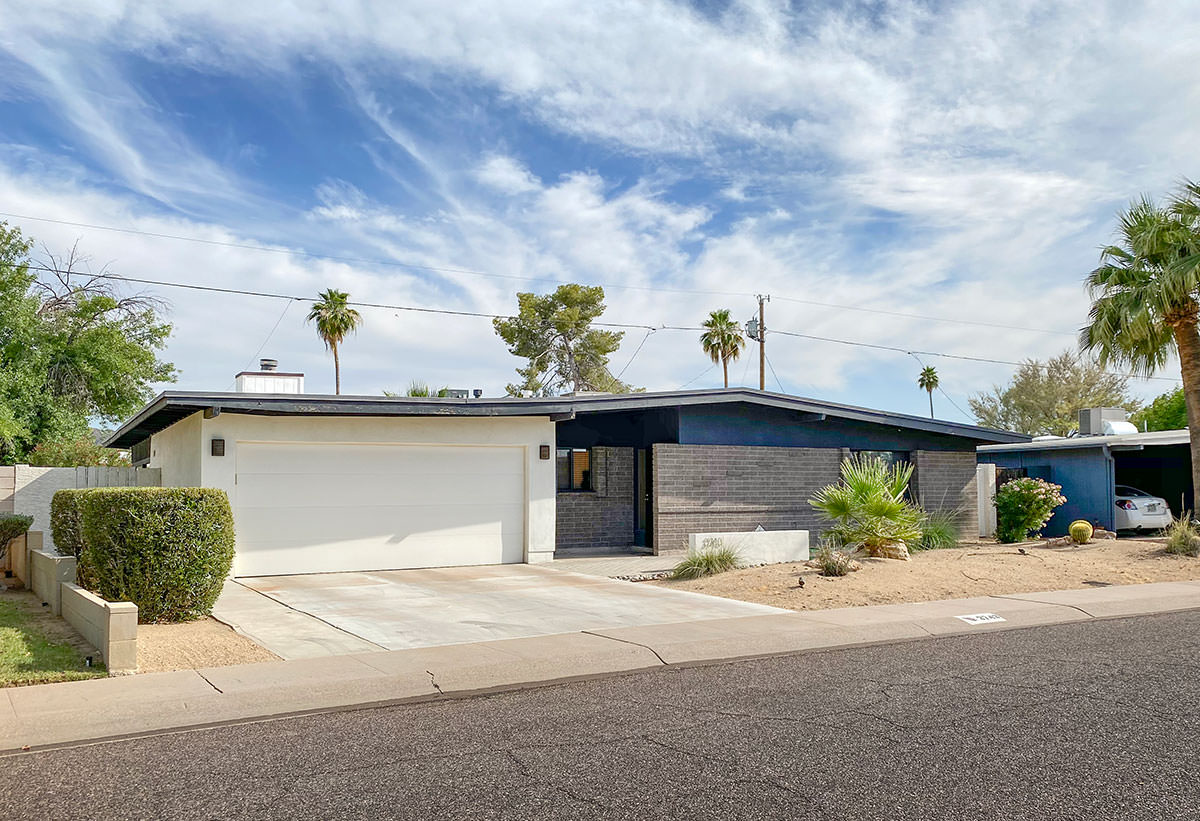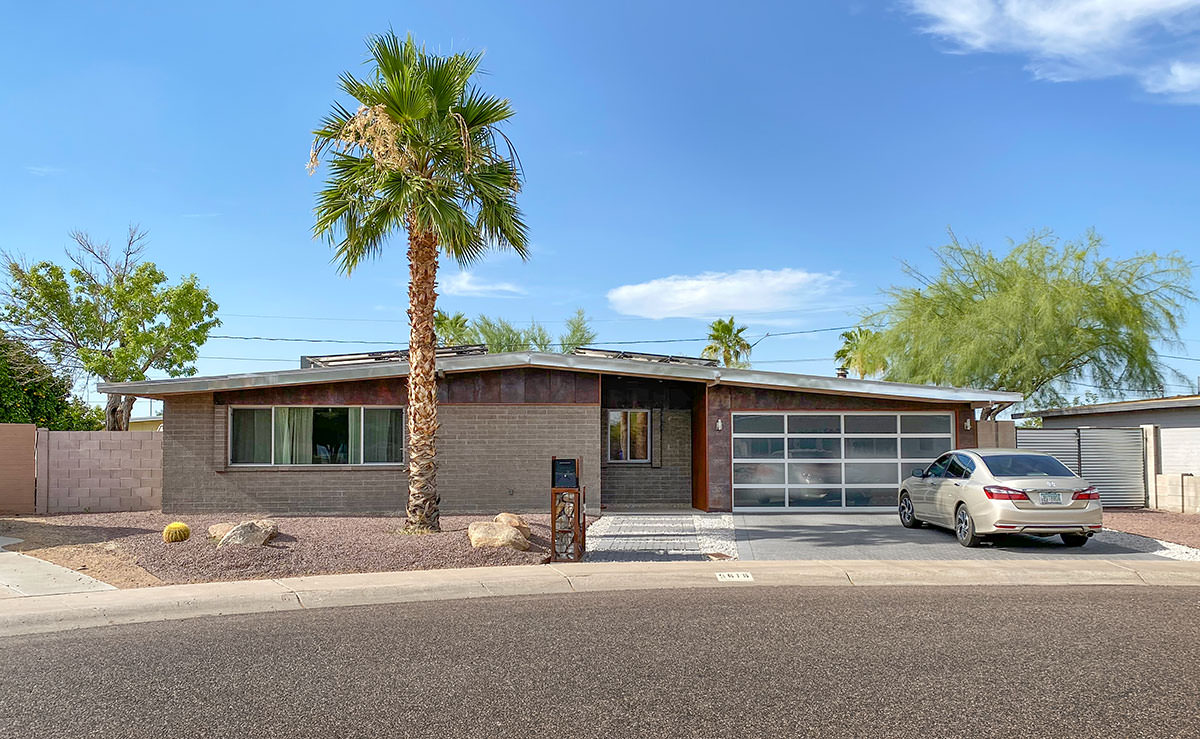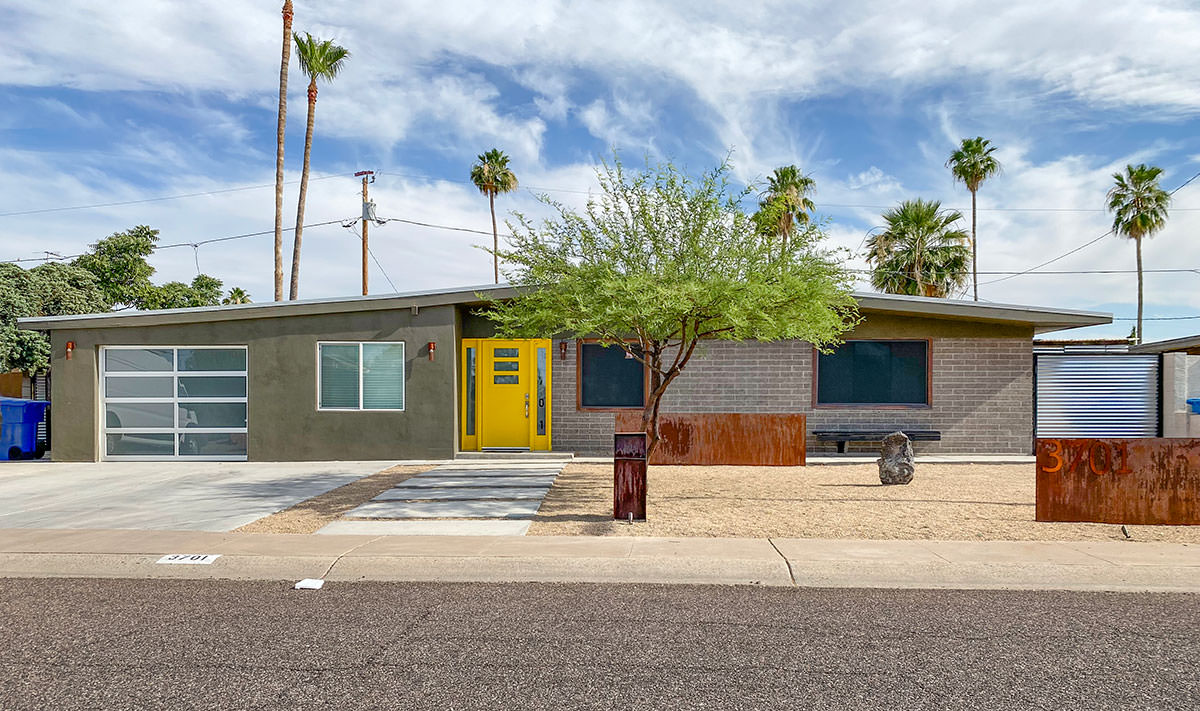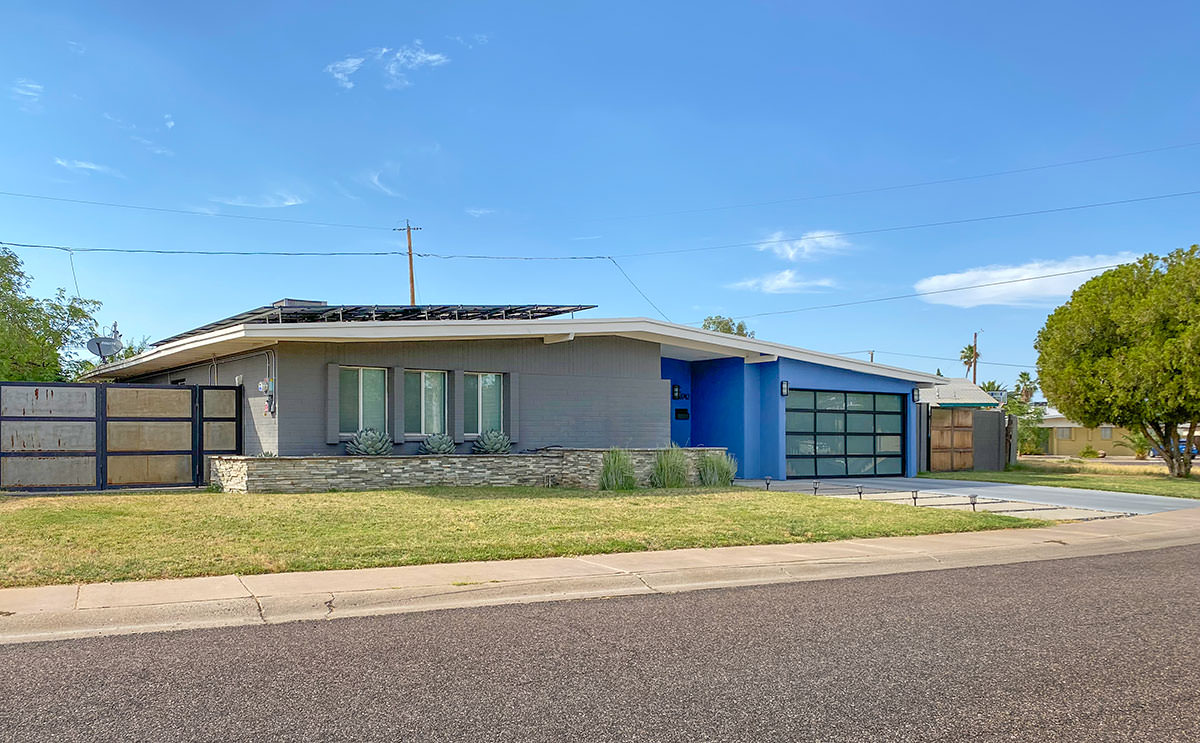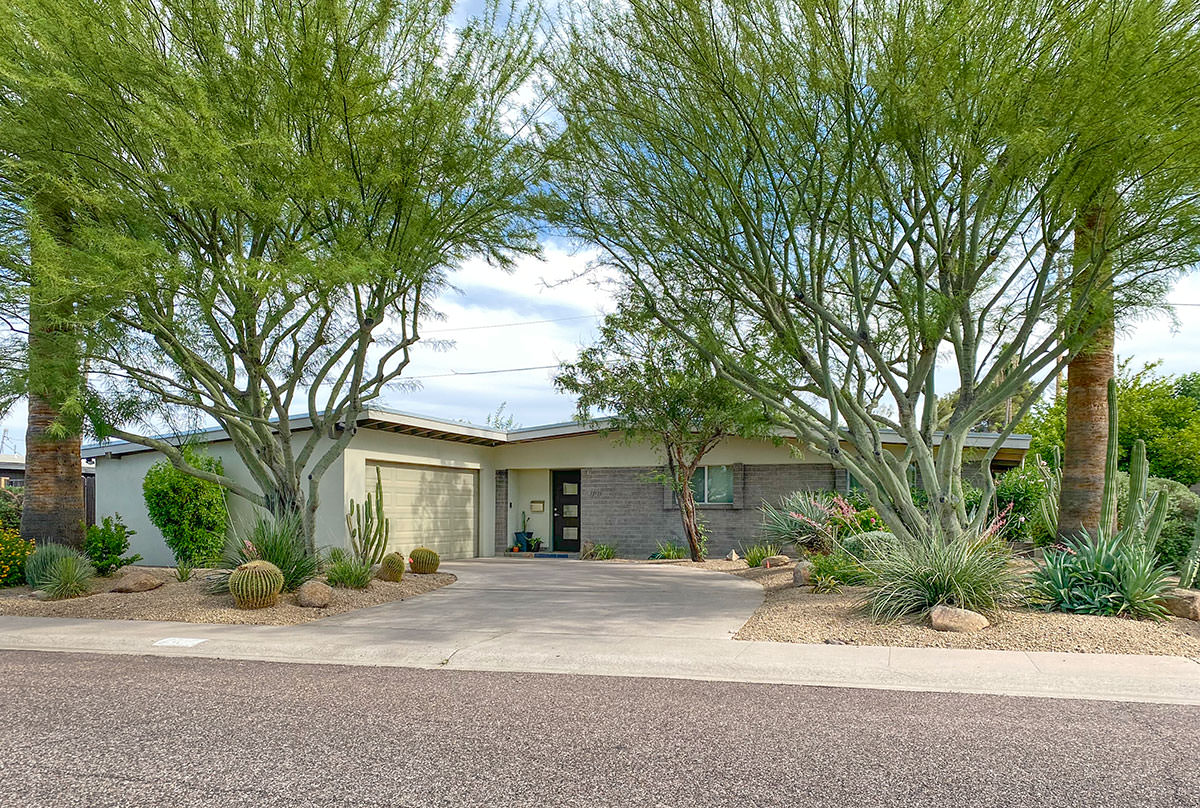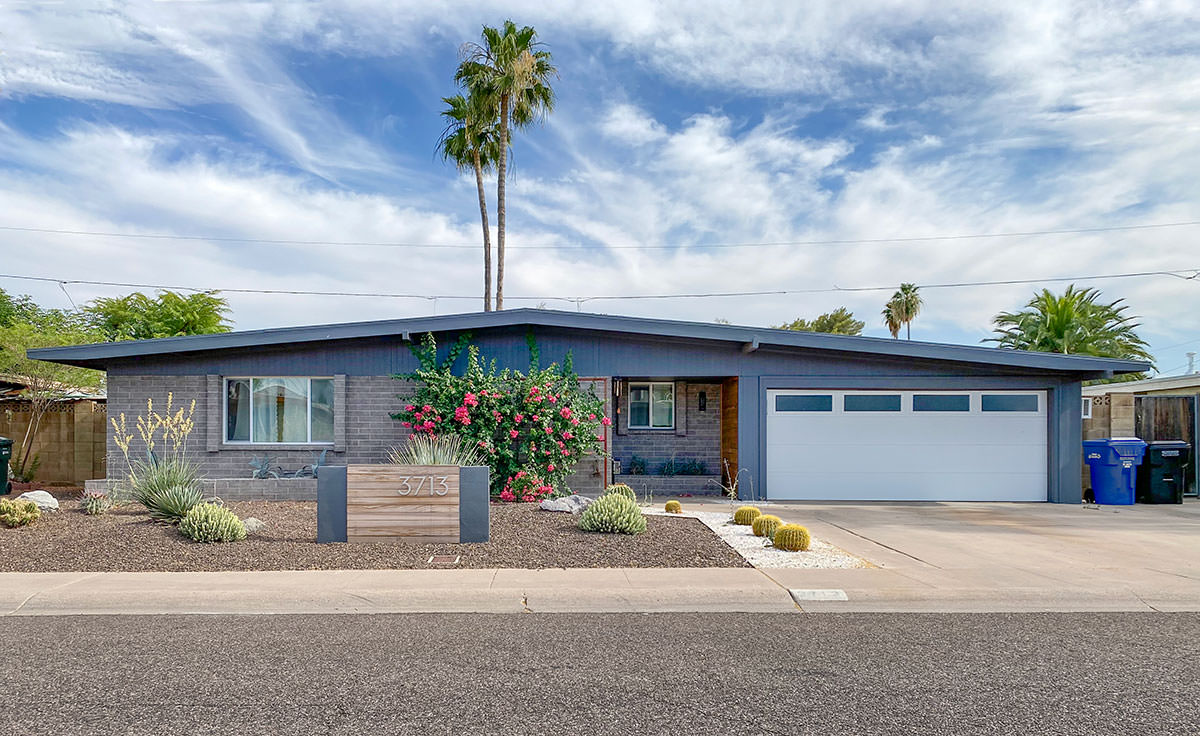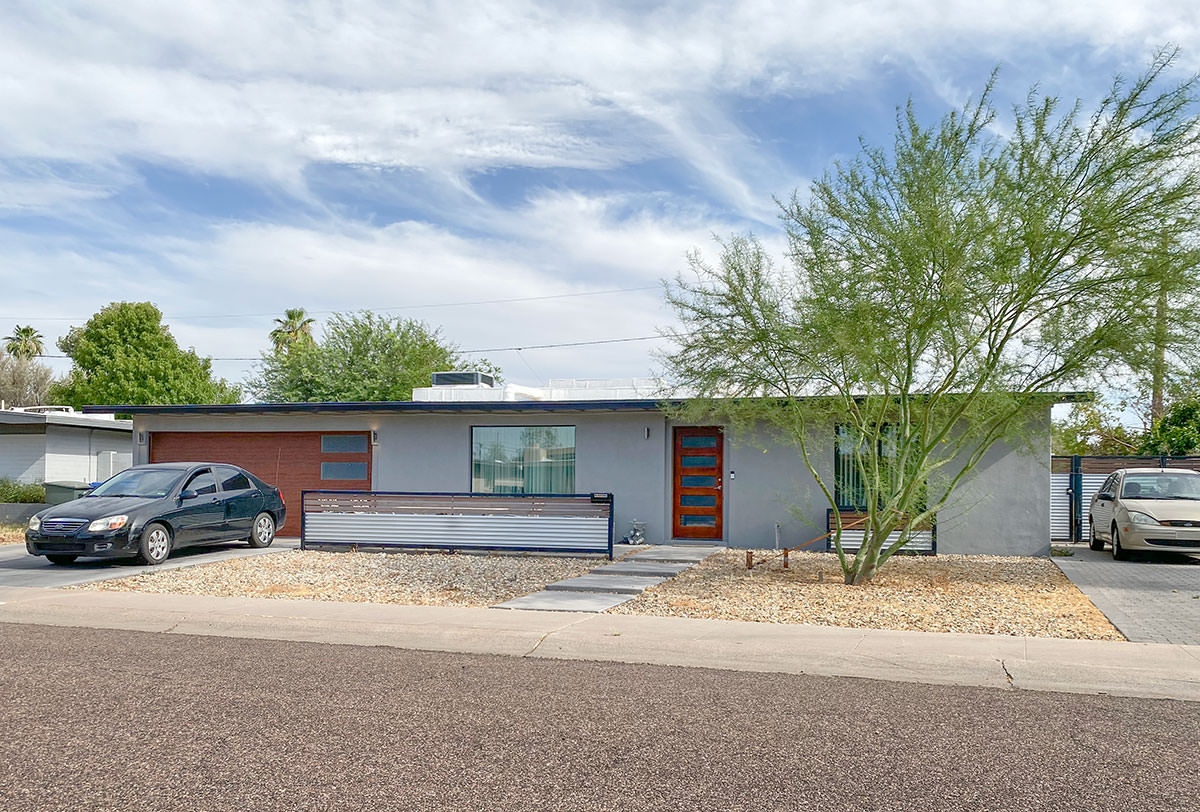 According to historic aerials, the subdivision appeared to sell out by 1969. The neighborhood was still surrounded on three sides by completely undeveloped land and bounded to the south by Altadena Park.
Star of Paradise wasn't Jeffries Construction's first Starlight-themed development. In 1959 they got caught up in the
All Electric
craze with Green Acres homes at 39th Avenue and Camelback Road. In 1968 the company was charged by the US Department of Labor for violating labor law by refusing to pay overtime and failure to keep payroll records. Though Jeffries continued to work in the Valley he never developed into a major player of the modern home building scene.

As sales slowed and tastes changed, a new Spanish styled model "The New Constellation" was added in 1966 and the builder filled in unsold lots with "your plan or ours", which explains some inconsistencies in the southern half of the development. These bunker-like slump block homes feature narrow slot windows oriented either vertically or high and horizontally beneath the front eave. It's possible the New Constellation is an updated variant of the original Constellation model that debuted in Green Acres.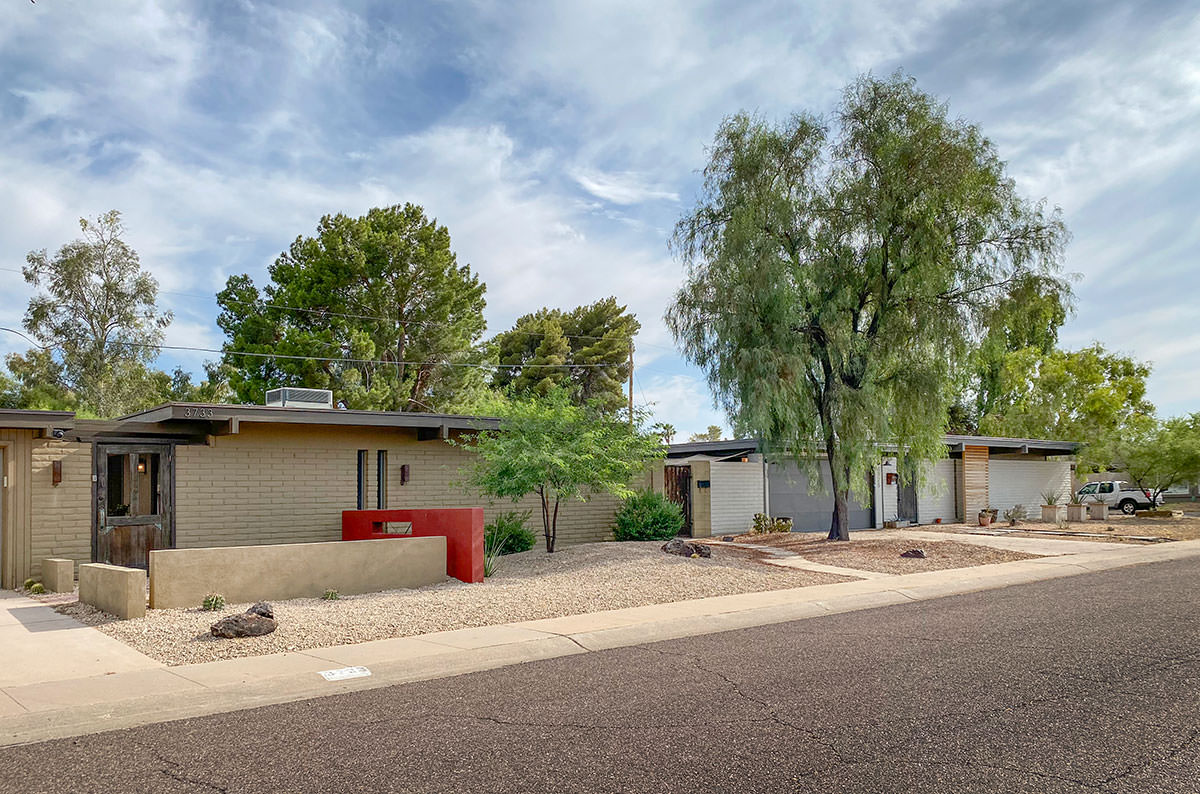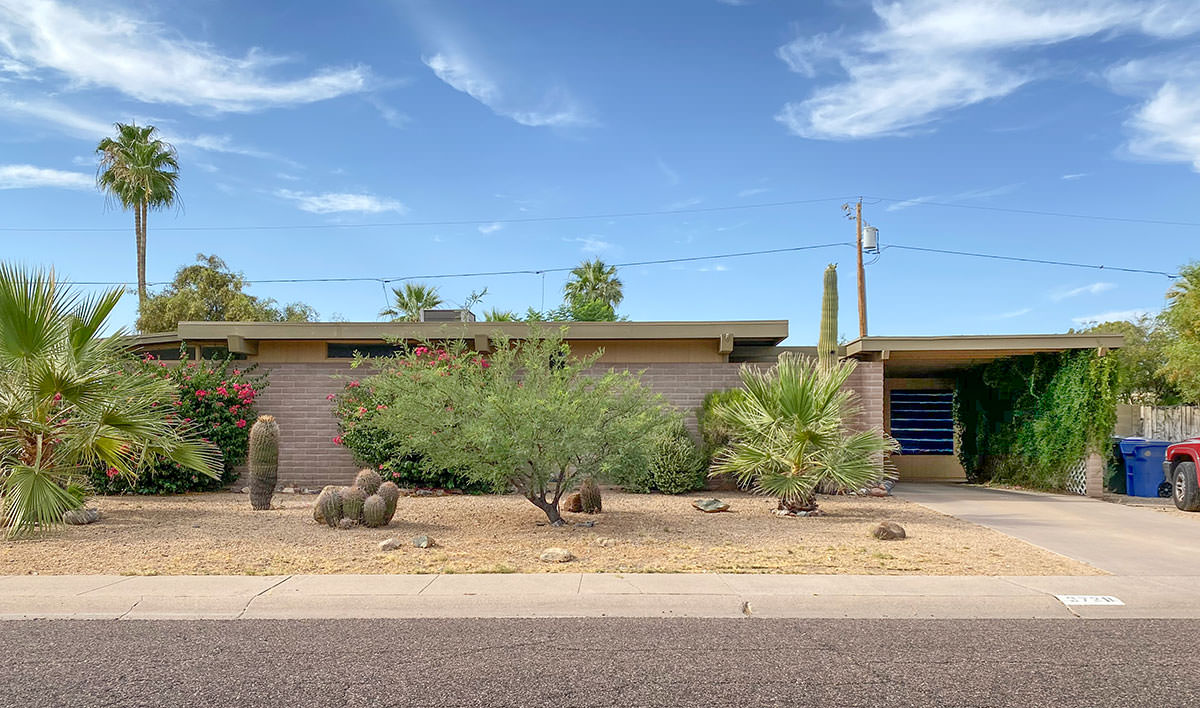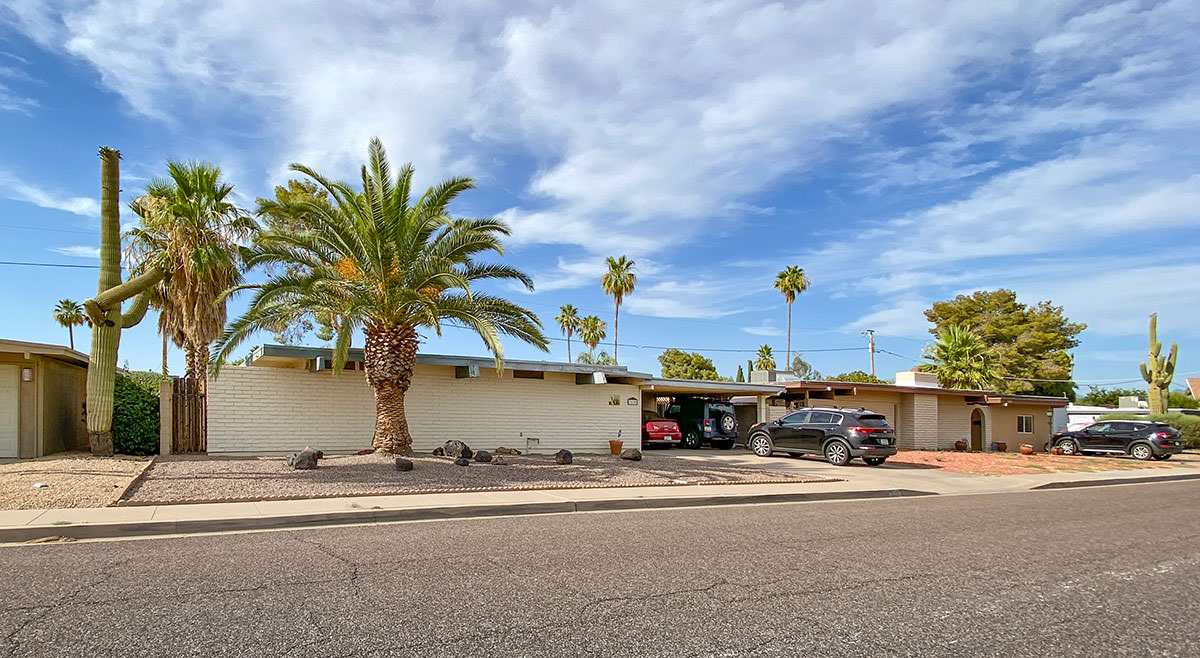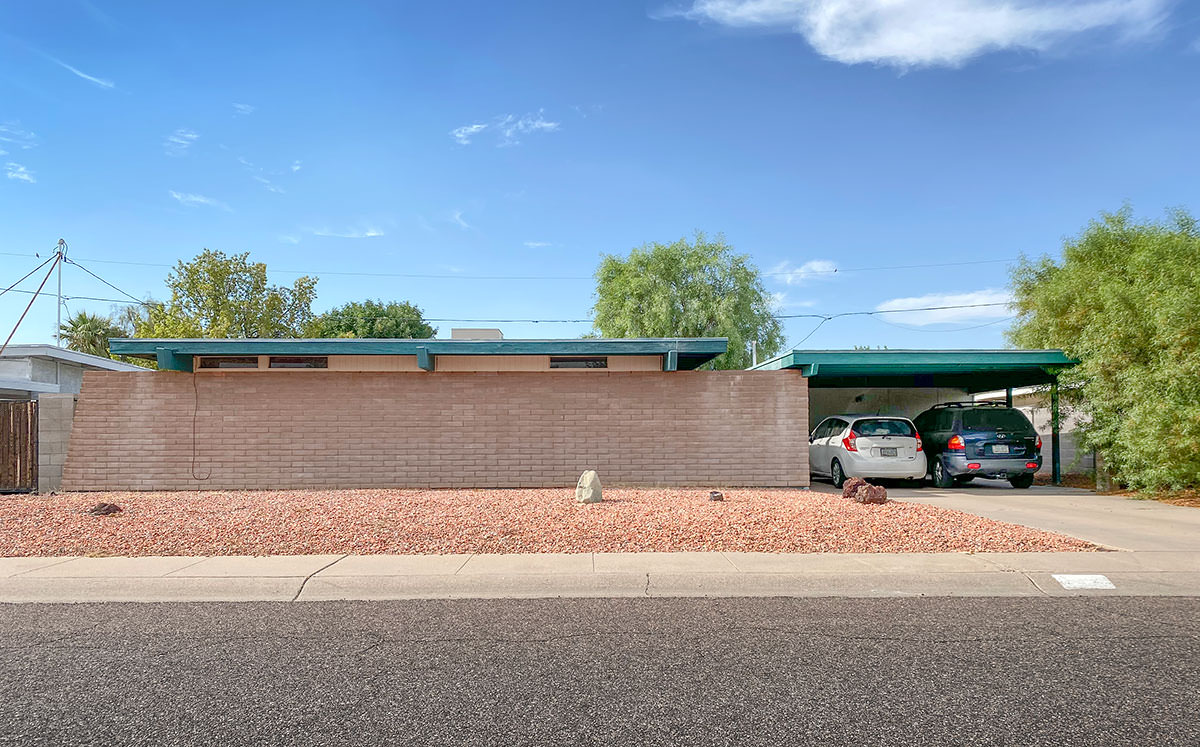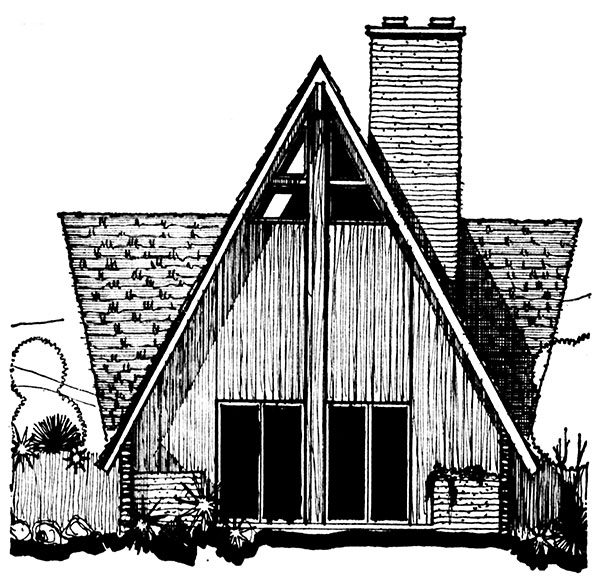 In 1967 a military couple relocating to Arizona fell in love with a plan for an A-frame home, and invited Jeffries to adapt it for desert living. There are two examples of such rare A-frames in the neighborhood, so it's likely that one inspired the other. Space is at a premium. Inside, the living room walls start to slope inward starting at only five feet high!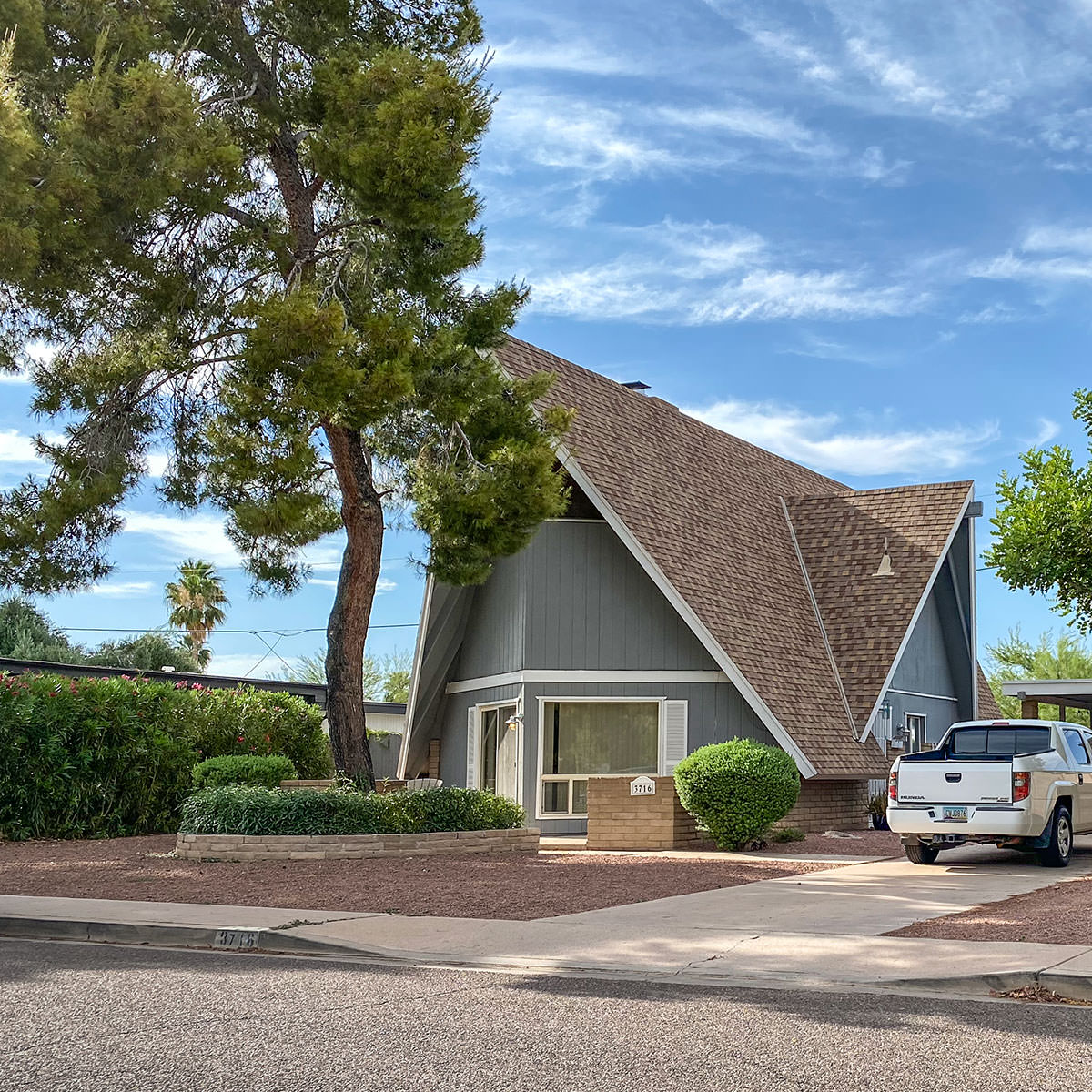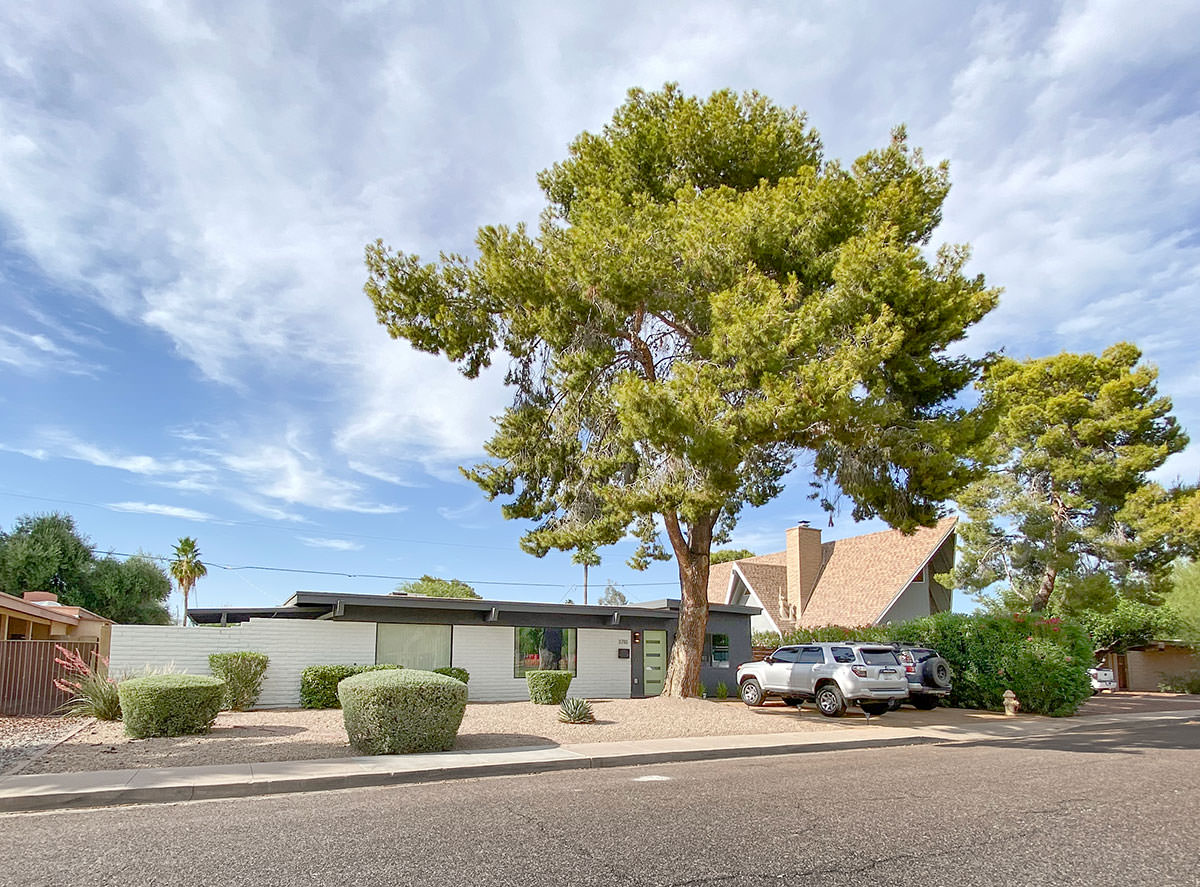 By the time Star of Paradise was completed American tastes had evolved, partly due to marketing by prolific mass-market developers like Dell Trailor. Spanish and Mediterranean styles gained a strong foothold in the larger, sprawling developments of north Phoenix and Scottsdale during the early 1970s. A brick layer's strike in 1970 was the final nail in the coffin for many homebuilders who had previously relied on block construction. The stick and stucco era was here to stay.
We've been tracking progress in Star of Paradise since 2004.
View our photos from 2004 and 2008 here
.