Holy Houses!
Midcentury Modern Churches from the Iconic Age of Phoenix

Crossroads United Methodist Church


Central Avenue and Northern
Phoenix
602 944 1524

Story by Walt Lockley



Well the first thing is that they've sacrificed part of their property on the west, on Central, for a few new homes. Density can be beautiful but this is not one of those cases. The second thing is the sanctuary's modernist accordion roof and the proportions of the deeply shaded entry, and the appearance of those hardy banana-leaf species in a low brick planter, a signature of that era, ala "the dentist's office". It's pleasant but dated. The original architect is currently unknown. (We had originally attributed this to architect Lawrence Enyart, however have since discovered that Enyart instead created an addition to the existing campus, including a fellowship gathering space with fireplace.)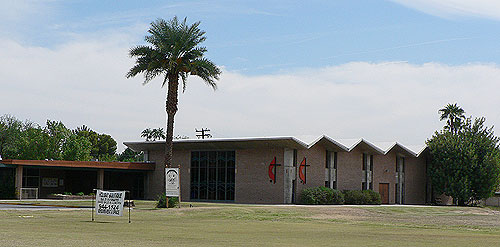 Inside, straightforward simplicity. The sanctuary is an uncomplicated box with a concrete floor and loose chairs and no interior partitions, much like any other unstructured meeting room. Only the stained glass feels like a church. Adjacent is "the Patio Room," an informal gathering space oriented towards the back yard, typical of the Modernist relationship to outdoors, especially that square brick fireplace integrated into a wall of glass. Then a line of unremarkable classrooms to the east, full, on the day of my visit, with the chatter of about two hundred preschoolers, chatter I find deeply optimistic (for 10 minutes anyway). And that's about it. The big story here is the expansion, a smart expansion from a nationally-successful church architect who happens to live locally, Kevin Callahan.

For all the virtues of the original building, it was not-quite welcoming and not-quite-aspirational. Kevin talks about "the body language of buildings," an excellent way to put it. He's already been at work in the sanctuary, ripping out the pews, tuning the acoustics, and rearranging it from a "performance" space with a one-to-many authority-relationship coded into the furniture, into a "participation" space with loose chairs, providing both interaction and flexibility. Like the circular churches on this list. The "aspirational" thing required a change to the basic building form. The design answer is to open the sanctuary's northern wall, extend out with an up-sweeping roof shape consistent with the waffle, and install a fountain meant to acoustically bounce off that new front wall into the parking lot. Natural light and natural acoustics throughout. A line of "ministry team studios" will be placed between the church and its new unbeautiful neighbors, nicely resolving that issue too.