Student Shelters at Frank Lloyd Wright School of Architecture Taliesin West in Scottsdale, Arizona
Photographed by Alison King in November 2011 as part of the Gnosis Ltd. Architects' Own Homes Tour 3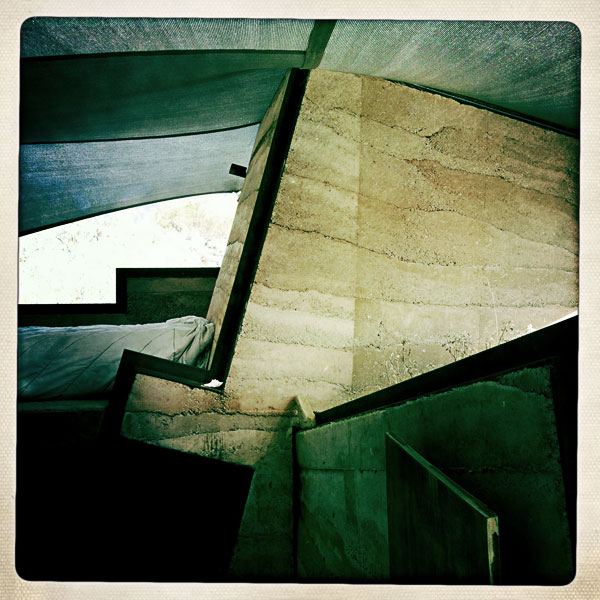 As part of the practical experience of earning an architecture degree, students at Taliesin West are encouraged to build or renovate a desert shelter in the land surrounding the main campus. The elements are grueling: freezing winter nights, scorching summer days, and cunning pack rats who will steal just about anything you set down. Wright believed that all buildings were just temporary anyway, so the shelters today stand in various stages of undoing, evidence of the engineering and materials advancements of their day.
But if those walls could talk! Accomplished architects such as Charles Montooth, Paul Christian Yaeger and Luis Salazar have all built structures on the property, and many of them have been altered and upgraded through the decades. Some of the most exciting solutions include a rammed earth and tensile fabric shelter by Simon de Aguero and a steel cantilevered ship of the desert by Fatma Elmalimpinar that literally suspends a modest four-cornered shepherd's tent 8 feet off the ground.
Tours of the student shelter
s are held November through April at 1:15 on Saturdays. Reservations are recommended for groups larger than 5. Call (480) 627-5340, or toll-free (855) 860-2700 for details.