Researching the history of your midcentury modern home
Part I: Names and dates
Using the Burton Barr Central Library, the Maricopa County Assessor's maps
and the Maricopa County Recorder's office.
Researching your home's history can be a daunting task, but there are many free and easily-accessed resources that can help you get started. The first step is to gather any names and dates you can that are associated with the home. Do you think a famous architect designed your home? Perhaps a famous person lived there? Well, confirming it may be easier than you think. I was lucky in that my own home came with all the documentation it really needed, but that is the rare exception. In this research series, I will use the example of my own home, as if I was researching it from scratch and no prior knowledge of its provenance.
---
The Arizona Room at Burton Barr Central Library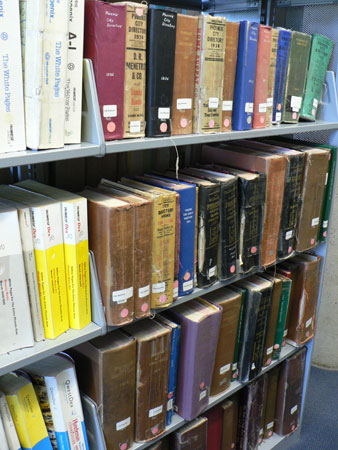 Go to the
Arizona Room at the Burton Barr Central Library
. Hours vary so check the schedule at the link provided. As the Arizona Room desk attendant for access to the City Directories. You're seeking a shelf full of what look sort of like phone books.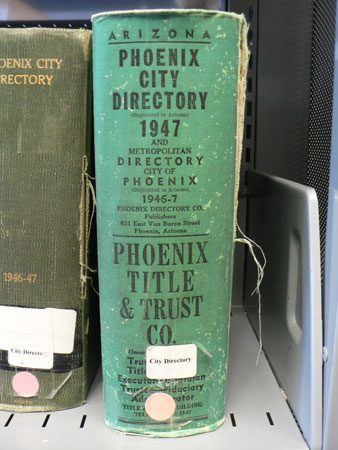 Locate a phone book closest to the year you wish to research. Careful, these things are heavy and fragile! I suggest bringing a digital camera or even your phone cam to snap shots of what you need.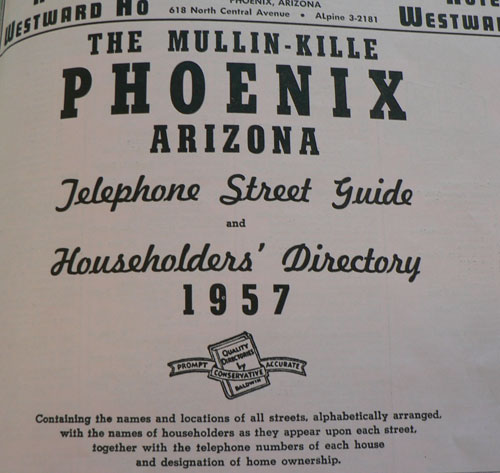 Check to see if the city directory has one of these inside. It is a Street Guide and Householder's Directory where you can look people up by address instead of by name. Usually the pages are colored, like pink, green or blue.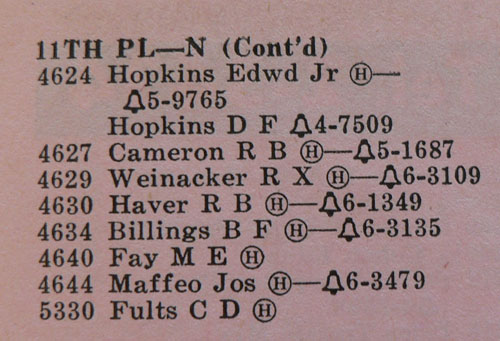 In the householder's directory, locate the name of the street you are researching. It is referenced by cross-streets. In this example, I've looked up 11th Place and now have found the surnames of all three people who lived in Haver-built homes on my street: Hopkins, Haver and Billings. If I need the full names, I can then go to the Country Recorder's office records online and start searching through their deed records.
---
The Maricopa County Recorder's Office Digitized Archives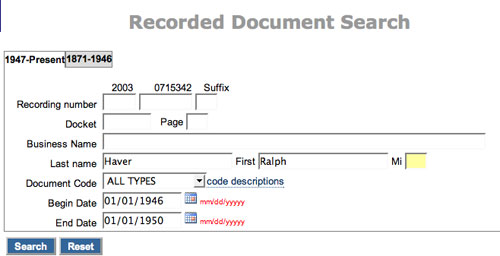 The County Recorder's office has digitized images
of deeds, mortgages, death certificates, incorporations, wills and more dating back to 1871. If I were interested in researching all of Ralph Haver's early design and real estate ventures, I could simply type in his name an the years I wished to search. Be liberal with variations of the first name and middle initial if you wish to get complete results. Deeds are good for locating specific homeowners and architects for a specific time period, and tracking a property as it changes hands. Death certificates are helpful in pinpointing last known residence and known survivors to contact. Wills are great inventories of property holdings.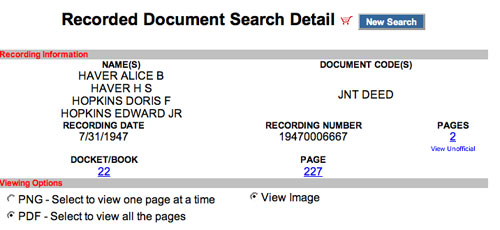 Since I was researching the residents of 11th Place above, and wished to find out who sold my home's property to he Hopkins family, I was able to keyword search for Edward Hopkins and find this record of joint tenancy. To view a low-res unofficial scan of the document in PDF form, you would just click the number 2 beneath the label PAGES on the right. The free low-res version is good enough for research purposes, but official copies can be ordered.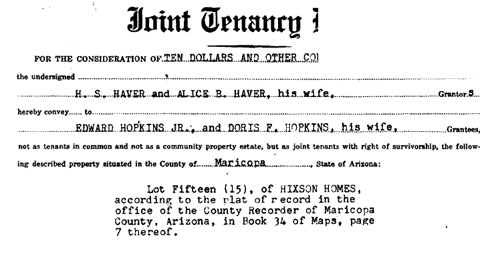 Voila! Here is the PDF of the deed stating that Edward and Doris Hopkins had a joint tenancy for (and later purchased) the home from Ralph Haver's mom and dad. Neat! It also gives me some other valuable information, such as the Lot numbers of the property, and the subdivision name,
Hixson Homes.
This info will come in handy later as many real estate transactions deal in lot numbers, not street addresses which can actually change over the years. Additionally, if I were interested in researching the history of my subdivision, a mid-40's era search for documents belonging to Mr. Hixson would be a good place to start. I might be able to find out the landowner's first name, or even if he was part of a corporation, trust or other business -- and maybe even his address of operation.

Now that we have established that the home belonged to Edward and Doris Hopkins, I can search the database for
all
documents related to the Hopkins couple. There was a missing link the chain of ownership before Dr. Hopkins passed away, and this document provides the contact info for the home's caretaker and second owner, who leased the property back to Dr. Hopkins. This is also an effective technique if you wish to verify the involvement of a significant personality -- say, a famous one -- who may have lived in your home but was NOT listed in the phone directory. Simply start with a known fact of residency, and then search forward or backward in time to find out who the property was bought and sold from.
---
Maricopa County Assessor's Maps and Documents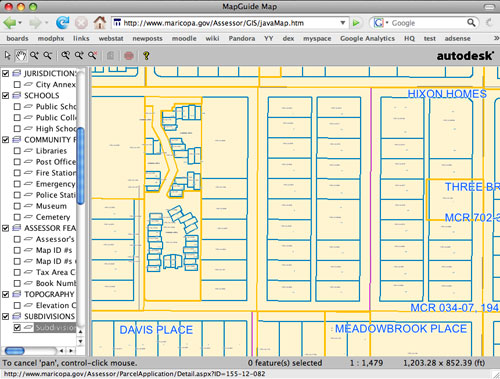 And now, a trip to the
Maricopa County Assessor's maps website
. Use the zoom tool (magnifying glass with a + symbol) to locate your neighborhood, or the search tool to type in the subdivision. You may also search by address or intersection. Use the hand-shaped tool to pan around, and the white arrow to select properties. The property details will show up in a separate window. You may also zoom in really far and find out the lot numbers for every property on your street, which will come in handy if you are researching an entire neighborhood. When researching neighborhoods other than my own or just panning around looking for stuff, I find it very helpful to make sure the SUBDIVISION NAMES check box is selected in the left hand column. Above you can see that
Hixon Homes
,
Meadowbrook Place
and
Davis Place
subdivisions are all clearly labeled in blue. Or are they!?!?! Hmmm... looks like there's an alternate spelling for
Hixon
floating around out there on a government website, instead of the original
Hixson
. That info might come in handy later in future keyword searches. If you are serious about exploring every possible avenue, every discrepancy must be noted!

Once you have selected a property on the Assessor's map, a window much larger than this pops up, showing the current owner and tax assessments. But more interesting is the hyperlink labeled MCR#. Clicking this link will help you find a TIFF image for the original plat map of your neighborhood when it was subdivided.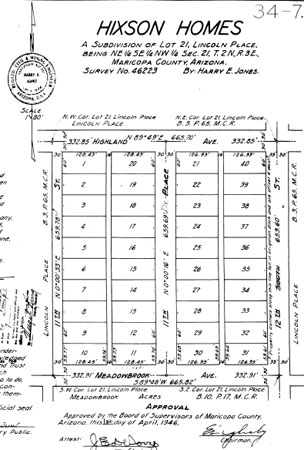 Like this! Now I know all the original lot numbers for the plat, and that Lot 21 is it part of a larger group called
Lincoln Place
. Other helpful information I have found out by studying this map is that the subdivision to the south was called
Meadowbrook Acres
, not
Meadowbrook Place
as it is labeled on current maps online. Again, this might come in handy in the future as names change over time.
---
In review, this exercise has provided us with these
cornerstones of research to follow up on:
The name and date of the first owner / developer, the Haver family
The name and date of the first resident, the Hopkins couple
The name and date of the second homeowner / landlord to Dr. Hopkins
The names and dresses of all the original homeowners on my street which led to...
Deeds to validate Haver family ownership of three homes on this block
The name and map of my subdivision Hixson/Hixon Homes and its larger division Lincoln Place
The lot numbers for all the properties on my street
The names of nearby subdivisions that might come in handy
Figuring out how to navigate through all of this myself has taken forever, and I am deeply indebted to John Jacquemart and Donna Reiner for helping me figure out the system. Now that you have such detailed step-by-step guidelines in hand, I hope that your own search can take just a matter of hours, not years.