A Case of Mistaken Identity
A mystery home undergoing restoration is identified as the collaborative work of Kenneth Hall and Charlie Cash, not Blaine Drake as erroneously discussed on our message boards. Walter Hall, son of the original homeowner, sets the story straight.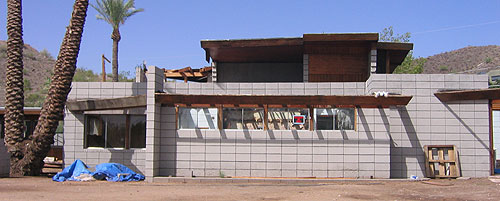 "I was surfing the 'net and found a post from you about a Blaine Drake house in Sunnyslope (9840 N. 2nd St). In actuality, the house was NOT designed by Blaine Drake. It was something of a joint project between my father, a physician named Kenneth Hall, and a draftsman, Charlie Cash, who had worked for Drake. They started in 1950 with an existing small house and an adjacent lot. The new house featured a lot of exquisite craftsmanship by Cash who was also a very talented woodworker.
The block-on-block stacking was a typical Drake motif as was leaving the blocks unpainted. Unfortunately, there were serious design flaws in the project (including three bedrooms that could only be entered only through other bedrooms). The roof was virtually flat and leaked terribly. The tennis court didn't have enough apron for adequate side and backcourts. There was no air conditioning, the kitchen was suitable for a studio apartment, and the house was horribly overscaled for the neighborhood.
My father had a serious fetish about monkeys and apes, but there were no orangutans. Baboons, Gibbons, spider and capuchin monkeys, yes. There was a macaw who was perched in the middle of the fish pond. The bird had a bad habit of getting off its perch and would chew as much wood as it could before being put back.
Having grown up in that house, I can appreciate the odd combination of a Wrightian aesthetic and Pee-wee's Playhouse. The current owner is being assisted by a fellow firefighter who commissioned Marwan al Sayed's House of Earth and Light (currently owned by gallery owner Lisa Sette) for himself and his wife. His skills and ideas are wholly admirable. When my father died in 2001, I assumed the house would have to be torn down. It was badly dilapidated AND badly "remodeled" by my father. I sold the house -- drum roll please -- for $45,000!
Every time I drive by the house now I'm pleased to note the progress being made. But mostly, I'm thankful that this odd and idiosyncratic house is being preserved. I am a native of Phoenix and remember fondly the optimistic modernism of the 50s and 60s. Sunnyslope, particularly the eastern side, is now home to some rather startling examples of resurgent modernism. I recall reading something Will Bruder said, however (and I paraphrase) --
As good as Phoenix architecture can be, you're always aware how you have to get in your car and drive four miles or so to find the next good building.
"