Mezzo in Modern Phoenix
Fall 2008 event with Will Bruder, Architect & Andy Byrnes of CZ Multi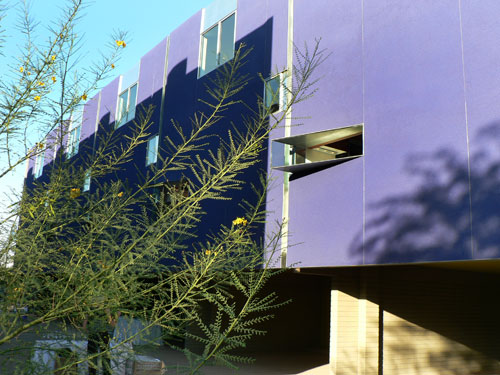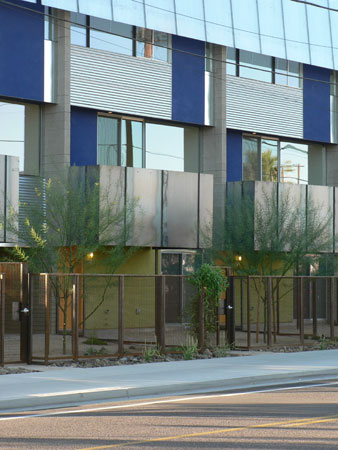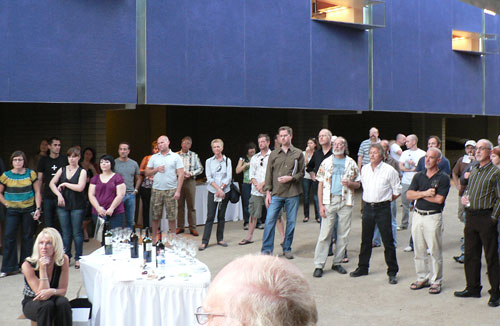 Over 120 people showed up to watch the light change and spend one of Arizona's incomparable fall evenings out in the piazza at Mezzo. The parking court, while it may appear quite mundane, is composed of a stabilized aggregate the reduces the heat island effect. The team had to work hard for the variance, but green design won out. Remarkably, the composite is virtually dustless.
Architect Will Bruder, left, and contractor Andy Byrnes, right, both spoke to the crowd about their experiences designing and building Mezzo. The weeping mortar wall behind them is a nod to an original style used in the region.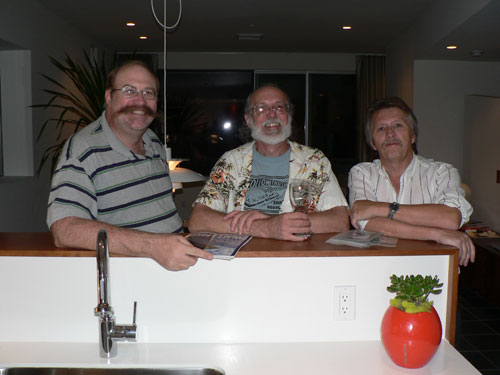 Doug McNeil, Craig Lipk, and Jason Wilson of the Lambda Car Club enjoyed one of Mezzo's kitchen bars. The car enthusiast's club plan to have their next vintage vehicles out on display for this year's
Modern Phoenix home tour.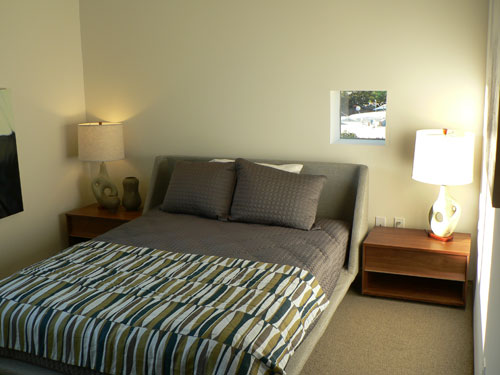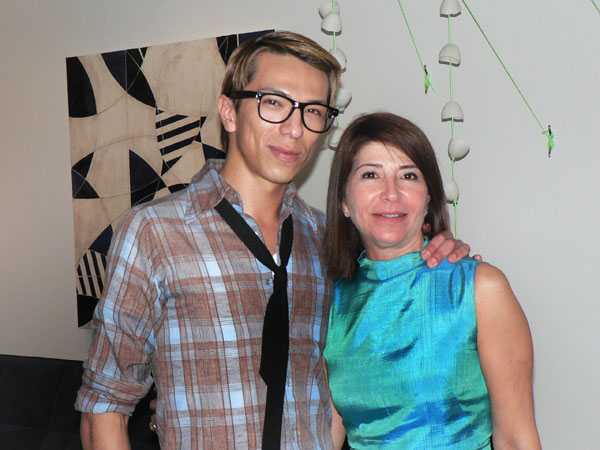 Marc Patlan and Veronica Grimshaw, proprietors of the nearby vintage fashion boutique Nostalgic Alley.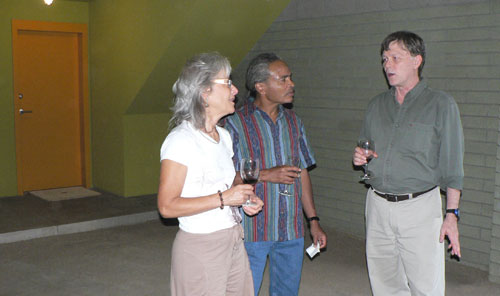 Joan Baron, Green Artist and Anthony Floyd, Scottsdale Green Building Manager came to check out the LEED-certified multifamily structure.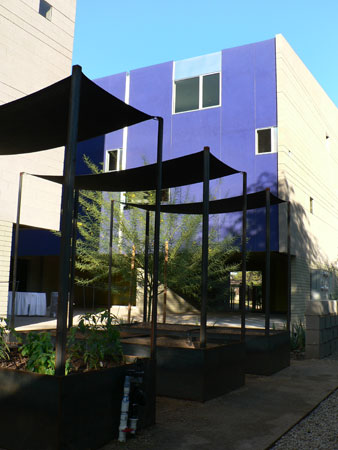 Illustrating the promise of seclusion and tranquility, individual raised garden beds are an inviting oasis.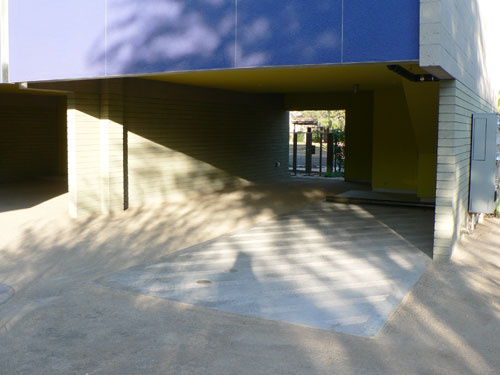 Carports, not garages, connect neighbors to each other and can be cleared out to create connected spaces to celebrate.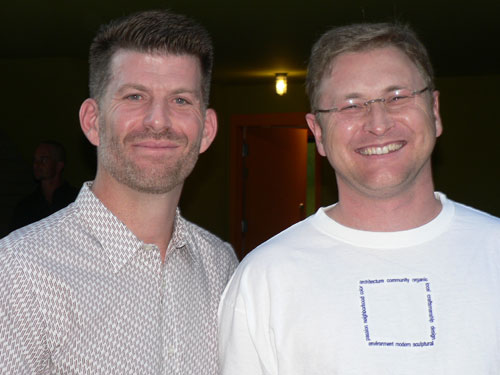 Andy Brynes of CZ Multi worked with Kevin O'Neill of O'Companies to realize Bruder's vision for Mezzo.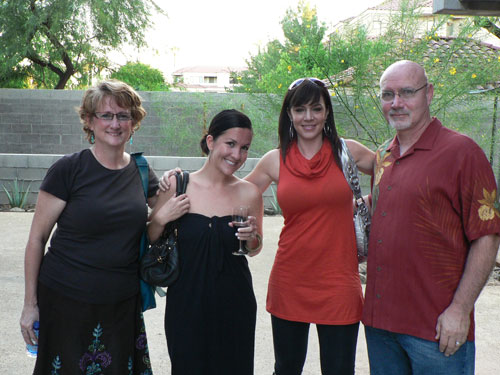 Gera King of Scottsdale Community College department of Interior Design, Melissa Fedock and Rachel Simmons of Valley Modern Design with Barney King.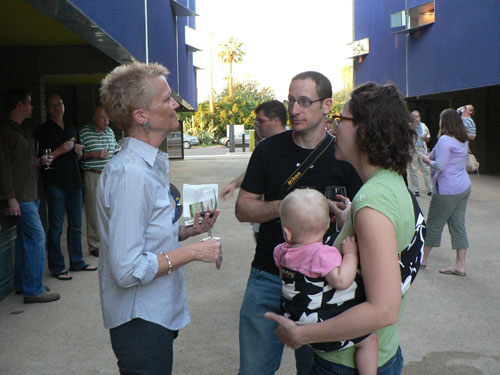 Ace Bailey of Ultimate Art Tours chats with Dan and Jolene Gottlieb.
Mezzo is located on 12th Street just north of Osborn Road, along one of the old heartlines of modern residential design and development in Phoenix. Instead of burying the powerlines, the developers opted to leave them as an authentic statement of the unmistakably urban setting.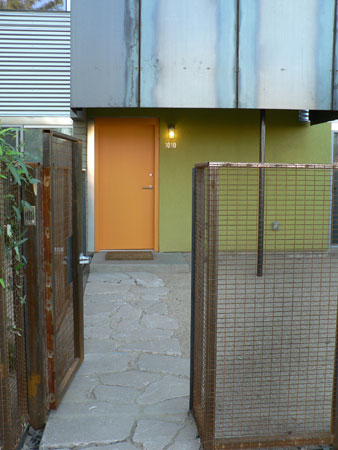 Patio entry for the east side is possible from 12th Street. Open screenwork on the fences allows each owner to determine how private or public to make the space.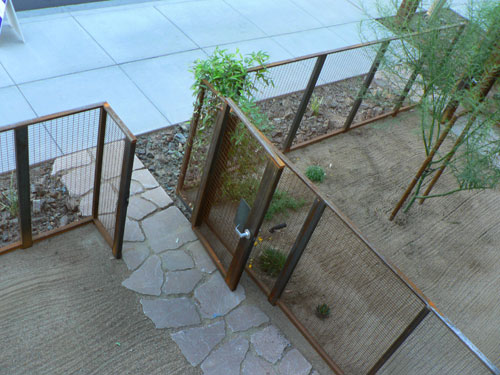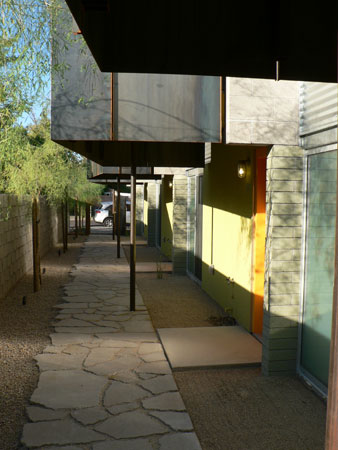 The mews on the western side of the property provide an alternative pedestrian entryway.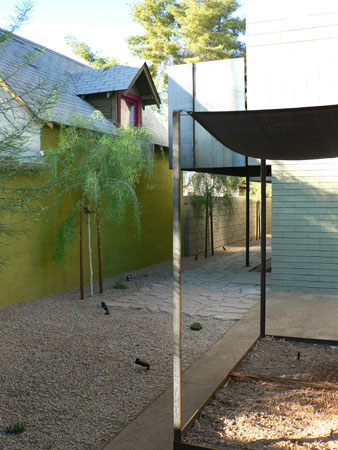 The second-story balcony has a face-to-face dialogue with the bungalow next door. Mezzo worked with the neighbor to incorporate the shared border into the mews.