Modern Quilted Comfort
by Regina Alexandra
Interview by Alison King
Regina Alexandra is a 3rd generation quilter in Phoenix who applies contemporary design principles to a traditional American art form. Standing apart in a genre where Modern often means cold and clean, Regina's quilts provide bold, classic comfort either as wall hangings or practical bedspreads. The artist took a moment to share her process and latest quilting creations with Modern Phoenix. Ready to cuddle up?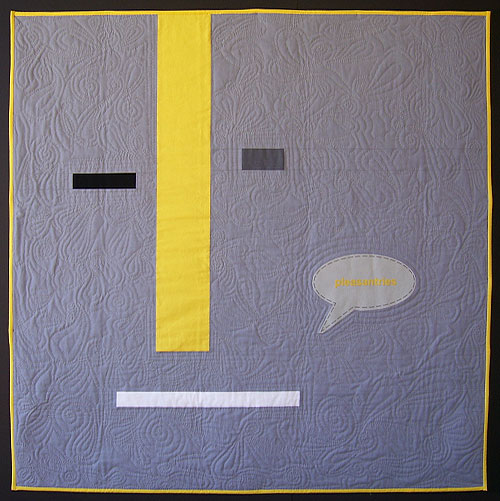 What is the inspiration behind your Faces series of quilts?
My passion and medium happens to be textile and fiber arts--specifically, quilting--as well as modernist and minimalist interiors! Wanting to use this traditionally old-style craft made me think about how a modern quilt could quickly fill and warm an interior space with clean, simple lines while adding warmth, texture and color if it were executed in a new way--free of the traditional busy fabrics, colors and patterns. It could be made as big as the entire wall, if desired, or it could solve the problem of Big Art for those high-ceilinged homes. And it could give a space a soft comforting, less formal feel. I started with several designs of large quilts which used only two or three colors and simple compositions, such as a square in a rectangular field, or bands of varying tones in the same color family.
As I made these designs, the idea of minimalist faces also came to me. These quilts range from about 40" to 60" square (but could be custom ordered as larger pieces) and are hand-stitched. It's nice to see them in person because of their three-dimensional quality and almost humble, hand-made feel. Why faces? I have always been intrigued and taken by faces and expressions: they can symbolize the act of detached observation and human absurdity and frailty. I also like graphic art. By reducing the faces in my quilts to the most minimal and essential qualities needed, I am drawing on my background as a graphic designer to use the fewest elements necessary to convey an image. Some
Faces
pieces even suggest the slick pixelation of today's digital world, but upon closer inspection, are covered in detailed and imperfect hand-made stitches. The juxtaposition of old and new was a happy accident of sorts.
How did you first find a market for your product?
My market is mostly those who can appreciate the quirky use of an old-style craft repositioned for the modern market. I envision my quilts hanging on an old, exposed brick wall in a contemporary loft space, hanging from a high ceiling in a home or corporate lobby, or in the entryway of a hip boutique hotel. I market to interior designers, architects and homeowners with a focus on contemporary design, and to editors, art-directors or style-makers in related industries. So far the feedback has been great!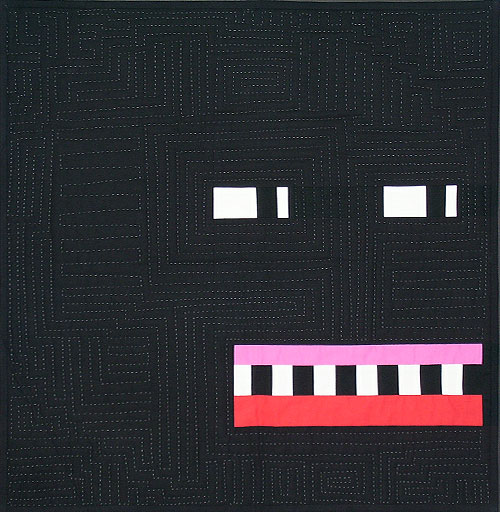 Did your product change over time to meet the market, or did you sense a particular demand in an unmet niche? Did you simply do what comes naturally and wait for the market to catch on?
I did begin making quilts with printed fabrics, but even with restrained color palettes and tasteful compositions, I found these pieces too busy for my personal taste. Since I read many modern interior design magazines, I sensed an unmet opportunity for the quilt's unique warming, textural and graphic properties to be used creatively in today's modern world. The Amish style quilt, with its bold, solid colors and simple compositions comes closest to fulfilling this niche, but could be taken to a whole new level.
Quilts don't have to be symmetrical or overly colorful, and it's important to illustrate that concept for people to be able to imagine new uses for the medium. At the same time I was following my instincts and ideas, I learned about quilt artist
Denyse Schmidt
, also a former graphic designer, who was making updated, contemporary versions of old-style quilts, using more graphic solutions and solid colors. She has since become nationally recognized in the media, licensed her designs to Crate and Barrel, written two books, produced stationery, had a quilt shown in a Michael Douglas movie, and begun to design her own line of fabrics. She was doing what nobody else had done, and now she has quite a following, which demonstrates that the market is there.
Also important has been the popular consumer interest in the quilts of
Gee's Bend
, which made the rounds of museums around the country in the past few years, and which underlined an interest in quilts that were bold, graphic, simple, and somehow modern. These designs are now being licensed as well. Right now I really do work from instinct, knowing that I'm doing something new, that hasn't really been done. But it's a matter of getting the market to see how the pieces can work in their homes or businesses. I am also trying to work on more ready-made pieces that are constrained to one color group, i.e., greens, reds or browns, so that it's easier for someone choose a piece for their particular décor.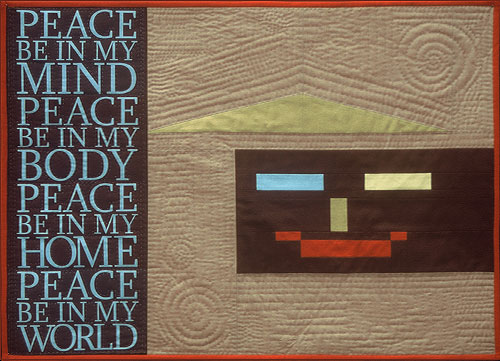 Which artists, designers and crafters do you look toward for inspiration?
I'm most mesmerized by innovative, experimental, sometimes daring uses of color, as well as art that incorporates graphic elements such as typography.
Josef Albers
, Mark Rothko and Paul Klee are a few examples.
There are several artists out there who are doing very sophisticated, beautiful collage work with found paper scraps; some are also integrating fabric and paper collage.
Lance Lescher's work
is major inspiration; I am particularly taken by the endless creativity of product designers. I read the
design*sponge blog
daily. For someone to look at an everyday or ordinary product in a completely new light and produce something new, beautiful and functional...that's genius to me.
A whole community of talented designers, artists and crafters is connected and showing their work via blogs. It's hard to name just a few, because one leads to another, then another. I look at EVERYTHING for inspiration including a wide array of magazines (travel, food, art, shelter types) to see what's new. In the quilt world,
Michael James
does some wonderful work.
There is a deliberate contrast between the front and back of your quilts. The front is restrained, singular and orderly. The back is often chaotic, patterned, and even whimsical. What is the thinking behind this?
My intent was always to do a clean, modern
front face
for modernist and minimalist décor. The back is a nod to traditional patchwork, but more fun and whimsical. Nobody's going to see it while the quilt is hanging, but it's a little surprise or secret that the owner knows exists, or that a viewer will see when he or she turns up the corner. It also makes for a nice presentation when the quilt is folded up and delivered to its recipient.
The fabrics for the back are chosen very carefully, nothing cutesy or traditional, and often funky, mod, groovy, whimsical prints that still work together. An important point is that print fabrics reflect the trends, moods, and culture of the times. So ten, twenty or more years from now, these fabrics will reflect the era, even the year, in which the quilt was crafted.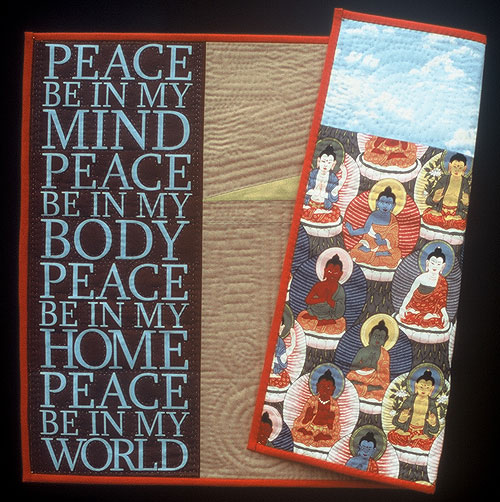 Do you take commissions? What is your process like for doing so?
Yes! I love commission work. That comes from the years I spent as a graphic designer, trying to understand the needs of my clients, and then designing to meet those needs. I think my work is ideal for modernist types, who want a unique piece of art to warm up a minimalist space with texture and a spot of color. Or, they may want a one-of-a-kind bed quilt that's simple but striking. Try looking! It's hard to find a clean, modern quilt--in solid colors--with only the colors you want!
The other day, when I was in Pottery Barn kids, a woman ran into the store, and quickly asked the clerk if they had any quilts in a blue/brown or pink/brown combination (they didn't). She left so fast I didn't have time to run after her with my card! I was already envisioning a modern kid's room with a quilt made of solid brown and pink pieces. The comfort of the old, the look of the new....
The current art series of
Faces
is for the walls, but I am happy to create a modern quilt for any bed. Those quilts will most likely be machine-quilted for easier wash and use, as well as for time and cost purposes. If someone is interested in commission work, I can either look at their space and come up with design ideas, or if he or she had a particular idea or color combination in mind, I can work with those ideas too.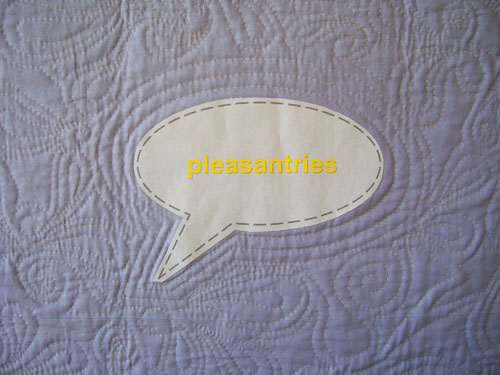 You have recently begun to incorporate the use of typography as a design an overtly narrative element in your quilts. What accounts for this change, and what effect do you think it lends?
I've always been taken with typography in art, owing again to my graphic design background. The new pieces in the
Faces
series will be talking. I am incorporating a type bubble in which a single word or cryptic phrase will be housed. I'm not looking for anything profound or heavy here... just some humble observations, a bit of quirkiness, a little whimsy, and lots of absurdity! The use of typography just seemed a natural evolution of the
Faces
series...I guess they had something to say! Unintentionally, this change may make the pieces a little riskier, a little edgier....?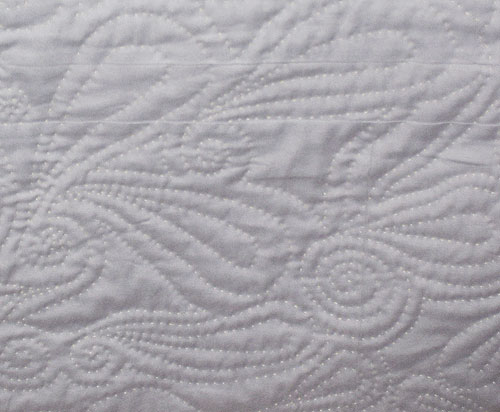 Your quilting stitchery has become increasingly elaborate lately. How is this changing your formal direction?
I think I may be getting a little obsessive or plain crazier! The stitching takes a lot of time, and the more dense the stitches, the more time needed to complete a quilt. I've considered having the quilts machine-quilted, but I love the imperfect stitches and putting the artist's hand (mine!!) onto the piece. It's what gives the piece added dimension and soul. The pieces seem so modern and clean from afar, but it's fun and surprising to walk up close and see all the hand-made stitches. So the feedback has been: "Keep the hand stitches!" But the ideas come faster than production can keep up, so I am always considering other methods, including inventing a hand-quilting pen! (I fantasize about this in my spare thinking time!) I've also considered other possibilities, such as making the quilts as fabric collages and adding stitching with a paintbrush or pen.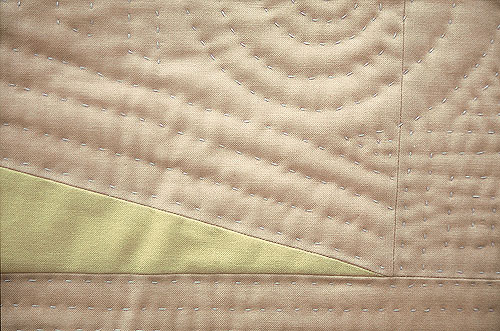 Where are you currently exhibiting and selling your work?
My one-of-a-kind quilts are available online and give interested buyers ideas for custom/commission work. Although I'd love to exhibit my work as a group, I am focusing my efforts on expanding the body of work and actively seeking out a niche market of modernists! Right now, word of mouth is my best friend.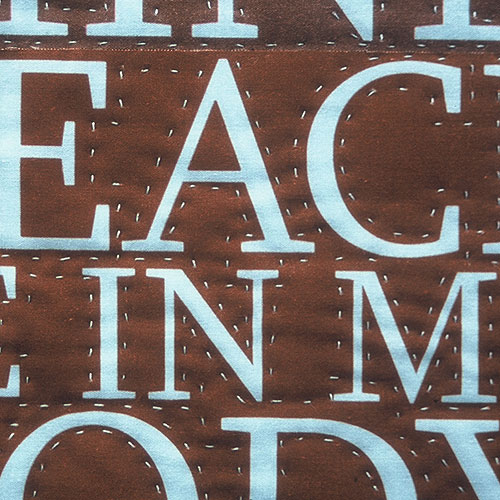 Has there ever been any project or design that you have not yet been able to materialize?
If there's a request, I'm going to find a way to make it happen! With a background in graphic design and business, I'm used to working within deadlines and budgets, as well as doing lots of upfront planning and project management. Certainly even constructing a seemingly simple quilt is a complex and time-consuming process.
To illustrate, here's what goes into making one of my quilts: the design, including composition, color trials and gridding of the design; choosing fabrics and calculating yardage, washing, drying and ironing the fabrics, carefully measuring, cutting, sewing and ironing the pieces for the quilt front; selecting, cutting and piecing the fabrics for the quilt back, assembling the quilt sandwich--the front, back and batting (the stuffing in the middle)--with pins; hand quilting the entire quilt; and finally, sewing the binding (the strip on the outer edges of the quilt) on by hand. Whew!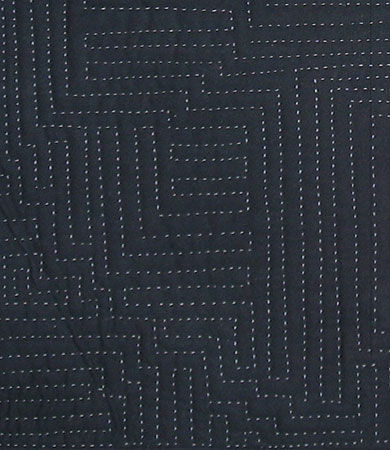 My point in describing these stages, in relevance to your question, is that, for multiple or large commissions, I would use an assistant for many of these tasks. Although the hand-stitching is the most time-consuming of all these tasks, there are quicker options for holding the quilt together that could be creatively integrated into the overall design. Innovative hand-tying techniques (the use of spaced knots of thread) or the use of grommets to hold the layers together are examples of possibilities. Machine quilting, which I outsource, but carefully oversee, is another time-saving option, as is outsourcing to the Amish for hand-quilting (which takes about 3-6 months).
Regina's designs for future Modern Quilts
What's next for you and ModernQuilts?
Updating
my website
! Making more quilts! I'm hoping to get some shots of my quilts in some cool locations, like a loft or boutique hotel so people can really understand the concept. I suspect that typography and photographic elements may creep into my work even more. I'd like to try even more minimalist pieces, say, using tones of white. And I will produce some of the simple, graphic, bed-size quilts, which were my initial inspiration for modern quilts. I'd like to get some pieces in the hand of high-profile clients who can showcase one of my pieces in a great environment and then generate more word of mouth business. It's also an interesting idea to pursue product placement on either a movie/TV set or interior design magazine. The work will continue to evolve based on new personal influences, market input, and techniques for materializing my ideas more quickly.
You may view more of Regina's Modern Quilts at ModernQuilts.com
All quilt designs and text are ©2006 Regina Alexandra