Saguaro High School in Scottsdale, Arizona
Designed in 1964 by Pierson Miller Ware & Associates
Built in 1969. Partially demolished by the City of Scottsdale and redesigned in 2007 by DLR Group.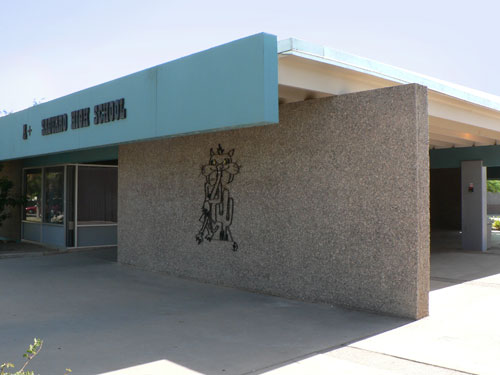 Saguaro High wasn't just any old high school to me, it is the school that I practically grew up in. Saguaro was the first school I ever attended at the age of 3 or 4, when my parents, both teachers at Saguaro, took me there for Observation School which was a hands-on practicum for the teenagers enrolled in Child Development class. From the very start, this richly textured and deftly lit concrete jungle was a perfectly normal aesthetic to live and learn in. Growng up surrounded by buildings like this likely played a part in my natural love of Midcentury Modern design.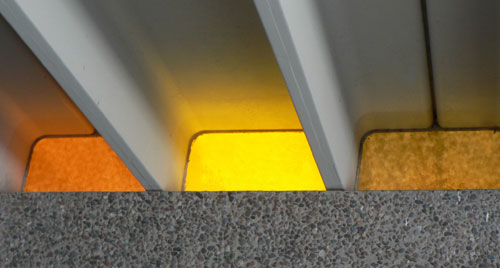 For the years to come I visited the high school for one reason or another, whether to earn extra credit in band for attending a football game or help my dad grade papers for nickels after school. These amber skylights -- the only windows out into the world in each classroom -- are just one of many iconic motifs that are echoed throughout the building complex.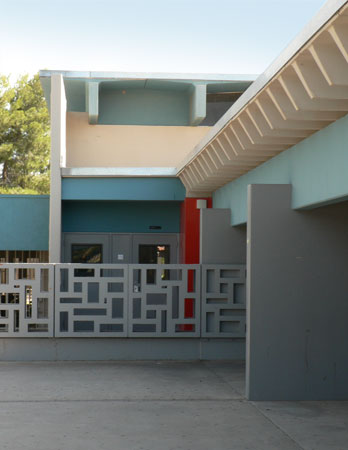 Saguaro was largely built of cast concrete panels which appear to have been precast and then lifted into place. The T-shaped roof forms come in two scales: small for the classrooms and large for the library, gym, cafeteria, shop and auditorium. The fenestrated wall is also a defining design element used throughout the campus.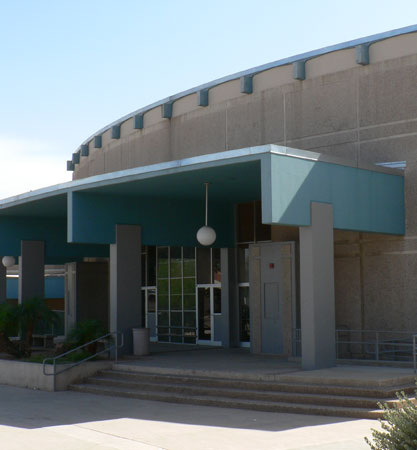 Casting massive amounts of shade in the afternoon and evening during school events, the auditorium is an inviting cultural respite. Beadle-ball lighting has always been integral to the illumination of the space at night. A massive and vivid stained glass window portraying various art disciplines is the centerpiece of the east-facing windows.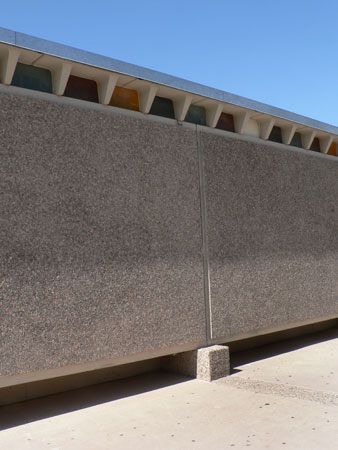 Amber, aqua, white and red stained glass placed high in the only classroom windows give cues to the school's original color scheme.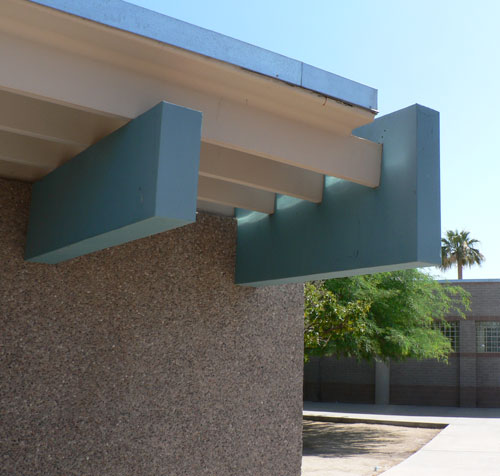 Perforation of planes and penetration of light is a theme. The rooflines of several key buildings end in an offset fascia, allowing water to run off the roofline and avoid soiling the front.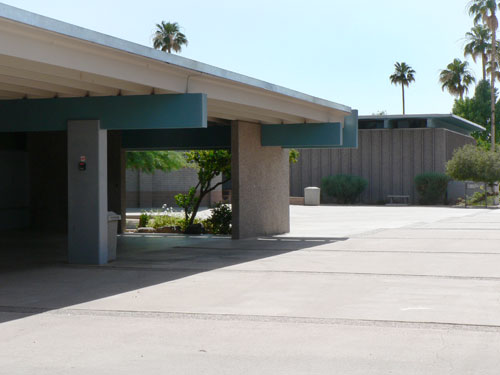 Main campus entryway looking from the Administration building toward the Library.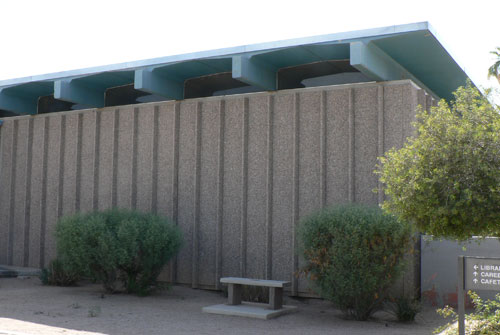 Virtually windowless at eye level, most areas on campus are lit by arched clerestory windows beneath ample overhangs.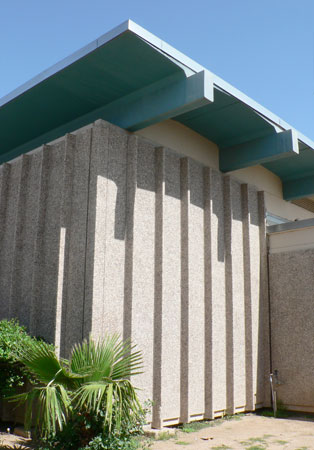 The western face of the library does not have any windows, but the strong standing seams of the concrete forms create interesting play of light and shadow.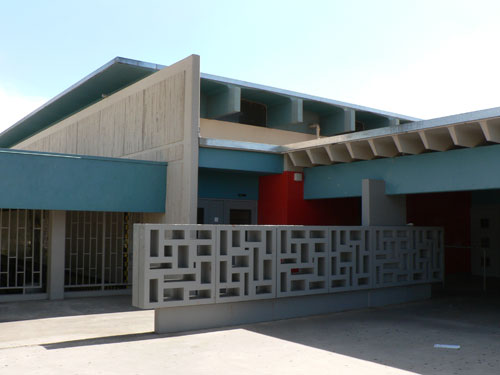 The cafeteria entryway is one of the school's most richly-textured environments, where negative space is just as important as the massive concrete forms.
Page 2
-->